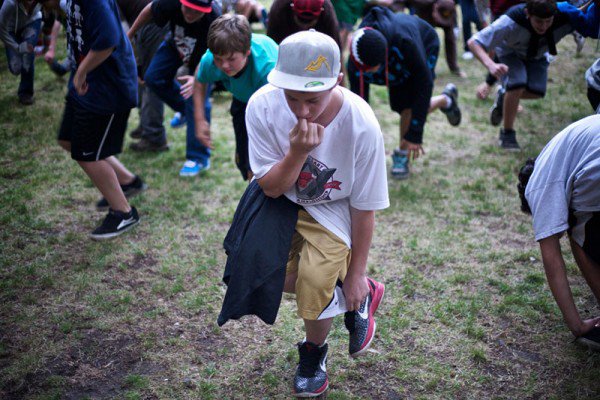 After you get back from the mountain or the skatepark, there's so much to do at camp. Skating, bmxing, talking with coaches, hanging out in SAIGL…there's enough to keep anyone busy until it's time to call it a day. One of the most well-known and well-loved part of camp is sponsor night. Don't let the name fool you, sponsor nights usually take place before the sun sets, beginning at 4pm every day, and going until 9pm, and there are multiple sponsor nights every day.
What exactly is a sponsor night? It's a game or activity that a camp sponsor puts on, where campers can have fun and win prizes. Sponsor nights range from the "makes sense," like skateboard races, trampoline contests, to the "what-in-the-world," like the chocolate milk underwear race, Thrasher Night, and everything in between.
When the visiting pros come every session, they make up a bunch of extra fun, extra zany sponsor nights. These are awesome because the pros play, too. There are tons every summer and we'll feature a few in "Take me back Tuesdays."
This week, we'd like to take you back to Session 3, when the Salomon/Bonfire Team was at camp. Harrison Gordon, Chris Carr, Bode Merrill, and Scotty Arnold put on a game of Simon Says in the courtyard. The riders were throwing out commands (Johnny Tsunami made a guest appearance, too), starting with simple ones like "raise your right arm" and "stand on one leg." The campers were too good, though, and everyone was following Simon's directions to a tee. So, the Salomon/Bonfire Team made the commands harder. Soon, the courtyard was filled with campers jumping in circles, on one leg, with their eyes closed. And campers were still doing really well!
So what did they do? Well, Bode Merrill has a good sense of humor, so the next command was to lie facedown, like the popular internet trend of planking. It wasn't the most difficult command, but it was really funny!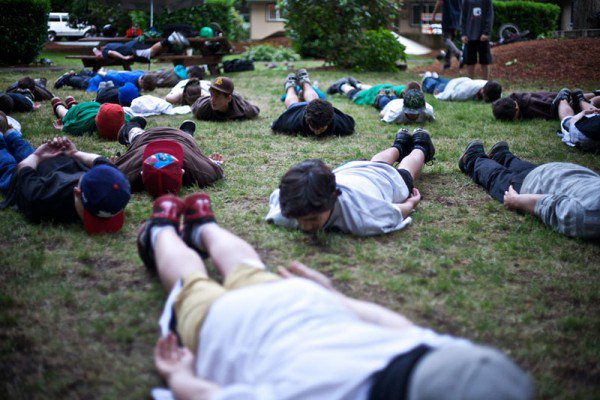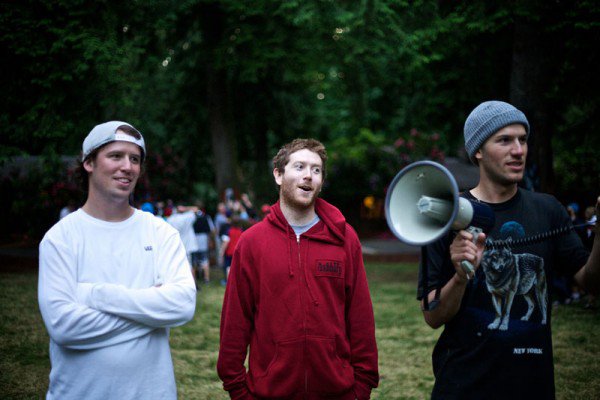 Seth Kitzke, Salomon/Bonfire team rider Harrison Gordon, and NJ Petersen look on as kids tried to follow Simon's commands.
Windells - BMX. Skiing. Skateboarding. Snowboarding.