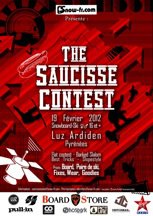 Une journée totalement Rock?n?Roll : BBQ, DJ et surtout du ride !
Rendez-vous à 8h avec pains aux chocolats et croissants. Ouvert aux mecs, nanas, ski, snow, de 16 à 77 ans.
Ce contest n?est pas comme les autres, il va falloir être The Saucisse du jour. La journée se déroulera en 3 épreuves :
? banked slalom
? Flat Contest / slopestyle
? Défi trick?s
Tout cela récompensé par une avalanche de cadeaux :
BOARD, PAIRE DE SKI, fixations, boots, wear, goodies…
Pleins de cadeaux grâce à tous nos sponsors généreux !
Pour vous inscrire il vous suffit d'envoyer par mail à fanny@switchmag.fr , avec les informations suivantes.
(L'inscription est de 20? forfait et assurance compris, à donner sur place)
Objet: The Saucisse Contest
Nom:
Prénom:
Date de Naissance:
Ski, snow :
téléphone :
Sponsors : Board Store, Coreupt, Flow, Pictures, Pull in, Landing, Virgin Radio, Snow-fr.com, Luz Ardiden.
–