Jackson Hole, WY - August 7, 2008 - Teton Gravity Research (TGR) announces the release of its highly anticipated ski/snowboard film UNDER THE INFLUENCE on Sept 20, 2008 in Teton Village WY.
Under The InfluenceTeton Gravity Research proudly presents its latest 16mm/HD ski and snowboard offering: Under The Influence. This film is about the people, places and moments that influence how we ride. Follow the exploits of today's top athletes as they traverse the globe in search of the unique terrain and conditions that emerged from one of the deepest winters in recorded history. With UNDER THE INFLUENCE, TGR continues to excel in the world of action sports production, capturing the mind-blowing efforts of these athletes as never before seen. The Jackson Hole-based film crew scattered the planet as they filmed virgin spines in Alaska, cowboy park jumps at Grand Targhee, pillow popping deep in the Northwest, relentless powder in the Jackson Hole backcountry and so much more.
UNDER THE INFLUENCE incorporates state of the art cinematography utilizing Arial Tyler Mount systems, RED ONE high definition technology, jib arms, dollies, and heart-stopping point-of-view techniques. "The amazing conditions that occurred this winter coupled with new camera techniques allowed us to capture some of the craziest footage we have shot to date. I think people are going to really take notice of the production quality and athletic achievements in this year's project," Said TGR Founder Todd Jones. UTI stars: Sage Cattabriga-Alosa, Dylan Hood, Seth Morrison, Ian McIntosh, Erik Roner, Sammy Carlson, Jeremy Jones, Jeremy Nobis, Dana Flahr, Kye Petersen, Shroder Baker, Wiley Miller, Victoria Jealouse, Dash Longe and many more…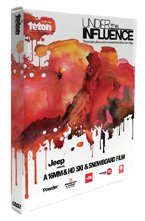 TGR PRESENTS THE INFLUENCE MOVIE TOUR - kicking off over 160 showings on September 20, 2008, with its World Premiere in Teton Village, WY. To get more information on tour stops, athlete appearances and giveaways visit http://www.tetongravity.com/undertheinfluence/tour.aspx
The TEASER for UNDER THE INFLUENCE is available for viewing and download at: http://www.tetongravity.com/undertheinfluence
ORDER UNDER THE INFLUENCE today at: http://www.tetongravity.com
Teton Gravity Research is an action sports production company specializing in ski / snowboard films, surf films, TV programming and online content. For more information visit http://www.TETONGRAVITY.com or call us.
TGR Contact: Steve Jones (307) 734-8192 x13 or scj@tetongravity.com
To Order DVDs and TGR Clothing Visit http://www.TETONGRAVITY.com