Words and photos: Jack NelsonSome of you may know about Sustainable Seasons, some of you may not, so for a little background, we are small project based in Salt Lake City that aims to promote alternative fuel use and other environmentally friendly ideas within the ski industry. This past weekend we took a trip down to Kirkwood for the North American Freeskiing Championships, and figured maybe all you guys at Newschoolers might like to hear about it. I picked up Nick Greener, who was just getting back on his feet after this tumble two weeks ago. We filled up with a tank B20 biodiesel in Salt Lake, and we were off to Kirkwood. We had to top off with about half a tank of regular diesel in Elko unfortunately, but that got us all the way to Minden (just outside of South Lake Tahoe) and Bently Biofuels where we filled up with a full tank of B50 biodiesel.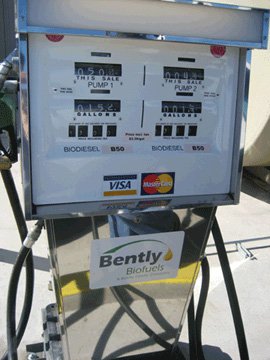 Pump full of Bio fuel bountyIf you are ever in the South Lake Tahoe area and need diesel, we would highly recommend checking out Bently Biofuels. Carlo at Bently will be glad to help you out, and you can be driving cleaner fuel than any where else in the area. Now on to the important stuff; the skiing. For a little background on these freeskiing events, they are scored on a 50 point scale, with five categories: Line, Control, Fluidity, Form and Aggressiveness. Line is the most important category, as you can only score two points higher than your line score in any other category. The goal is to ski the hardest line you can, as fast as you can, as smooth as you can. Judges don't like to see stops, hip checks or hesitations, but they do like to see stomped landings and fast controlled turns. I encourage everyone on this site to give a big mountain contest a try before the end of their career, all of the events are a huge party and it gives you a chance to test your ability on the hardest part of the hill against the best.We arrived in Kirkwood on Thursday to inspect the semi-finals venue. You would think somewhere that got 20 inches of snow two days before would have been really soft, but when you combine 70 mph winds and 50 degree temperatures, things get firm pretty quick. After our first inspection, Nick and I realized that the skiing was going to be a little more high consequence than we had hoped. But everyone had to deal with the same conditions, so it was on with the show.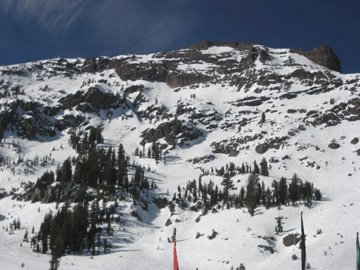 The semi-finals venue in fullFriday rolled around, and it was time for the show. I ran 15th on Friday, but unfortunately I bit off more than I could chew at the top with a double line. After losing both skis and poles, my chances were over, and I was delegated to watching and 12 ounce curls. (Thanks Corona.) Nick managed to stay on his feet qualifying 16th going into finals. Other highlights from the day included Chris Tatsuno skiing way faster than anyone should have, Drew Stoeckline's super exposed triple line and lots of close call bails with no serious injuries.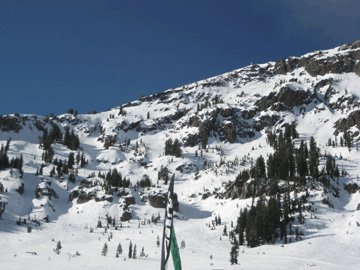 Superfinals Venue from the finish.Saturday rolled in with blue skies and beach like weather, perfect for spectators but a little hard on the snow conditions. From the talk of riders, things were a little sticky in the venue, but they were glad to see it soften up before the contest got underway. The finals venue was held on the looker's left hand side of the permanently closed "Cirque" at Kirkwood. It's roughly 1500 vertical feet of steeps, cliffs, rolls and trees. With a stacked field, the stage was set for a serious show. One of the biggest highlights of the day came from earlier runner Guerlin Chicherit. Not having his best performance in the semi finals, the former world champion put on a serious show in both finals and super finals, with two of the highest scoring runs of the day. Near flawless skiing with no hesitation helped him move from the bottom of the pack all the way to second place. To combat the flying Frenchmen, the rest of the field stepped it up as well. We saw huge 50+ foot back flips from both Drew Tabke, and Josh Daiek, but unfortunately they both had some trouble staying on their feet and didn't make it to the Super final. Tabke did manage to win the coveted Sickbird for his efforts. Local boy Craig Garbiel came out with a vengeance, and skied so strong that he managed to move from eighth place all the way to the top of the podium. Local knowledge certainly helped, but since this is the only day that Craig gets free reign on this slope, he didn't have too much of an advantage. With the Superfinals finished, it was time to put the Corona sponsorship to work as we all headed to Mont Bleu Casino for the after party. I managed to lose my credit card, as well as most of my memory by the end of the night, so it must have been a pretty good time. The overall age group of big mountain contests is a little higher than at the jib events, so the evening's festivities are ramped up accordingly.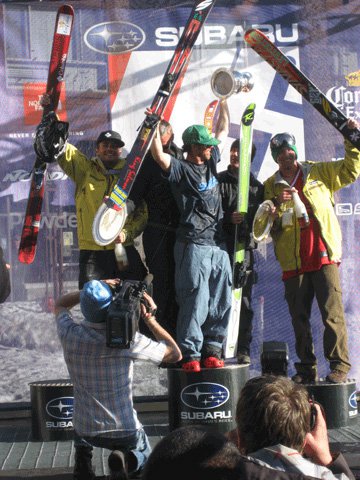 Podium full of big skis and bigger skiersWith the event wrapped up, we headed out of town with little sleep and a tank full of Bently Biodiesel to get us back to Salt Lake. A big shout out goes out to all of the competitor for putting on one of the most exciting shows in the ski industry as well as the entire MSI and Kirkwood staff for running such a great event. To get a better feel for the event than words can do, head here for video highlights and a bunch of helmet cam videos to get a real feel for how fast and big these guys are going in less than perfect snow conditions. Both the day one and finals highlights and the POV with Chris Tatsuno are a few of my personal favorites.Men's Results1. Craig Garbiel2. Guerlin Chicherit3. Christian Boucher4. Adrian Courier5. Drew StoeckleinWomen's1. Laura Ogden2. Elyse Saugstad3. Rachel BurksFull Results