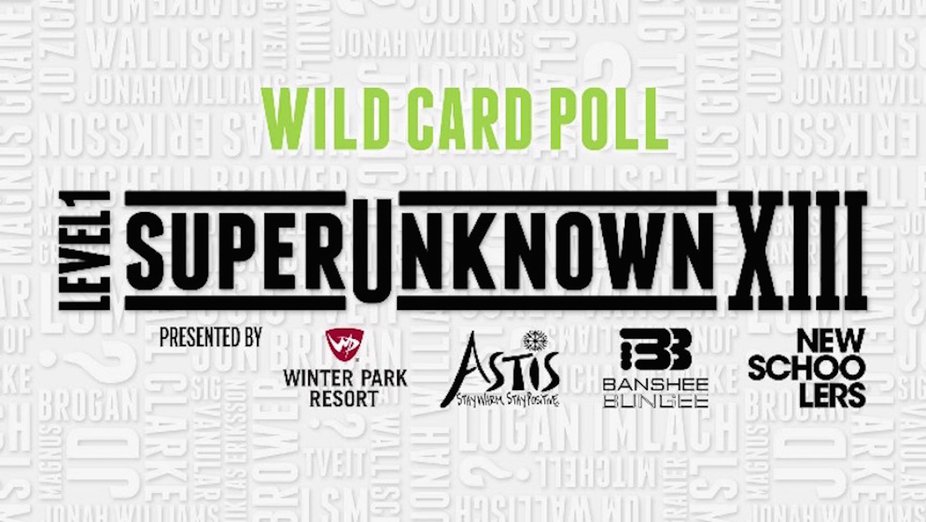 Superunknown XIII is underway, and the boys over at Level 1 have just released the Wild Card selections. They have a poll of 15 skiers and YOU decide who advances to the finals in the 10th spot! Superunknown is the culmination of hard work, and usually a season's worth of practice to create the perfect edit. If you're unfamiliar with Superunknown, Level 1 describes it as:
"The original video talent search contest and still the biggest and best! Started back in 2004 as a way to give talented skiers a chance to gain exposure, sponsorship, and a shot at filming with Level 1, Superunknown set out to provide an alternate route to exposure outside of the traditional competition scene.
Over a decade later the players have changed but the game is still the same- each year Level 1 receives nearly one hundred entries from around the globe from the most skilled and talented amateurs hoping to take the coveted title."
Voting goes until Sunday March, 27th 11:59pm (MST) and you can vote once a day. You can vote here.
https://www.newschoolers.com/videos/watch/820387/Aleksi-Patja-Superunknown-XIII-Semi-Finalist
https://www.newschoolers.com/videos/watch/820388/Calvin-Barrett-Superunknown-XIII-Semi-Finalist
https://www.newschoolers.com/videos/watch/820389/Chris-Bolduc-Superunknown-XIII-Semi-Finalist
https://www.newschoolers.com/videos/watch/820390/Freddie-Grann-Superunknown-XIII-Semi-Finalist
https://www.newschoolers.com/videos/watch/820391/Evan-Furbeyre-Superunknown-XIII-Semi-Finalist
https://www.newschoolers.com/videos/watch/820392/Gaute-Foss-Morken-Superunknown-XIII-Semi-Finalist
https://www.newschoolers.com/videos/watch/820393/Jacob-Hyllengren-Larsson-Superunknown-XIII-Semi-Finalist
https://www.newschoolers.com/videos/watch/820394/Josh-Wong-Superunknown-XIII-Semi-Finalist
https://www.newschoolers.com/videos/watch/820397/Kirk-Scully-Superunknown-XIII-Semi-Finalist
https://www.newschoolers.com/videos/watch/820399/Kory-Kirby-Superunknown-XIII-Semi-Finalist
https://www.newschoolers.com/videos/watch/820401/Peter-Koukov-Superunknown-XIII-Semi-Finalist
https://www.newschoolers.com/videos/watch/820407/Quinn-Wolferman-Superunknown-XIII-Semi-Finalist
https://www.newschoolers.com/videos/watch/820411/Robert-Szul-Superunknown-XIII-Semi-Finalist
https://www.newschoolers.com/videos/watch/820417/Sam-Zahner-Superunknown-XIII-Semi-Finalist
https://www.newschoolers.com/videos/watch/820421/Vinzenz-Keller-Superunknown-XIII-Semi-Finalist