The French Revolution is complete and there's been an official changing of the guard.  Xavier Bertoni and Kevin Rolland are now the new superpipe tag team duo of the modern era, a force to be reckoned with and more importantly the new face of French pipe skiing.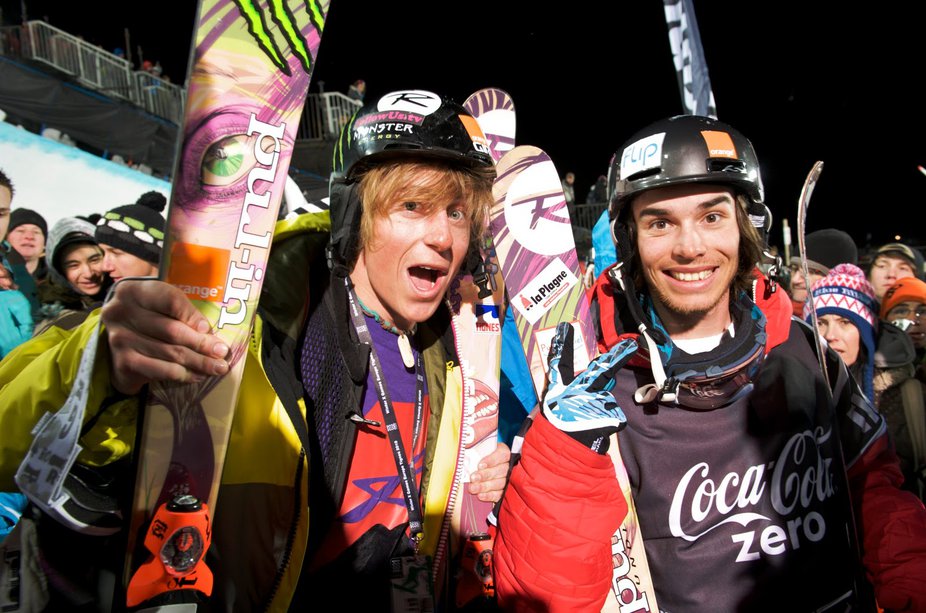 Xavier and KevinLast night the earth skipped an orbital beat when for the first time since we can remember, Simon Dumont failed to make it through the elimination round to compete in the finals.  On the roster and throwing down in front of 17,000+ pipe crazed fans were Xavier Bertoni, Kevin Rolland, Jossi & Byron Wells, Justin Dorey, Mike Riddle, Tucker Perkins and AJ Kemppainan.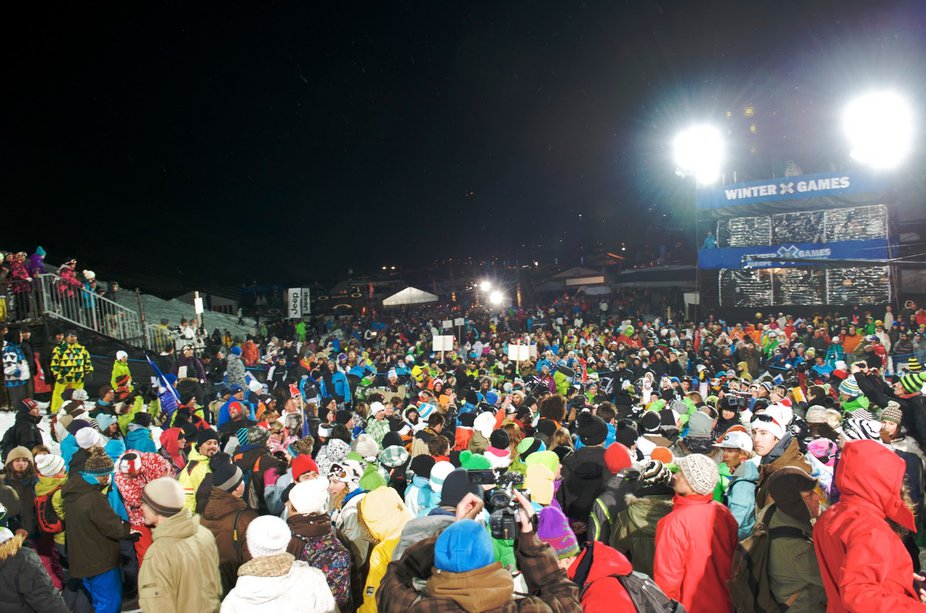 17,000+ in attendanceFor those on hand at the inaugural ESPN Winter X Games Europe Superpipe Finals there's a good chance you suffered a minor case of "am I in Aspen or the alps dementia."  Had it not been for the abundance of French lingo being slung over the mic and the French alps creating one of the most spectacular backdrops the X Games have ever seen the little brother of the North American X Games is well on its way.   When you consider the fact that this was the first X Games on European soil and that the finals are all being held midweek, the spectator turnout undoubtedly rivals that of Aspen.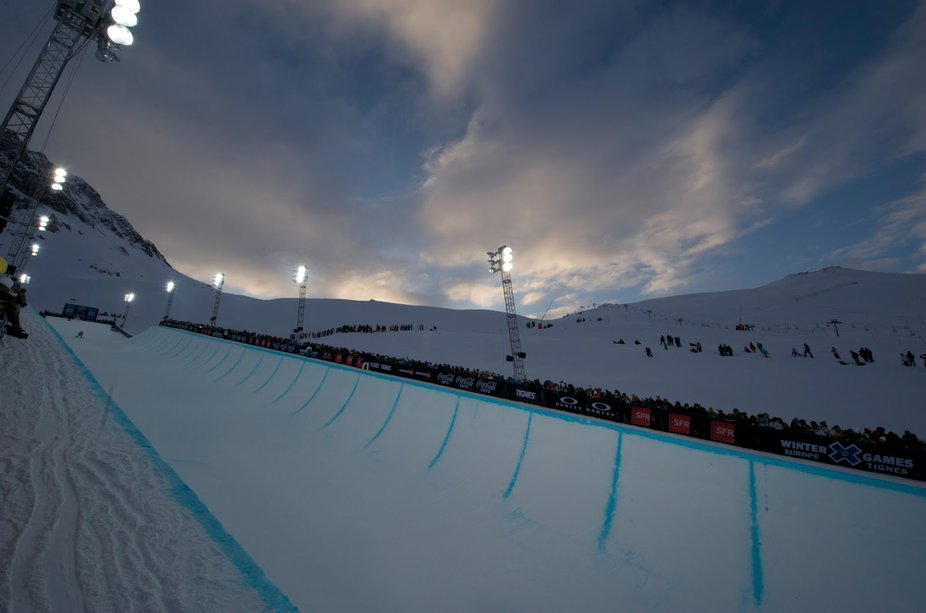 Tignes superpipeAs the sun began to set, 8 athletes took to the pipe in a best of 3 finals format.  Starting in reverse order from last nights elimination round AJ laid down one of only two top to bottom runs amongst the first 5 athletes to drop.  It was young Byron Wells who laid down a run that ultimately sparked a flame up under the ass of the crowd that would carry through until the very end.  Following Byron was his older brother Jossi who had uncharacteristic difficulty with his double flip on the right side wall.  During training and in his first and third scored runs Jossi over rotated his dub flip coming in 90 to sketch out his landings seating him in 6th place on the night.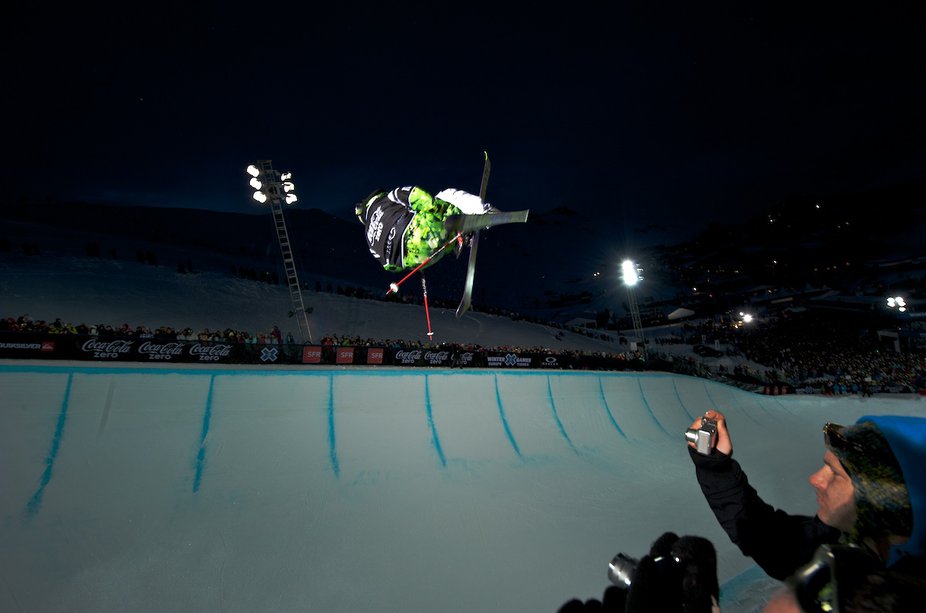 Jossi WellsFollowing the elder Wells came a massive roar from the crowd reminiscent of a European football arena event which could mean only one thing? semi local hero from down the road, Kevin Rolland was about to take to the pipe and light up the night.  Kevin dropped in with ferocious power boosting the nights highest first hit and somehow made every hit to follow grow from there.  Rolland capped off a flawless first run with a cork 12 on his last hit at a solid 15' out.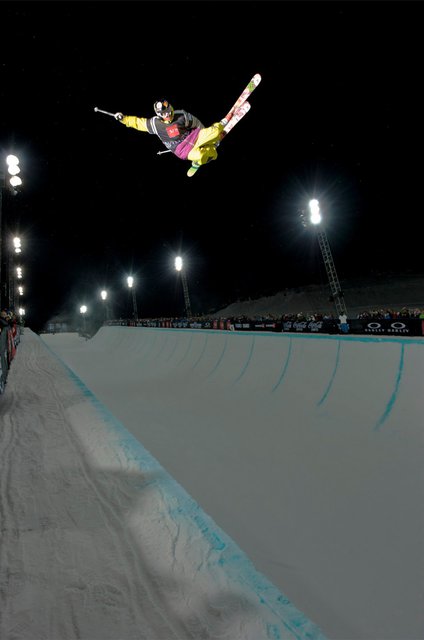 Xavier BertoniAt that point the pressure was on for Tignes local boy Xavier Bertoni.  Opting to play the "build up throughout the evening" strategy, Xav threw a single flare on his first hit instead of the dub flip, tapped a bit of lip on his way in and cleaned it up through the bottom landing himself in 2nd place for the time being.
Dorey manages to make this look buttery smooth in personJustin Dorey charged into his first run with back to back left and right side doubles taking hold of the second place spot for almost all of run number two.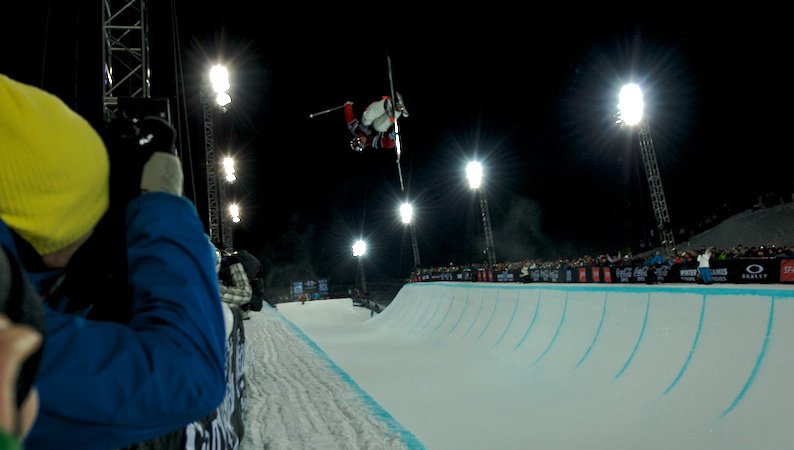 Kevin's switch 7In true X Games fashion it was the local heroes Xav B and Kevin Rolland who did exactly what they came to do. Kevin dropped in for his third and final run and somehow improved upon what was already a flawless run, boosted higher on his double flip and flat 3, traveled every hit an extra 10 feet down the wall and somehow one upped his own dub 12 on the final hit to lock in Gold at the first ever European X Games, his second X gold of the season.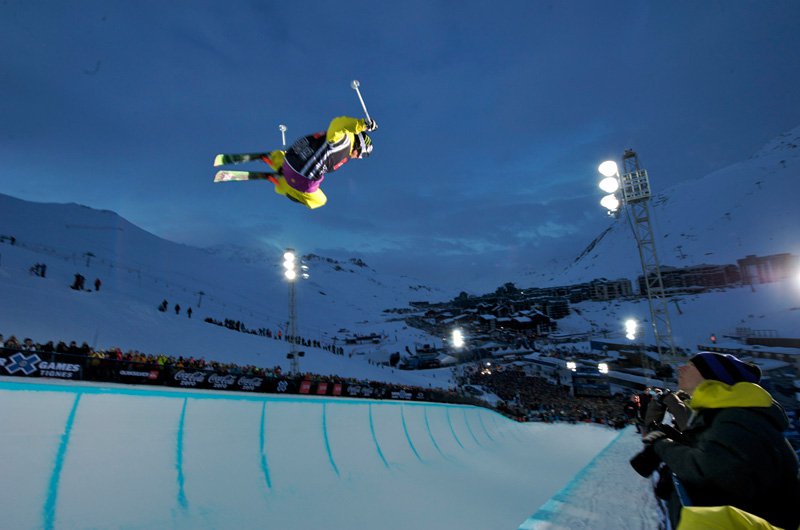 Xav flat 3The pressure was placed solidly on the shoulders of Xavier to hold up his end of the deal and that's exactly what he did.  Saving the double for his final run, Xavier cleaned up his run to near perfection, spinning nines both directions and lofting one of the biggest flat 3's known to man Xav capped off his run with a monster stomped 10 to take home the silver and for the third time this winter step atop the podium with long time friend Kevin.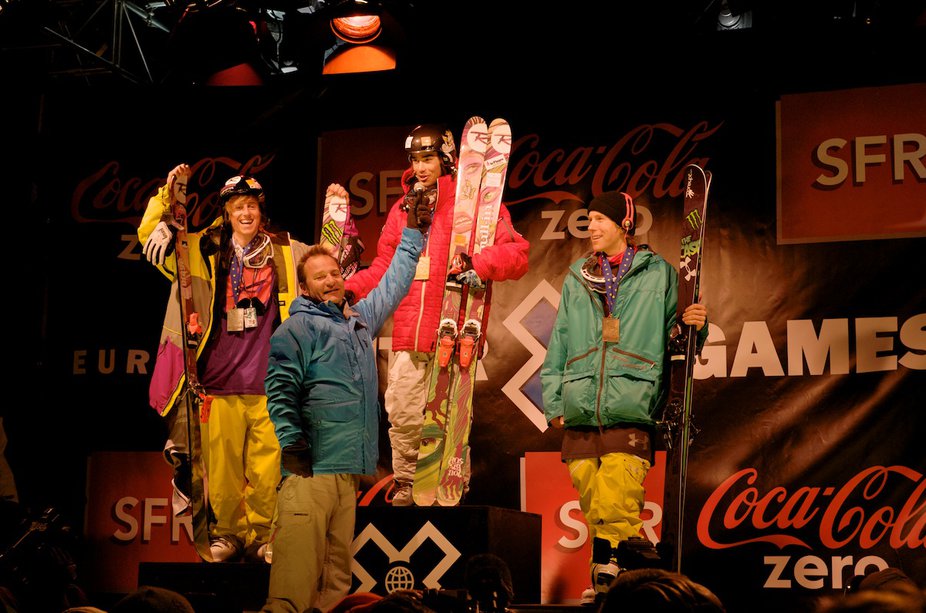 Winter X Games Europe Superpipe Podium L to R: Xavier Bertoni, Kevin Rolland, Justin DoreyWith no embellishment, tonight was a night for the history books, one to remember and one to look back on when you ask yourself, exactly when did the new generation of pipe riders take over the game that was once owned by names like Tanner and Simon? the new generation is here and we can't be anymore stoked for our boy Javier Bertonez (aka Xavier Bertoni).