Words: Malcolm Arcand
Photos: Alizée Emond
Once again, the second annual Summer Send Off took place in Pointe Claire, Montreal, and once again, it was a considerably cloudy day with a lot of mud. By the end of the day everyone looked like they had crapped their pants, which was rather funny but unpleasant nonetheless. But regardless of these uncontrollable circumstances, the day was met with an abundance of magnificent trickery performed by none other than the awesome kids that showed up. The guys from 3 Trio Productions were also in attendance to prove just how talented French kids are when it comes to rails.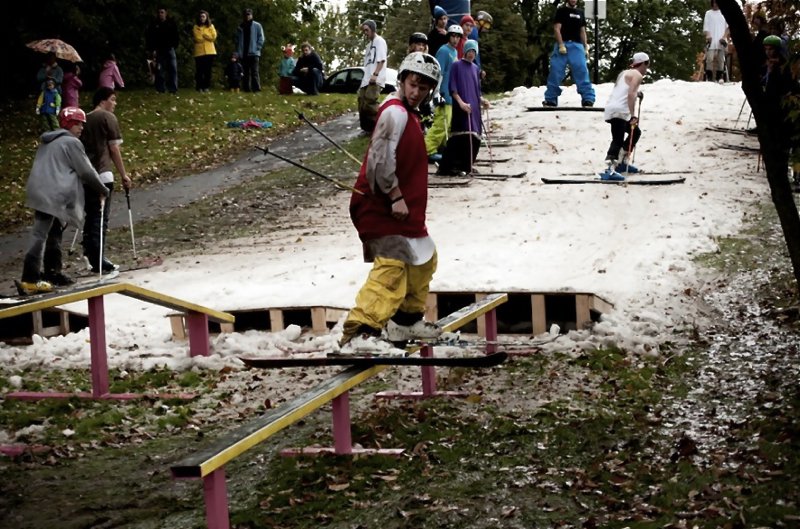 Some rail shredage.
Everyone was eager to hit some rails before winter started, and as a result the organizers were forced to make several emergency snow stops at a nearby arena in order to restore the deteriorating set up.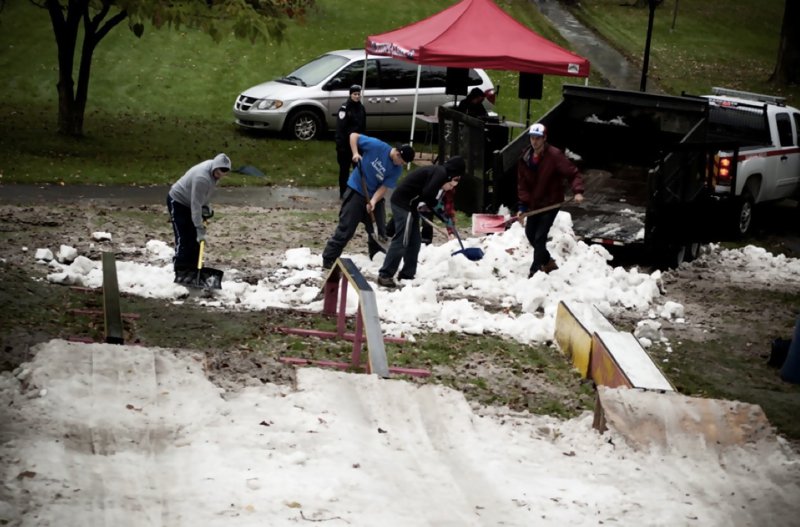 Participants had the choice between a flat rail, a battleship and a flat box.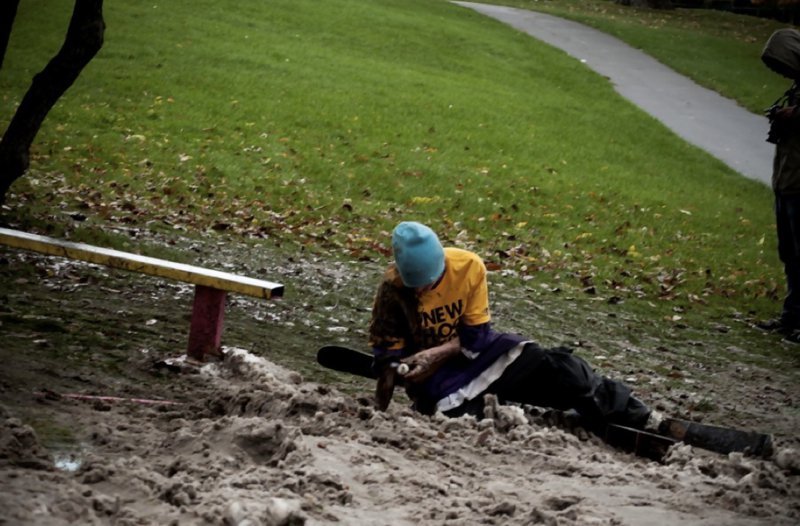 Vincent Charette with what appears to be a cellular telephone in his hands, quite possibly texting his friends to tell them just how much fun he's having at the rail jam.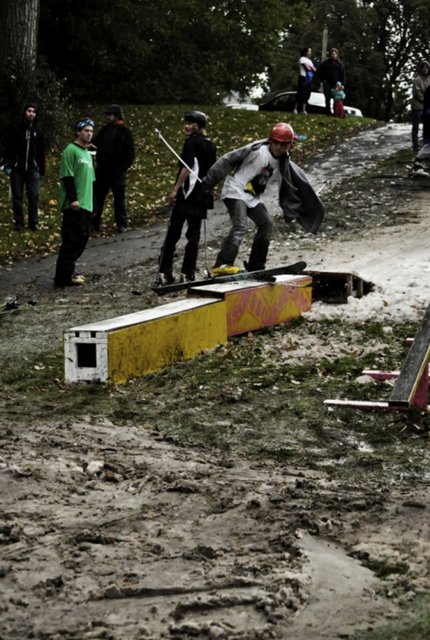 Mat Rich slaying the box.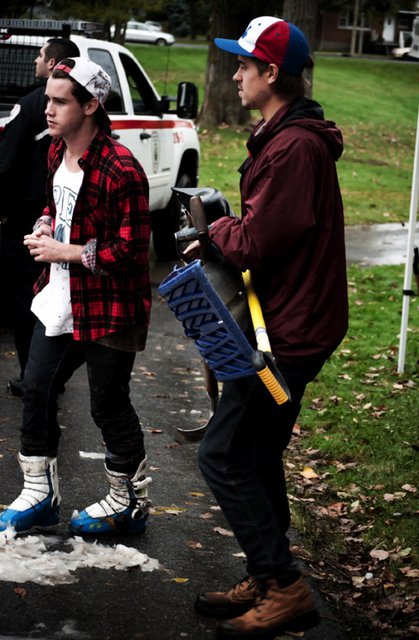 The organizers Peter and Stephan…organizing stuff.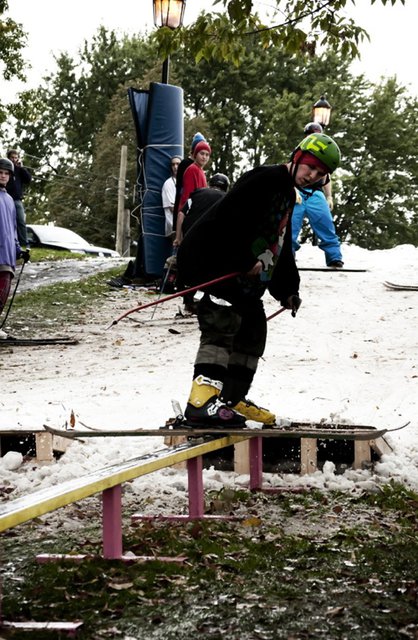 Nelson Arcand Laliberté, aka 'Bananas', hitting up the flat bar, on his birthday.
Vincent Charette, who placed fifth, threw down some of the weirdest shenanigans of the day, including a multitude of different 50/50 combinations. Thomas Aubry put on a his steezy performance and as a result, placed fourth. Marc Dandurand got third because of his smooth style and big tricks. Mat Rich placed second thanks to the technicality and consistency of his tricks, and finally, Nuka Choquette from 3 Trio took the deserving first place victory, most notably for his full blown craziness. For their noble accomplishments pertaining to the competition, the winners were awarded prizes contributed by Newschoolers, D-Structure, First-Drop, Axis and Jay Peak.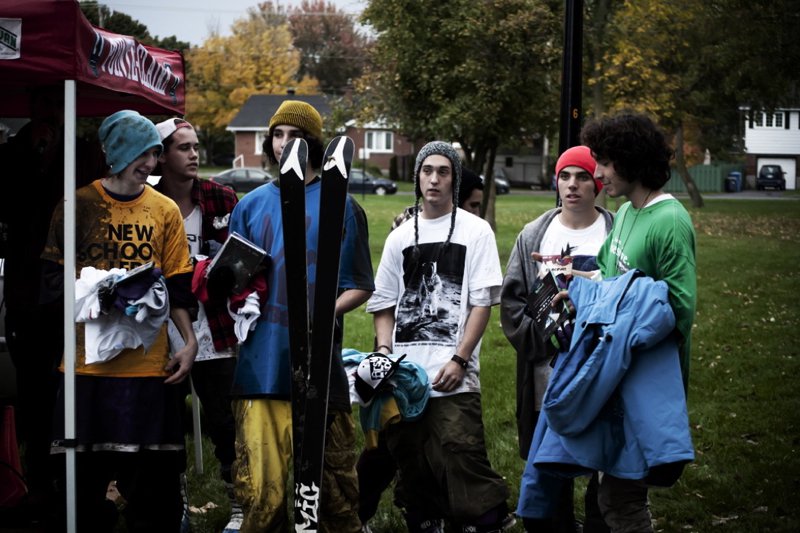 Vincent Charette (5th), Thomas Aubry (4th), Marc Dandurand (3rd), Mathieu Richard (2nd) and Nuka Choquette (1st).
Overall, it was a super fun rail jam with an impressive amount of variety in tricks. If you're in the Montreal area around the same time next year, be sure to make it out to the Summer Send Off rail jam, because they just keep getting better.