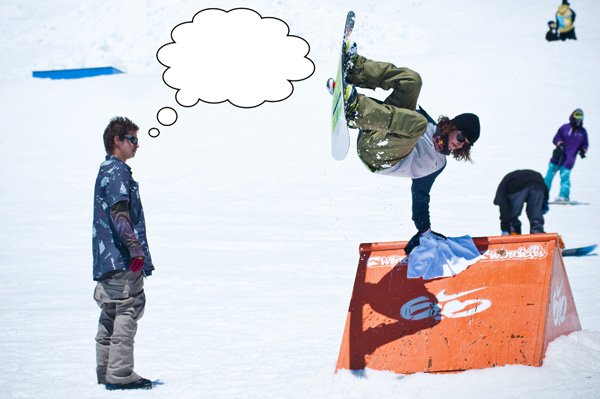 Well, it's Friday, and that means the Summer Caption Contest has come to an end. We got tons of responses so thanks for taking part in the challenge! The lucky winner will get a custom Windells NXTZ, DVD, and sticker pack. You earned it. Before we can announce the winner, we want to share some of our favorite responses with you guys. Here are the top 5 Honorable Mentions:
?I think I left the sink running?.? ? Jonny
?I swear I told Forest that it was Hawaiian shirt day.? – Ben
?At Windells, not only can you learn to ski and snowboard like a pro, but Forest Bailey can also teach you how to professionally clean the 6.0 kicker!? – Vince
?(sigh). I swear if he doesn?t get down I?m going to make a caption contest and put it on the Windells site.? ? Troy
?Wow, polarized lenses see through more than water!!? ? Brad
Now for the big winner. Congrats to Cora Belsher for filling in Mr. Johnny Lazz's thought bubble with a fun and creative response. ?Wow, I can't believe he can do a one arm push-up in that position.? It's funny and also believable. Forest Bailey is exceptionally strong. I mean really, that kid wakes up and just starts lifting weights. Congratulations again Cora! You are the lucky winner of a Windells custom prize pack. Stay tuned everyone for more contests all winter long!
Windells - BMX. Skiing. Skateboarding. Snowboarding.