Words and photos by Jeff Schmuck
It never gets old. Getting on the Wizard Express at the base of Blackcomb in your flip-flops and passing lush green foliage, black bears and Japanese tourists on your way up to the Horstman glacier.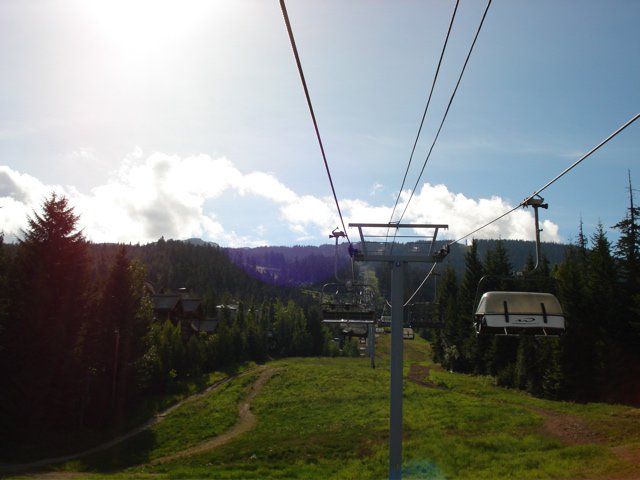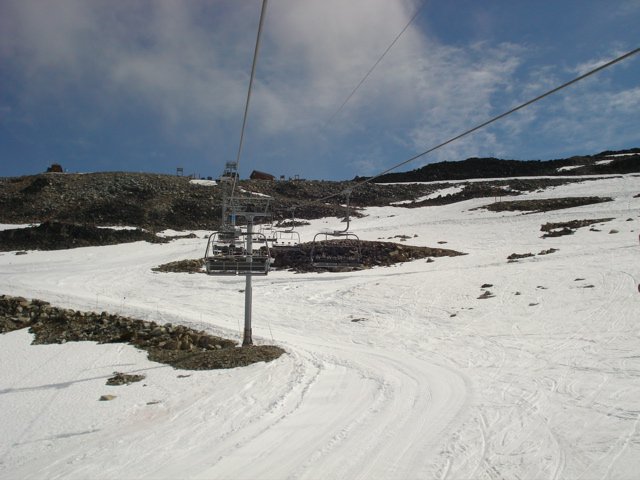 Laid out before you like a smorgasbord cooked by Ullr is Camp of Champions, Momentum, Dave Murray and a host of other camps, plus the former site of High North, where Momentum is hard at work building some behemoth jumps for their coaches and campers.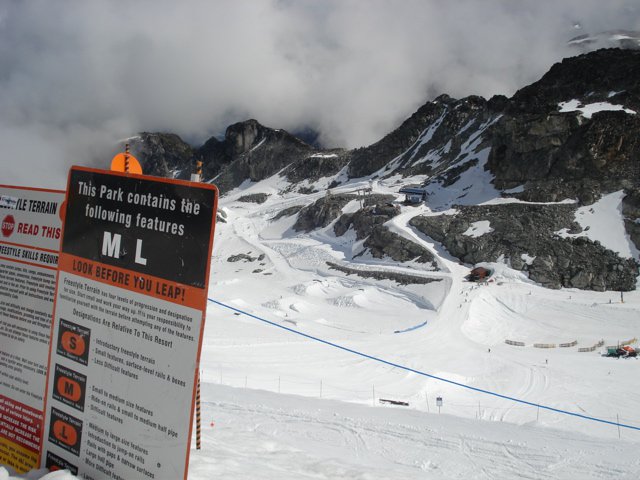 After some rain and snow last week the sun was out in full force today, and if you've ever been a camper in Whistler, then you know that when the sun is out on the glacier…there's no place quite like it.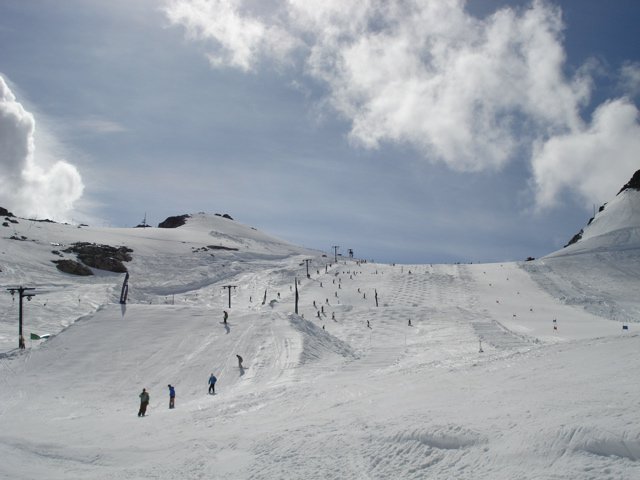 Momentum
Momentum kicked things off last week and are in the middle of their first session. Coaches Justin Dorey, Mike Riddle, Matt Hayward and others were hard at work today showing kids from all across the globe how to strut their stuff, but no one was working as hard as the Momentum diggers.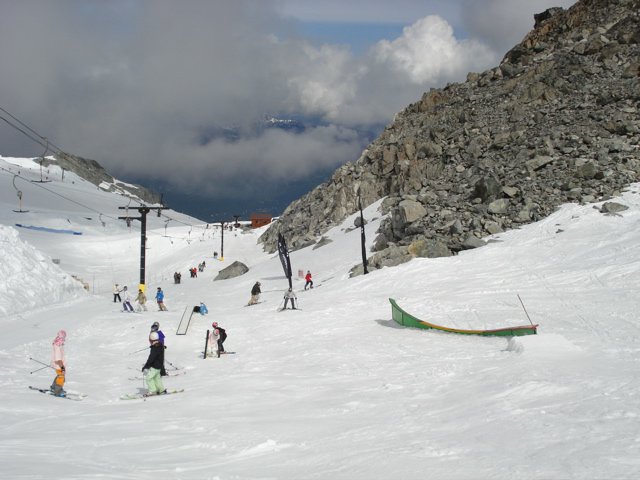 Mike Riddle and his crew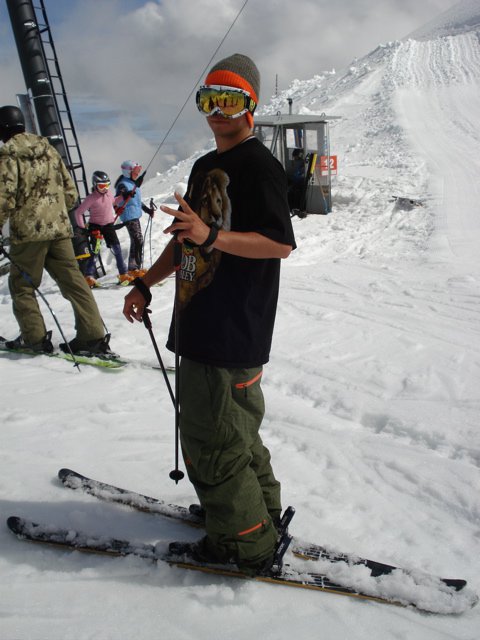 Matt Hayward
With some finishing touches still needing to be done (the wallride is still under construction) head coach Trennon Paynter and head digger JA Maheu had their boys (and girls) working their tans off digging, salting and shaping. And when they weren't doing one or all of the above…they were shredding. The level of talent coming out of the Momentum diggers is easy on the eyes to say the least, and today's afternoon session on the triple takeoff jump at the bottom saw some solid offerings from the shovelmen.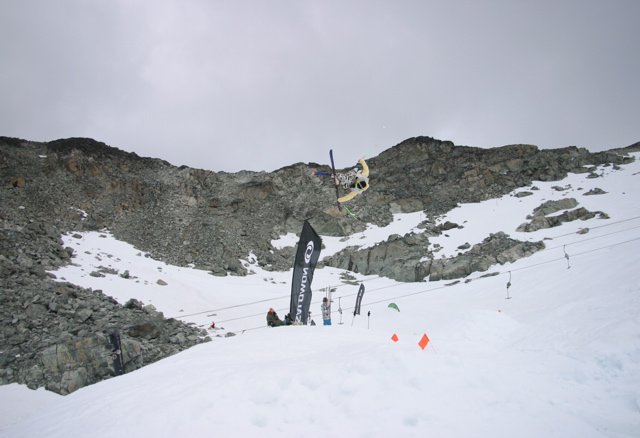 Dane Tudor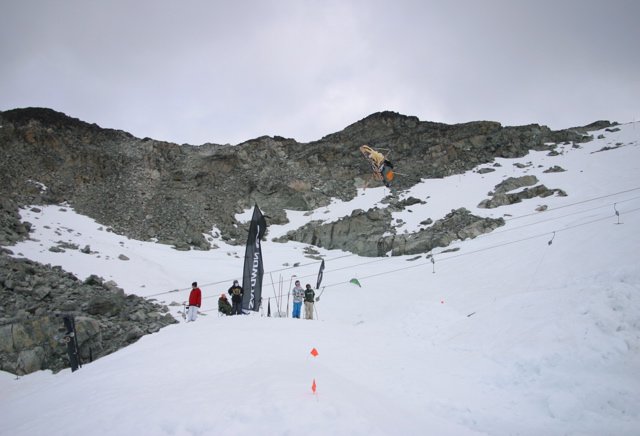 Alex Mathers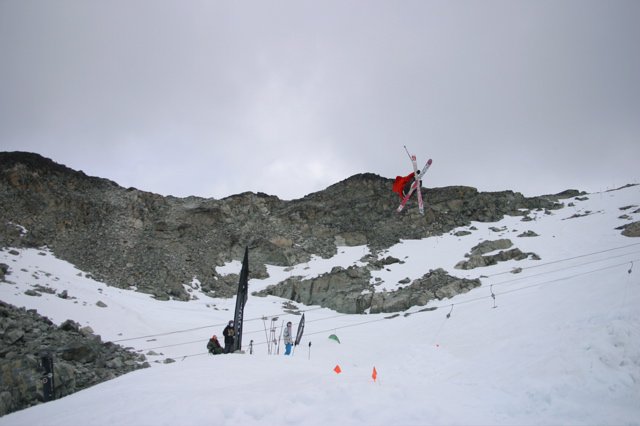 Iannick B!
Momentum's lane is looking pretty sharp, and both Trennon and John Smart (Momentum and SMS clothing's owner, operator and full-time stud) were kind enough to give me a tour.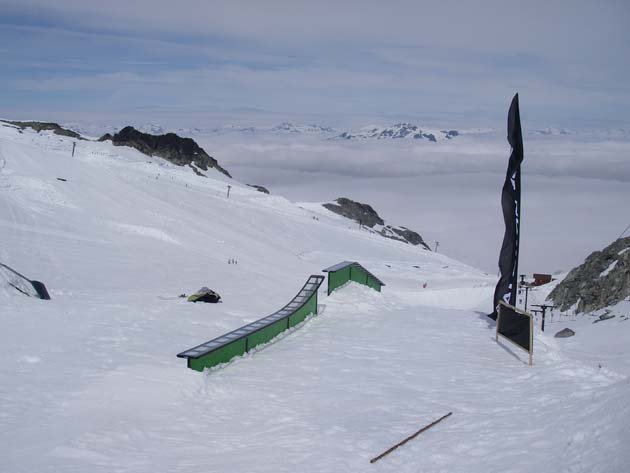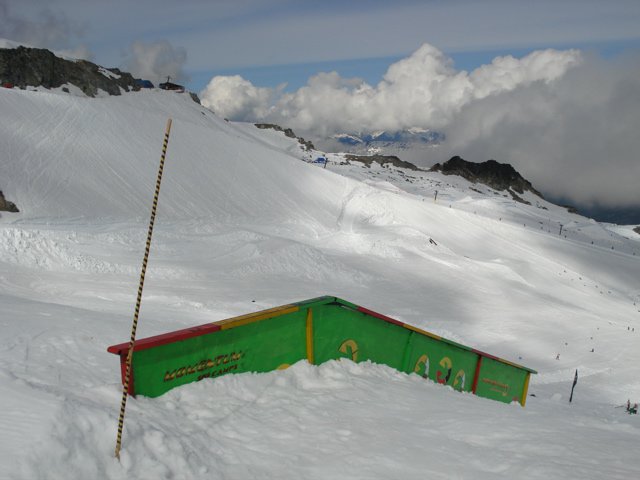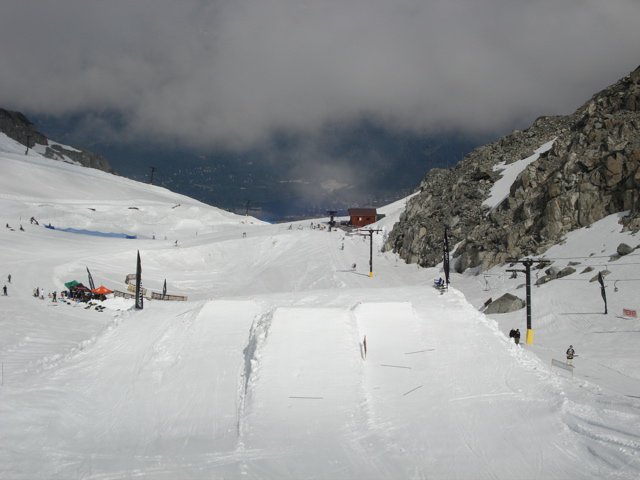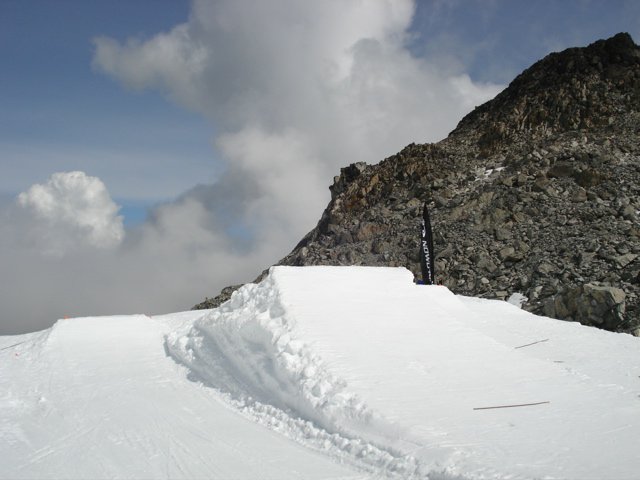 With two new lanes this year the lookers right of the t-bar is simply sick, with two sets of rail lines at the top into a medium size table in the middle followed up the crown jewel of the lane, the aformentioned triple take-off jump at the bottom.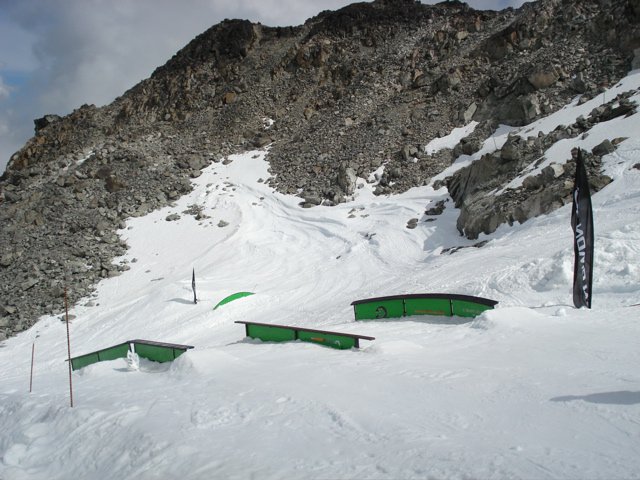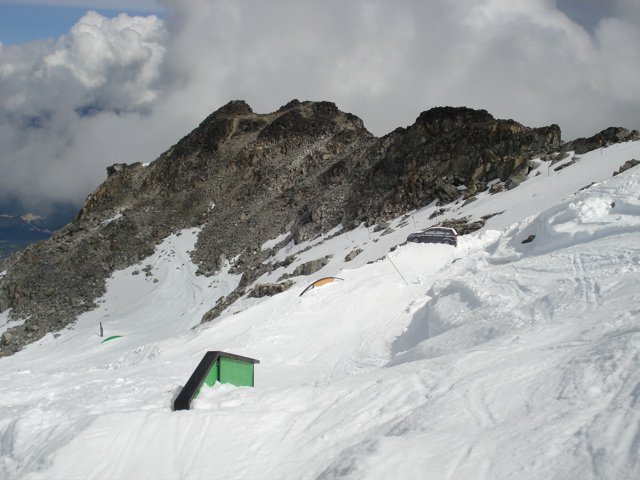 Lookers left of the t-bar, which has always been Momentum's bread and butter, boasts the classic wallride along with two other rail lines and an extremely fun mini-shred course at the top, with a flat-down box into the Pontiac mini-wallride followed by a rainbow rail.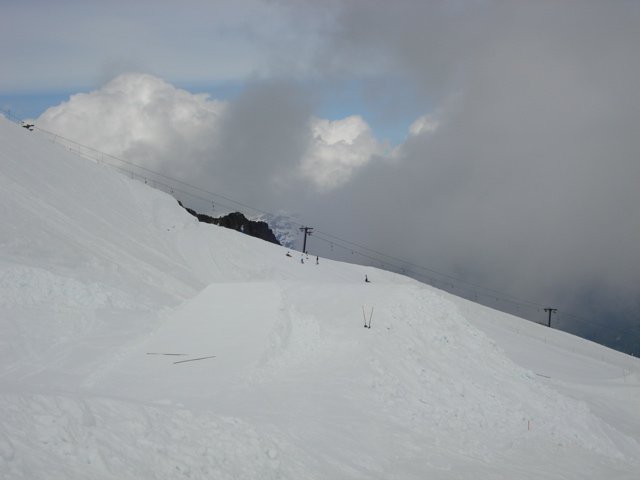 However where Smart's camp is making the most noise is over at the old High North lane, where TJ Schiller spent the better part of last week in a cat developing some sure to be tasty offerings once they're complete. The top of the lane will boast a hip, into a 100+ foot step down followed by a 90+ foot step over before the line ends with another hip. The jumps were still taking shape today but were looking good, and it's undeniable to anyone looking at them that TJ's brainchildren will likely see some of the most serious action this summer.
But speaking of serious action, it doesn't get any more serious than Camp of Champions. The biggest ski and snowboard camp in the world has stepped it up hard this year, both on and off the hill by converting two apartment buildings into the COC Dorm (also the NS team's humble abode for the summer), complete with pimped out computer and TV lounges, custom made COC bedsheets and towels, and a large and in charge tent in the parking lot with a 40 foot wide mini-ramp.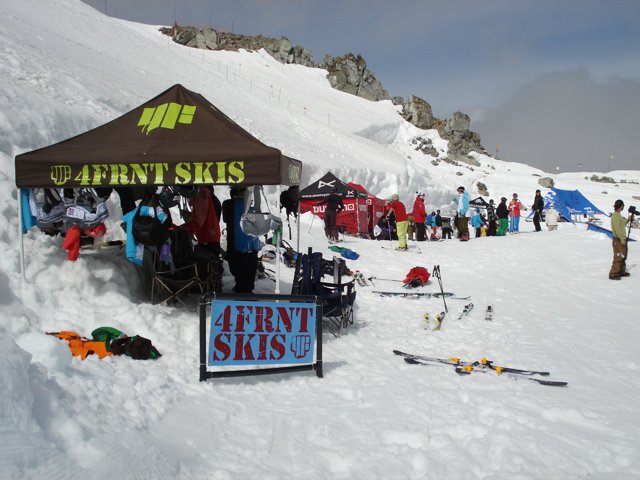 Camp of Champions
On hill, COC is simply crazy. Demo tents from 4FRNT, Nitro, Burton and a massive blue COC circus-style tent litter the top, with a multitude of the top skiers and snowboarders in the world mulling about as they give priceless advice and guidance to campers of all ages and abilities. And proudly resting beneath the scrum is as COC owner and operator proudly and accurately put it, 'the best park in the whole world.' There are too many sick rails, mini-jibs, wallrides, and small, medium, large and extra-large sized tables to talk about, so I'll let the pictures do it for me…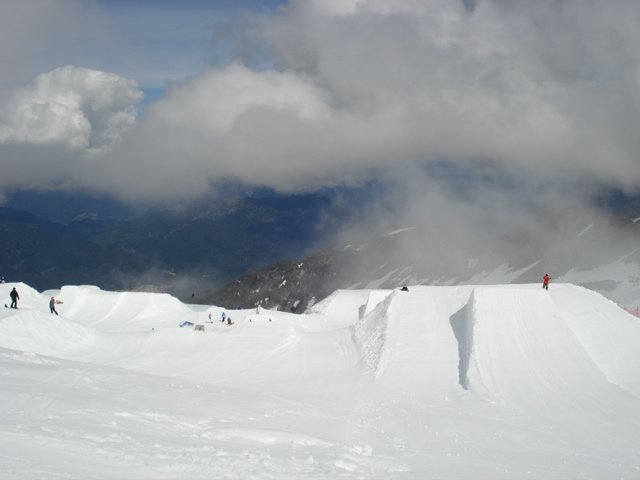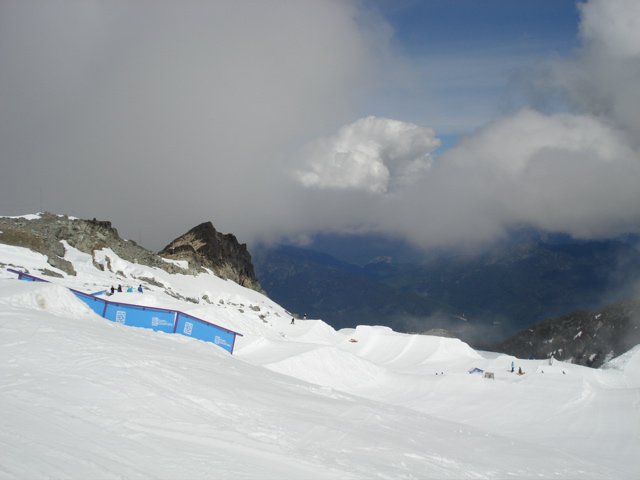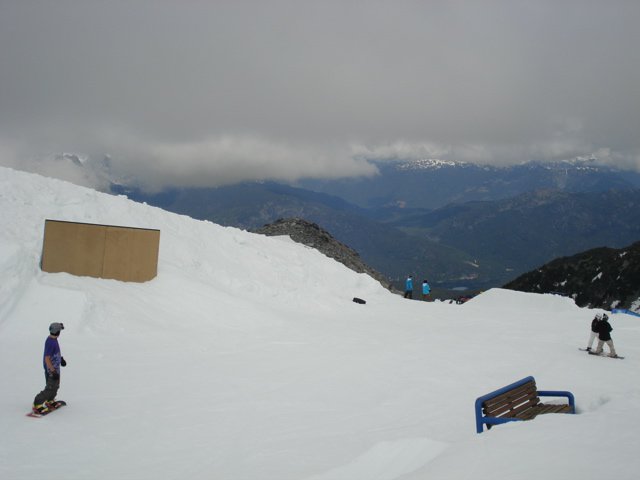 Also at the bottom of the lane is a full on pipe, a table that may be the biggest and most perfectly manicured jump on the glacier and the beginnings of the take off for the jump bag table, which everyone is eagerly anticipating.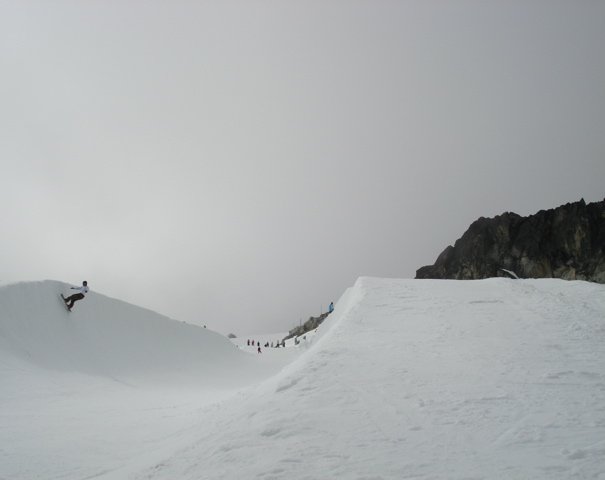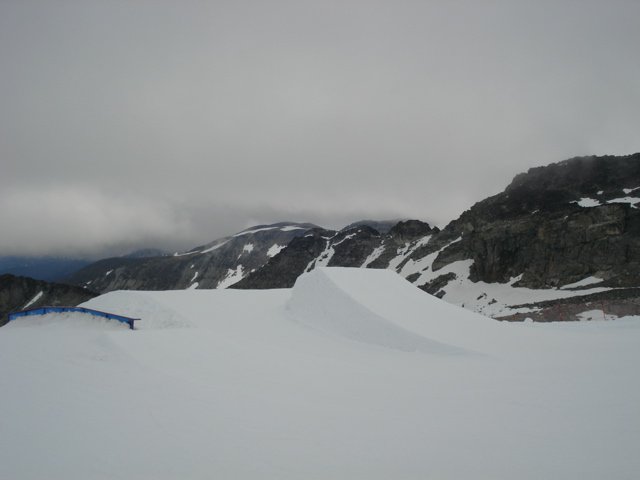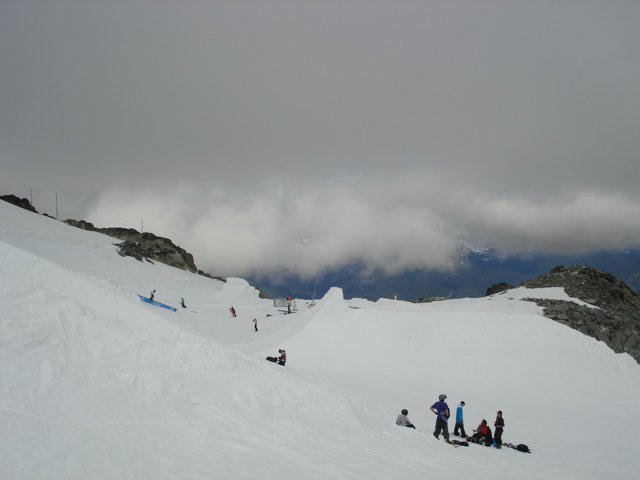 Jump Bag take-off in the distance, hip in the foreground
Each week COC will be having a company themed week, and this week is Joystick week…and it shows.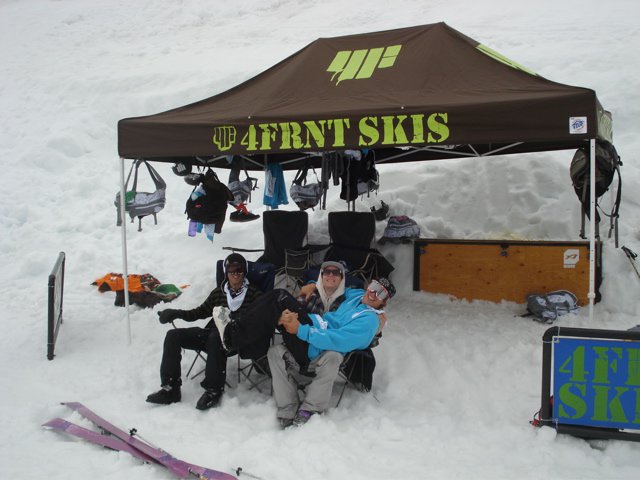 Jordan Seldin, Max Hill & Joe Schuster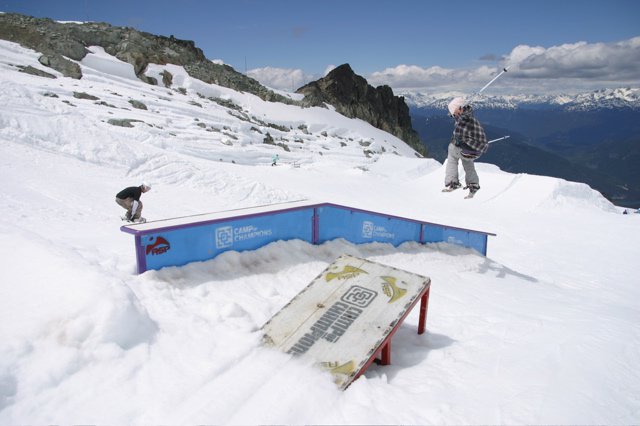 Max Hill
Anthony Boronowski, Max Hill, Jordan Seldin and a growing number of others from the team were killing it all day today, as COC's head coach Matt Sterbenz looked on with a smile.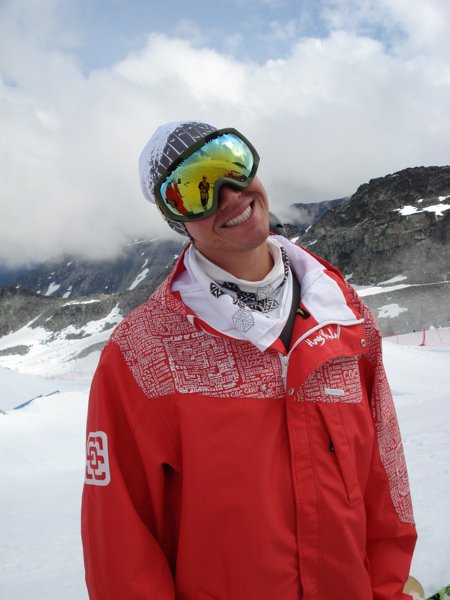 Matt Sterbenz
Also out in full force were Wiley Miller, who spent his afternoon getting to know the features well enough to call them bitch (although he's much too nice of a guy to say it)...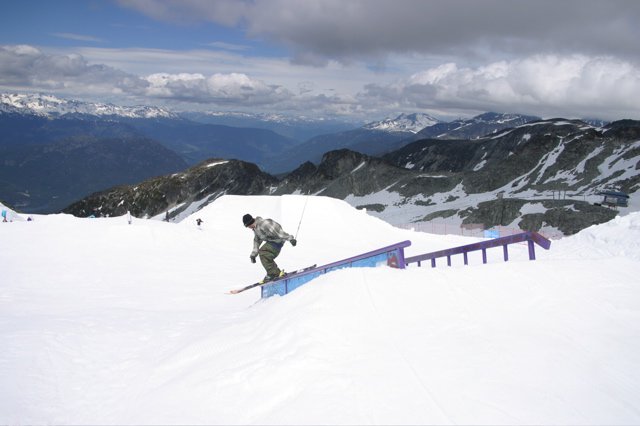 Wiley Miller
...and the illustrious Joe Schuster, who was sending it all over when he wasn't busy showing off his huge muscles and telling everyone about the line-up of girls who wanted to meet him at the bar last night.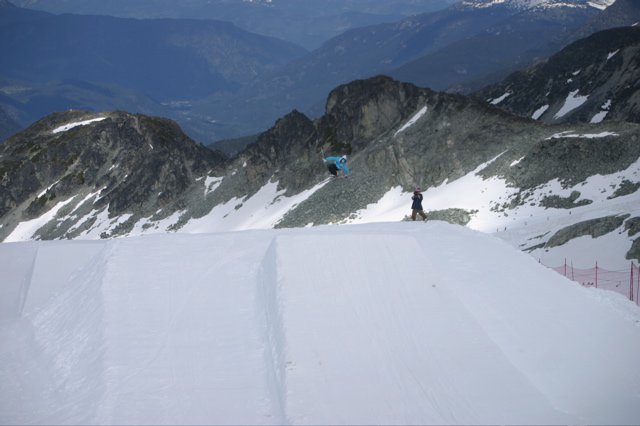 Joe Schuster
Just below COC is Dave Murray, who have a seemingly perfectly manicured lane in their own right which is bordered by the public lane and superpipe, both of which have been stepped up from previous years with the public lane sporting a nice rail line and some medium sized tables.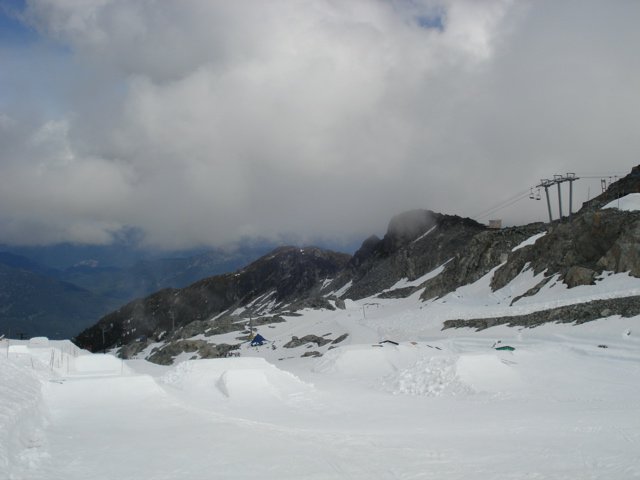 Dave Murray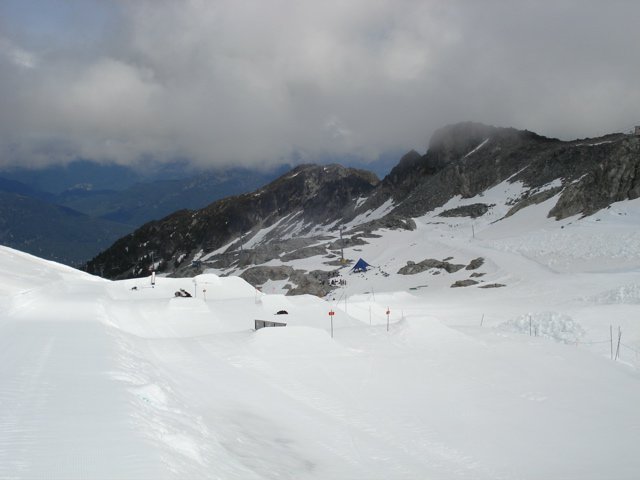 Public Park
So as day turns to dusk here in Whistler the skies continue to be clear with more nice weather forecasted for the rest of the week. The camps are underway, the NS team has arrived (complete with Bitch #1, who after doing whatever Ken from COC said for a good part of the day was picked on mercilessly by Justin Dorey and Joe Schuster last night at the bar while TJ tried to get him laid), and the glacier is going to go off and be more fun than ever. If you're in town, you're stoked, and if you're coming, start counting the days, but if you're not planning on being in Whistler this summer…you're missing out. So steal your parent's credit card and sign up for one of the remaining spots or enter the last NS Bitch contest by getting yourself a bad haircut. And if you cant pull either of those off, be sure to stay tuned to NS, as we'll be hooking you up with daily updates from Camp of Champions in the park update section, articles on what's going down at camp along with interviews with your favorite pros in the news, and all in all the best coverage available anywhere online of the truly amazing summer scene in Whistler.