I wrangled the rowdy Strictly crew to chat again about their next movie offer, 'welcome'. Last time we chatted they were fresh off winning Am. Movie of the Year & Best Cinematography at iF3 and were getting prepped for their inaugural film premiere. Based on the trailer, 'welcome' looks to be a step up in terms of production and skiing, which is no easy feat considering how well done last year's film was. Film bosses Andrew Mildenberger & Gavin Rudy along with Peter 'Egg' Koukov, chimed in this time around to give me the low-down on what they've been up to & what to expect for 'welcome'.
_
Matt Kretzschmar: What was your plan of attack going into last winter? Did you guys change anything up?
Andrew: Yo Matt, thanks for the praise I really appreciate it. We had almost double the crew this year, so Gavin (Rudy) came on board full time running the urban side of things while I was with the pow boys. Having Gavin film the majority of the street clips with a little help from Alex Havey was huge, we could be filming in two locations at one time and stack footage with all the boys. I know it doesn't seem that groundbreaking but having Gavin on board is a game-changer in the editing room and the street. On the pow side, we figured out how to get around pretty good this year, and made it to a lot of places we definitely weren't capable of last year. I actually watched Strictly Business last night and it's pretty wild to see how far everyone's come in the last year, everyone's really coming into their skiing right now and it gets me fired up.
Egg: Only thing that has changed is that Gavin had more poo for brains.
Gavin: I was only involved partially in the post-production of Strictly Business last year but got pretty involved at that point. Andrew and I can't remember if I asked him if I could join forces with him or if he asked me, but we mutually figured we ought to double up for the winter sometime while we were editing SB. What I wanted to bring to the table was to round out the movie and Andrew's styles to create a more wholesome project with pow/park/street. We patched it all together along the way, gave it our best and I think it'll all come through (still crankin). I've had a mantra for a few months, "fuck with the format", so in 'welcome' we've been brewing up some deliberate structure changes to spin the mold of what people expect from a ski movie, just trying for a fresher take. It still has most elements of the regular flow of a ski flick, just our own interpretation.
I also feel like mentioning, not just as my own perspective, but speaking for the crew; the movie is about the skiing (damn, doesn't that sound original). We're asking ourselves, "How can we try to shoot and edit this spot to best show the trick and feature?" We're not thinking about the cineflexing first, we're not putting the drama or story first, the foundation is capturing the skiing in the most understandable way, the rest builds around that.
_
Matt Kretzschmar: I saw you added a few well-known names to the already stacked crew this year in Dylan Siggers, Jonah Williams, Taylor Lundquist, and Nick Hall. What can we expect to see with these great additions to the crew? Is there anyone you were hoping to film with this year but the stars didn't align to make it happen?
Andrew: It was such a good time linking up with Dylan in Revelstoke this year, he brought us to some zones that we didn't know about and is the best to have with you on a trip, such a positive guy with the best style, I love watching Dylan ski.
Jonah Came out with us for a few days when we were in Logan. He's a good homie of ours and I've always thought he would be a sick addition to the crew, but nothing really lined up until that trip. He was only out with us for three days, which is insane because he logged a lot of air miles, safe to say I'm stoked on the shots we got with Jonah.
Nick Hall is a good buddy of ours from Bozeman and he came with us on our trip to Revelstoke. He's the man and I hope we all get to see more of Hall this coming season, he's so sick but so humble about it and a really good dude all around. Unfortunately, we're probably going to take all of his shots out because he's also in the Carnage movie, and we have major beef with Carnage. They think they're so dope, but all they have are corny memes and a bunch of videos of them looking at clouds. @Carnage #keepthebeefalive
Gavin: Taylor was our anchor for a week we spent in Salt Lake in January, did a lot of legwork finding spots and digging with us, not to mention letting us crash in her basement. She got in on the spot cycle and we shot a few clips we're hyped on, then she got smoked warming up at one of the spots and had to take a few days off. We tried to line up again but our schedules were offset the rest of the season. Hoping for more to come.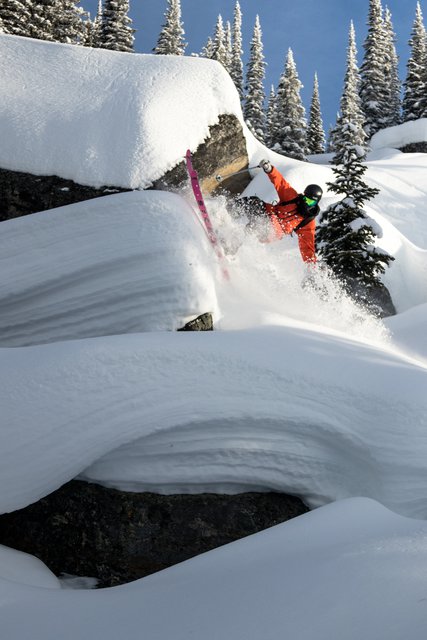 _
Matt Kretzschmar: Filming with the homies, behind & in front of the lens, is always great for when you're out in the middle of nowhere filming or driving across the country for the next urban spot. What are the benefits & drawbacks (if any) of filming strictly with your friends?
Pete: Traveling with some of your closest homies for sure has its ups and downs. When you're hitting spots all day long for an extended amount of time it takes a toll on everyone involved. You're bound to have arguments, especially spending every moment for 6 months with Kerr, lol (Gavin: One morning these two argued for 15min about the size of a centimeter). In the end, once someone gets a clip it balances out and everyone just keeps it moving.
Gavin: Carson made these Jimmy Dean breakfast sausages every morning for breakfast and it made the entire Airbnb smell like a stale butthole for 5 minutes. It gets tough spending all day every day with these guys sometimes, but we keep each other going too. We've shared a lot of close experiences together in the last year and years before and we've tried to put that feeling into the movie big time. Working with your friends is a blessing in that you can really get everyone's personality involved in the project, it is very special to be able to share a project with such close friends, we made this together.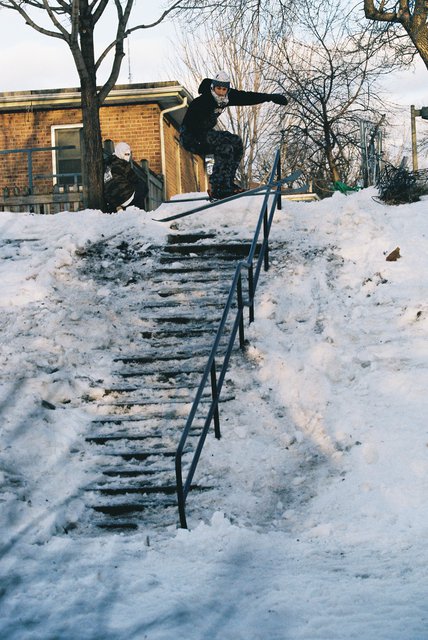 _
Matt Kretzschmar: Speaking of, you joined forces with Calvin Barrett and Sam Zahner this winter. What was your favorite part about linking up with them?
Pete: I'm super hyped to have them on board because not only are they good homies of mine but they came through to round out the urban side of the film. Now you can expect about half and half street to pow ratio. Also, Sam is a fucking psychopath.
Gavin: Haha, I did a rail jam at Loveland when I was 14 or so and saw this kid my age do a 2 on to the down rail while we warmed up, was so gutted cause I couldn't even hit that rail yet - that kid happened to be Calvin. We met for real a year or two later and shot some stuff along the way since, but this was the first time he and I have been able to buckle down together. Shooting with Calvin is insane, he really trusts my ideas and challenges me about stuff we don't agree on, we have a good process and I think we're both very proud of what we got. Both Sam and Cal are indispensable in the street too, since they've been shooting and editing their own stuff for so long they're great at picking up on second angles, giving input on perspectives, etc…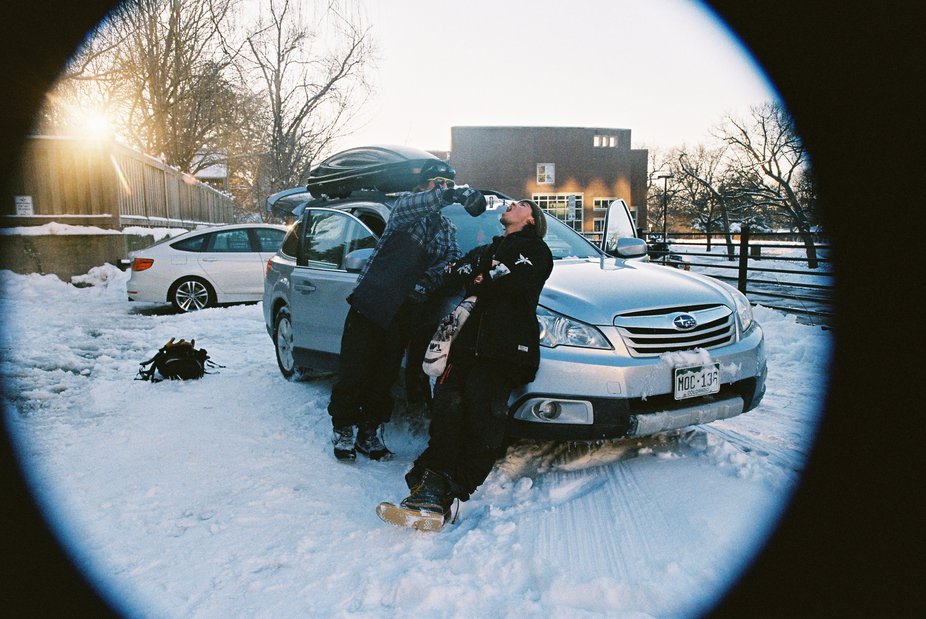 _
Matt Kretzschmar: Last year, you guys sold out the Fox Theatre which is impressive for a first movie premiere. This year, your premiere is at the Boulder Theatre, a bigger venue which can only mean more ridiculous on-stage antics. For those who missed out on last year's party, why should they make the trek to see 'welcome'?
Andrew: Yeah we're at the Boulder Theater this year Saturday, October 5th at 8 pm. Last year we really had no idea what to expect when we decided to host an actual premiere and it was one of the best nights of my life, hopefully, it's the same this time around. We've got a ridiculous amount of gear to give away this year from Icelantic, RMU, Jiberish, Phunkshun, Obermeyer, Flylow, Wells Lamont and more gear coming in every day. If you make it to the premiere you're going to come home with something fresh. We're gonna have super cheap Fat Tire tallboys on deck, a live DJ and someone is gonna get egged for a pair of skis. It's gonna be a banging good time and we're going to party absolutely as hard as we can. It's a celebration of skiing with other people that love skiing, what more could you want.
You can buy tickets online, at the door, or hit up Pete, Calvin or myself for a hard copy ticket and avoid the service fees from the website.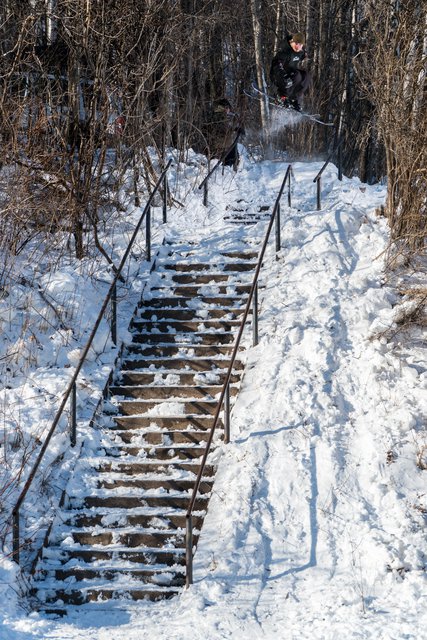 _
Matt Kretzschmar: Where do you guys draw inspiration from for your filming, skiing, etc? (particular crews, filmers, skiers)
Gavin: For the past year or so been trying to fuel my filming and skiing from stuff outside of skiing, lots of music and DJ sets, especially mixes by The Avalanches; mixing/djing isn't something I've ever really tried, but there are a lot of analogies to video to learn from - flow, balance, transitions, how part placement and varied styles can complement each other, and how each part has its role to play in the whole project. I've been drawing a lot too and learning relief printing in my free time and I think that helps a lot with finding my own perspectives. The movie for sure has a lot of elements of inspiration from inside skiing though; L1, Stept, Big Picture, Gpsyfeelin, The Bunch are probably the main longer format influences, countless others too though.
Andrew: There's a lot of really crazy mixed media photo, video, timelapse, animation combinations out there right now that has struck a chord with me lately. It's given me a lot of food for thought as far as integrating elements into a project beyond the skiing itself. Even though the idea of combining different mediums isn't a new one, I feel like skiing hasn't gone all-in on what's possible, which is really sick looking to the future. Sami is really opening that can of worms and its so sick. As far as skiing goes Gav mentioned most of them already, Brady Perron, 4bi9 and Imaginary Trace are a part of that list for me for sure. I watch a lot of snowboarding movies too, it's always dope to see what's going on in that world. To name a few: The Eternal Beauty of Snowboarding is the BEST snow-related movie of all time, it doesn't matter what's on their feet, and if you made it this far in the article congrats, buy a ticket to our premiere and then watch this movie. It will get you so fired up, and remind you of how fucking lucky we all are to be skiing and in the mountains with our friends. Landline is also a big one for me, the majority of that one is filmed on 16mm film and as a concept filming wise I think it's one of the best ever.
_
Matt Kretzschmar: favorite trip, trick, track
Pete: anywhere but Minnesota, straight air, not dubstep
Gavin: Weather prevented getting any shots this May, but Hood (always), nosebutter, stop! by jdilla currently
Andrew: Gotta be Pemberton, Backflip, Get it up for love - Ned Doheny
Calvin Barrett: Chicago, Lip 2, Ay vamos - J balvin
Carson Kerr: Minnesota, 360, Discoteka - Starkillers
Sam Zahner: Minneapolis, Sw 5 nose, War pigs - Black Sabbath
Benny Smith: Golden, Cork 7 blunt, Devil wears a suit and tie - Colter Wall
Parker Norvell: Pemberton, Sw bio 9, Meat's in the Freezer - David Walburn