Cover photo: Parker Norvell - The Switch
This year has been a surprisingly good one for ski movies, especially given how the rest of 2020 is going. Lore's Halcyon Days was a banger. Carnage's Subject 2 Change, premiered on NS last week got me super fired up for the season. Salute, which won movie of the year at IF3, is unquestionably a masterpiece. But the latter is almost in an entirely different genre of ski movie from what I would consider your typical ski porn flick. Did it blow my mind? Yes, unquestionably. It's arguably the greatest ski trickery ever captured on film and we'll have a full review coming soon. But could I relate to it? Not really. Much like watching AK spines in MSP films, or X Games Big Air, it's otherworldly.
Last year, when reviewing welcome I suggested that Strictly were best placed to fill the gap left by the annual Level 1 movie. For me, what Level 1 (almost) always managed to achieve was putting out movies of skiing that, by and large, I could relate to. Yes, the skiers were some of the best in the world and yes, they got to travel to more places than I can imagine, but it was never too epic. Occasionally they toed the line, but to me, they never truly crossed it. Each year there were parts I watched over and over before hitting the slopes.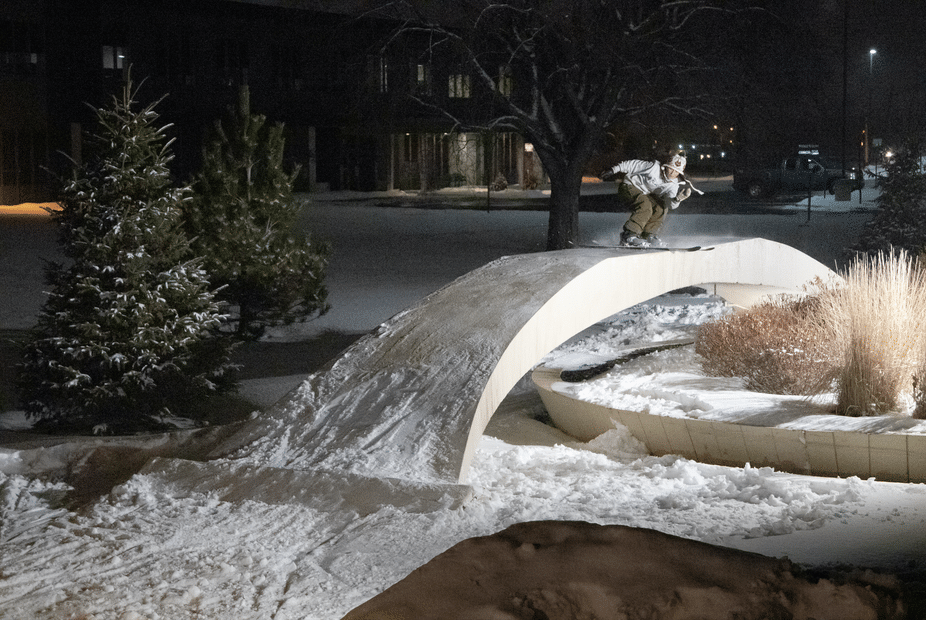 Taylor Lundquist crushed it in the streets
_
Strictly are now doing exactly what I suggested they could last year, and stepping the Level 1 void, hitting that perfect balance of great skiing but sticking to spots and locations that lesser mortals could access. The production value has gone up a notch again, and every rider in the crew has stepped up a gear too. There are a couple of new additions to the crew, although not as many as I perhaps expected. It's still, at its core, a crew movie, which is perhaps the major difference between them and the bigger players in the game. But that crew has come on leaps and bounds. Can they make the leap to bigger budgets without diversifying beyond that crew? Who knows, I don't even know they'd want to.
But even as things stand, Bermuda is one of, if not THE movie(s) of the year for me. That's not to say there won't be elements of others that surpass it, but as a whole package, from filming to production, to blending multiple different aspects of skiing and remaining something relatable enough to get me stoked, Bermuda ticks all the boxes.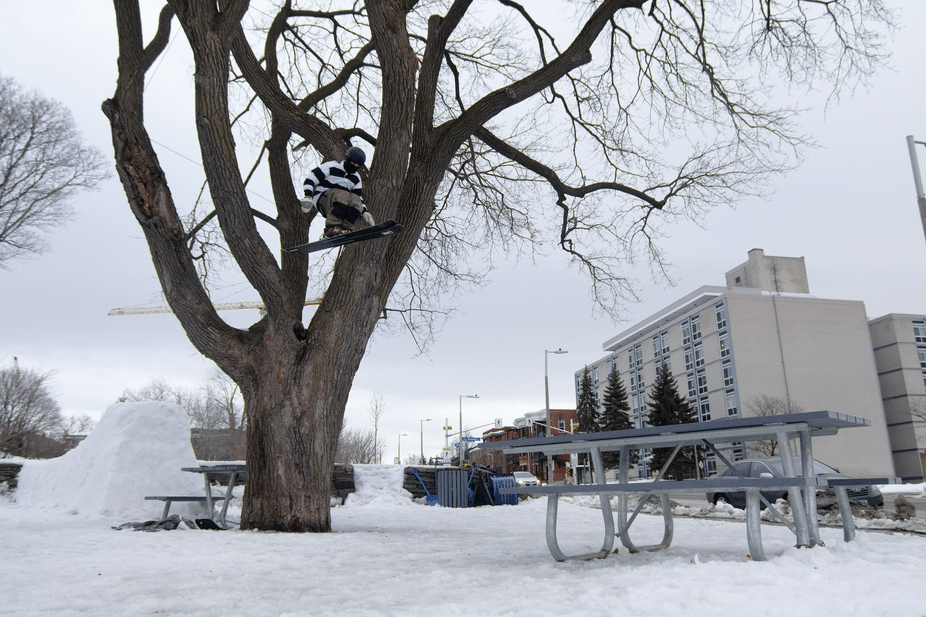 Pete Koukov didn't get stuck in a tree... or did he?
I don't like to do the blow by blow run-through of the movie in these reviews because I feel that detracts from the watching experience. But there are definitely riders to look out for. Pete 'Egg' Koukov's opening segment is both gnarly and genuinely creative without pretension, certainly his finest work to date. Between her part in Bermuda and shots in Skivas, Taylor Lundquist has also had her finest year on camera, her style is one of the best in the game, no qualifier required. Calvin Barrett put out his best segment I've seen too. In fact, you could say the same of the whole street crew, though Sam Zahner's shots have, for obvious reasons, mostly been seen in his Real Ski entry.
The backcountry boys crushed it too, with bangers from everyone... and then there's Parker Norvell. As someone who has judged his SuperUnknown edits in the past, and seen the potential of his immaculate style for years, it's nice to see him realize that potential. He has bags of talent and his is probably the standout segment of an incredibly strong movie riding wise.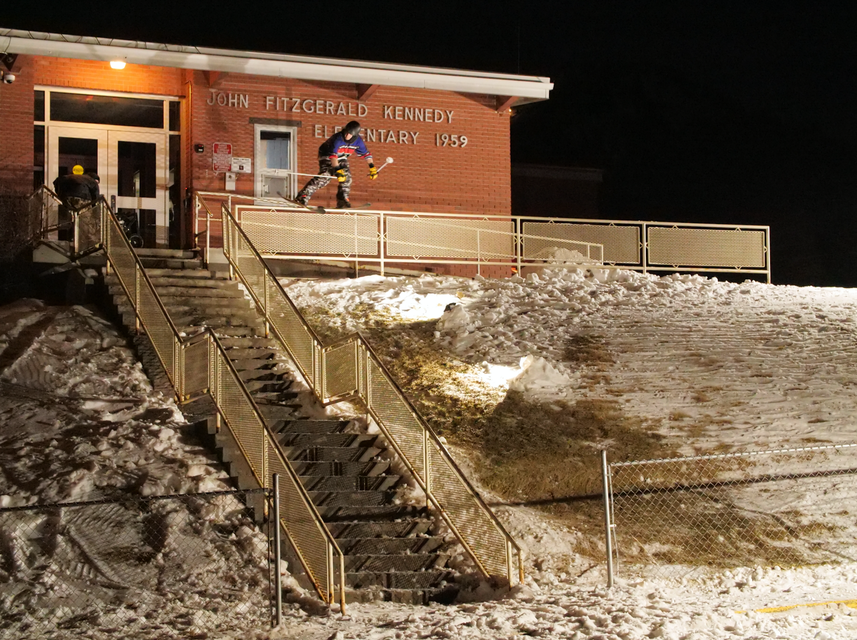 Calvin Barrett. Large.
Criticisms? Well, I would have liked to see a park segment, the one in welcome was great and I did miss it, but I'd hazard a guess that covid may have made that impossible whether it was planned for inclusion or not. The slushy booter segment at the end of the movie goes some way to making up for things but didn't quite fill the gap. I'd also argue Bermuda could have been five minutes shorter, though I hate to be part of the move towards shorter content. There were short parts where what was on screen might have made sense to those in the know, but could have been cut shorter for those who are not. I also like my music more 'energetic' but that's just a personal thing, it all fits well with the editing style.
None of which detracts from the fact that to me, this is the movie of the year for your average 'newschool skier'. They manage to balance top-notch editing and production with a grassroots feel in a movie that impressed me both with the stunts on-screen and vibes that made me want to go ski. They also balance newschool stunts with old school vibes. In places, I was reminded of older Level 1 flicks, Realtime springs to mind, but with riding right at cutting edge. It's actually amazing, given that Bermuda features a small crew who do ski together day in day out, how much variety in the styles of the skiers there actually is. It's equally amazing how polished a product Bermuda is, given the relatively paltry budget. Strictly have proved again that they deserve more support from the industry because each year they step it up another level. The movie drops for 24 hours, exclusively on Newschoolers tomorrow, and it's a must-watch.