There's still time to enter Tramdock.com's contest to win Mike Nick's skis. In case you missed it the first time, Tramdock is giving away two pairs of skis. The first is a brand new pair of Line Mike Nick's and the second is an autographed used pair from the man himself. Check out the Contest Page for all the necessary details.
We've also got all the details on Tramdock.com listed below, so check out the latest online ski shop carrying the brands that we all know and love.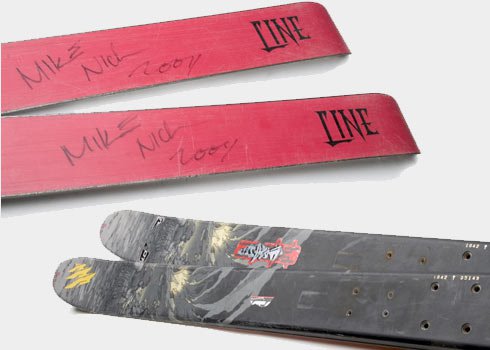 The used Line Mike Nick's complete with signature.
Tramdock.com is Launched
In a minor case of e-commerce anarchy, a couple of e-commerce veterans and skiing fanatics today powered up the servers to Tramdock.com – the Web's first ski shop that's 100 percent dedicated to skiing 365 days a year.
Emboldened by their conviction that the Web lacks a true ski-only ski shop – the kind that smells of burnt P-tex and is filled with the pure love of sliding on snow – Dustin Robertson and a few of his co-workers lobbied their bosses at Backcountry.com for a piece of the Web, a chunk of the warehouse, the green light to staff-up with some full-on, 100-day-a-year tram-riding fanatics and stock-up on the world's best ski gear.
The result of their lobbying effort is Tramdock.com, an on-line ski shop dedicated to selling the best ski gear on the planet backed by the best customer service.
"Our doctrine is that if it has to do with skiing, you'll find it on Tramdock.com. If it's not, you won't,� Robertson said. "We think skiers will respond to a site that's dedicated to their sport, a site where they can find the latest high-performance skis and boots, the up-and-coming new school brands, and time-tested and futuristic apparel and accessories.�
The tram dock – whether at the 'Bird or Jackson Hole – is the place you can count on getting the scoop on all the latest ski gear. And it's where Tramdock.com's employees get a significant part of their schooling.
Right out of the gate, Tramdock.com is selling the best brand names and is committed to keeping a wide selection of gear in stock – from high-end ski gear to hard-to-find specialty items like the Line Mothership. Other industry leaders already sold on Tramdock.com's vision include Orage, Atomic, Siver Cartel, Oakley, Liberty, Ninthward, K2, Head, Salomon, Spyder, DaKine and, to name just a few.
"When skiers read a ski gear write-up on Tramdock.com, they can count on the fact that it comes from personal experience rather than marketing manuals, and when a customer e-mails or calls with a question, they can be assured they'll get an answer that stems from personal experience with the product,� Robertson said.
Tramdock.com employs a customer-support system proven by Backcountry.com, ensuring prompt service, fast shipping, e-mail order confirmations with tracking numbers, an on-site tracking system and a first-rate return policy with no restocking fees.
Check it out at http://www.Tramdock.com or call (877) SKI-0353 to chat with one of Tramdock.com's gear experts.