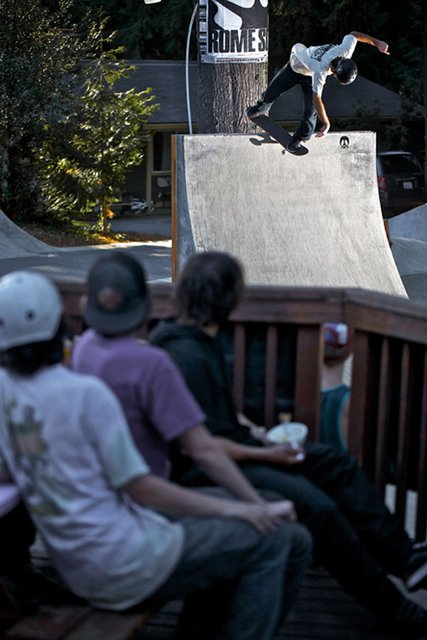 If you ask Ian Neal what he does during the summer, he'll tell you that he is a coach at Windells Skate Camp (he's been on the skate coaching crew at Windells since 2009), and every day from June to August, he hangs out with rippers. He will tell you that he gets to travel to multiple parks every day, skate with friends, and help to foster a love for pushing around in tons of young skateboarders. But, there's something he won't tell you, because Ian is modest: Ian is a ripper. Every single day he wakes up early to go skate with campers, traveling in camp vans all over the Northwest. When he gets back from skate trips, he takes out his deck and backpack from the van and keeps skating until it gets dark. If you've ever been to camp, you've seen Ian leaving his mark on just about every area of Windells' skatepark, and if his excitement and skill is any clue as to what's to come, expect him to keep destroying all the concrete he sets his eyes on.
Ian's rad, so we wanted to introduce you to him in this staff check out. So, here's a quick interview with one of Windells' awesome Skate Coaches, Ian Neal.
SO YOU?RE PRETTY MUCH LIVING THE DREAM, TELL ME ABOUT IT.
The dream is an understatement. This is exactly where I want to be. Skateboarding everyday, shredding with the future rippers, watching the progression, all while getting paid for it? Come on man, that's a good time.
WHY DO YOU LIKE SKATEBOARDING SO MUCH?
Haha. It's hard to explain. Everyone has their own style, their own tricks, and their own amount of dedication to sport. I guess I like the individual aspect to the sport. Everyone skates different and has their own bag of manuves. Kinda like a Subway sandwich.
TELL ME ABOUT THE SKATE TRIPS YOU GET TO GO ON EVERY WEEK AT SKATE CAMP IN THE SUMMER. WHAT WERE SOME HIGHLIGHTS?
The skate trips are sick! Each morning we wake up, mash together our lunch for the day and then go shred 2 or 3 parks. Sometimes we go to markets, stock up on food, and then head to a rad swimming spot. You ever swim in a giant lake in Washington? It's a good feeling.
WHAT?S YOUR LEAST FAVORITE ITEM SERVED IN THE KITCHEN?
I might get hated on for this, but when Home Cooking night rolls around, there is always that one container filled with those gnarly looking orange things with melted mallows on top. I think they're sweet potatoes, or yams? Either or, I hate both of them. I don't even really like looking at them. Warm, sweet food? Nah. Campers gobble them up though.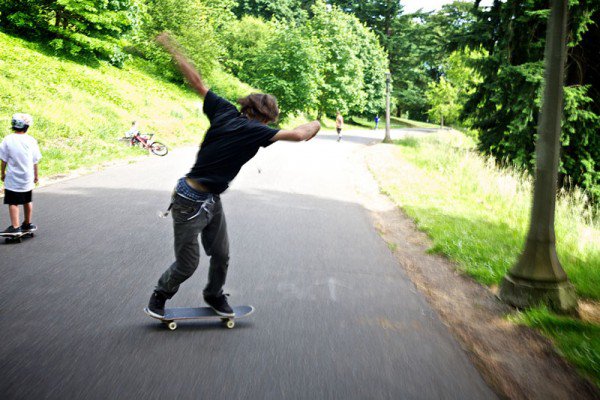 Ian bombing hills on Go Skateboarding Day. You can't see it in this picture, but he is wearing a Black Sabbath tshirt.
WHAT?S YOUR FAVORITE TREND IN SKATING?
Trend huh? The hesh look. You're a kook if you gotta wake up 2 hours before you go skate to get ready to go skate. Wake up, wear yesterdays stuff, skip the shower, eat a hotdog, and get on with the shred. Skip the bright clothing, "Saved By The Bell" got canned fifteen years ago. A dirty old Sabbath tee works for me.
WHAT?S THE LAMEST TRICK YOU CAN DO?
I think the lamest trick I do, is the one people ask to see the most. It's that Noseblunt Pull in thing. I've heard it called "Dumptruck". You just place your board in Noseblunt, and yank it in off of something. I did one off of Dex's earlier this season. Haha. I think it's lame because you're not riding into the trick. Ehh, I don't know. Haha.
TELL ME ABOUT A GUILTY PLEASURE OF YOURS?
Haha. I like to make weird Youtube videos. How weird? Scope: http://www.youtube.com/vlwisconsin
DO YOU EVER SKATE IN SHORTS?
I NEVER skate in shorts. Ever. I don't even wear shorts. My legs look weird and I hate the feeling of wind on my shins. I own one pair of swim shorts. Haha.
WHAT?S YOUR SETUP? WHY?
8.4 Hell Hound Skateboard, 9.0 Independent Trucks, 54′s Bones SPF Wheels, and Bones Reds Bearings. Why? Because it does the job, duh.
IS THIS THE BEST SUMMER OF YOUR LIFE?
I can honestly say it is. There are so many rad people this year, the new concrete is amazing, and (knock on wood) nothing has gone very wrong all summer. In 2008 I was just a camper. In 2009, I sprained my ankle really bad on the third day of my first summer coaching and in 2010 my car?s transmission exploded.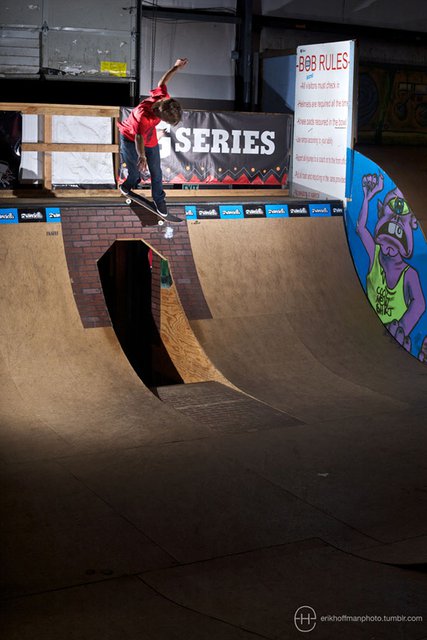 Back Smith in BOB.
SMITH OR FEEBLE? Hmm. It comes down to Back Smiths and Front Feebles. Argh! Front Feebs!
OLLIE OR NOLLIE? Nollies, all day long. Why use the back of the board when you can use the front.
CHICKEN, BEEF, PORK OR TOFU? Pork. Bacon falls in the category. Bacon is dope.
ROLLERBLADES OR SCOOTERS? I honestly can't answer this one.
BERRICS OR THRASHER? Thrasher. Hesh over Fresh.
CONCRETE JUNGLE OR BOB? C Jung. I like doing fun things at very fast speeds. That's more possible to do outside.
WHEN?S THE LAST TIME YOU PLAYED VIDEO GAMES?
This morning. Regular Nintendo is waiting for me in the living room. Super Contra, Super Mario Bros. 3, and ice hockey. Yes.
TELL ME A STORY ABOUT YOU AND SKATEBOARDING.
Me and my buddy Garrick created this company like six years ago called Flat Spots Skateboard Co. when our local shop was kinda blowing it. It turned out to be a big deal. We started selling videos, stickers, t-shirts, hoodies, pins, decks, grip, and stencils. It was sick. We were making so much profit! A good $1200 a month. For a 16 year old, that's some nice weight in that wallet.
WHAT?S THE LAST THING YOU LEARNED?
Backside 360 Kickflips. They feel fun.
WHAT DO YOU LIKE TO SKATE?
Transition. Parks are where it's at. High speeds and hot sauce.
Windells - BMX. Skiing. Skateboarding. Snowboarding.