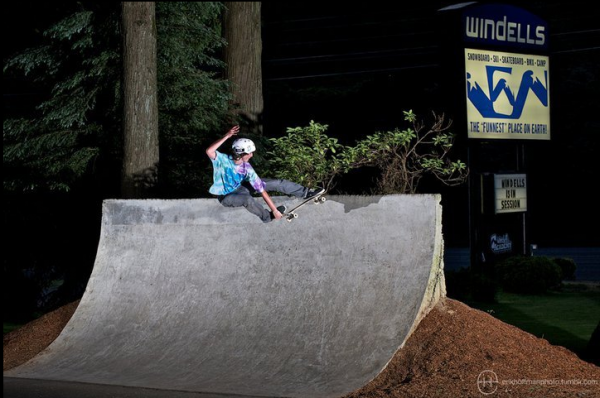 Our skatepark on camp continues to grow which means the skate program also keeps growing. Sev Boosinger is one of our skate coaches and also one of the best skaters you will see running around camp. We sat down with him to get to know him a little better.
SO YOU'RE PRETTY MUCH LIVING THE DREAM UP HERE, TELL ME ABOUT IT.
Yeah, it's pretty amazing. It blows my mind everyday that I get to do what I love with some of the raddest people out there. It makes me wish Summer was all 365 days of the year.
WHY DO YOU LIKE SKATEBOARDING SO MUCH?
That feeling of stepping on your board and just rolling around is one of the greatest things ever. It's hard to explain, but if you have never stepped on a skateboard, the first time you do, you will know exactly what I am talking about.
TELL ME ABOUT THE SKATE TRIPS YOU GET TO GO ON EVERY WEEK? HIGHLIGHTS?
I love the skatepark trips. The parks in Oregon are amazing and its super rad to see all the kids pumped on them. Each skate trip is a highlight. Just seeing everybody shredding and having a good time gets you stoked to skate.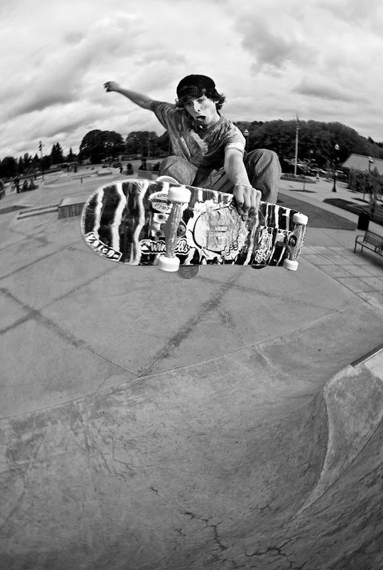 WHAT'S YOUR LEAST FAVORITE ITEM SERVED IN THE KITCHEN?
Hmmmm, I don't know, maybe the stuffing on Thanksgiving night. I'm not a big fan of stuffing.
WHAT'S YOUR FAVORITE TREND IN SKATING?
The Janoski.
WHAT'S THE LAMEST TRICK YOU CAN DO?
Benihana, haha.
TELL ME ABOUT A UILTY PLEASURE OF YOURS.
I love video games.
DO YOU EVER SKATE IN SHORTS?
Only if its over 100 degrees out.
WHAT'S YOUR SETUP? WHY?
A Stacks 8.1 board, 139 Independent trucks, 52mm Bones wheels, Bones Reds bearings, Mob grip and Roughneck hardware. I like a smaller, lighter setup for street skating, rather then a bigger board and wheels for tranny skating. I just like to skate more street stuff.
IS THIS THE BEST SUMMER OF YOUR LIFE?
Every Summer I've had at Windells has been amazing and I'll never forget them.
SMITH OR FEEBLE?
BS Smith and FS Feeble.
OLLIE OR NOLLIE?
Both.
CHICKEN, BEEF PORK OR TOFU?
Chicken and beef.
ROLLERBLADES OR SCOOTERS?
Haha, that's a tough one. I guess I'd have to go with scooters.
BERRICS OR THRASHER?
Thrasher
CONCRETE JUNGLE OR B.O.B.?
Both are amazing.
WHEN'S THE LAST TIME YOU PLAYED VIDEO GAMES?
Haha, I'm playing video games right now.
TELL ME A STORY ABOUT SKATEBOARDING.
My first contest I ever entered I got 5th place and the top 7 won a trip to Texas to skate in the Volcom Wild in the Parks Championship. I was 15 and entered the contest just to have a good time and skate the skatepark for free, placing was one of the last things on my mind. So when they called my number I was pretty freakin stoked. I didn't do as well in Texas, but the trip was still insanely fun.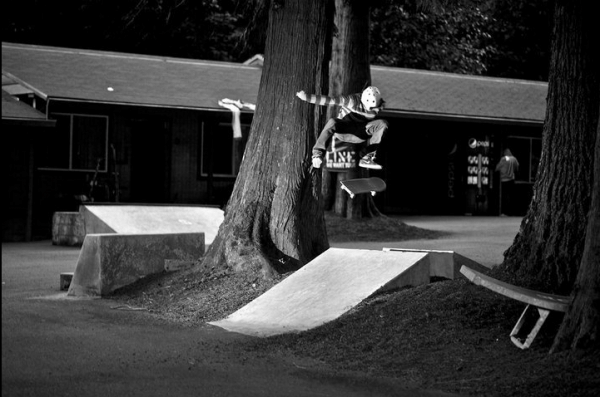 WHAT'S THE LAST TRICK YOU'VE LEARNED?
Nollie Big Heels in the tranny.
WHAT DO YOU LOVE ABOUT SKATING?
You have the best times with the best people when you skate.
Windells - BMX. Skiing. Skateboarding. Snowboarding.