Cover photo: Twig. Others by Mateusz Bocian unless stated.
The Matterhorn is an iconic mountain. Zermatt has one of the most famous and marketable vistas on the planet. The 'Horn towers over the town and even breeds its own vocabulary. "Horn cloud" refers to the wisps of cloud that give it the appearances of a smoking volcano and "a good 'Horn day" is bluebird. And right underneath its majestic walls sits another gem: Snowpark Zermatt, transformed in the last few years from mediocre to one of the best in Europe. A local of nearby Saas Fee, I've been gravitating to the other side of the force, spending the majority of my spring and summer skiing time in Zermatt.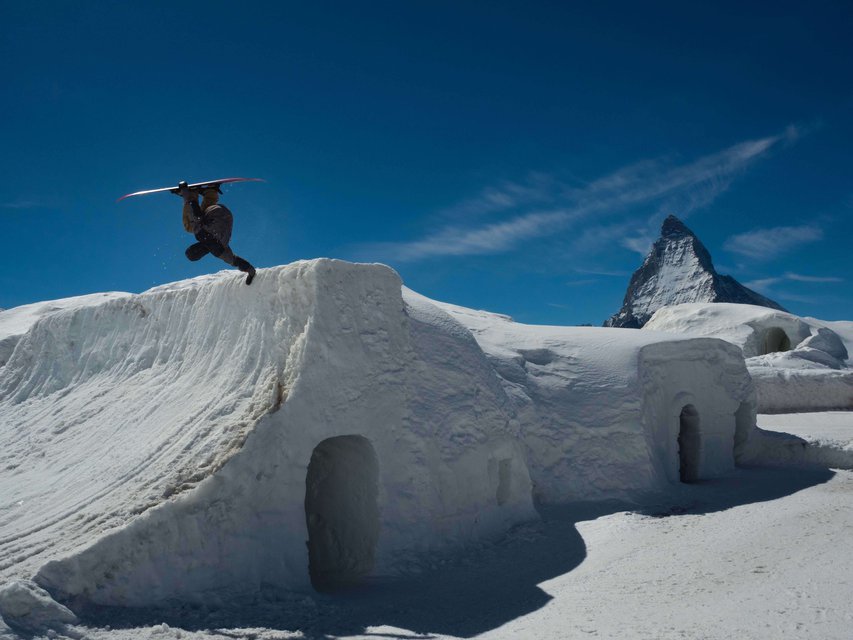 The park crew there is next level dedicated. Bossman Marcel Brunisholz works to the point of collapse to make sure that day in, day out the park is perfectly shaped. Even if it's snowed the night before, which was most days this spring. His crew have been known to shape right through the night and go straight from shaping to riding the next day. And that's what I'd call a worthwhile all-nighter.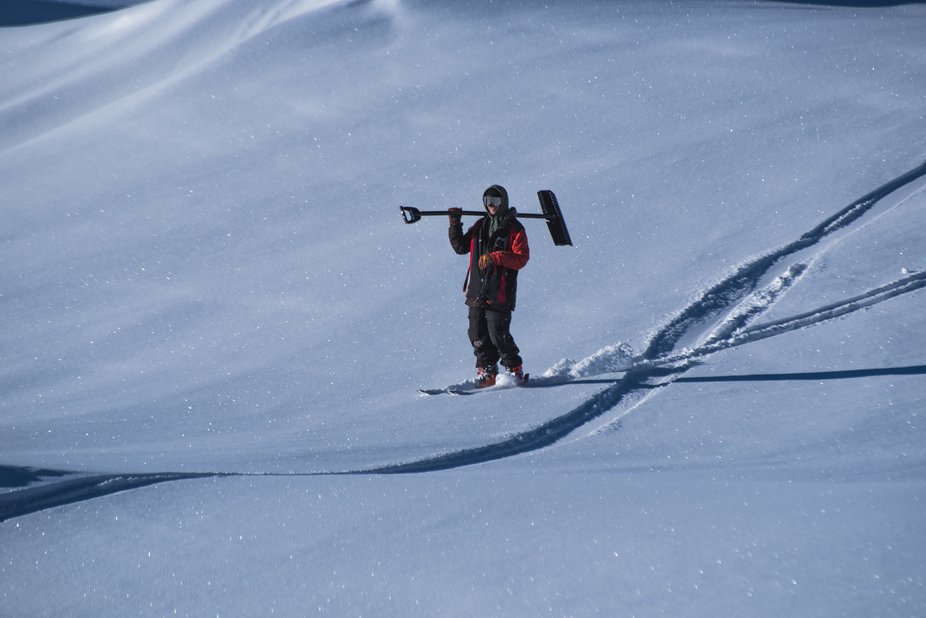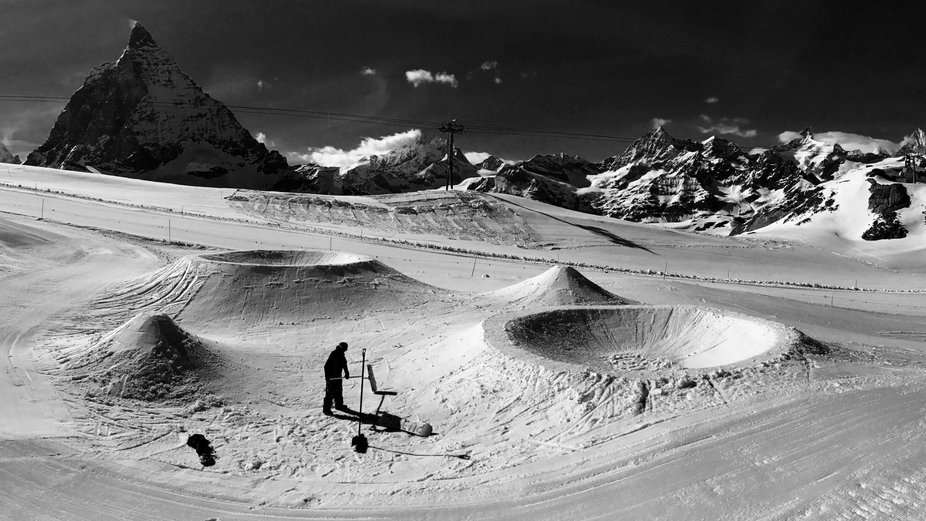 And then there's the features themselves. I've never seen a more creative setup in Europe. How many parks have you seen containing hand shaped bowls, a mini ramp complete with coping, multiple pyramids and more? By now I'm sure you're familiar with the Zermatt Glacier Days series. Will Wesson, Sami Ortlieb and Rob Heule have been calling the park home for 3 years and have not only produced banger video cuts, but made contributions to the park design too. Sami was actually a shaper in the park the first summer the crew was out there, and in the last year Bunch stalwarts B Mack and Lee B have also been on the team. Having such creative skiers shape the park, err, shapes it into what it is, a paradise.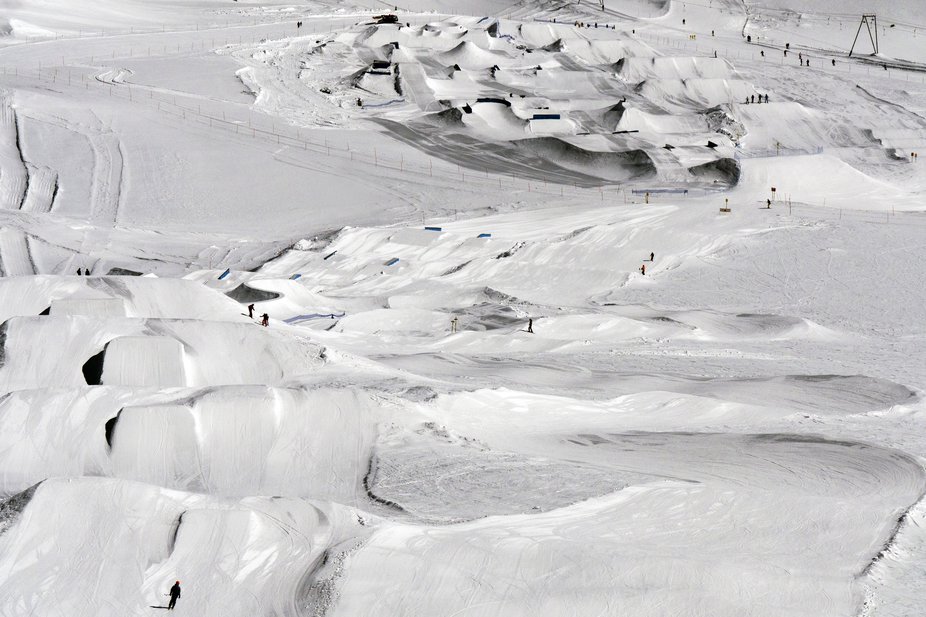 This year I've been there (on and off) for the entire spring, living in the woods above town with an ever changing crew of talented riders. For me it's been a rehab trip, I tore my meniscus in January, missed three months of skiing and the smooth, flowy park was perfect for building back confidence. But it can take you as far as you want to go, there's every jib feature imaginable and some solid jumps. Will, Sami and Rob were back for two weeks and, along with Andrey Anfruiev who has been ever present and will definitely be taking home the title of most laps of the Spring Session, put together one of the craziest co-ordinated top to bottoms I've ever seen.
http://www.newschoolers.com/videos/watch/868243/Top-To-Bottom-at-Zermatt-Spring-Sesh-Park-Till Matti joined our squad for a while too, doing a number of one foot combos that looked at the very least awkward, if not impossible. He also took home the overall win in the Cash For Tricks rail jam the park crew hosted, one of the most fun days of my winter. The turnout was great with riders from more than a dozen countries all sessioning, eating barbecue and earning a some cash for their efforts. Highlights? Well Till with a lip nosebutter 2 pretz 4 on the triple kink, Christian Moser with a crazy blender switch tails nosetap on the same rail, Andrey Anfruiev with a cork 10 on a 8 foot jump and 'crackJack' Summermatter with unique, stylish lines.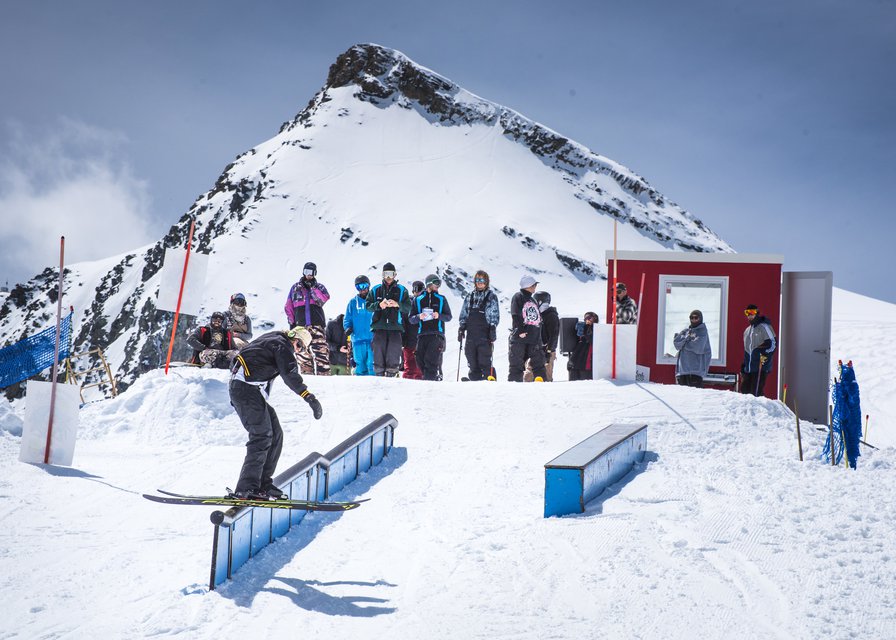 It isn't just jib rats here either. Sam Anthamatten, Etienne Merel and Jonny Collinson have been in town filming for Faction's "This Is Home" because there's still plenty of snow to get some freeriding in too. It's hard to not seem like you're selling something when you write pieces like this, but some things are just too fun not to write about and spring skiing in Zermatt is one of them. For the sake of disclosure, this was not paid through ads nor directly and I actually bought my own pass, which is a rarity given my job. There's just a week of the spring session left so if you want to get out there, now is your last chance and I'd definitely recommend the trip for some end of season fun. Oh and there's free after hours sled laps on Saturday too, so this weekend is going to be a good one.
You can get reduced rate passes here, with bigger reductions if you can make up a crew of three or more... maybe I'll see you there.