Check out the story below from Ski The East describing a perfect ending to the season. If you look close enough you can make out Line's new Prophet 115 and Remote Pack sported by Stacey Rachdorf.
In mid-April, I was pretty bummed with the seemingly inevitable end of the ski season approaching. I had been able to manage a solid number of days on the hill, but memorable ones seemed few and far between. As the weather sources were reporting yet another wide-spread warm-up, hope seemed to have been lost. And just like that, the East Coast came along and? totally redeemed itself! (Dumb and Dumber, anyone?)
It started with a fluke foot of snow across the higher elevations in Northern New England over the weekend of April 17th and 18th. Check out Last Hurrah?s: Wildcat. That round of snow set the stage for perfect conditions on Mt Washington?s Tuckerman Ravine. I was starting to feel a bit more content with the season.
Then, along came one of the most potent spring storms in recent memory. The snow began on April 27th and it continued to fall heavily into mid-day on April 28th. The storm was a classic upslope snowfall event ? a weather phenomenon which is more characteristic in mid-winter than late spring. The National Oceanic and Atmospheric Administration's National Weather Service forecast read:
LATE SEASON UPSLOPE SNOWFALL ABOVE 1000 FEET IN THE DACKS AND NORTHERN GREENS. LOOKS LIKE JACKPOT SPOT WILL BE JAY PEAK WITH FAVORABLE NORTHWEST FLOW OVER MORE THAN 24 HOURS. HEAVIEST SNOW WILL LIKELY FALL TUESDAY NIGHT AS PERSISTENT NW FLOW CONTINUES. SNOW WILL CONTINUE INTO WEDNESDAY ACROSS THE HIGHER TERRAIN SNOW ACROSS THE HIGHER ELEVATIONS WITH MORE THAN A FOOT POSSIBLE IN THE JAY PEAK REGION
My porch filling up in the town of Jay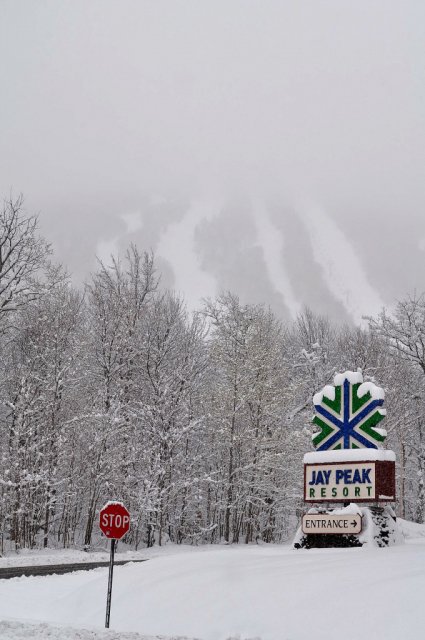 Good morning Jay Peak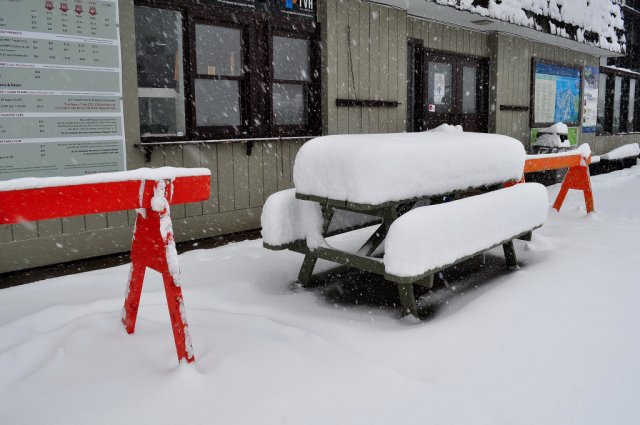 Well over a foot at the base
After a nearly snowless March and April, I was shocked to be able to use the word ?nuking? to describe the conditions on Tuesday evening. While many had condemned the season weeks before, there were a handful of others out there hungry for some late-season pow. Of course, Meathead Films El Presidente Geoff McDonald was one of the first to come knocking. We met up at Jay Peak that evening in near disbelief. The Weather Channel was calling for the heavy snow to continue through the following morning before tapering to flurries and eventually clearing in the late afternoon.
Just as we hoped, we woke up early and were greeted by near white-out conditions. The good folks at Jay Peak made the decision to open the mountain for an extended final weekend of skiing from Thursday April 29th through Sunday May 2nd; but Wednesday was looking to be best day to gather some freshies. We made our way to the mountain and caught up with Meathead athletes Stacey Rachdorf and Asia Magriby. The Stateside parking lot had a handful of skiers gearing up to earn their turns. We skinned through a well-cut skin track to the top of the Bonaventure Quad amidst steady snow and a silent mountain.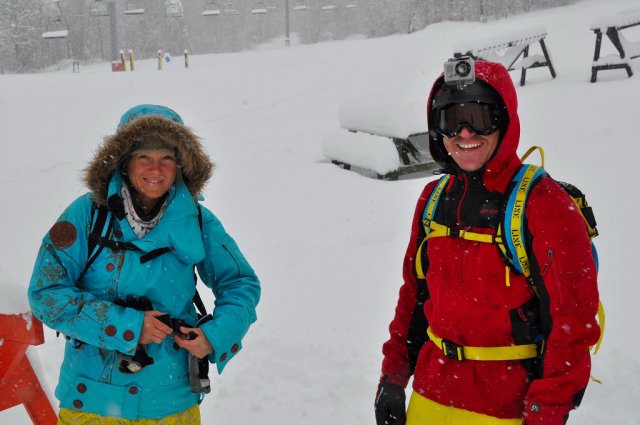 Asia and Stacey ready to hike
Click HERE for the entire story including deep powder and a peek at the Prophet 115.