It's official...spring is in the air. According to the calendar, old man winter will be packing his bags and offically hittin' the road in just nine days, but don't fret, as there's still plenty of pow to be found out there and a whole lot of skiing left.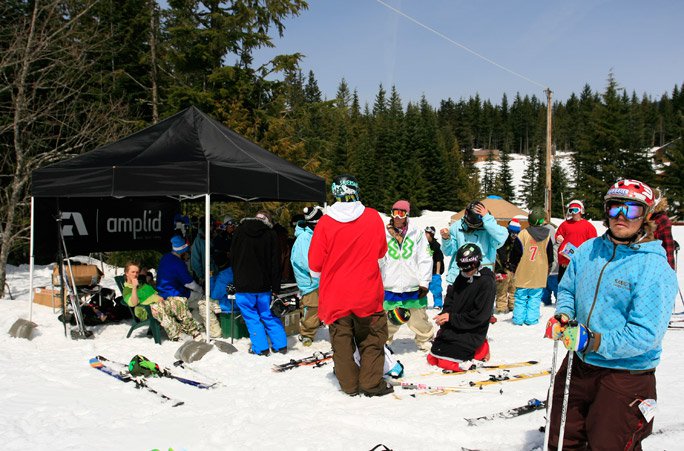 ahhh the joys of spring skiing: sunshine...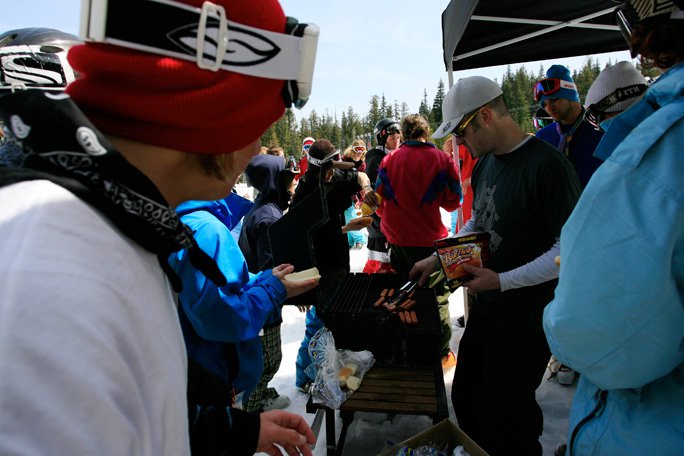 ...hot dogs
Spring ain't all that bad though, as there's nothing better about springtime than some good ol' fashioned spring skiing. You know what I mean...sunny skies, warm weather, soft snow, shirts off, sunglasses on, hot dogs in hand. So to help ring in the official start of spring (whether it's puking snow or blazing hot), we here at NS would like to fill you in on a bunch of upcoming jam-packed-with-fun regional events that are going down over the next two weeks that will surely get you stoked...
This weekend!
Telus Triple Challenge at Blue Mountain, Ontario

The long running and fabled Triple Challenge is going down at Blue Mountain, Ontario as I type this (so if you're currently in the Collingwood area...why are you doing reading this? Get out there!) and NS has a crew of ruffians on hand who are maaaybe having a good time. But I only say that based on all the recent late night phone calls I've been getting from the illustrious Max Hill, who is presently at the event with our gang. Triple Challenge will run from today (Thursday) till Saturday and will feature slopestyle today, a rail jam tomorrow and the always anticipated big air on Saturday.
Rodeofest at Mount Sutton, Quebec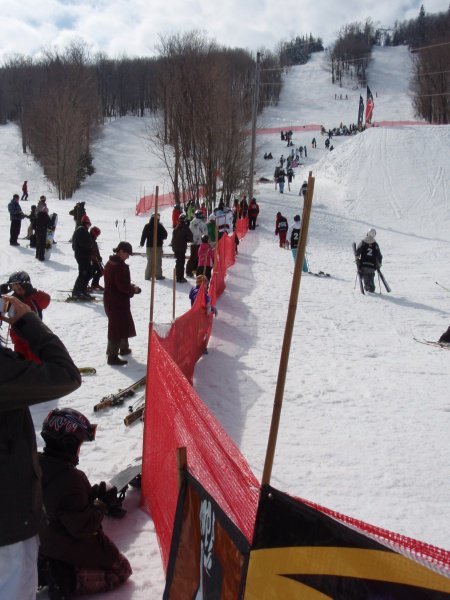 Right next door in Quebec, the good people at Mount Sutton are throwing Rodeofest, "the most important freestyle competition in the Eastern Townships of Quebec." The event is going down this Saturday and Sunday, with a big air and dual best trick (!!!) on Saturday, and slopestyle on Sunday. Eh Voilà!
Kristi Leskinen Invitational at Seven Springs, Pennsylvania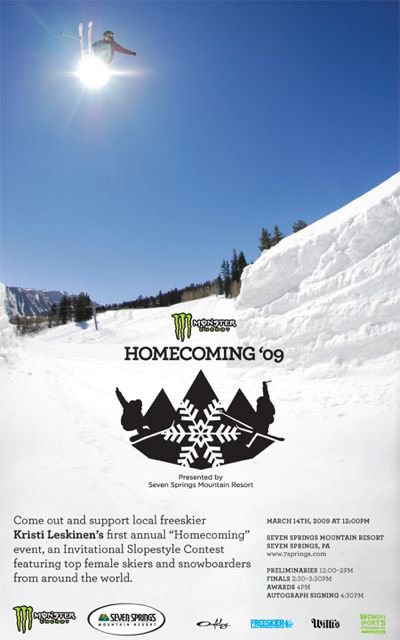 Kristi Leskinen is returning to her home resort of Seven Springs to put on an all-girls ski and snowboard slopestyle and rail jam with $20,000 up for grabs. The contest (which will also feature appearances by Sarah Burke and Tara Dakides) goes down this Saturday, and will be a great opportunity for girls to push themselves, progress the sport and raise awareness and interest in the sport among young girls and women. So don't miss out on what will surely be an amazing event and a day to remember!
Next weekend!
Winter Park Freeskiing Open at Winter Park, Colorado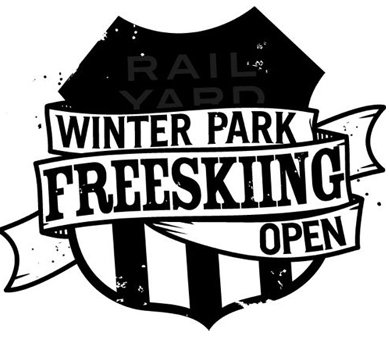 This is a big one as not only will the event surely kick ass, but we'll be featuring a live broadcast on it right here on NS next Saturday, and for the first time ever, you'll be able to log-in to facebook on the day of the event and chat with people from NS! Now that kicks ass. Click here to add the application: Winter Park Open Webcast
Mount Snow Freeski Open at Mount Snow, Vermont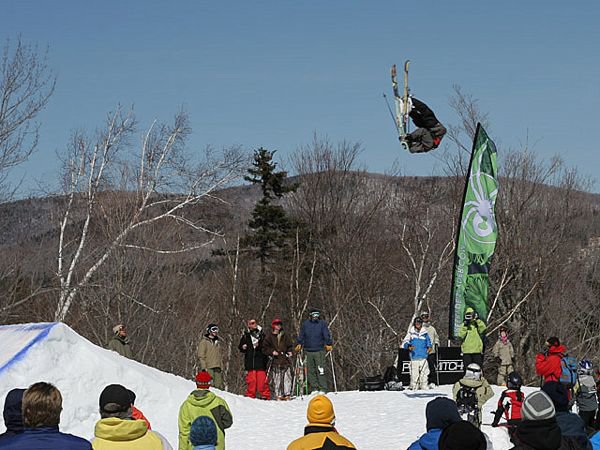 The crew over at Mount Snow has been killing it all year with events (most notably at the second Winter Dew Tour stop, which most of the athletes said was the best stop of the tour) and the Mount Snow Freeski Open will be no exception. The biggest Open event on the East Coast will feature slopestyle next Saturday and pipe next Sunday. Check it.
Salomon Jib Academy at COP, Alberta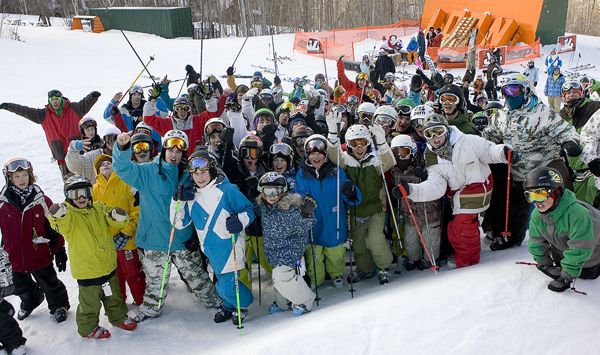 And last but certainly not least, the second Canuckland stop of the Salomon Jib Academy is going down at Canada's Olympic Park just outside of Calgary next Saturday, and if you've never been to a Jib Academy before, you don't know what you're missing. It's hard to believe that Salomon could pack so much fun into just one day, but they can and they do. So if you're in the Calgary area, don't miss out. Coaches will include The King of Rails, The Sherpa, Witty and Stoked, Throwan, Ze Car and "The Godfather."
So if you're within driving distance of one of these events, we strongly recommend you saddle up and hit the dusty trail for some seriously good times. NS is planning on being on hand at all of them and as always, we'll be having a grand ol' time, so get out there, join us, and then read all about it in the coming weeks.
And speaking of fun, nothing's more fun than winning free swag and money right? (okay, okay, maybe there's one thing that's more fun, but we're not going to go there because there's young'ins on this site!) You guys like free swag and money right? You do? Well then get off your bum-bum and enter more of the multitude of contests we've got going on now dude!!!
Under Armour's online slopestyle contest has been extended until March 15th (which is Sunday dummy!) and there's still plenty of chances to win $6000 in cash money. $6000! That's a lot of cheese, and I hate to say it, but more than some of your heroes make off of their ski sponsors! I mean even Weezy would be stoked. So get off the couch, hit the slopes, have your friend, mom, grandpa or some chick (or hot guy) you're trying to impress film you, and upload your vid...NOW!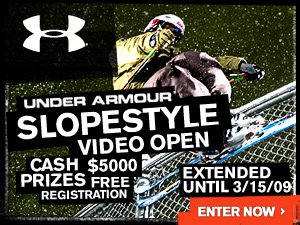 don't click here if you don't want to win $6000
And since we're on the subject of winning $$$, Super U.ca is running a fun road trip-themed contest, where you can win $3000. Hop in your car for some road trip action, grab some Doritos and gas, heckle locals in a town you'll never go back to, go shredding, film everything, upload, $3000. There's less than a week left to enter, and the longer your video is up the more chance it has of making it to the finals. And guess what? There's only one entry up right now. One entry? Seriously guys. $3000. Get on it!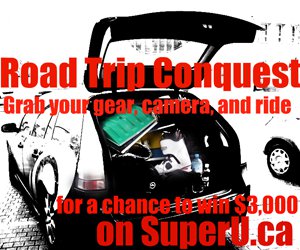 and don't click here if you don't want to win $3000
So don't just sit there...take after all the lucky winners of the Salomon Online Jib Academy who've scored themselves free trips to Mammoth for the Jib Academy Finals (and there's still two more rounds going on where you can win in that contest as well!)...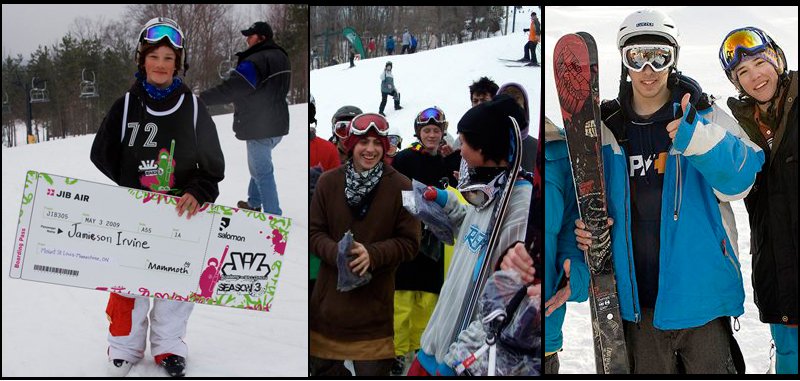 these guys are going to Mammoth for Jib Academy finals. are you?
...and the winners of the Kombi King of Innovation, especially longtime member asian_allen, who made Mel Gibson in Braveheart look like a huge pussy by scoring himself a heaping helping of Kombi and NS gear by becoming the 'King of Innovation' after a long, spirited and hard fought battle that fortunately for our lawyer included no axes. But she used to be Snoop Dogg's lawyer, so she could have handled it. Anyway, here's the winners of each round...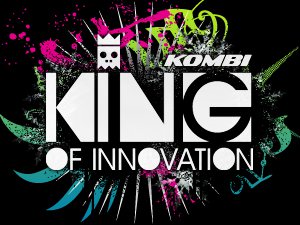 Round 1 winner: creighton
Round 2 winner: asian_allen
Round 3 winner: Mikerdd
Now before I shut up and let you guys go back to the forums so you can continue harassing Ian Cosco about when Chug Life 3 will be online, I'd like to point something out here. I just went back up and proofread this and realized something...what other website could you go to and win this much cool stuff? You guys must be stoked. And we know we are, as one time over way too many alcoholic beverages at a college bar (don't ask what we were doing there), Doug hazily looked me in the eye and told me from the bottom of his heart, "Schmuck...it's always been my dream for kids to log onto NS every morning and say to themselves, 'hmmm...what can I win today?' "
So we're making it happen. Because we love you guys...just thought you should know that.
Now go skiing!
-the NS Staff