The Southside Park (aka the Adrenaline park, the expert park, the flying mile park) is now fully up and running and I will unbiasedly say its the biggest and best it's ever been.***For an update as of February 27th, please see the bottom of this entry***This year's park features the biggest jumps ever seen at Tremblant, along with some new urban features and old favorites to give it some great variety and flow.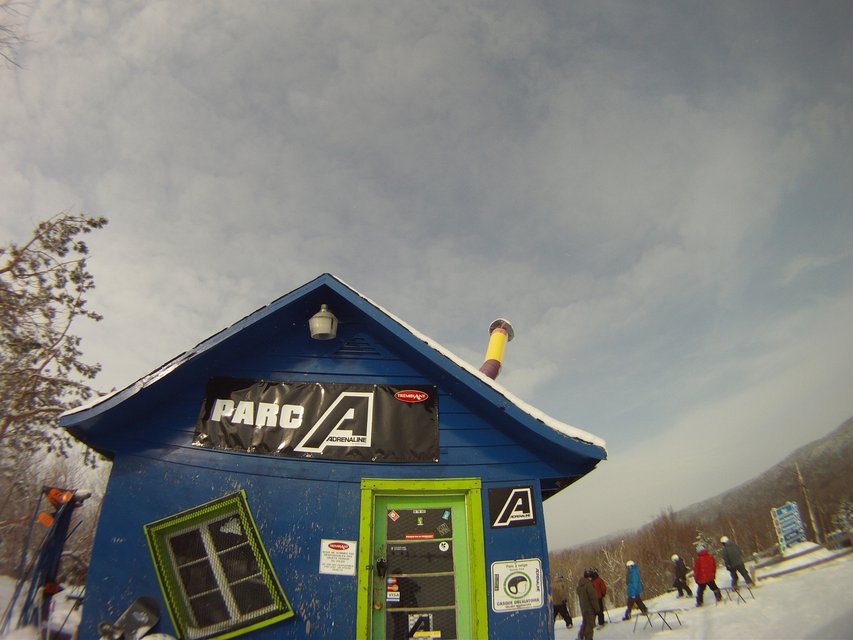 Things start off with the mailbox and a flat down box, followed up by the wallride.
Then there is a wallride a flat down rail, and a left curving c-box.
The park rangers have setup the three picnic tables all one right after another. There is a light post jib and then the right curving c-box.
Once you get through the top jib-line you and presented with either the flat box to volkswagen bus jib or the 3 jump line. Jumps are bigger than they have ever been this year, due to an improved snowmaking system. They each have two takeoffs, and if you measure from the biggest the jumps are 45, 45 and 50.
At the very bottom you've got the new urban jib feature, with either a rail or box option. This was the same feature that they used for the T4 contest at the end of last year. All in all this is the best all around park ever seen at Tremblant. Come shred!!
This is a new feature. It's a bike rack. Hope you can pop well cause there is literally no jump onto this thing.
In addition to the down box that was setup as of the last park update, there is now a new down rail that is setup beside it.
The first jump has been reshaped and has a lot more pop now. This is the biggest of the 3 jumps.
To skiers left of the jumps, there is now a rail line that starts off with the VW van, then a 12 foot flat bar, this rainbow box, a DFD rail and then the long flat rail.
DFD rail setup real nice...
... and finally the flat rail. This is the second last feature before the urban feature at the bottom of the southside park. Fingers crossed the rain doesn't hurt the park too badly tomorrow so we can ride well into April. Happy shredding!