***Disclaimer: These are only my personal experience. I am not reporting on any events at the games and I am writing under no influence or authority of anyone else. I have only been asked that I obtain permission for any photos of people I post pictures of, to not report on events, and to not give away any information that could compromise security.***
*****I must also make a request that the link to this does not get shared. As I do not want to be asked to pull down the content.*****
The floors in the main media centre are over polished. There is always a small woman in blue cleaning in every hallway. I've become so used to seeing her that she is no longer distinguishable from the other cleaners and is simply "her." When you look down at the floors, it's sickening. The reflection of the ceiling can be seen clearly and it's like walking on a mirror. It does not help my hangover. Nor does the line at McDonalds or the fact that the woman working the counter doesn't understand "carmel frappe" as she sends me to the hot beverage line. The regular line becomes too long and it seems I'll be spending another evening with out sufficient caffeine or nutrients. This is becoming a trend. I'm not upset.
I thought I would have a lot more down time, yet I'm struggling to find moments where I'm not surrounded by others, hungover, tired, or hungry. Keeping up with laundry has become progressively more difficult and I spent the better part of yesterday washing my clothing in a blue bin in the bathroom. My day "off." But there are only 10 days left and I feel I need to get as much enjoyment out of them as possible. I look at the list of things I still want to do and I'm not certain everything will get done while I'm here.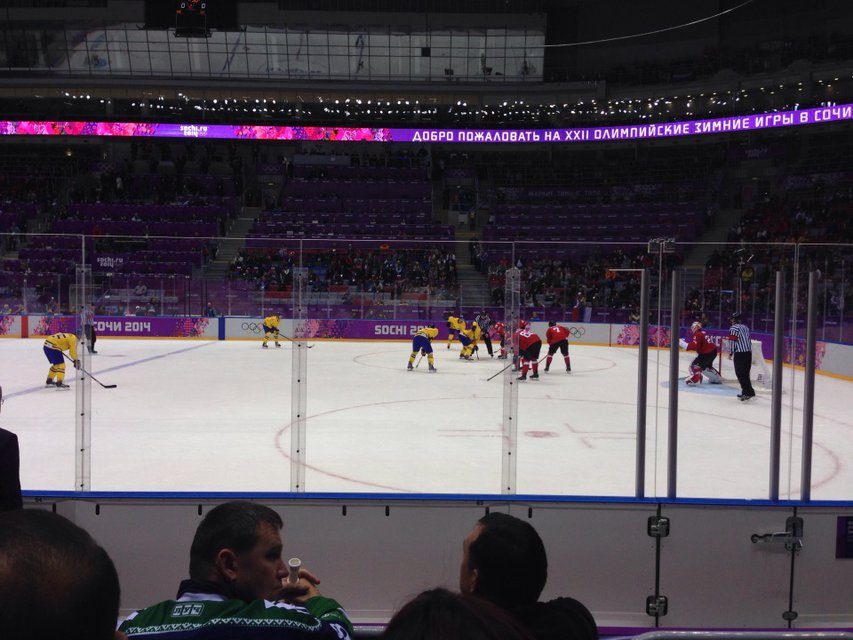 Got a free ticket for the Switzerland vs Sweden game.
I've finally had the chance to take a step back and think about the last few weeks, how things have changed, how I've adjusted, and how the people around me have adjusted. Somewhere in the chaos, I turned into a 15-year-old girl. As a late adapter to Tinder, I became obsessed. I was spending as many nights as possible partying. I was back to working a mundane job. I was reducing my vocabulary to the most basic words possible to accommodate the Russian speakers around me. I lost myself a bit in there, but as my friends arrive and I spend more time around the amazing people that have become such a big part of my life, I'm finding my way back.
The Opening Ceremony happened. I didn't have a ticket so I watched a bit of it and fell asleep. This was probably for the best. The volunteers were told that if they showed up and waited they would fill empty seats with volunteers. From what I have heard, no seats were filled and a thousand, maybe more, volunteers were forced to stand shoulder to shoulder for hours without a method of retreat from the heard. They were unable to view anything but the closing fireworks and little was done for their wasted discomfort and time. They put up a few signs in the office thanking the volunteers, but that's the only consolation they received. I'm so happy I slept.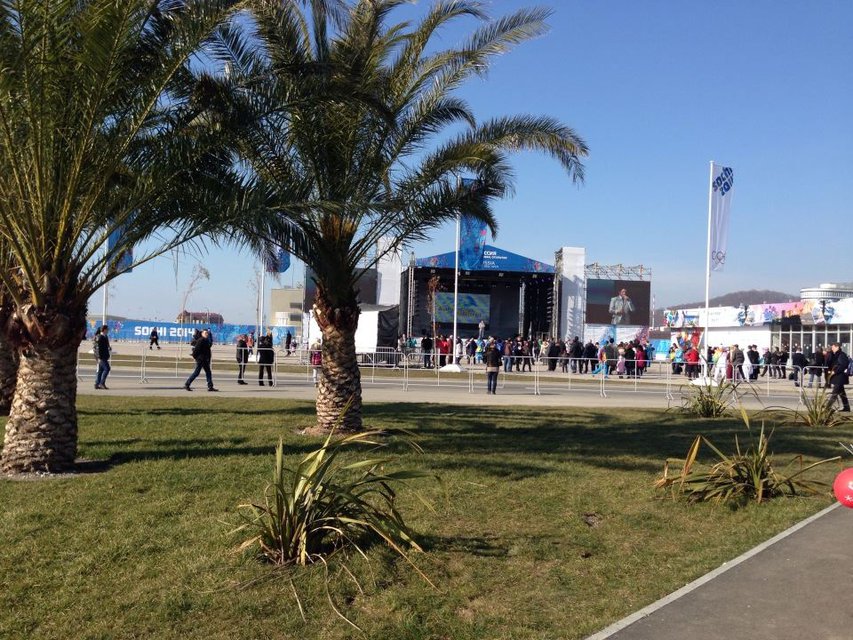 Olympic Village feels more like summer.
I ended up meeting up with some Canadians that I only met because I was searching for a place for Ethan Stone to stay when he got here. We partied in the Switzerland house where I quickly drank 3 - 5 beers and proceeded to dance a few hours away. They invited me back to their apartment and I agreed since it sounded better than another night with my 7 roommates, 1 of which had the flu. The journey back was difficult and I vaguely recall relieving myself at a place I definitely shouldn't have. After a lot of wait and a bus ride, we figured things out. I woke up confused to my new friend's mother saying "good morning America!" They fed us water and advil and proceeded to have an awkward bus ride to Olympic Park. The parentals seemed to like me and gave me a ticket to Women's Moguls for that evening. So I got my McDonalds carmel frappe, showered, and proceeded on with some skiing.
Em and I at Moguls.
As the event came to an end, one of my Tinder crushes who happened to be a real crush as well invited me out for a drink. After being sent on 3 too many busses, I called him lost and confused and in front of a bar. He figured out where I was and said he would meet me. Right as he called me to find me and we found each other, fireworks started going off. Seriously though, a huge fireworks display started. We were both pretty in awe of the situation and stood next to each other for 10 minutes with out saying anything. Sadly, I don't think he thought of it as anything more than a casual friend meet up, but it was nice being able to chat with someone I admire. He was in the know and I ended up meeting pretty much all of the announcers for freeskiing. My bus ride home was spent being interrogated by Luke VanValin; it was strange.
My wonderful friend Robin McDouglas has also arrived as well as Ethan Stone who I picked up from the airport. I managed to get them set up in a room together which is proving to be a pretty decent situation. I've also been able to meet up with Em Lonsdale who is pretty much my reason for coming. I'm so incredibly thrilled for her. It's incredibly entertaining standing around with her while Russians ask her to take pictures with them. I've become her paparazzi. I've had a blast at both the women's and men's slopestyle events. It was amazing being there in person and hearing the Russians cheering on their athletes even though they had the least technical runs. It was more amazing being in the crowd with wonderful friends, seeing the tears of joy and sadness from the athletes, and getting the privilege of eating the athlete meals rather than another serving of potato.
My biggest failure moment and hopefully my last has also occurred. I manage to do something ridiculous on pretty much every trip I take. I once fell asleep on a train when I was meant to go to Annecy for IF3 and woke up in Hamburg, Germany... big opps. Anyway, I was ready to go to men's slopestyle. I dropped of my backpack in our office and took the media bus up to the venue. I get to the ticket scanner and they won't let me pass. I brought the wrong ticket. I was instantly in tears as they confusedly tried to understand what was wrong and why it was such an issue. I asked multiple times to take the same media bus back down, but since it was 2 feet away from me, but behind the white gate, they wouldn't let me back on without a ticket to the event. I tried to explain that I needed it so that I could go get my ticket, but that seemed lost in translation. Em came out to meet me and fed me some fruit and calmed me down. I insisted she go back in and watch her team mates, but she insisted she stay. I called my supervisor who happens to be the best I could have asked for. She calls some people and 20 minutes later everything is handled and I'm watching the event. I'm so very lucky for that. I'm so happy I didn't miss it since USA swept the podium. Amazing!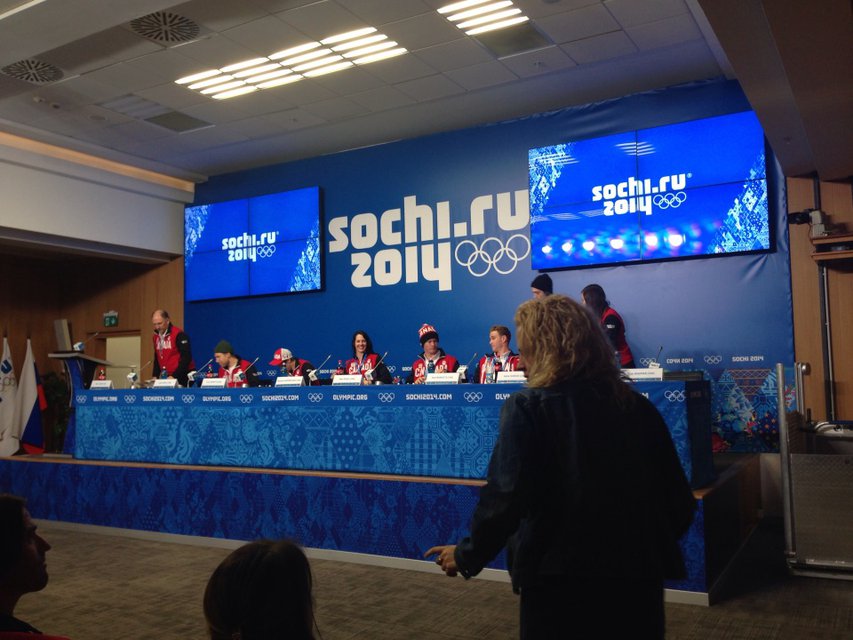 Canadian Halfpipe/Ariels conference. My job is easy.
I feel as though I've been a bit of a strain on my supervisor, but she is really making my experience and my team's experience exponentially better than some of the other volunteers' stories that I have been hearing. She is working 14 - 16 hour days every single day with out a day off. We were finally able to bring some joy into her life this week. Gus Kenworthy is taking the initiative to adopt 4 puppies that are living under the mountain media centre's security area. Since Robin is the one that set him up with the dogs and I'm the one thats been handling things here for Robin, when it came to needing a Russian to assist, they asked me to find that person. So now my entire team is working to get things taken care of for Gus and my supervisor is handling the paper work and giving one of my co workers the day off so that he can go with Gus and Robing to get the kennels and so forth. Seems to be the biggest news going on here outside of Henrik's pants sagging to where we are all used to.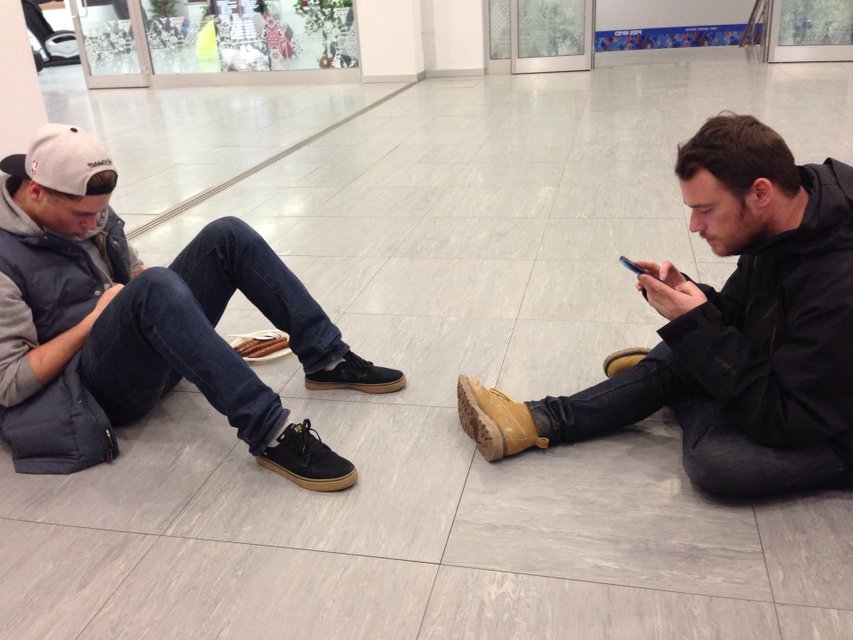 Gus and Robin figuring out how to adopt Russian puppies.
Now that I know where I can access my VPN, I'll probably pick up writing more. I've been a bit scared to post anything. #sochiproblems. And on that note. I found my first real "sochi problem." As Robin and I were walking outside of his hotel, we realized the driveway is literally falling into the sewer. What was flat a few hours before had begun to warp and with a little bit of pressure, the bricks could be pushed through. It's a bit terrifying to know that his hotel is sitting on a hill in which the ground below the front driveway has washed out leaving only poorly mortared bricks. Hopefully we don't hear about a landslide anytime soon. Ethan still owes me drinks.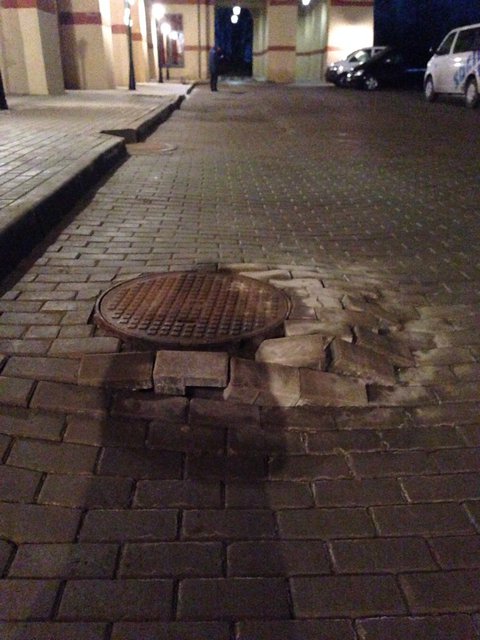 #sochiproblems