Photo: US Freeski Team
The second to last Olympic halfpipe qualifier for team USA has begun in Snowmass, Colorado. With an abysmal start to the winter in Colorado, conditions turned snowy and foggy for this competition, making for difficult conditions for the group of skiers seeking to punch their ticket to the 2018 Olympics next month. both the men and women took to the pipe today for qualifiers, with the top 8 women, and top 10 men advancing to this weekend's finals.
For the Americans, 6 men have 1 of minimum 2 podium finishes needed to secure qualify for a spot on the Olympic team. 3 of the 4 spots are to be filled via this objective criteria, while the other is a discretionary pick.
On the women's side, Maddie Bowman has earned her spot on the team, with Devin Logan one podium finish away from joining her.
Finals take place on Friday. The forecast calls for more snow showers, clearing for the weekend.
Olympic Qualification Standings Before the Snowmass Grand Prix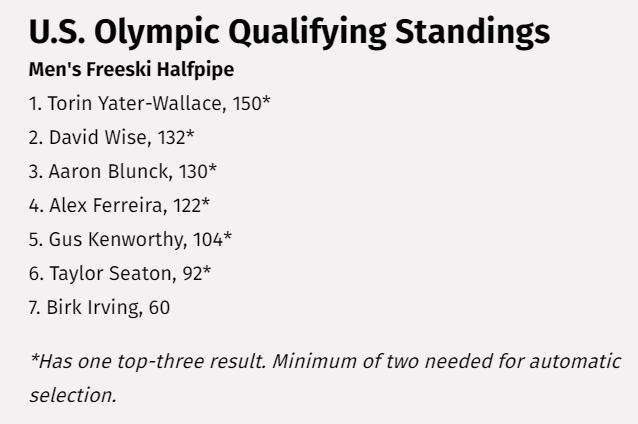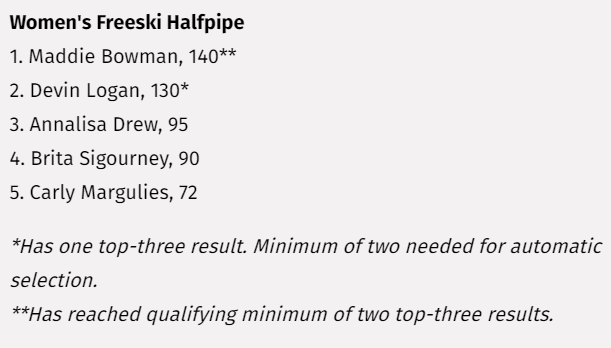 Source: http://www.nbcolympics.com/news/alex-ferreira-wins-olympic-qualifier-crowds-us-ski-pipe-standings
Qualifying to Finals Today in Snowmass

Torin Yater Wallace finished 7th in his heat, missing finals.

Annalisa Drew missed finals by a couple spots.
https://www.instagram.com/p/BdyR8Y2hZTM
https://www.instagram.com/p/Bdx1pAGBOTM/?taken-by=usfreeskiteam
https://www.instagram.com/p/Bdxh3Tvhp4m/?taken-by=usfreeskiteam