The final stop of the Dew Tour concluded this weekend in Snowbasin, UT and this 3 stop series only confirmed what everyone has known since last year's X Games--the best slope and pipe skiers in the world wear the Smith I/O goggle and the Smith Maze Helmet.
With consistent and dominating performances all season long, Smith park and pipe killers Bobby Brown and Kevin Rolland were awarded the overall trophies at an awards ceremony in Odgen, UT last night.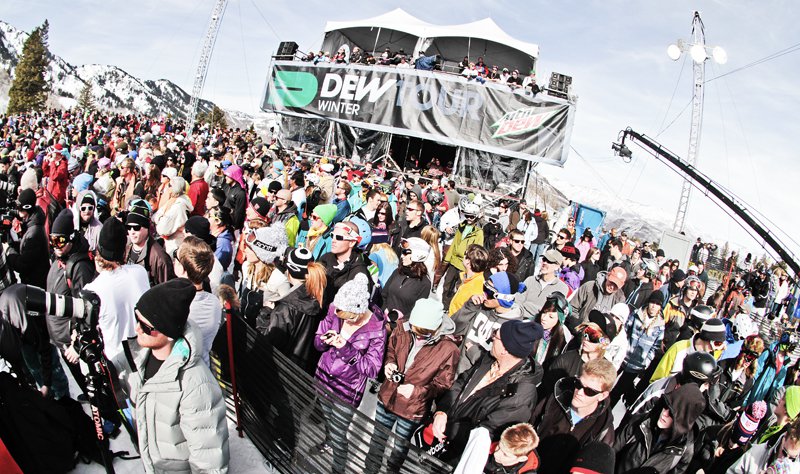 In order to earn the prestigious Dew Cup, both Bobby and Kevin had to wage serious battle but in the end these champions were not to be denied their rightful glory. In halfpipe, Kevin Rolland entered the weekend tied with Simon Dumont in points in the overall standings, but after Rolland laid down an absolutely amazing first run in finals, it was apparent that Kevin was going to add a Dew Cup to his collection of X  Games Gold Medals.
The exclaimation point came on Kevin's victory lap, where instead of taking it easy, he displayed the true form of a champion by stepping on the gas and sending an even sicker run for an even higher score.
Despite narrowly missing the podium, Smith Ski Athlete David Wise threw back to back double cork 1260's (left side to right side) and although he didnt get the recognition of a podium spot, Wise gained the respect of his peers and everyone else in the know as he helped progress the sport. David Wise is just getting started.
Huge congrats are also in order for Brita Sigourney. Coming off her Silver Medal performance at X Games, Brita continued to gain confidence in the pipe as her 900's and 720's were thrown with amplitude and style and she took home the win at this stop of the Dew Tour.
In slopestyle, all eyes were on Bobby Brown. Heading into the finals with a good lead on the overall title, Bobby still had to throw down a respectible run to collect the Dew Cup. His first run was awesome, but a slight bobble on the last air dropped his score way down and put the heat on. Feeding off the pressure like a true competitor, Bobby dropped in for the final run of the day and wound up in 4th place.
This result gave him the points he needed and Bobby was crowned the 2011 Overall Sloepstyle Champion.
Smith Optics would like to salute Bobby, Kevin, and all of the athletes for kicking so much ass this winter. Next up, the Smith Ski Team storms Europe for the Euro Open and Euro X Games. Stay tuned!