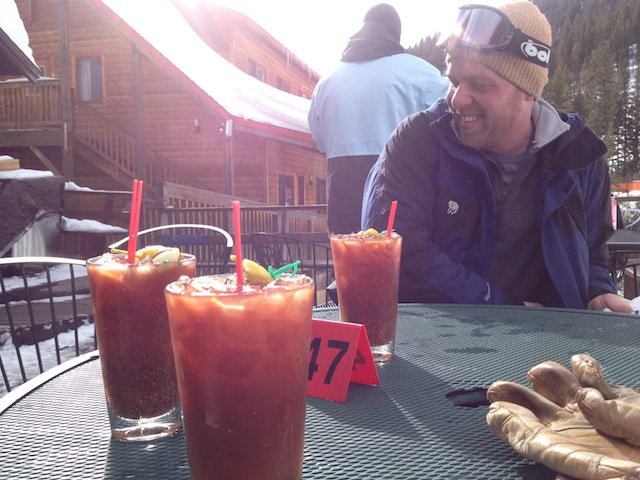 Mmm. Delicious. Photo: John Clary Davies
By John Clary Davies
Garland Davis is the only person that knows the recipe to the Last Run Inn bloody mary mix. The drink is so popular at the Snowbowl bar, he makes the secret blend in 6-gallon batches. On a typical day, he?ll sell about 130 pints of bloodies. Once, they went through 220. The Missoula Independent has voted it the best bloody mary in the area since the drink debuted in 1996. That?s a hell of a run.
Davis wears tinted glasses and has tobacco-stained teeth. He?s worked at Snowbowl for 28 years and perfected his bloody mix when he started running the Last Run. Snowbowl is Ma and Pa old school. It?s about 20 minutes from Missoula at the end of a dirt road. Its two vintage double chairs access 2,600 vertical feet of fall line through thick trees. They groom about a run and a half, depending on the day. Snowbowl only gets 300 inches of snowfall, and on this particular day, the snow report could be called ?crusty bumps,? which sounds like more of an STI than a reasonable state of skiing.
But back to the point ? the best morning cocktail in the land. Davis uses an amount of Worcester and pepper that will make your nose run, but won?t have you breathing fire. Some call it perfect. The mix comes with a plastic sword with a peperoncini, an olive and a clove of garlic. The bloody goes down easy, like any cocktail that?s socially acceptable to consume before 9 a.m should.
There are some things that are just law in skiing. Utah has the best snow. Sun Valley has the best early-season groomers and Aspen the friendliest cougars. Montana Snowbowl has the best bloodies. Going there and not ordering one is like going to Mad River Glen and avoiding the single chair. Bottoms up, Montana.