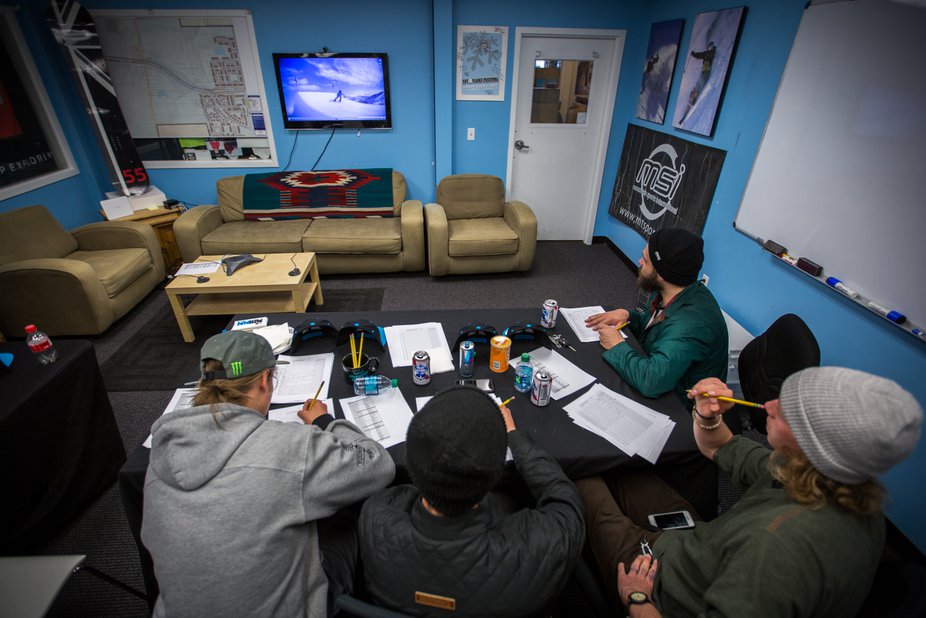 In the final round of voting for The North Face Park and Pipe Open Series Virtual Competition (PPOS), judges met in Salt Lake City to judge the slopestyle discipline and to choose winners for specialty prize categories, including Best Trick, Clif Bar Two Trick Pony and the Best 100% GoPro Edit.
"It's cool to see kids have a chance to compete where they feel comfortable, riding their home mountains and hitting their home jumps," says head PPOS judge Jason Arens. "A big shout out to Etienne Brochu of Le Relais, Quebec who was super competitive in the amateur field while skiing jumps that were smaller than some of the other kids had available. With less air time, he had to spin faster than those on bigger jumps to get his tricks dialed."
The slopestyle competition was fierce with 65 finalists. In the end, Colby Stevenson of Alta came out on top, winning first place for the men's open/pro category. Darian Stevens of Montana Snowbowl took home first place in slopestyle for the women's open/pro category. Slopestyle final results can be seen below. Results for the entire series can be seen online, here.
A huge thank you to all the skiers, filmers, park crew members, parents, older siblings, resort staff, video editors, industry partners and judges. Without you, this competition wouldn't be possible. So thank you.
2016 The North Face Park and Pipe Open Series Virtual Competition
Slopestyle Final Results
Men's Open/Pro Slopestyle
NAME | HOME | SCORE
1 Colby Stevenson | Alta | 95.00
2 Alex Hall | Laax/Park City | 88.00
3 Noah Wallace | Schweitzer | 86.75
4 Noah Morrison | Silver Star Mountain Resort | 86.50
5 Cody Cirillo | Breckenridge | 84.25
Women's Open/Pro Slopestyle
NAME | HOME | SCORE
1 Darian Stevens | Montana Snowbowl | 92.50
2 Taylor Lundquist | Park City | 90.25
3 Caroline Claire | Mount Snow | 87.25
4 Nadia Gonzales | Keystone | 82.25
5 Elena Gaskell | Silver Star Mountain Resort | 80.00
Men's Amateur Slopestyle
NAME | HOME | SCORE
1 Blake Rolfing | Hyland Hills | 94.50
2 Ryan McElmon | Cannon Mountain | 92.00
3 Aaron Milligan | Vail | 90.50
4 Sammy Schuiling | Vail | 87.75
5 Etienne Brochu | Centre d'Aventures Le Relais | 85.75
Women's Amateur Slopestyle
NAME | HOME | SCORE
1 Ashton Glass | Park City | 88.50
2 Nikita Rubocki | Bogus Basin | 83.50
3 Isabelle Hanssen | Breckenridge | 80.25
4 Sandy Mait | Campgaw Mountain | 77.25
5 Brynn Wedlake | Vail | 71.25
Boy's Junior Slopestyle
NAME | HOME | SCORE
1 Kiernan Fagan | Breckenridge | 94.50
2 Mac Forehand | Stratton | 92.00
3 Zane Severson | Park City | 89.50
4 Troy Podmilsak | Park City | 87.75
5 Deven Fagan | Breckenridge | 77.25
Girl's Junior Slopestyle
NAME | HOME | SCORE
1 Marin Hamill | Park City | 94.50
2 Ava Surridge | Vail | 70.25