Cover photo: Rearview mountains.
Recently, when describing the pandemic, I caught myself stating the classic COVID phrase: it's been a weird year. The word weird does little to encapsulate everything that happened in 2020, although its indescriptiveness is telling, a reminder that despite our best efforts the past year has left many of us at a loss for words. And how could it not? Political turmoil, an unhinged pandemic, and increasing signs that we've put far too much strain on our natural world flogged us relentlessly. Yet, even among these unfortunate circumstances, I still found myself motivated to pack up the car and head to the hills with surprising frequency.
As most of you have probably realized, skiing's a fantastic way to relieve pressure. Whether it's fresh turns at the crack of dawn or the final laps taken en route to a tailgate, the shared experience of skiing with your friends remains incredibly effective at removing one's mental state from negative thoughts and emotions. Maybe it's the fresh air, or the time spent socializing with friends new and old, or maybe it's something incalculable about leaning your edges into a long arcing turn. For me, COVID brought these traits of the skiing experience into a position of sharp contrast. Certainly, without skiing, I'd have felt several more degrees of mental anguish in response to the ever-renewing headlines of fresh global horrors.
There's an element of privilege couched in these observations. In 2020 the whole world suffered. Mental health problem rates skyrocketed, the economy faltered, and issues of race and class permeated our minds constantly. And, against this backdrop, skiing remains somewhat prohibitive, both in terms of cost and culture.
For example, the average ski day runs about $100-$200 in cost per person. While some of this cost can be offset through the purchase of a pass, it still excludes the laundry list of necessary gear purchases. Assuming you're not using rental gear, getting kitted up necessitates the purchase of boots, skis, bindings, outerwear, poles, among other pieces of equipment. If bought new, by the time you're all set you could have bought something entirely more functional instead, like a wonderfully reliable used Toyota Corolla. Frivolous doesn't come close to describing the nature of our sport, particularly in a year where unemployment rose across the board and working-class families faced evictions worldwide.
Similarly, one of the mods here (@safarisam) recently dropped a piece about sexism on NS. While I'd like to say that the call-out came as a surprise, if you've spent any amount of time watching the forums here you'd know that she was just putting a name to a years-old phenomena. Since Newschoolers is something of a microcosm of the skiing world at large, her observations remain consistent with the experiences of many women I know who've skied their entire lives. These complaints are joined by the dearth of high-quality women's oriented ski gear (luckily, many brands are starting to wise up on this issue) in creating a cultural environment that struggles with accepting groups other than men into its fold.
The issue of sexism and skiing isn't alone in barring newcomers, either. At least once a month a thread pops up on NS about someone's bad experience in the park, usually involving a posse of gatekeepers shit-talking someone's beginner-tier bag of tricks. Outside the park, on the skin track, there's no shortage of backcountry douchebags scoffing at skiers without featherweight pin-bindings the size of half an eraser, too. While some degree of education is necessary for newcomers to the sport, particularly in the backcountry, its method of delivery is often more exclusionary than necessary.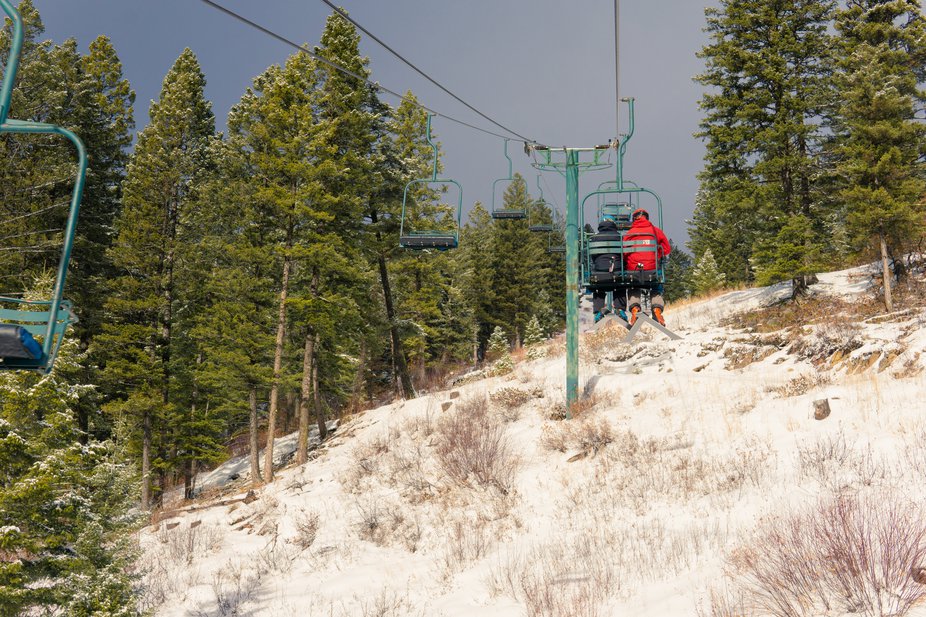 Image: Riding up the lift at Snowbowl, MT.
Even though skiing still contains a great deal of gatekeeping, both financial and cultural, it's not all bad. I haven't forgotten my time shredding with welcoming posses of rippers while studying in Canada, nor have I forgotten the many long conversations I've had with complete strangers while riding the lift. These memories remind me that among the threads of negativity in the skiing world live plenty of positive ones. Without them, I wouldn't consider the ski community a critical component of both myself and my upbringing.
Rather, I raise these criticisms in conjunction with my observations from this past season. Skiing's important. It helped me keep my head above the water in one truly 'weird' (there I go again) and uncategorizable year. And if you're reading this I can bet that it helped you too.
So, as the lifts stop spinning, let's look ahead to next season. During this process, it can be tremendously easy to blame the act of skiing itself, or write it off as inherently fucked up in light of both these observations and their conjoined historical context. But the act of riding wood chunks down snow-covered hillsides predates expensive day tickets and pink-washed women's gear, meaning that loading up on guilt and self-loathing every time you pull up to the hill is both unnecessary and unproductive, as is grilling less-aware members of the community for sport.
We'd be better off focusing on the positives and the potential impacts of our actions. We can hope that as vaccines rollout worldwide that some of the constant COVID pressure will begin to fade into our collective memories. A hope that contains promises of more hilarious and memorable moments both on and off the hill. We can hope that once again we can barge into packed bars fearlessly after skiing bell-to-bell, and we can hope that we can link up with new friends without asking when their most recent COVID test was. Most of all, though, we can hope that during this year we've all learned just how potent the curative powers of skiing are, and we can try to do our best to share them. Whether it's a shout of encouragement from the lift, a fist-bump at the bottom of the jump line, or a donation to a non-profit dedicated to sharing skiing with lower-income folks (like the Share Winter Foundation), the little gestures can culminate in a cascade of better energy on the hill.