Well hello, hello! Jenny over at Salomon thought it was about time that I fill in some people with what I did with myself this past season. It certainly has been busy, fun, and rather exciting…Rewind back about a year ago... I spent the summer and fall going to school at CU Boulder where I'm currently working on a double major of film and digital media studies. I also spent sometime in my hometown of Lake Placid, NY where I hit the water ramps with pastcoach Richie Morgan to learn a few new doubles and other tricks for the comingseason..After the fall semester at Boulder finished up, I made the move to Breckenridge, Colorado where I resided during the winter months this past winter. Accompanying me at my lovely residence wasHenrik Lampert, JP Solberg, Dan Marion, Taylor Felton, and Matt Philippi. We're so cool we even graced the cover of the Summit Daily earlier in the season. Iwish I had a digital copy of this spectacular family portrait to show youguys..Also, if you're ever curious aboutwhat some of the happenings were in our house, you can check http://www.henriklampert.com. As you probably already guessed this is Henrik Lampert's website. Let's just say he's an avid blogger and loves to record the happenings of his life as well as our house. We did a few cool things this year such as build the largest snowman in all of Colorado. You can check it out for yourself…Anyway, getting back to my season. I actually spent the first half of January skiing pow throughout Colorado with Josh Berman and Steele Spence. We hit up Snowmass for almost a full week, skiing some of their radical terrain. Of course we also did some sled access skiing around the general area of Aspen and found some of the most fun pillow lines you could ever imagine…
You'll have to check out the new Level 1 video to see howhard Steele ripped this line, six times…Immediately following my extraordinary week in Aspen, Steele, Berman and I decided to head down to the Silverton/Red Mountain Pass area to try and get some more shots. Unfortunately the trip wasn't quite as successful as we could have hoped for but I think we still got some pretty neat stuff…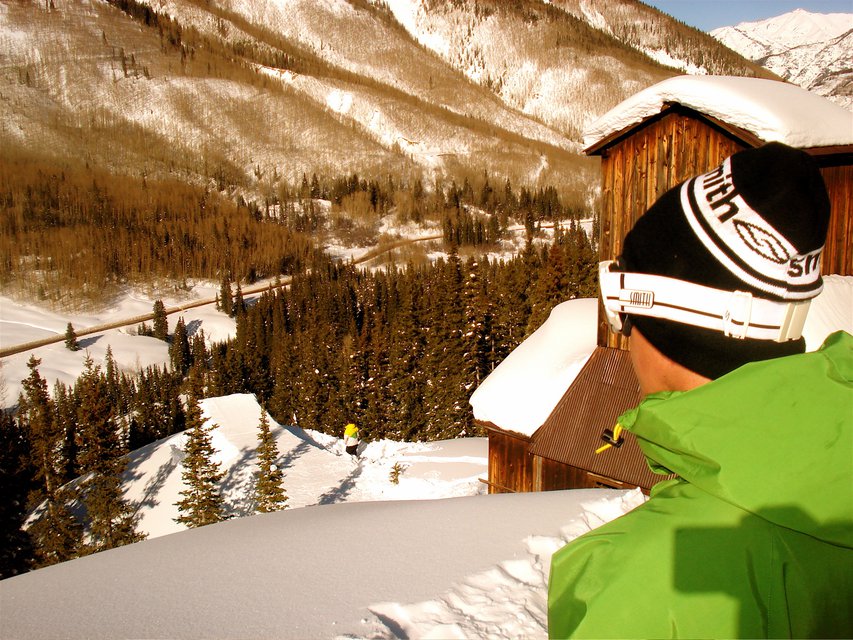 Here Steele looks down on one of the many jumps I fell on this week. You can expect a lot of shots of me in the crash segment this year...For anyone who hasn't been down to this part of Coloradoit's a pretty beautiful place. The hills are scattered with abandoned mining structures left for us to explore and ski around…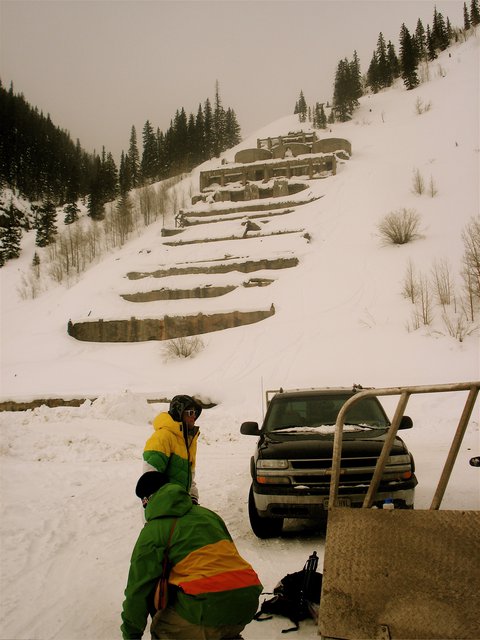 I'll let you try and figure out how we managed to ski down this thinger…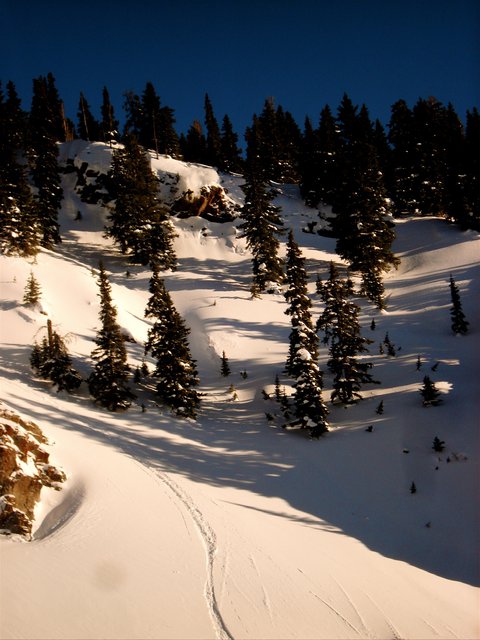 See if you can find Steele in this photo mid line…With roughly six days left until the US Open, I made my way back to Summit County to work on my park skills in Keystone's Area 51 Park. If you didn't make it to Keystone this year I suggest you schedule a trip there for next season! The park is awesome and offers some of the fastest lap times anywhere. Whenever I'm home I don't ski anywhere else. And that's saying something as I actually live in Breckenridge…Barely getting into my park skiing for the season, the US Open hit me. Unfortunately the weather decided not to go in our favor during the event, blasting us with snow and making speed for the slopestyle and big air events rather difficult. We still had a great time and I managed to jump into third place in the Big Air event. I apologize to everyone for turning thecontest into a switch ten fest but we really didn't have many options as the jump was mediocre and falling snow made getting speed difficult. Hopefully it was entertaining to watch still!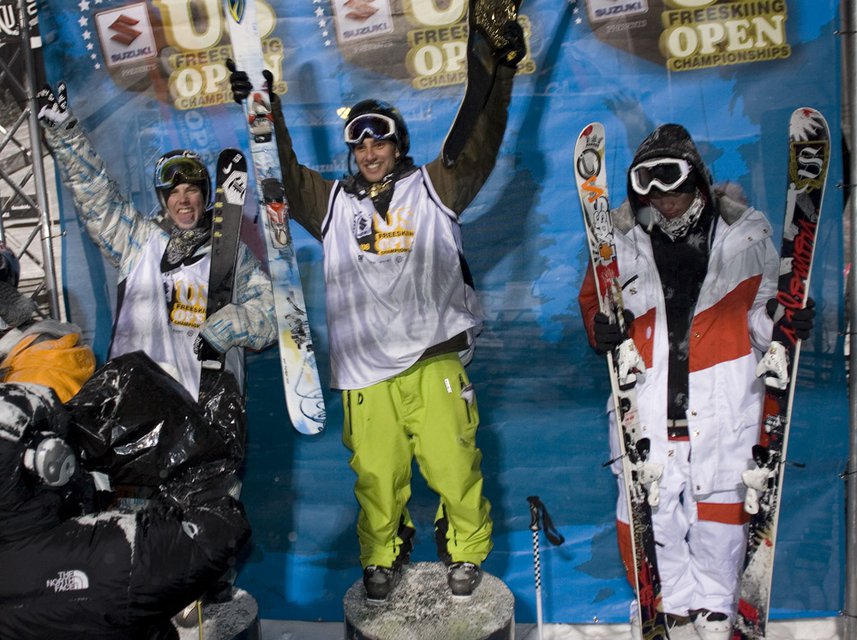 Following the US Open came the Aspen Open. I didn't ski my best but the competition was still awesome! One of my good friends Matt Walker decided to go ahead and win the entire thing… Excellent job Walker… Excellent job…Following the Aspen Open I made my way over to Japan with fellow Salomon riders John Symms and Matt Walker. We experienced fine diningand an entirely different culture…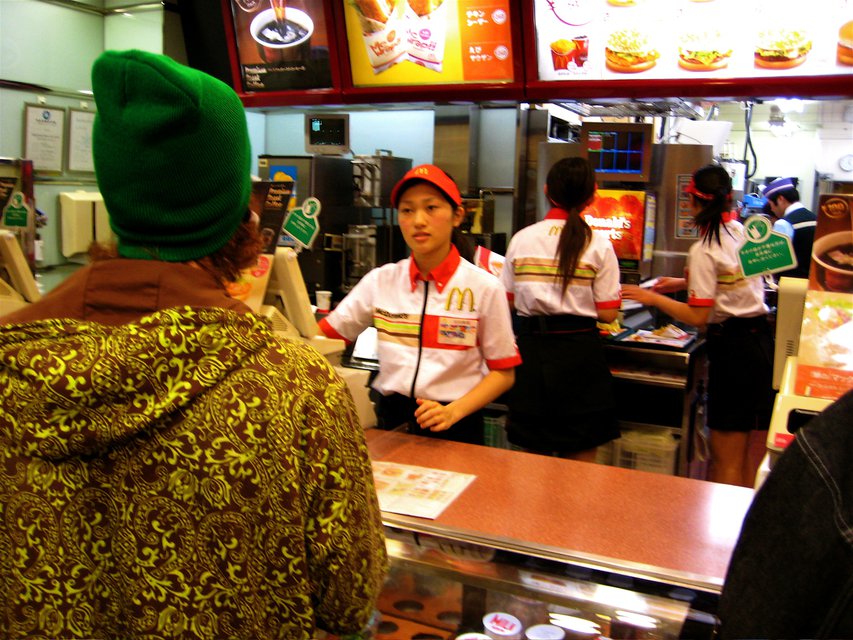 Our first meal in Japan consisted of cheeseburgers at McDonalds… Delicious…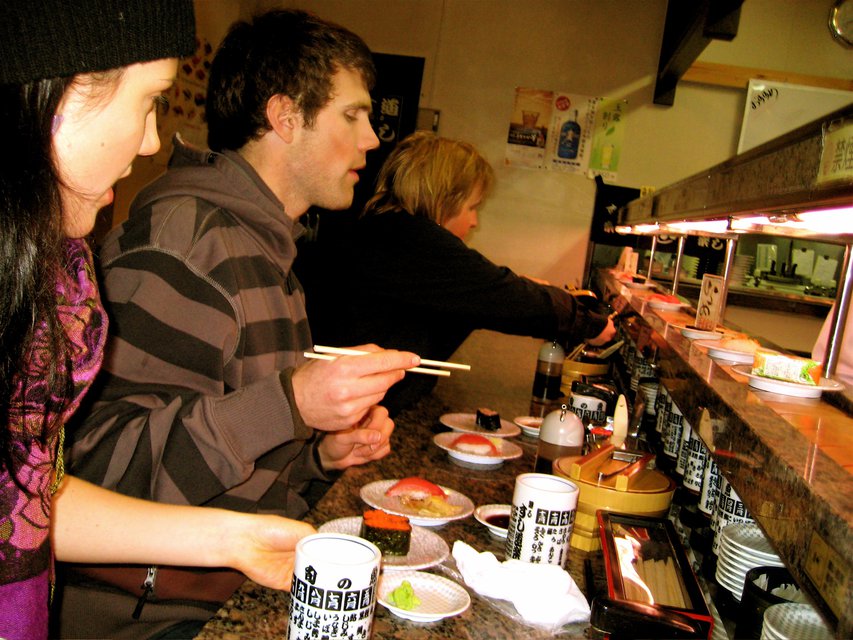 Of course we went to finer eating establishments such as this nice sushi dinner. At this place there is a rotating conveyer belt that just has never ending sushi. Its pretty cool. Look at Schmuck aggressively attacking some food. Fatty.. Thanks Tatsuya (sp?) from Bravo Ski who helped us get there…The first competition day consisted of slopestyle. The course was a lot of fun and the weather was beautiful. Not to mention the fact that I don't think I've ever seen so many doubles thrown at one time. Cosco, Dorey, and Kalle were all performing their own variations of the Kangaroo flip.Matt Margets was doing some unique double cork 9s. Mike Mertion was nailingdouble cork 14s. And Russ Henshaw was doing radical switch double cork 10s. Allin all, the competition was on a complete different level. Jossi absolutely killed his entire run and once again came out on top… The kid is untouchable…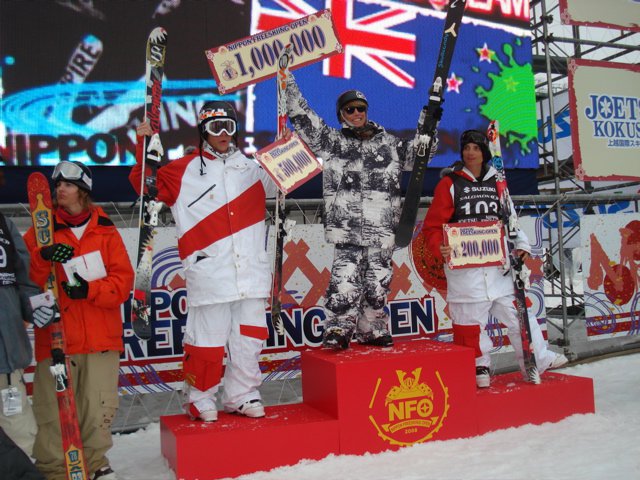 I was pretty pleased too as I ended up in 2nd place with the help of a newly learned double cork 12. Charles and I are matching. It's pretty cool. I like him. Apparently we are wearing "Henrik Harlaut's suit." Or at least I read that somewhere here on Newschoolers a few weeks back. You can check my run out right here:Japan is a pretty cool place. It snowed a disgusting amount while we were there, demolishing any chances of holding the big air event and also putting a serious damper on the halfpipe competition.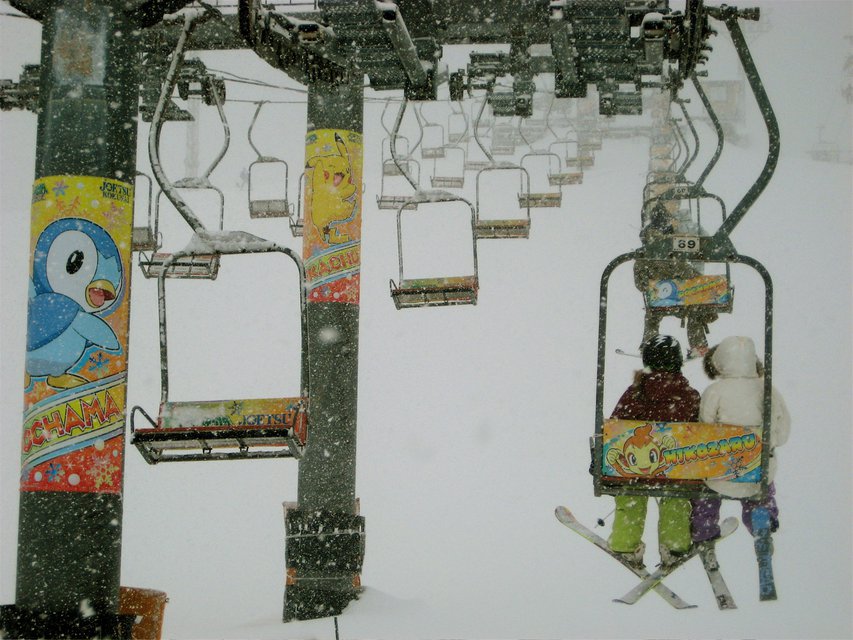 I snapped this photo from the chairlift on our way to the pipe comp. Check out all the snow falling… And the sweet Pokemon chairlift…Also, speaking of Pokemon, we even got to pose with a bunch of little Japanese children in front of a Pokemon wall at the resort… Check itout: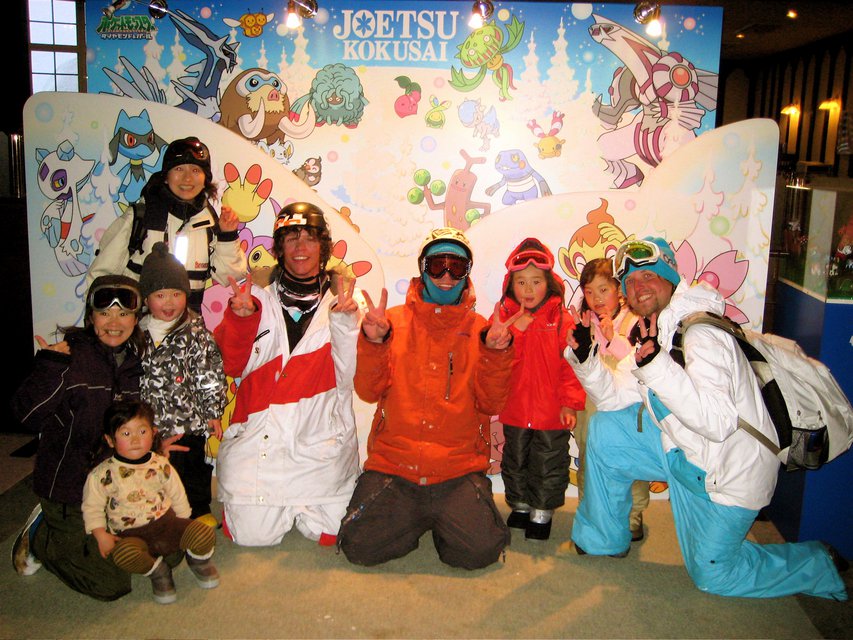 Another really sweet thing about the resort we stayed at wasthe arcade…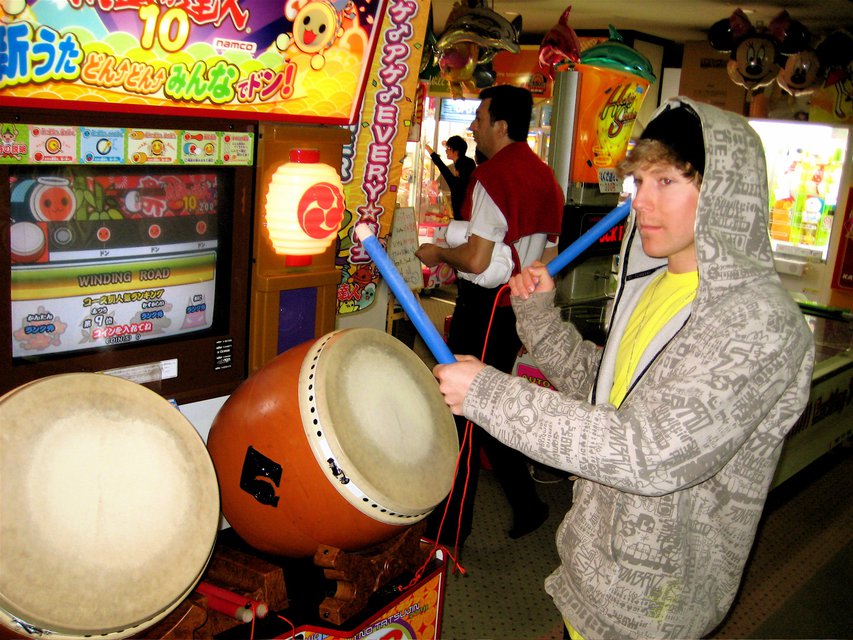 Justin Dorey is just slaying the drum game. It's somewhat like DDR but with a Japanese twist… No big deal…Also, the Japanese people really liked us…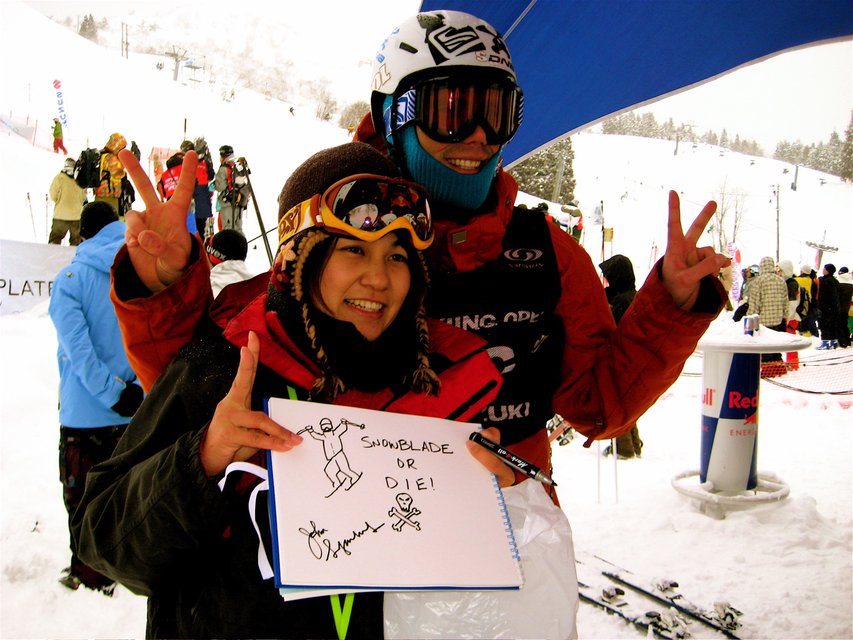 We all signed a lot of autographs. Symms decided to draw this lucky gal a picture of him snowblading. It also came with an awesome caption. "Snowblade or Die…"Even Schmuck from Newschoolers.com was signing autographs…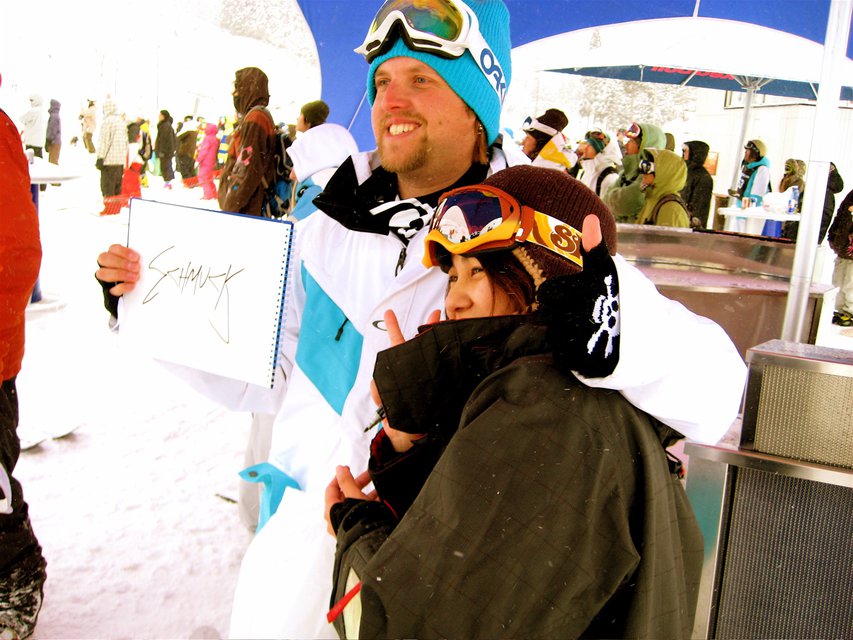 Oh yeah and I got 8th place in pipe. It was pretty sweet because I suck at pipe. The only reason Idid well was because it snowed a ton and no one could go big. Since I can never go big this gave me a serious advantage…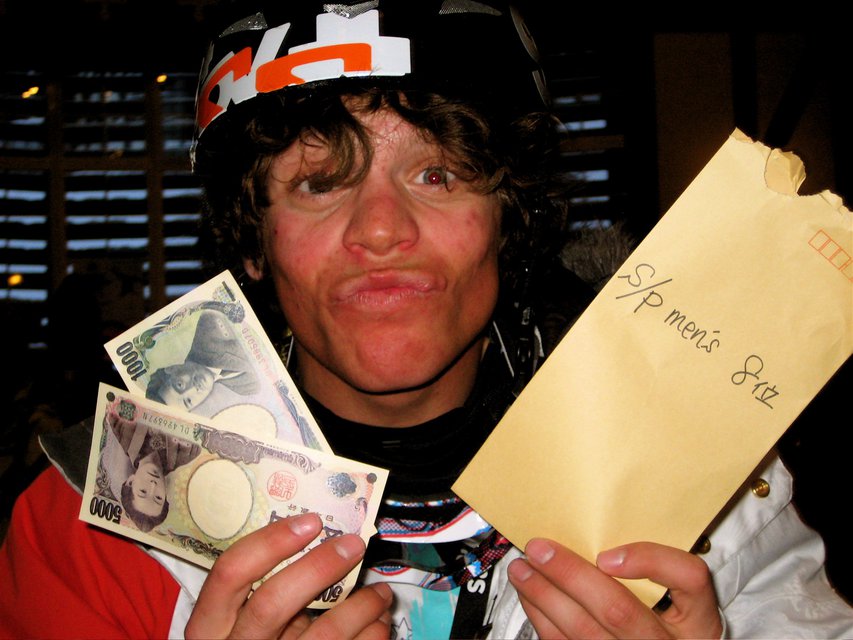 I made the equivalent to 60 US Dollars…Speaking of a lot of snow...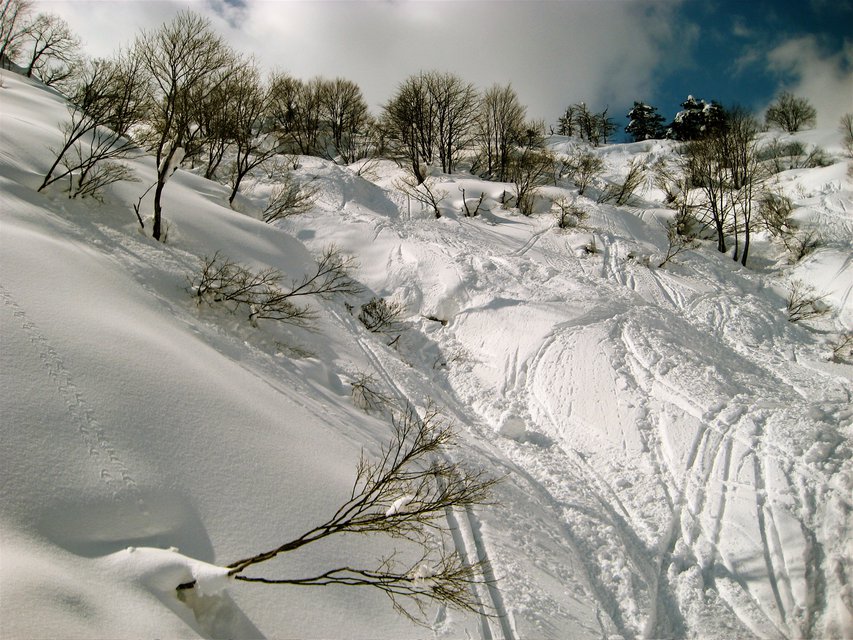 We got to shred pow. Too bad we only had our park skis. It was fun anyway though. Check out our tracks!On the last night we had a big party sponsored by Red Bull. The party was so extreme. Check out the dancers…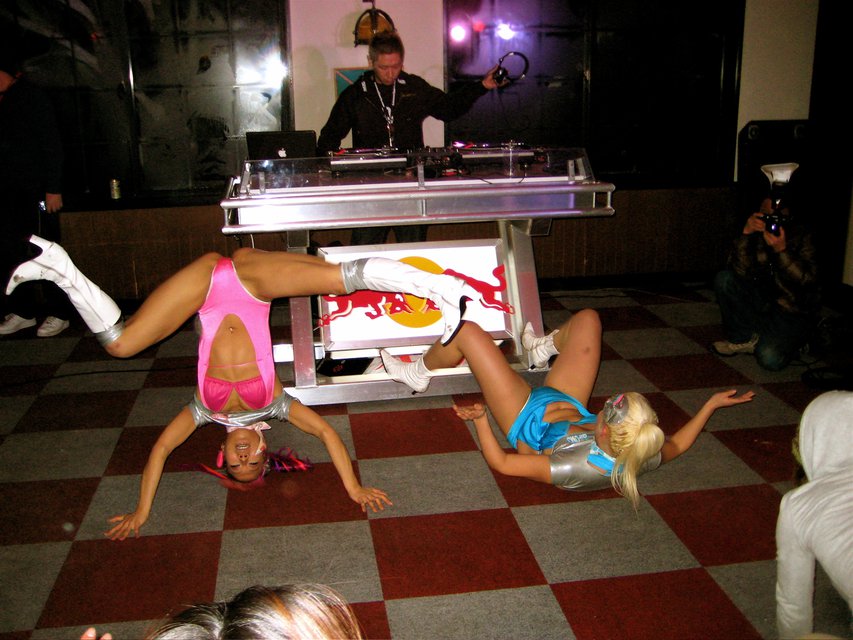 The girl on the right must have been hammered.. She wasn't doing too well.. She's got a nice gut too..Matt Margets even jumped in to do some dancing…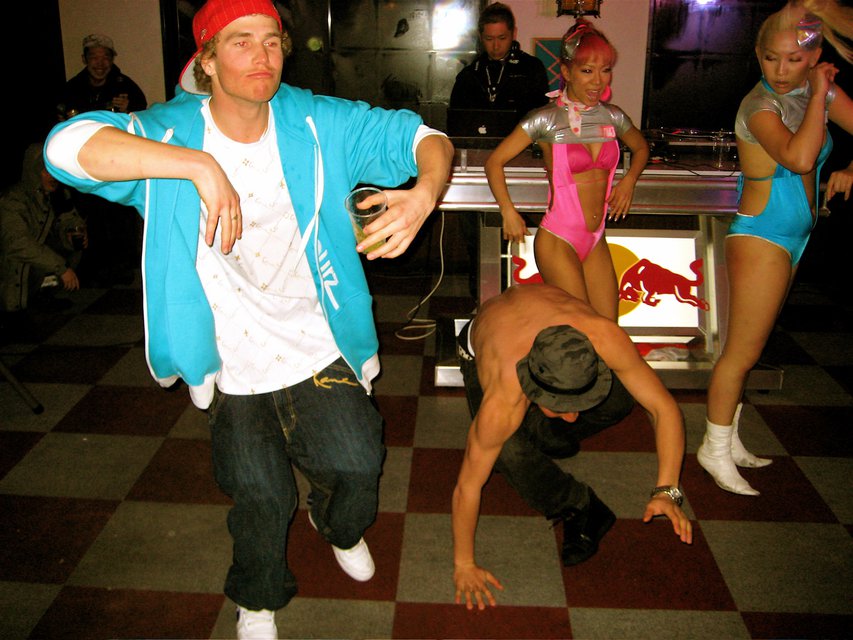 He's pretty… Yeah Marge…There were also some other pretty serious performances…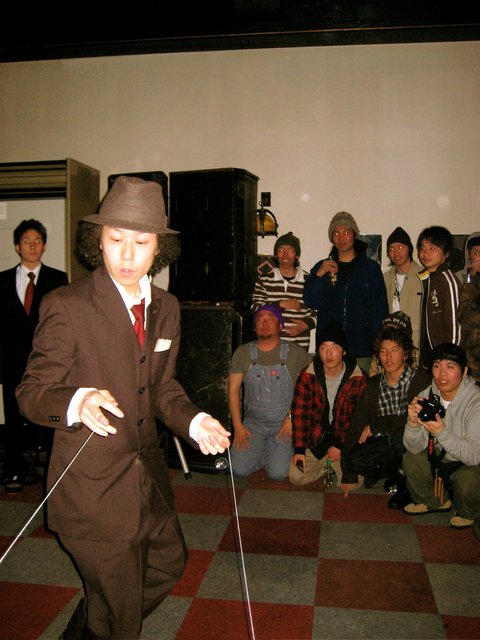 And in case you were wondering the strings attached to his fingers are two yo-yos. Pretty cool I know. He's even better than I am…After the sweet party at the Nippon Open was over. I caught the bullet train back to the Tokyo airport and went back to the US…Following Japan I was able to fit in a quick day of skiing at Keystone where I shot with Ben Woodworth to throw a little edit together to try and make it into JOSS over in Sweden later in the year. Here's my edit. It has some footage from the 06/07 season mixed with the one day of skiing I got in that day at Key...Then I was off to Minnesota for a Salomon Jib Academy to be more specific. It was a fabulous day and Spirit Mountain rocks. All the kids killed it and I think it was a super cool event. Jib Academys rule…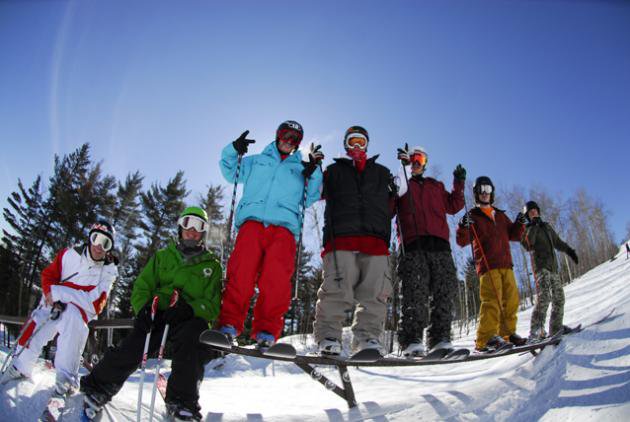 This was my group... They ruled... Congrats to Nathan for moving on to finals... I got shred with him later in the year at Keystone...Immediately following the Jib Academy I flew to Knoxville,Tennessee for a Salomon/Freeskier trip with John Symms, Keri Herman, Nicole Birkhold, Jay Michelfelder, and his lovely wife Summer. You might ask yourself why we would ever choose to do a ski trip in the dead of winter to the Southern United States. We're still asking ourselves this same question…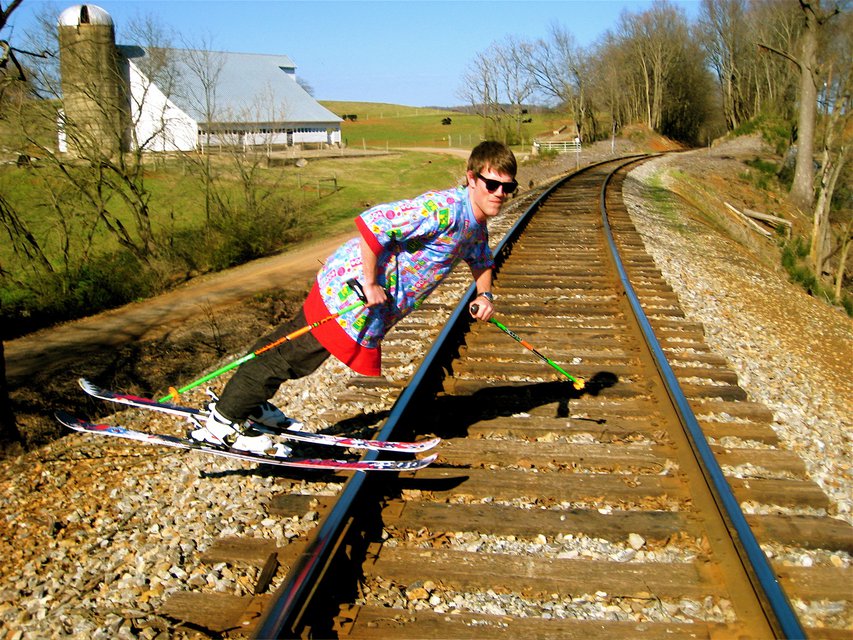 Here John Symms lays out a beautiful nose press on some Tennessee railroad tracks…We also got to explore a bit of Knoxville...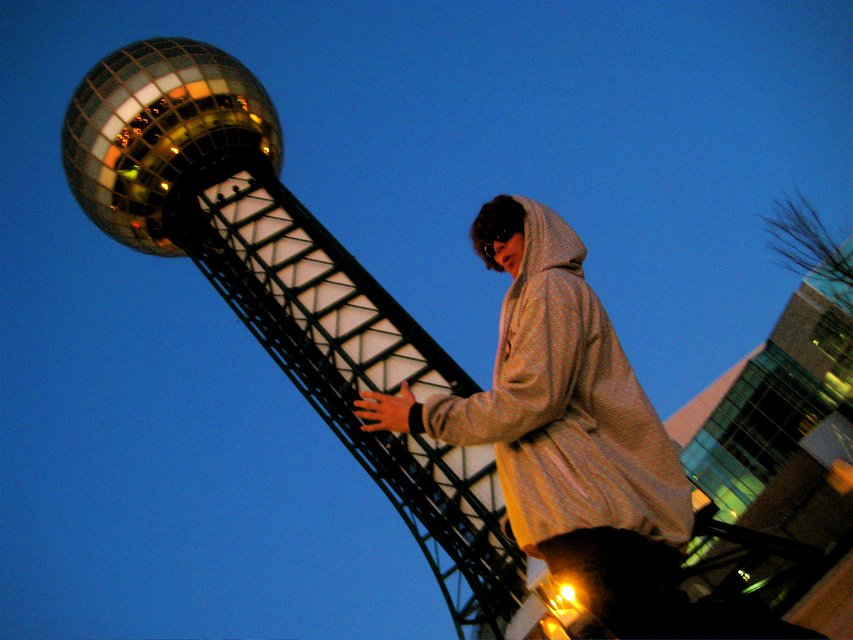 Tennessee actually ended up being pretty radical. We skied at a lovely little place labeled as Ober Gatlinburg. It certainly wasn't the largest ski resort I've ever been too but it had plenty of character as we found dirt gaps, treebonks, lift towers, and other radical features… I might even rate this day of skiing in my top three all season... Good stuff...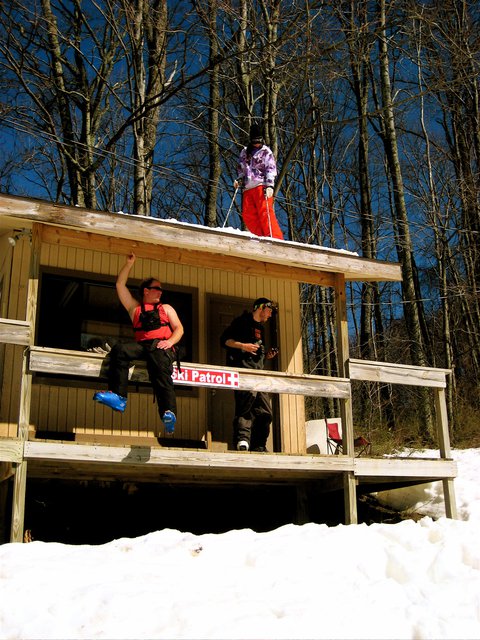 Here Alex (the head ski patroller at Ober) watches overKeri as she lines up a nice little bomb drop off this patrol hut…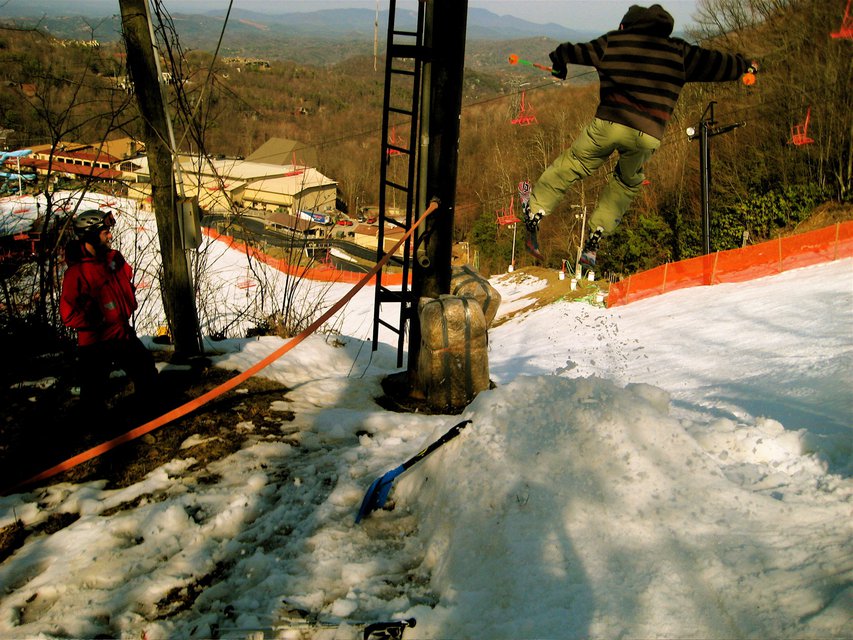 Symms catches some sweet air next to this snow gun tower. Ober Gatlinburg rules… Notice the ski patroller in the woods watching over us…One of my favorite parts about this resort was the fact that there was a water park at the base...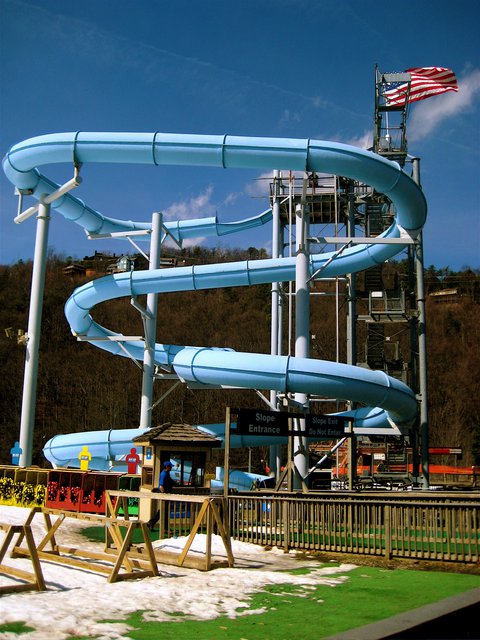 Gatlinburg offers go-cart rides, bungee jumping, ice skating, and black bear observing to name a few thing. It might have something to do with the fact that they only received 7 inches of snow this year!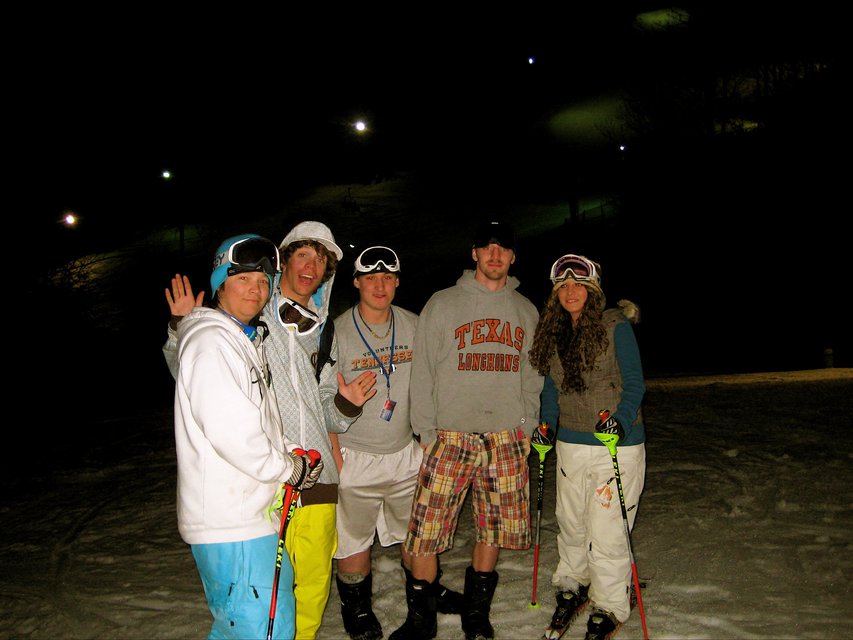 Prior to this shot we had a mini-quarterpipe session that consisted of at least 40 handplants… These were some of the locals that kicked it with us during the shoot...Sadly to say I was a loser and didn't shoot many photos withmy little digi cam after this point in the trip. We proceeded to head to resorts in North Carolina, West Virginia, Pennsylvania, and New Jersey. Talk about a wonderful ski trip featuring some of the world's top skiing destinations. One low point however was John Symms dislocating his hip in Snowshoe, West Virginia. We were hitting a wallride when the tragedy happened.Thankfully Symms is doing alright and he will be back to 100% in no time. Love you Symms. I really do. Anyway, enough on our "Dirty South Trip." You'll beable to read the full story as well as see much cooler photos in a coming issueof Freeskier Magazine...One break in the middle of Mid-Atlantic trip was at the Pennsylvania Jib Academy in Sno Mountain, PA. Unfortunately the weather wasn't great but we still managed to have a glorious time. Everyone killed it in the rain and I think the competition was a lot of fun!Following the Jib Academy our crew headed to Mountain Creek, New Jersey to shoot a quick destination piece for Freeskier. Mountain Creek rules and I suggest anyone who lives in that general area to make their way there. Lots of fun features…After Mountain Creek I jumped on aplane and headed back home to Colorado. I quickly reassembled and made my way to Utah to meet up with Kyle Decker, Liam Downy, and Freedle Coty for a little backcountry action in some snowy place. Unfortunately we ran into some sled problems but I managed to get a few things done. See if you can find my tracksin this photo…
You can check out Level 1's new video labeled TURBO tosee some serious ski action…After a not so successful trip to Utah I made my way back to Colorado to get some last minute park skiing in before JOSS. I got some pretty cool photos at Keystone with Jay Michelfelder that you'll have to wait to see…Anyway I jumped onto a plane andmade my way over to Sweden for the Jon Olsson Super Sessions. Jon, Olivia, Peter, and the entireevent staff were unbelievable with helping us feel right at home in Are. Thetrip was filled with great skiing, late nights, expensive cars, and helicopter rides. Just to name a few highlights... Thank you to everyone involved for making such an amazing event. Unfortunately I ran into some troubles over there with numerous equipment issues, injuries, and other general difficulties. You can find out more by watching my team video right here...Following Sweden I made my way back to Colorado and jumped immediately on a plane to Whistler for WSI Big Air and the Orage Masters. Unfortunately I decided to break my back in the early morning practice for the Masters. The best part is that I was wearing a Batman costume and doing a straight air. The paramedics wouldn't stop making fun of my costume while they drove me to the hospital. Good times… Good times indeed…So that injury pretty much ruined the rest of my ski season. I had plans to attendvarious park shoots all the way into mid May when school started up once againfor me. Unfortunately that couldn't happen and my Level 1 segment isn't looking too hot at this moment. It's all good though because I'll be back skiing in no time..Anyway, following my injury I spent some time back home in New York with my parents until I ventured over to Italy to meet up with my beautiful girlfriend for a little bit. She's been traveling around the world working for Ironman Triathlons all winter and I hadn't been able to see her too much.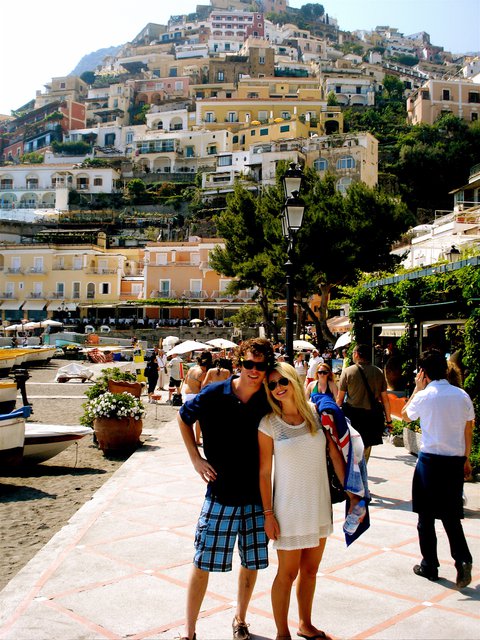 Good stuff... That's us in Italy. Anyway, now I'm back in Boulder doing the summer school thing and resting upthe back for next season. There may even be possibilities of a Level 1 ParkShoot at Windell's this summer…Hopefully this wasn't too long for all of you and thanks for reading..Love.