Saga was born at Windells Camp in 2005. When Saga was just a small brand, it had one jacket line. Saga got along with the kids, and it was well liked amongst its peers. When Saga grew up a little, it decided to move away from home; to the snowy peaks of Salt Lake City, Utah. There, Saga would develop and mature and soon, all the ladies wanted Saga.
Windells has been the ?incubator? to many of the top brands in the industry. Grenade, Bonfire Salomon, Skullcandy, Atmosphere and Saga sprouted their first knuckle hairs at Windells Camp. I had the chance to chat with Sean Harkins, a past Windells employee and now the Sales Distribution Manager at Saga Outerwear, while the guys were on campus. I caught Sean, Jordan Harper and Jeremiah Paquette in the middle of a fashion show in the Betty Rides cabin, but I don't want to be the one to spill the beans. Sean and I chatted West Coast Session, Saga summer plans, and expansion.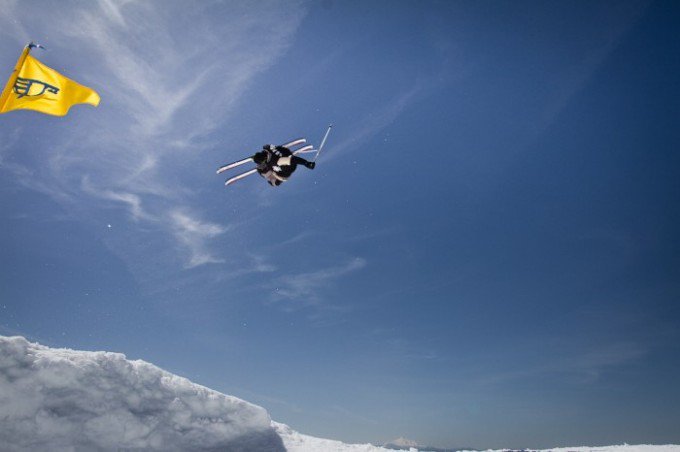 Collin Collins at Timberline. Photo: Jordan Harper
Angela Swain: Hey, Sean. Tell me about Saga at West Coast Session. Which athletes do you have out here this week?
Sean Harkins: We're out here with Collin Collins, Steve Stepp, Jack Borland, Tyler Barnes, Nicky Keefer and Ryan Wyble. Just about everyone will be back to coach this summer.
That's great. I heard you guys are getting a house out here for the summer, too. How has it been up there this week?
Yeah, we're all staying together in a house. Should be a good time. I've been coming to Hood since 2003 and this is the best snow I have ever seen this time of year. Usually we're plagued by rain, but the great conditions coupled with the amount of snow has made this week so great. The big jump is set up midstation on Palmer. It should be pretty cool.
Looking forward to seeing the pictures from the sunset shoot. What's on the agenda for Saga at Windells this summer? Want to slip any top secret info for campers on the way?
We're stoked for summer. Saga dodgeball is always a big hit so we'll keep doing that. KABRails is working on our on hill feature, an A frame with creeper rails. We're bringing like 10,000 stickers so that might be close to enough. We expanded the line to snowboarding recently, too. Saga went from 5 to 10 lines in a year so we're expanding pretty rapidly. Keep an eye out for the new lookbook coming June 1st… June 1st-ish.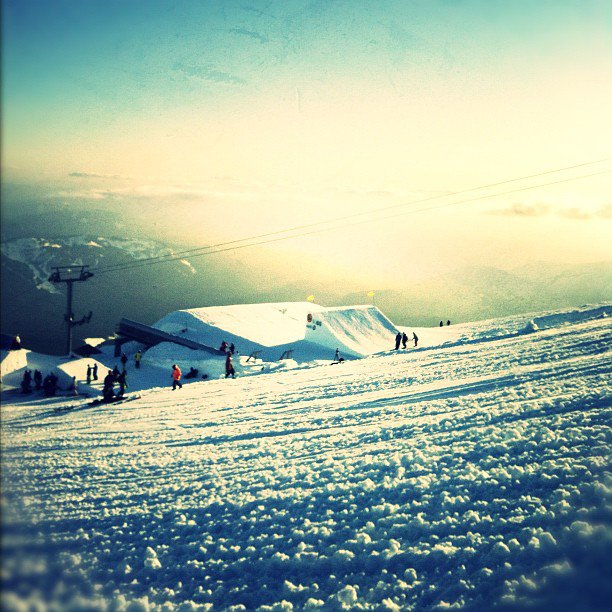 Based on @sagaouterwear's instagram post later in the evening, it was "pretty cool," to say the least.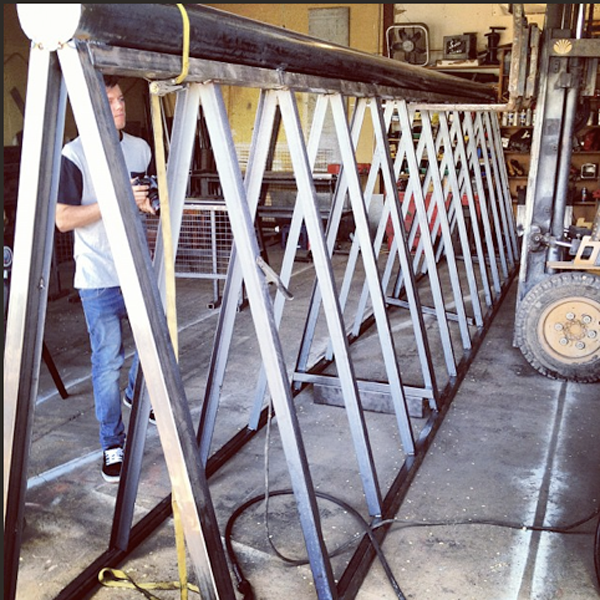 The guys at KABrails working on the Saga feature. Photo: @classicAustin