Words & photos: Josh Anderson
The point at which things changed, as I saw it, was when Sage walked up to us and asked to borrow a shovel. "Are you guys going to be hanging out for a bit? I need to go bury a turd," was the explanation. I was done skiing, apparently not well enough again, beers were in hand and it was a beautiful, sunny, March Wasatch day. Why wouldn't I lend a shovel? He took it, walked straight up to the roller 200 feet up hill and started throwing snow. 20 minutes later there was a booter surreptitiously placed in a nice money-booter location at the bottom of the Day 1 Silver Fox venue at the 2011 Subaru Freeskiing World Tour Championships at Snowbird, Utah (to place this all properly). It didn't go unnoticed; it actually got promoted. On Day 1 a FWT flag flew proudly on one corner of the lip. This may seem less than extraordinairy, even uneventful, but the spark it lit seems to have changed the Freeskiing Tour indelibly.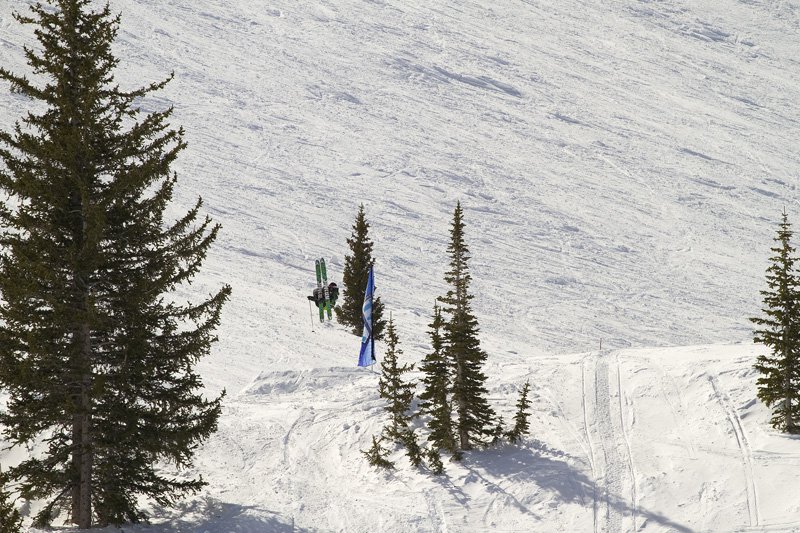 Sage's booter, Sage's flat 3 japan.
The Snowbird event is always kind of a big deal. It's the last stop of the season, it's set at Snowbird where ski culture cascades all the way out past Cottonwood Heights, and it's the best attended event of the year. They even have two days of qualification, the first of which was held in blustery conditions with flat light and the second under perfect blue skies on forgiving packed powder. The cut was deep with only about 30 moving on from two fields of 65. This means qualifiers aren't just about showcasing your fundamentals anymore, they're about sending it on a low angle venue. Collin Collins made it, Witt Foster and Julian Carr didn't. Point made, I think.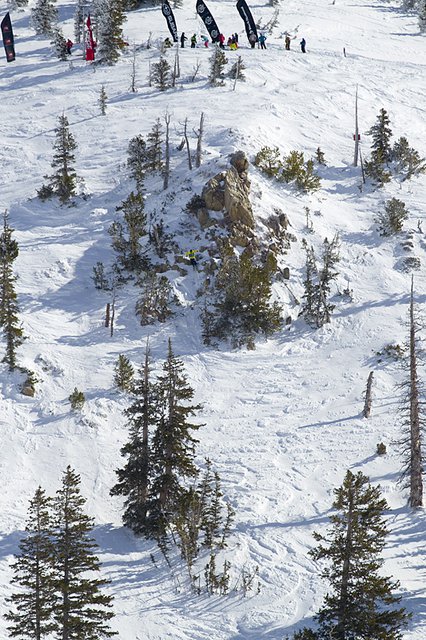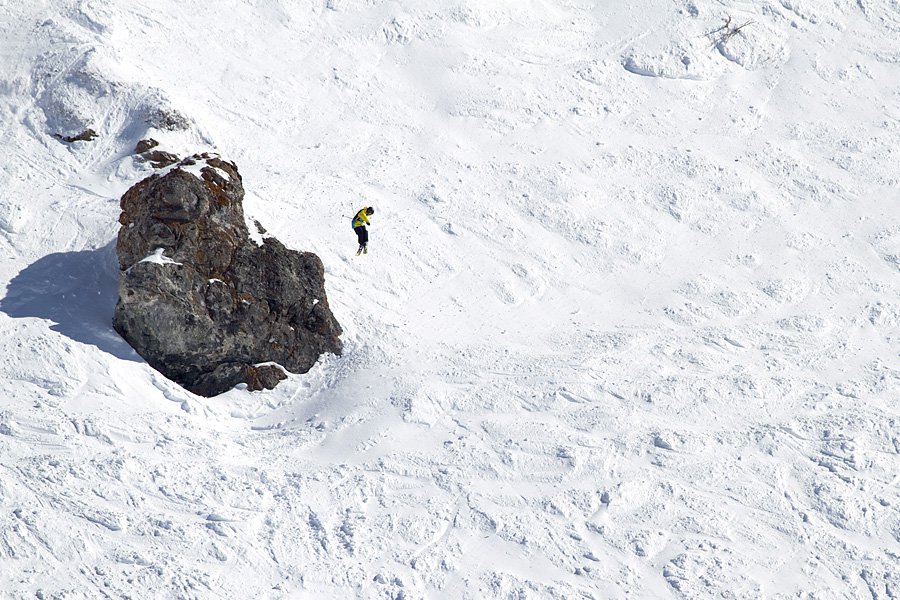 Better get after it.
The tour itself is about more, though. With Ryan Hawks' tragically premature passing the week prior at the Kirkwood event, a lot of friends and a strong community found each other together again and the opportunity was taken to honor Hawks with a sunset ceremony atop Hidden Peak. Stories were told, appreciation given, memories shared, a couple laughs had, some hooting, some silence.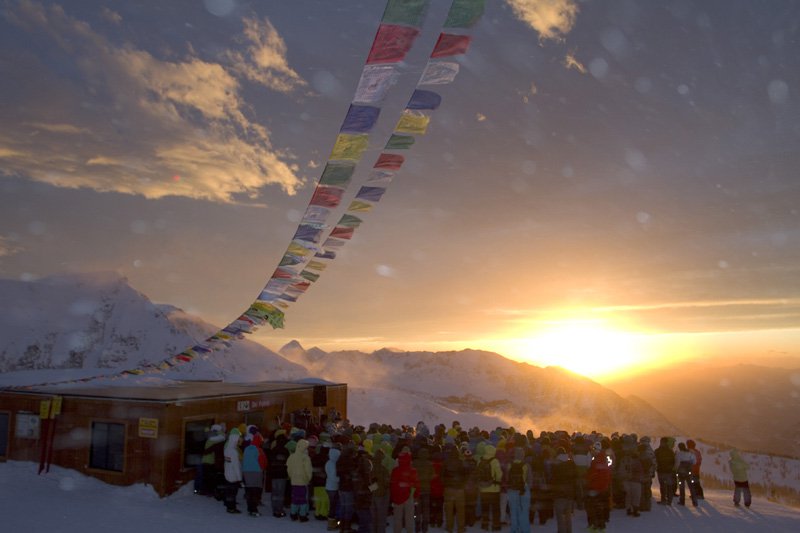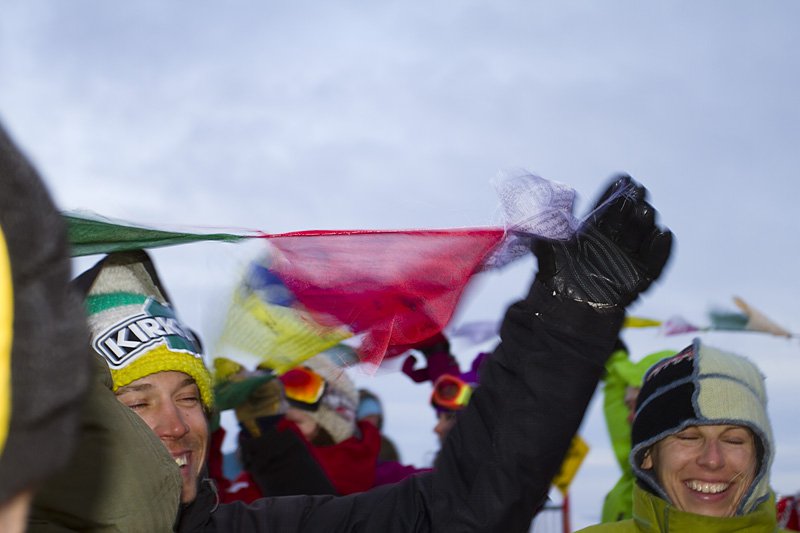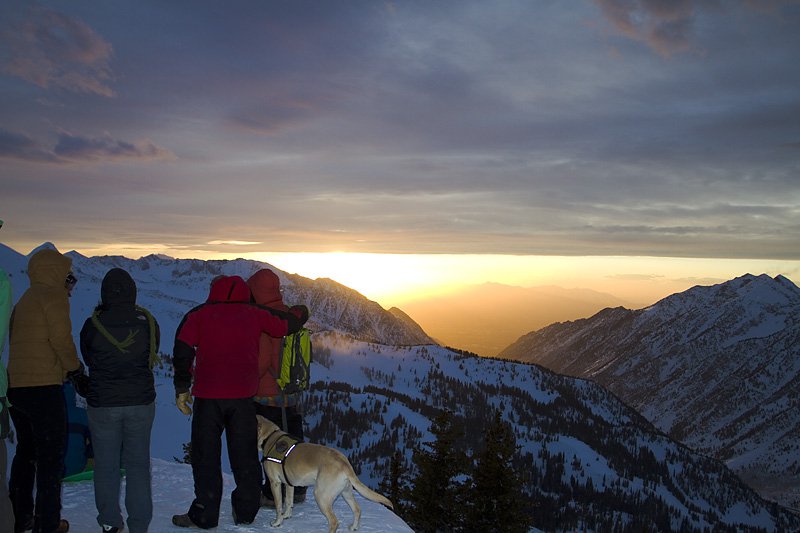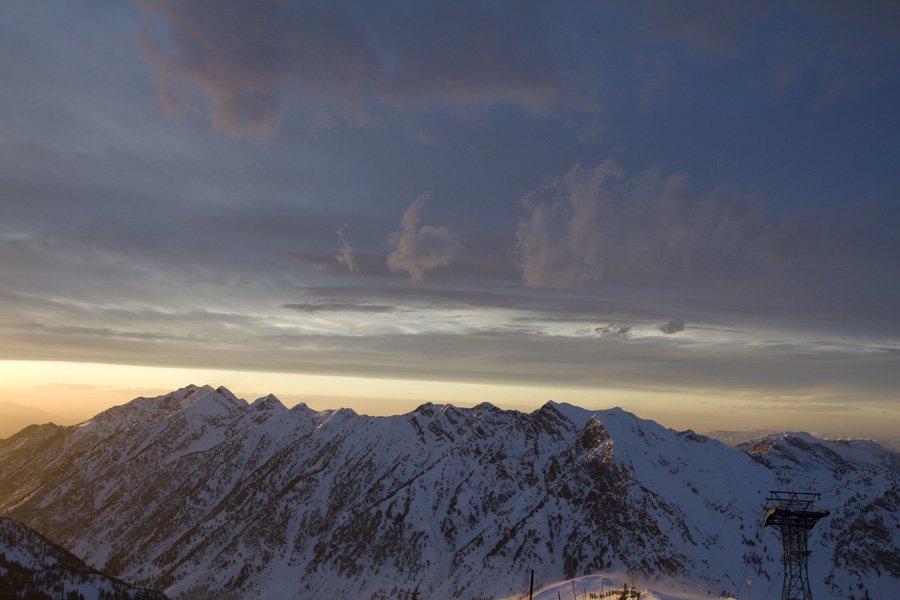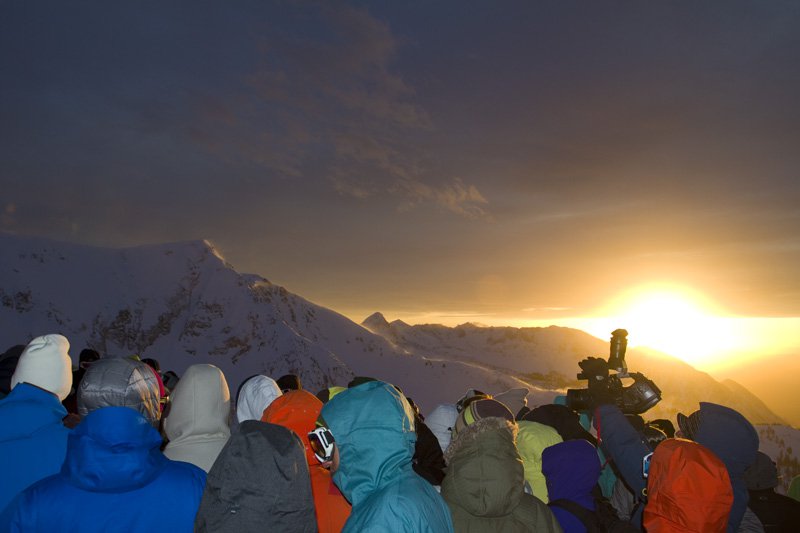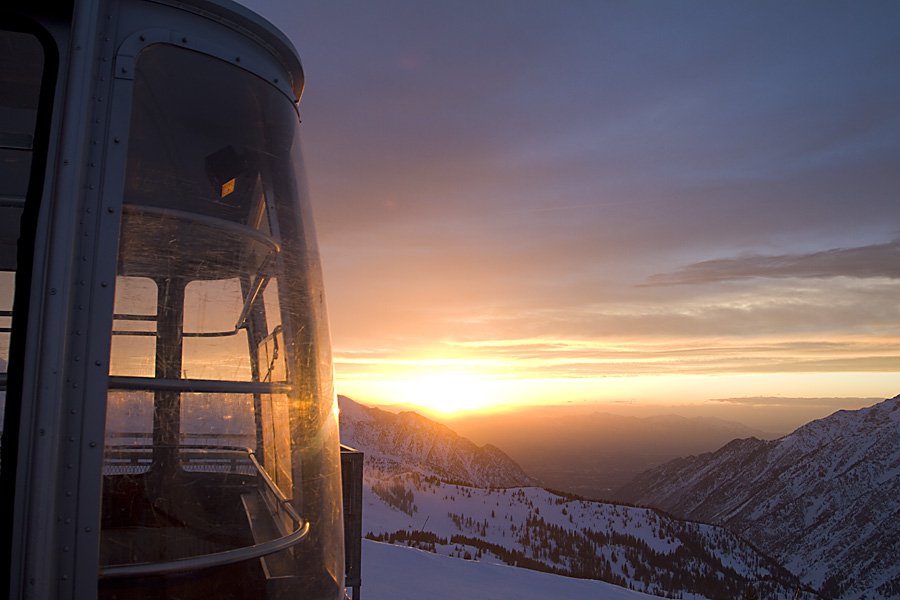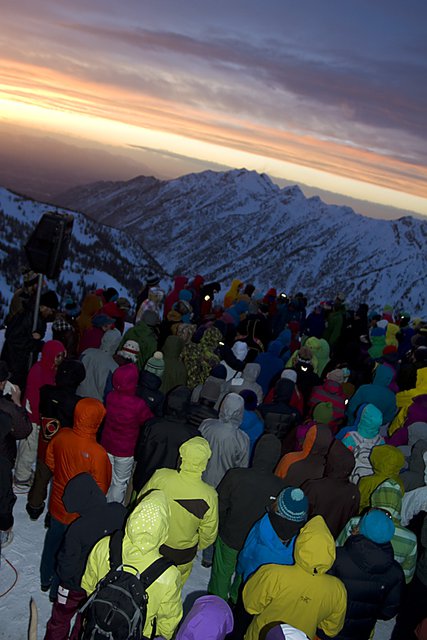 Remembering Ryan Hawks
Riding the waves off the previous evening, Day 1 rolled in with sunny skies, a freshly wind-buffed slope on Silver Fox, and a spray of energy with the knowledge that heavy hitters like Chopo Diaz and Sage Catabriga-Alosa were back in the house to throw down. Whatever was in the air, the competitors knew speed and style are more important now than they have been in the past. Before the first 20 competitors of the day were finished, 3 already had scores above 40, an unheard of pace. By the end of the day there would be 11, with Drew Tabke sitting commandingly at the top. Though, the crowd favorite was undoubtedly Sage. He threw a left 3 off the top cornice, a right 3 into a rocky choke, another right 3 across the bottom of the venue and signature smooth flat 3 japan off of his booter. For whatever reason, this earned him 5th on the day. Let's just say the competition really was that high. Tricks were being stomped everywhere, off of everything into very questionable landings at times. There were some smooth corked and bio-ed 7s off the booter, backs and 3s off of anything possible, and Chopo showed everyone his filthy-nasty cork 3 off a hip-style hit low on the venue. Collin Collins rebated a bobbled 3 up top with a pretty nasty shifty 1 off the same hip, riding out the rest of his run switch. Things absolutely went off. The game changed a little. The ante was upped.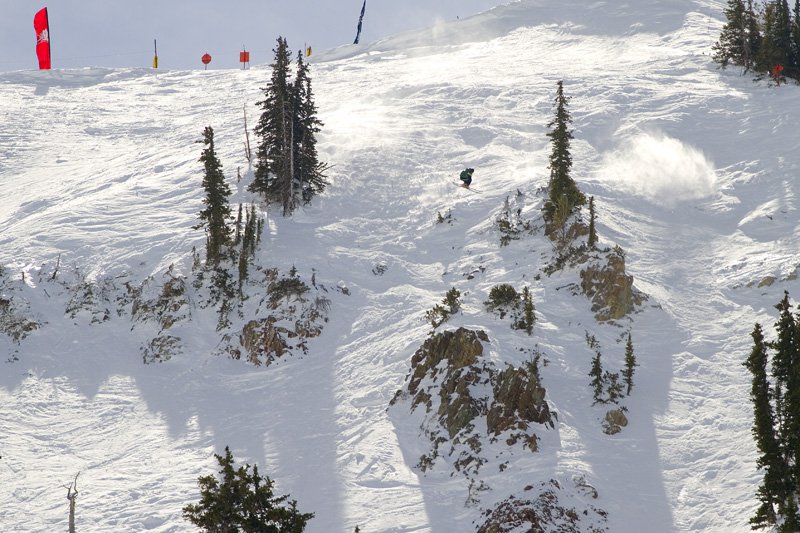 Sage.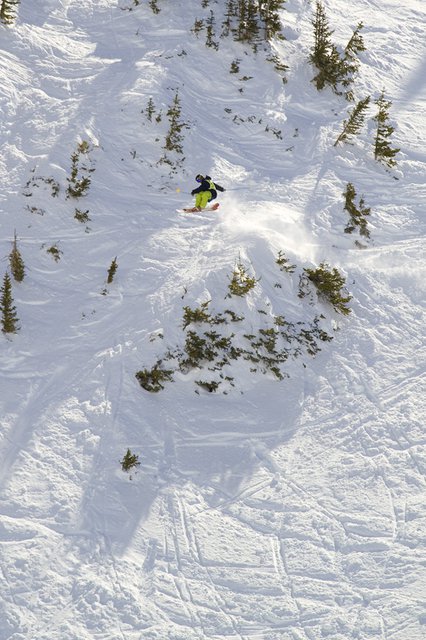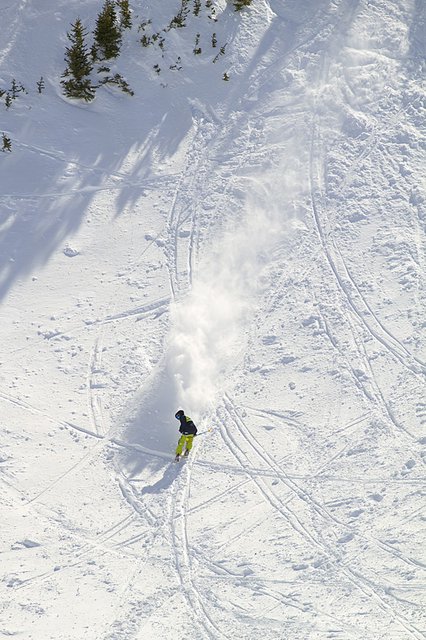 Collin Collins.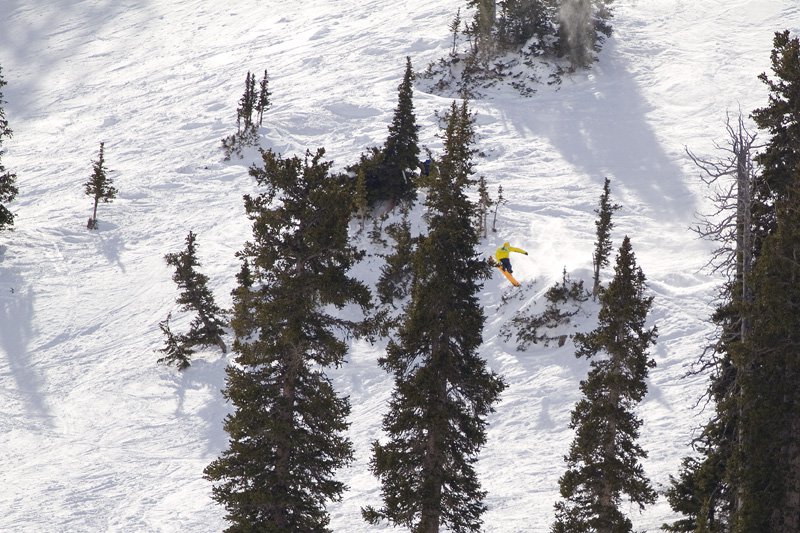 Davis Souza.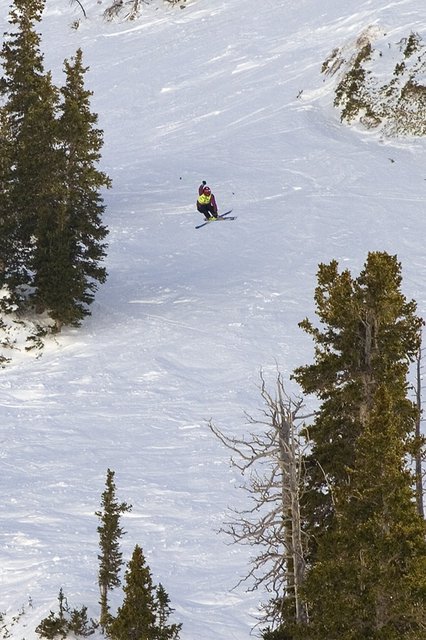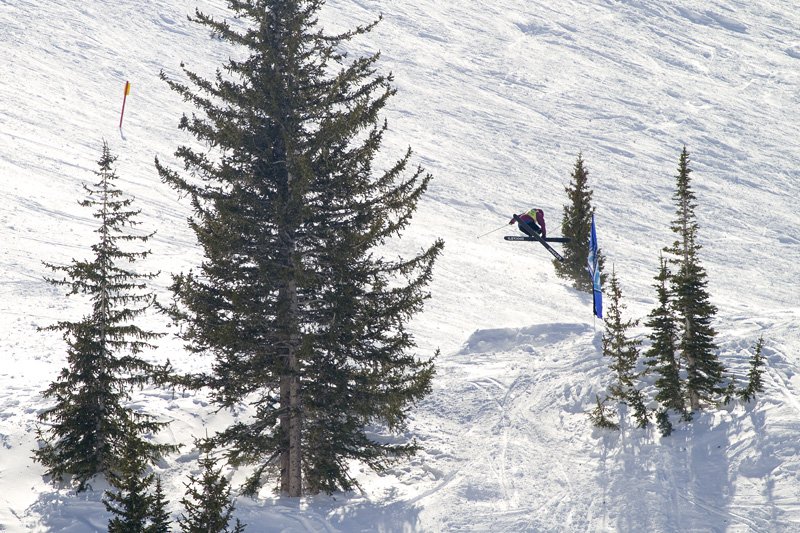 Drew Tabke.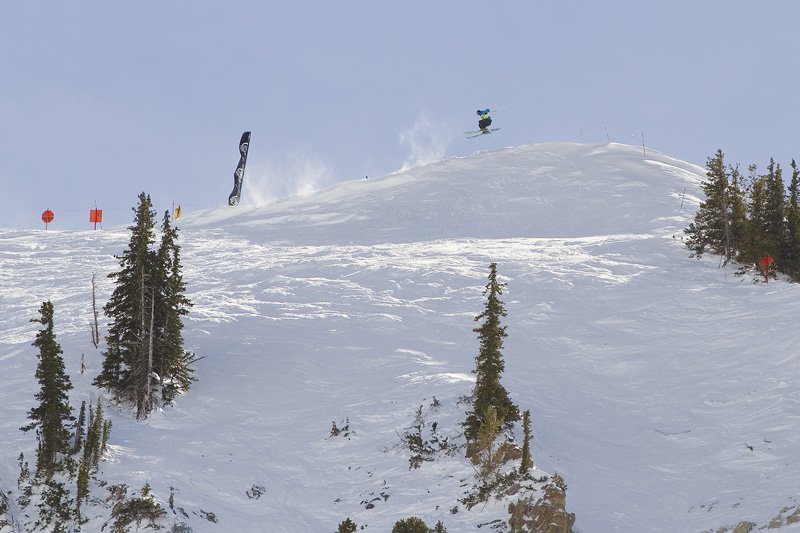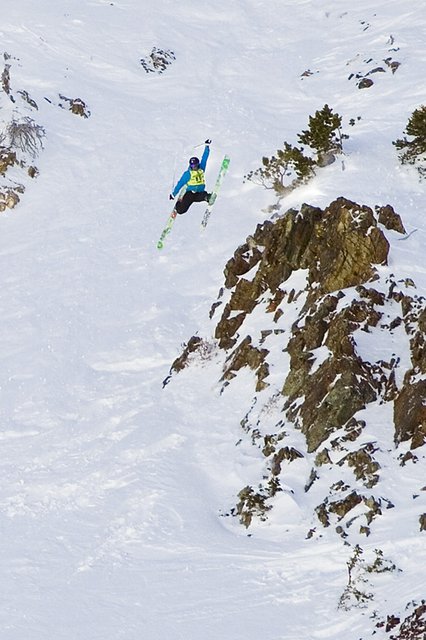 Dylan Crossman, Da Air Man, shoulda been bib 23 with that spraffy.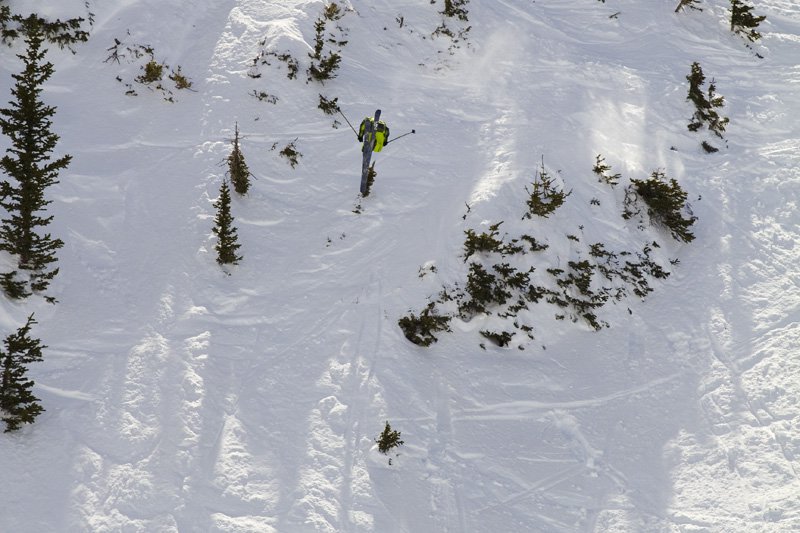 I was told Chopo Diaz has only skied 5 days this year.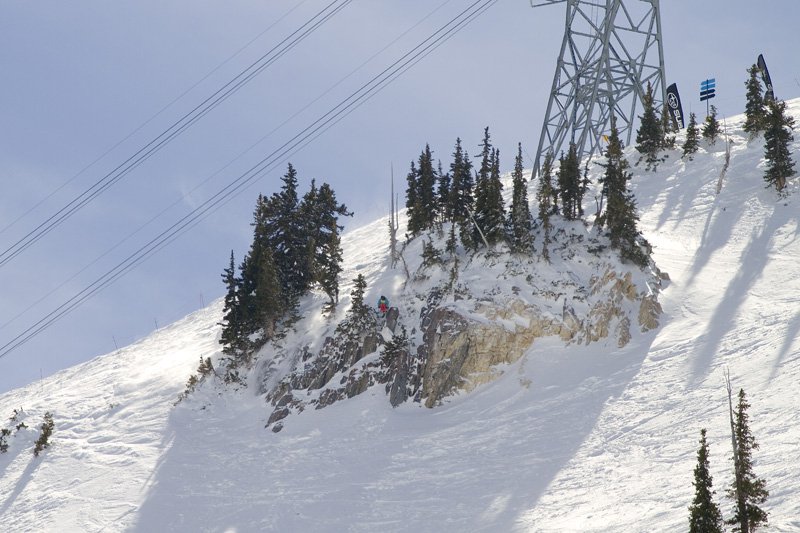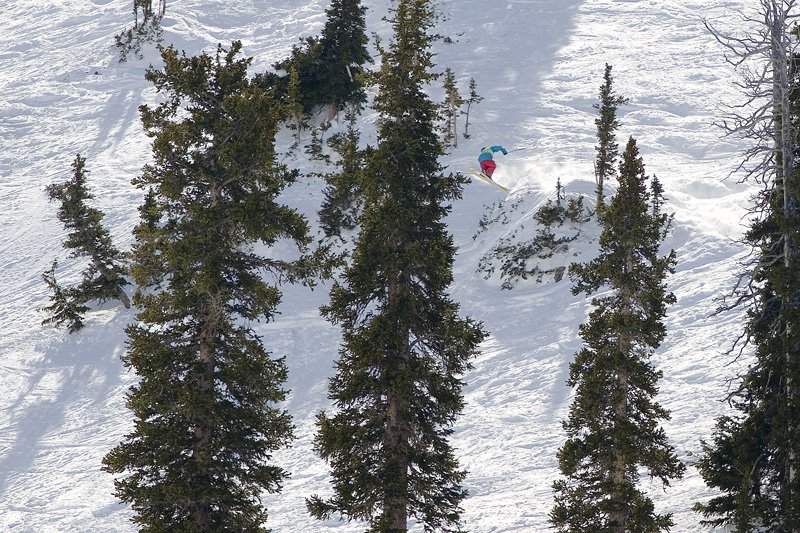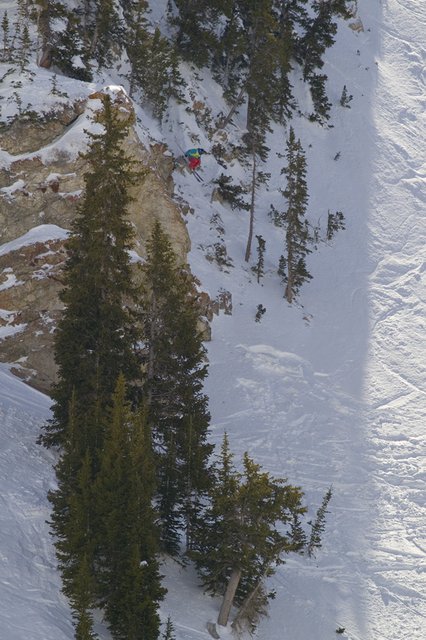 Kevin O'Meara's ponytail whips in his face when he spins, but he don't care, he's actually stoked.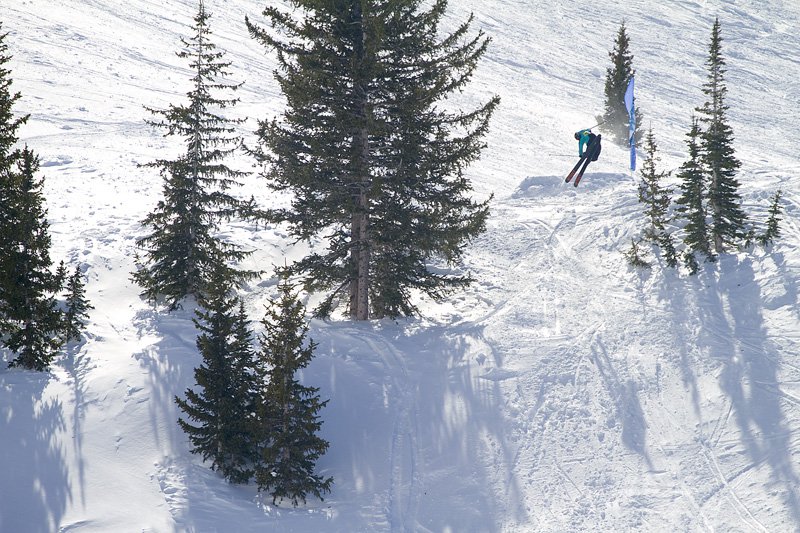 Nick Greener
All this talk about the style side catching up in the skiing game isn't to say that big mountain technicality doesn't still play a roll. Tour vets like Drew Tabke, Drew Stoekline and Griffin Post still get pretty regular sickbird squawks. Mr. Kevin O'Meara's something of a tour OG himself, having taken a few years off to focus on coaching Squaw's newest rippers. Original lines and technical prowess are recognized alongside flowier trickier lines. Some things change, some things just get better. One thing that doesn't change though, is that everyone comes for a good time, and pretty well has one. People bring plenty of beer, even in Utah, and Black Diamond brings the cheeseburgers.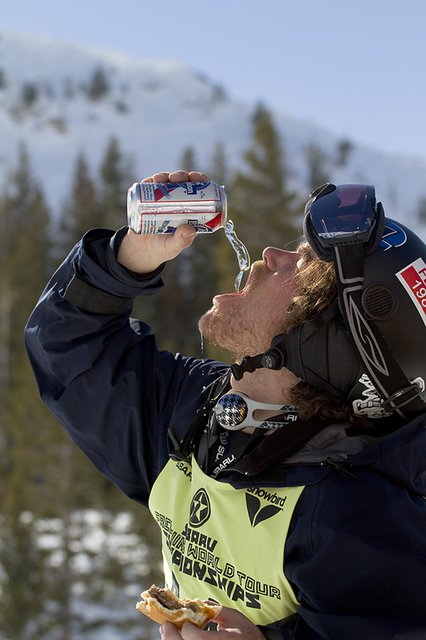 Buck Manford... I feel glorious!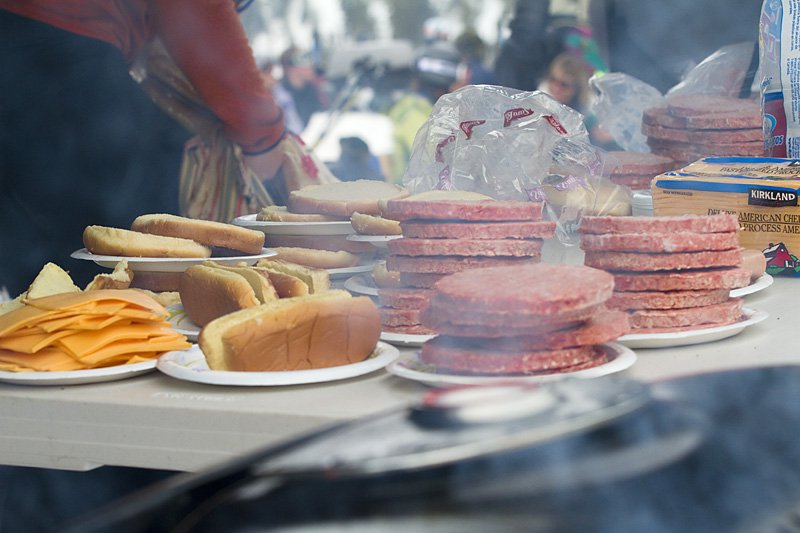 I'll huck that for a cheeseburger.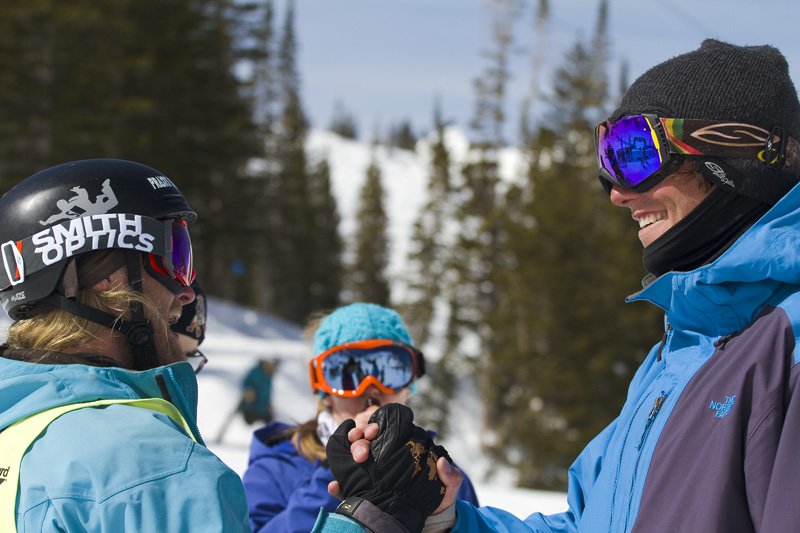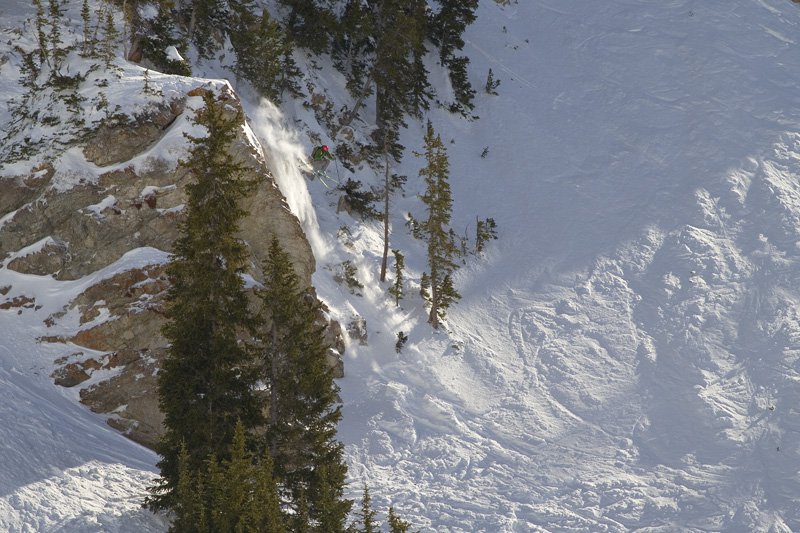 Drew Stoekline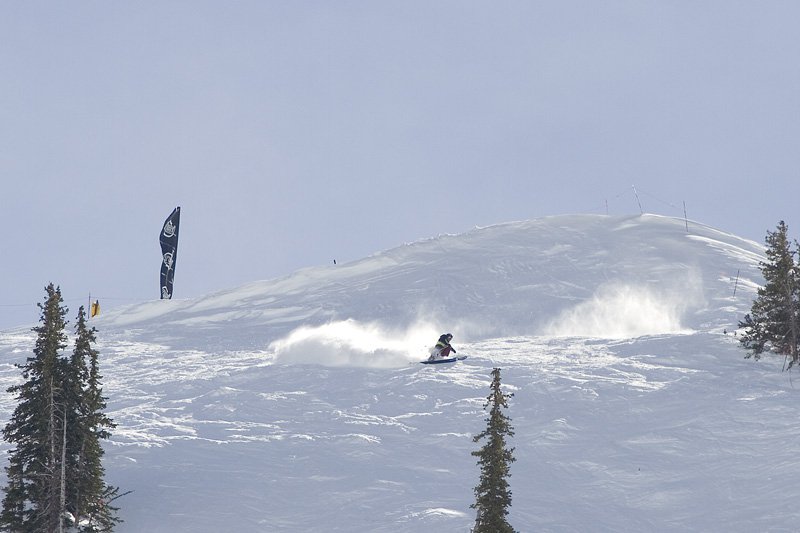 Chuck Mumford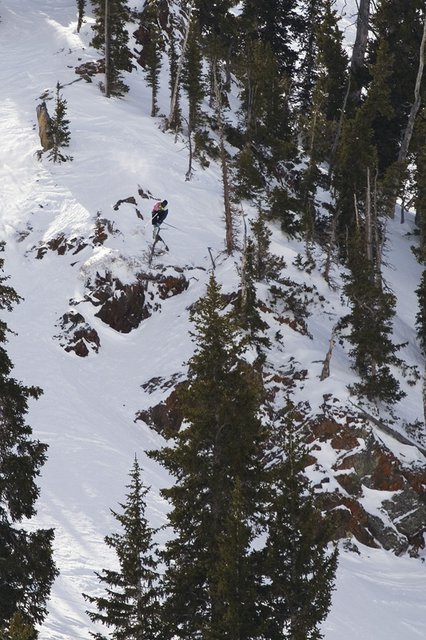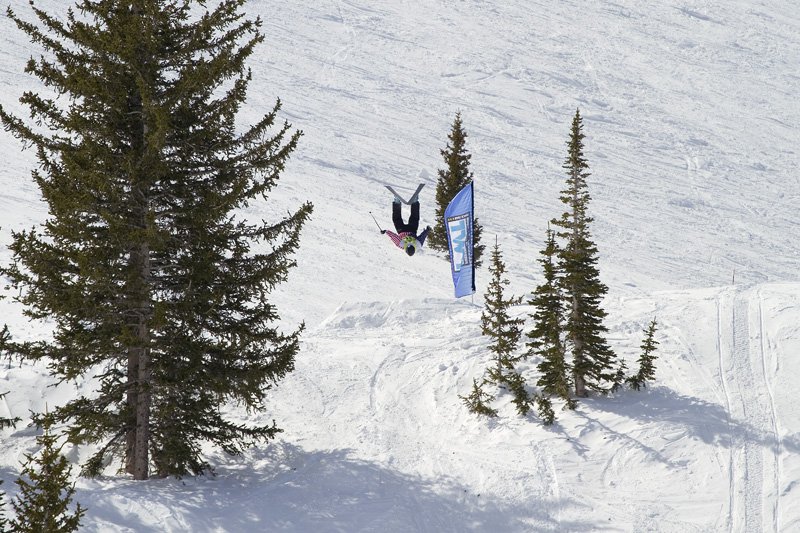 Ben Paciotti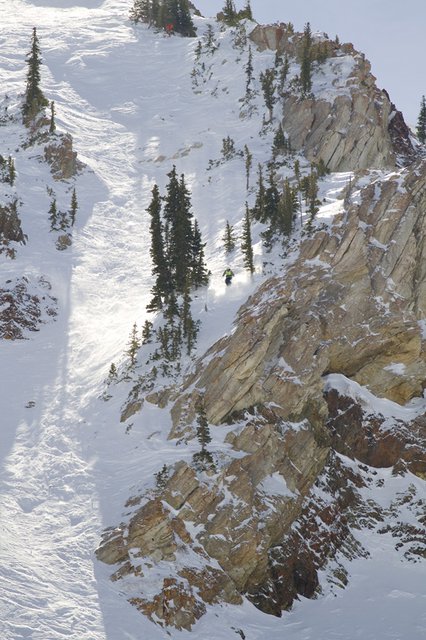 Parker Cook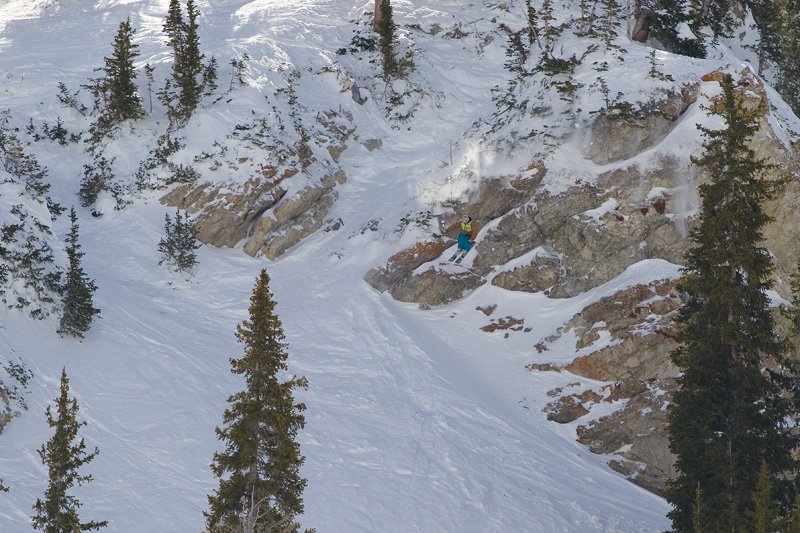 Oakley White-Allen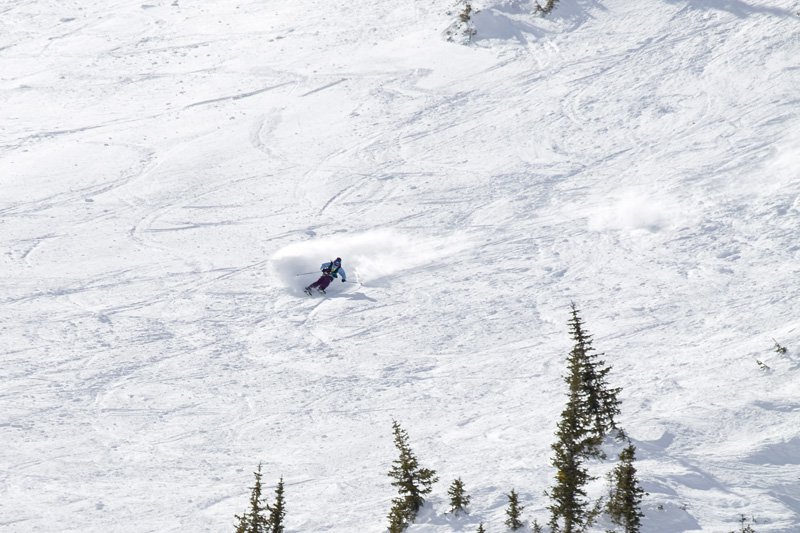 Chicks come to play too, Vanessa Aadlund.
There's also still no shortage of gnarly bails, and in Snowbird's case, the occasional spectating paraglider or speedflier, just because.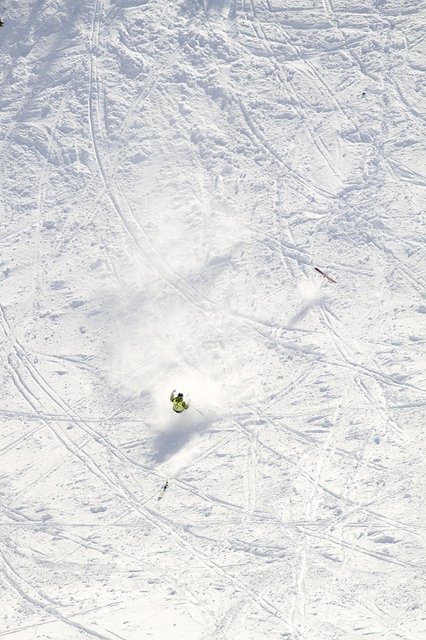 Christian Boucher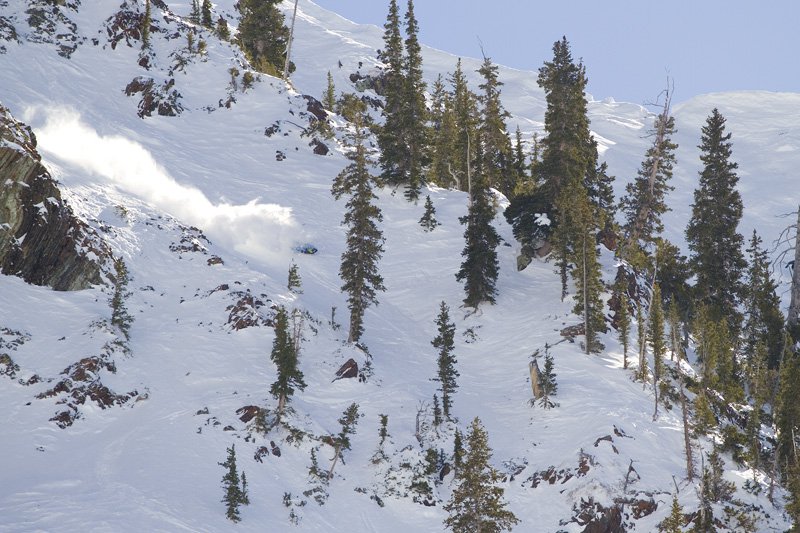 Mat Jackson, human torpedo. Not the best place for a prerelease.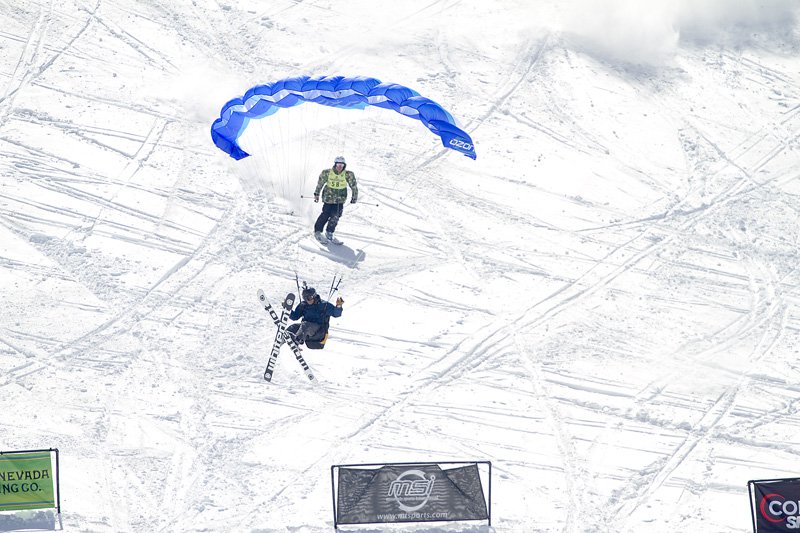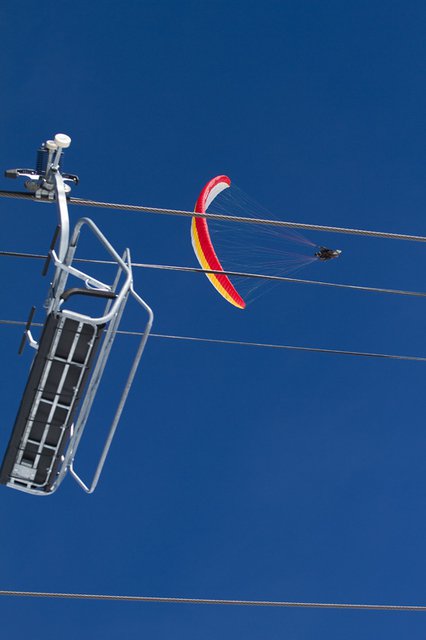 Superior.
The stage was set. Points scores already through the roof and snow potentially in the forecast, Day 2 was going to be business time. So my cohorts who didn't make the cut and I got sham-housed. Everyone else was apparently thinking about where they were going to be diggin their own booters on North Baldy the next day. I got up early with Jackson and Paciotti to go kick around some snow and inspect so that Ben might improve on his 6th place finish from Day 1. Standing in the start we could see down to the lookers left two crowds already shoveling away, one on another roller step-down, the other on a sidehill transfer feature. Everywhere else people were tip-kicking and stomping away at features. FWT-Line Catcher was born. The first feature got the most play with some basic flat 3s, backs and regular 3s for the most part, and the second saw a lot of shifty straight airs and spins. Spencer Brinson backflipped a pretty sick fin in the middle of the venue as well. It helped him earn this season's North Face Young Gun award. And this was all into punchy, grabby, re-frozen windbuff, as the forecasted snow never panned out.
Spencer Brinson: The North Face Young Gun: Snowbird 2011 from Subaru Freeskiing World Tour on Vimeo.
A hefty crowd of the serious, the saucy and the silly alike gathered in the bowl below North Baldy that Saturday morning to witness Angel Collinson continue her domination of the women's field and see if Drew Tabke could stay on his feet to hold onto his dignified lead. Or, would Sage's smokey smooth trickery pop him to the top?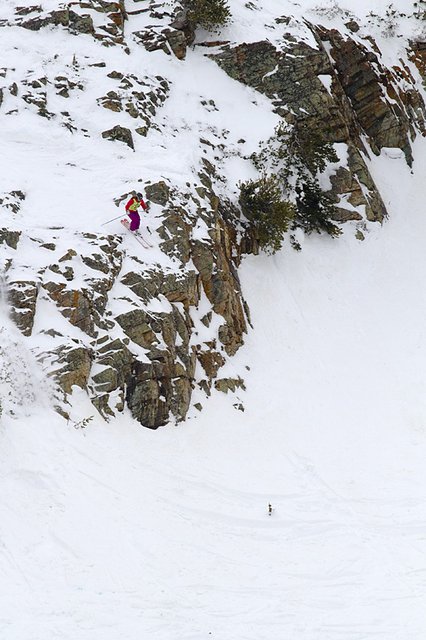 Crystal Wright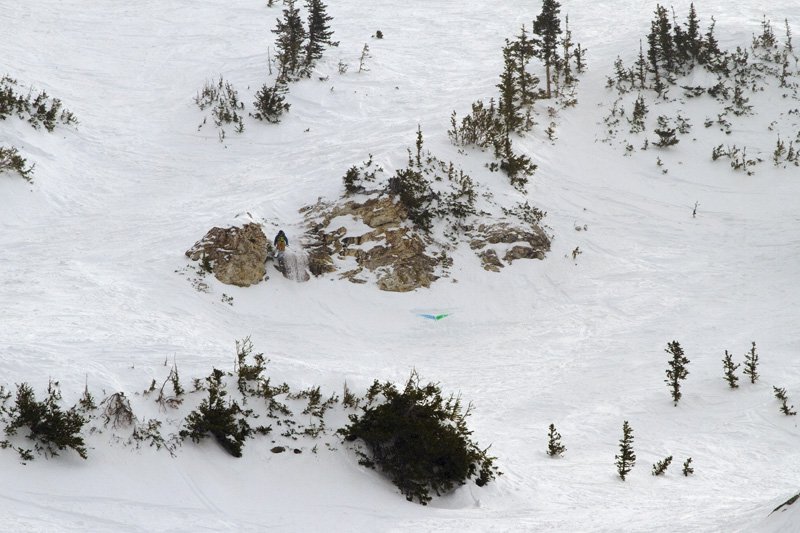 Angel Collinson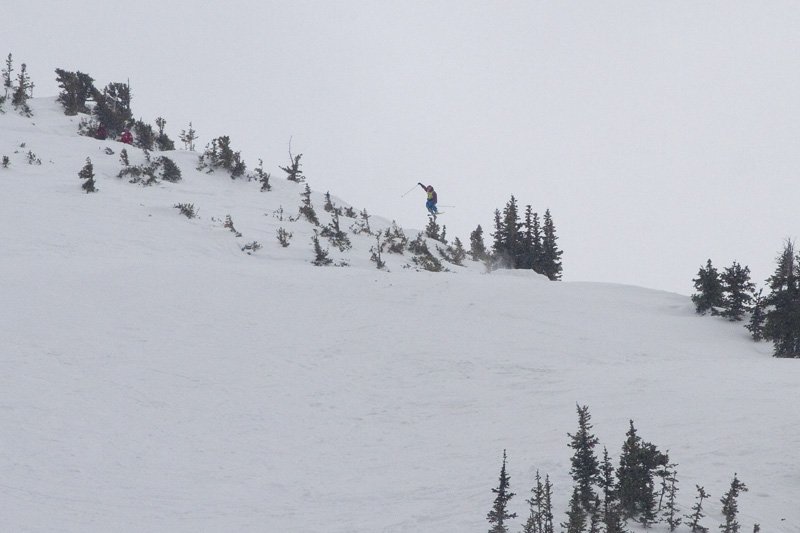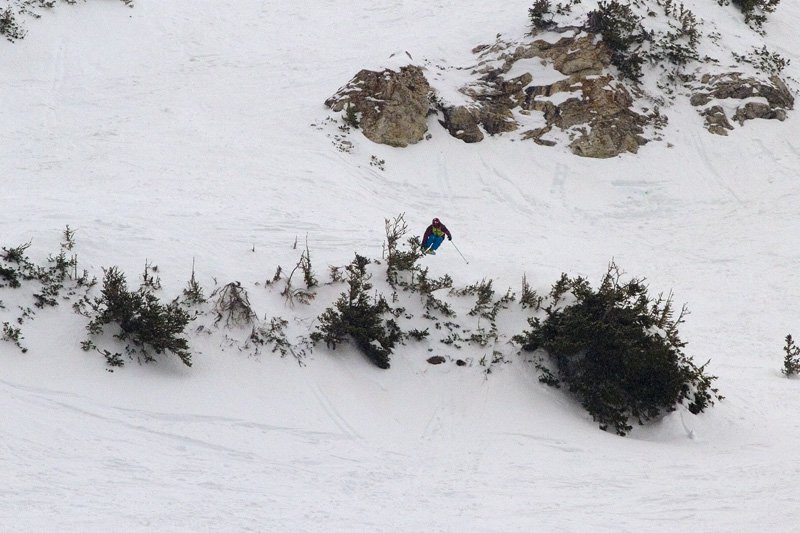 Drew Tabke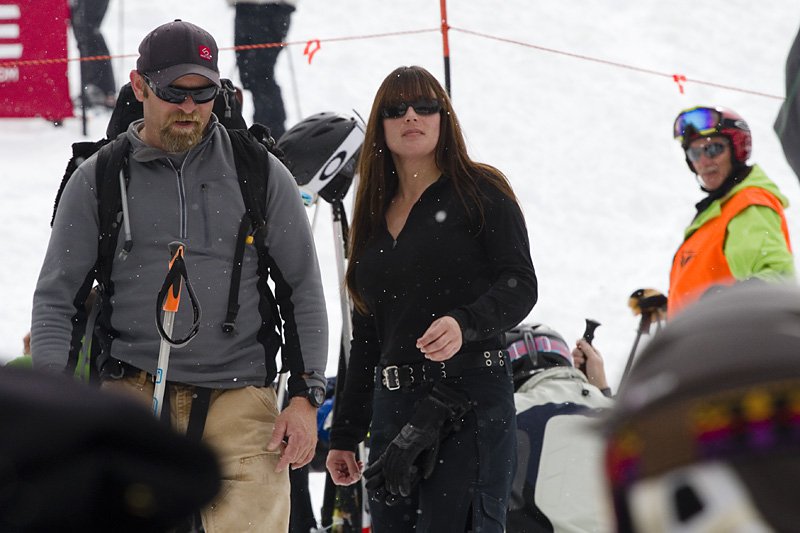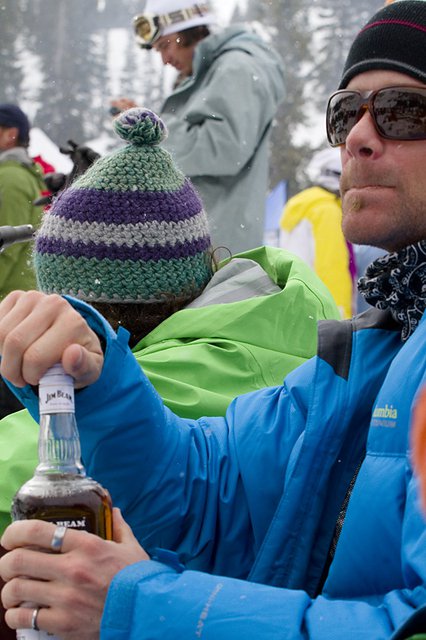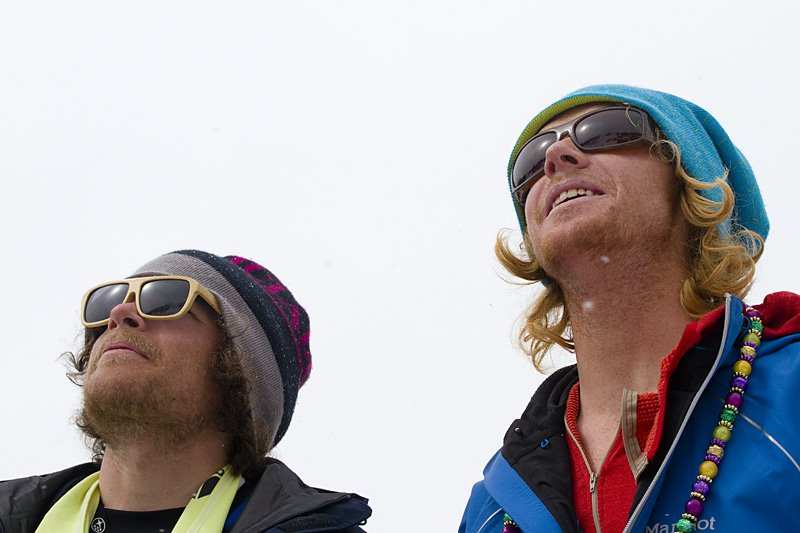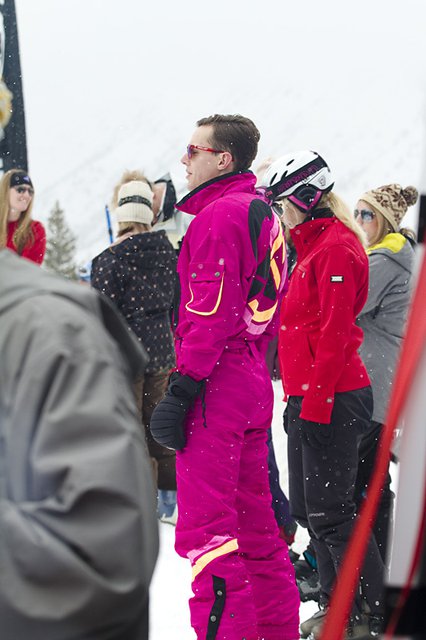 Saucy.
Tricks went off all over Baldy. Willie Schneider came out with his signature style and absolutely laid one down for the crowd. Sage did 3 more flawless spins. And all the while the fog that threatened the venue swirled about and moved its way down onto the hill, leaving the final 10 competitors with some pretty serious waits at the start. I don't think Tabke dropped for his run until 4:30.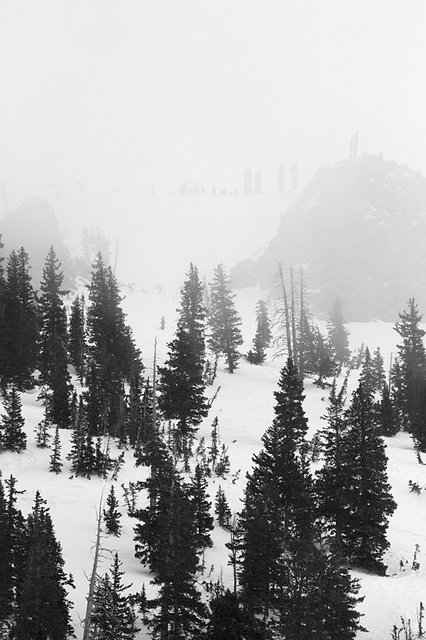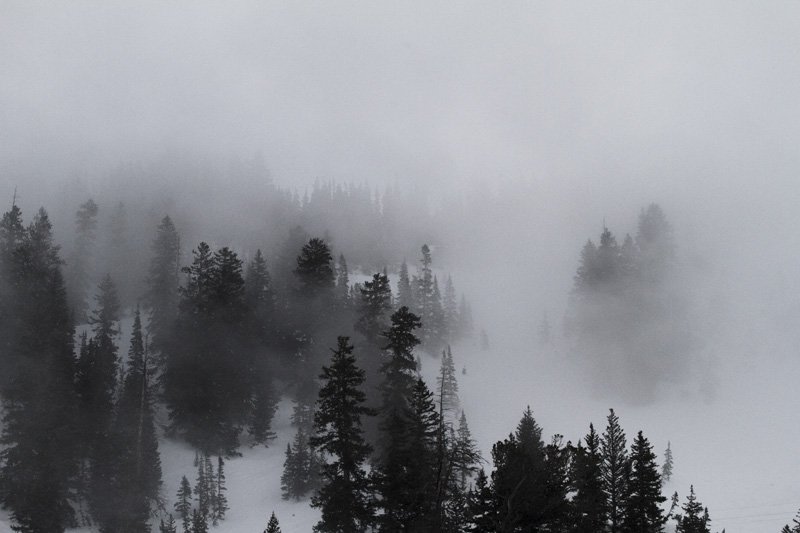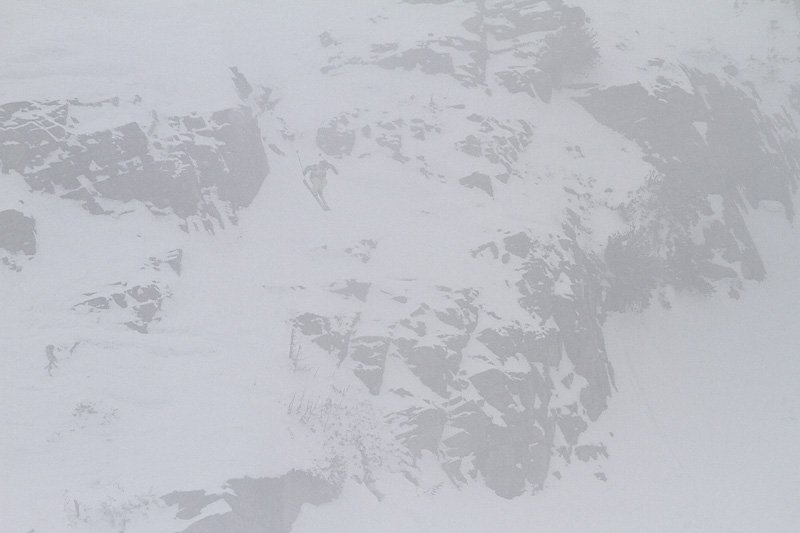 I think that's Chopo...
The fog held off for long enough, enough times to get it all done though. A few competitors had some pretty awful light, but so goes a competition in the mountains. There is weather in mountains, who knew. Sage didn't win, a couple guys got hosed and no one got hurt. All in all, the doors are still wide open. Next year's season starts in just a few months in South America and the bar is set. The ante is large and there are a lot of hungry kids out there. This isn't to disuade anyone from trying to sign up for the competitions (which by the way require a very prompt online sign up, like within minutes or seconds of it opening, for the qualifier events). So we got off the hill, the weather went to crap, awards were dealt, one of my poles flew off the back of Mat's truck on the drive home, and everyone regrouped at the Canyon Inn to jam out to some live reggae. I think the band was Samoan and they brought a few friends. The local crowd is really into Ed Hardy style muscle tees. Throw in a hundred drunken, rowdy skiers and let me tell you it was an eclectic scene. But as I said, the doors are open now.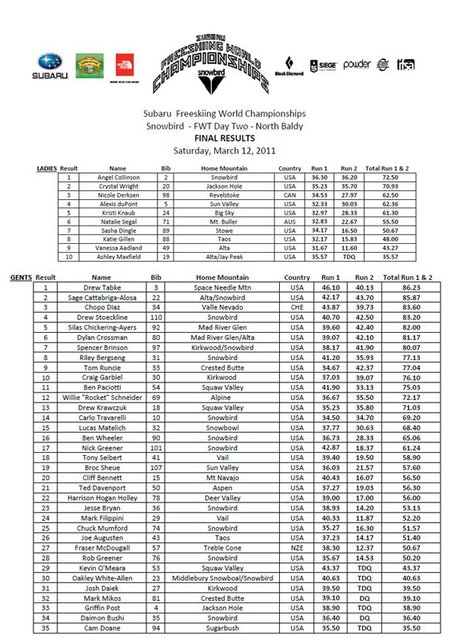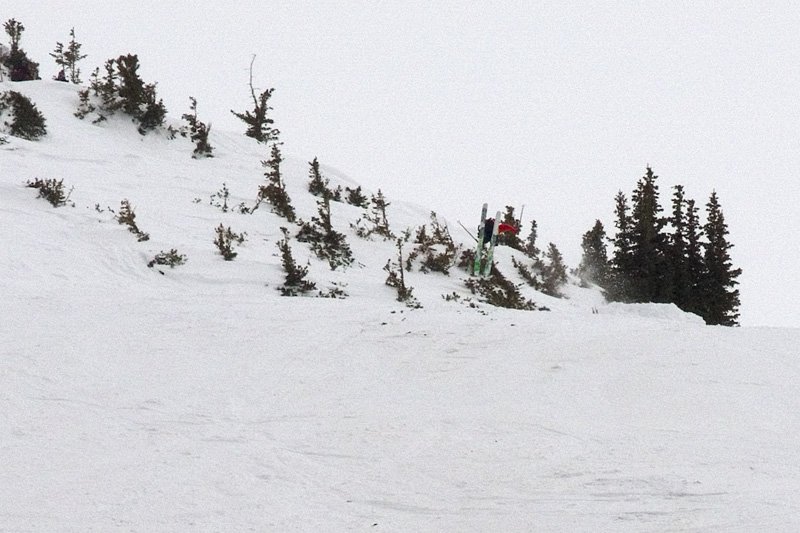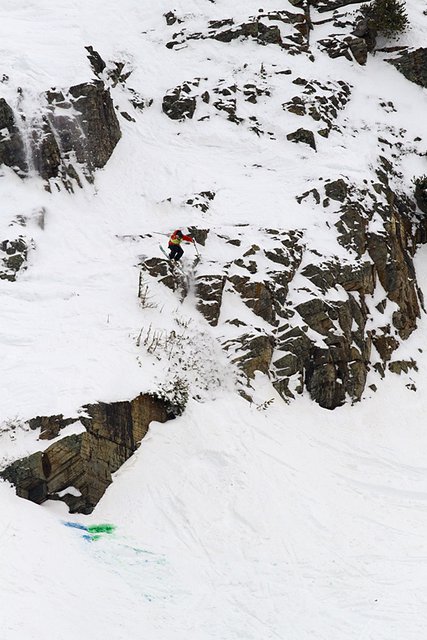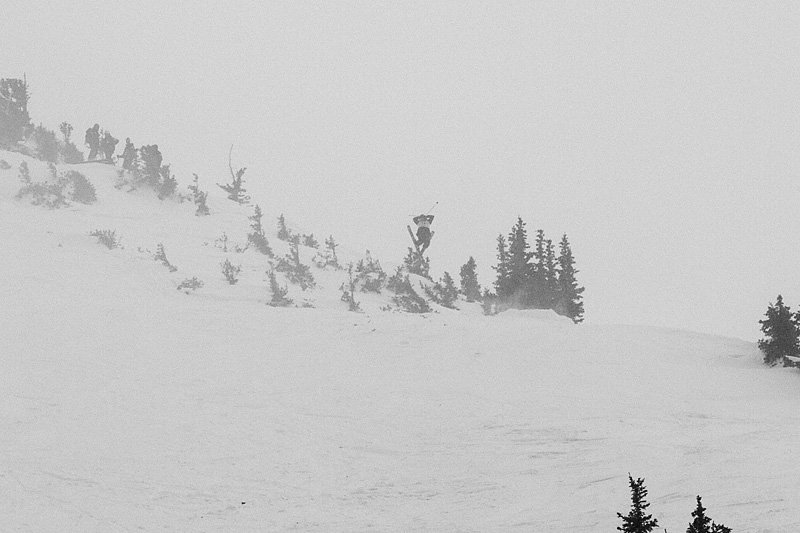 Buck Mumford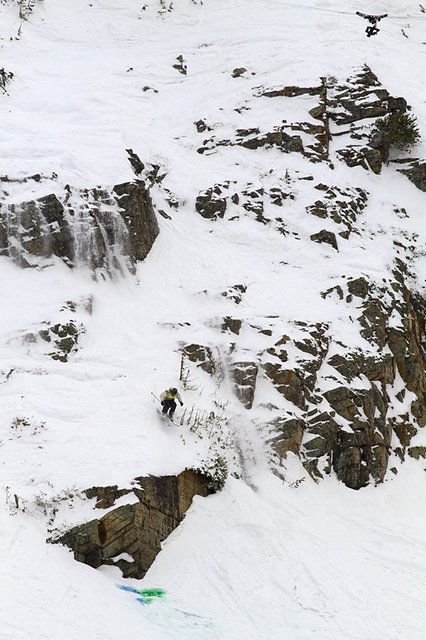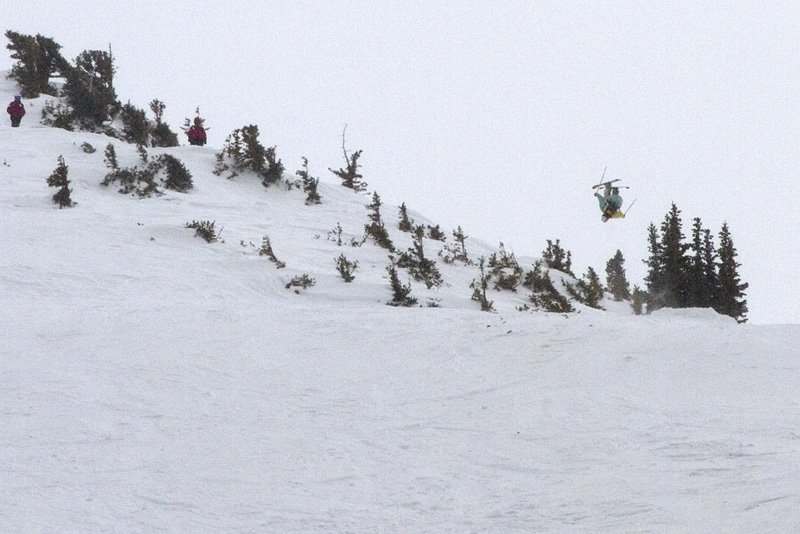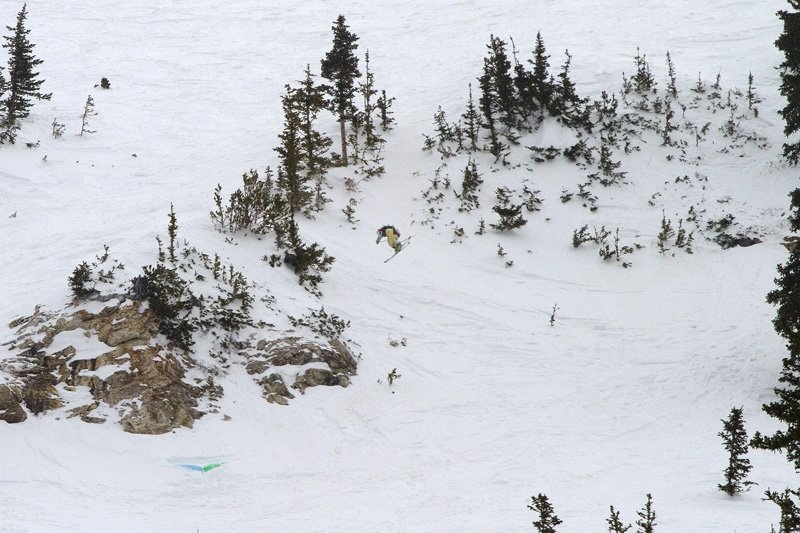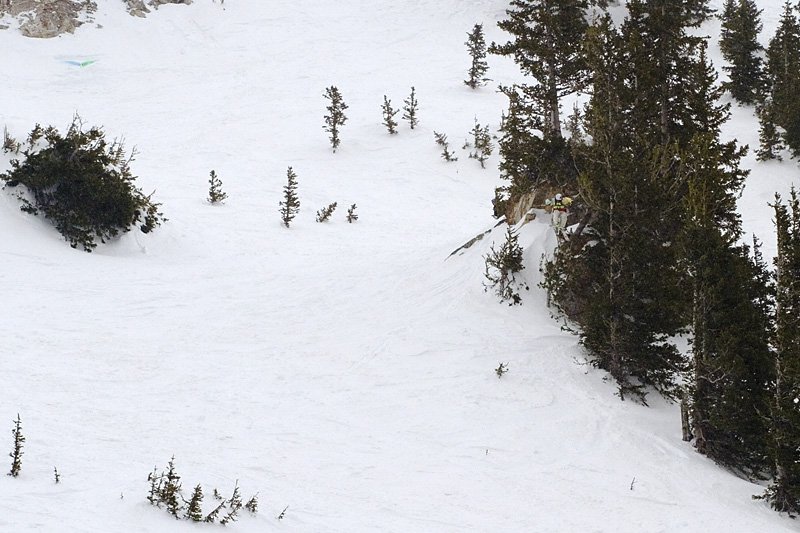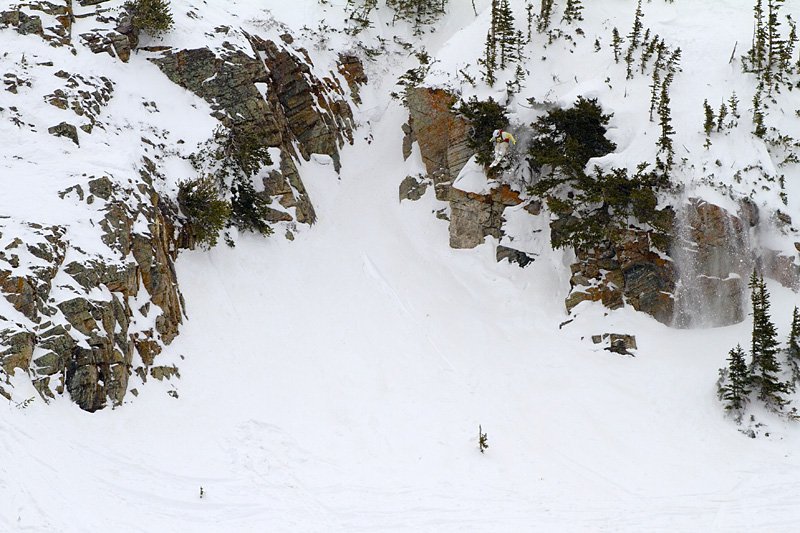 Willie Schneider had one.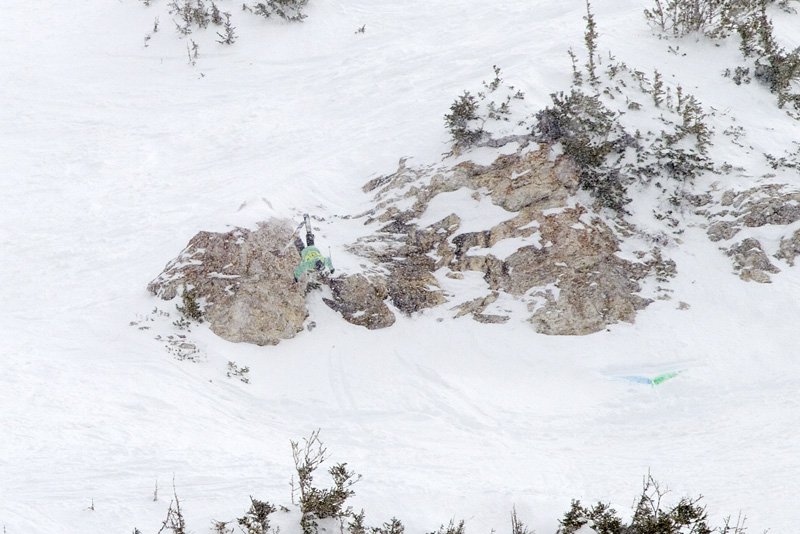 So did Spencer Brinson.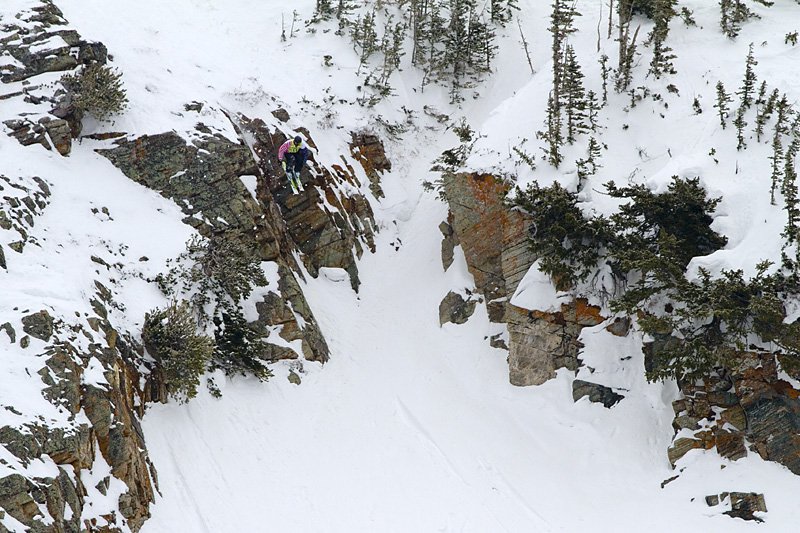 Did any of you notice Paciotti's awesome American flag jacket? We made him wear it because he left his in town one morning. It worked out all right.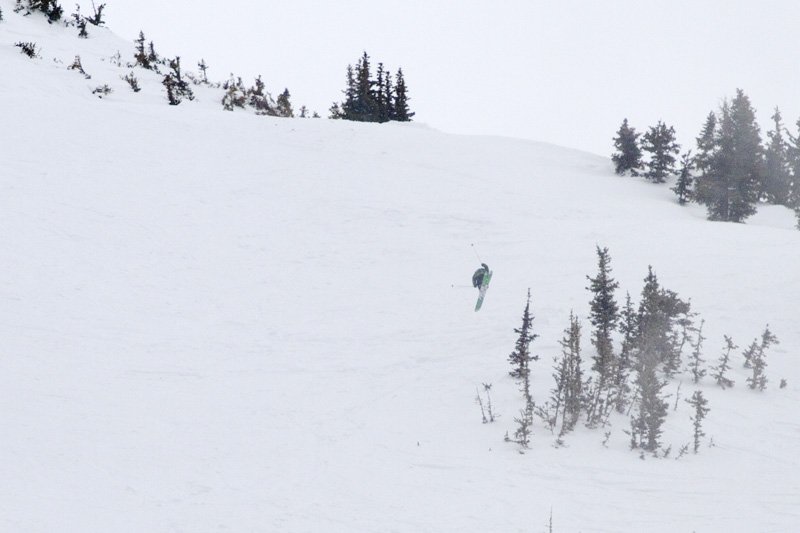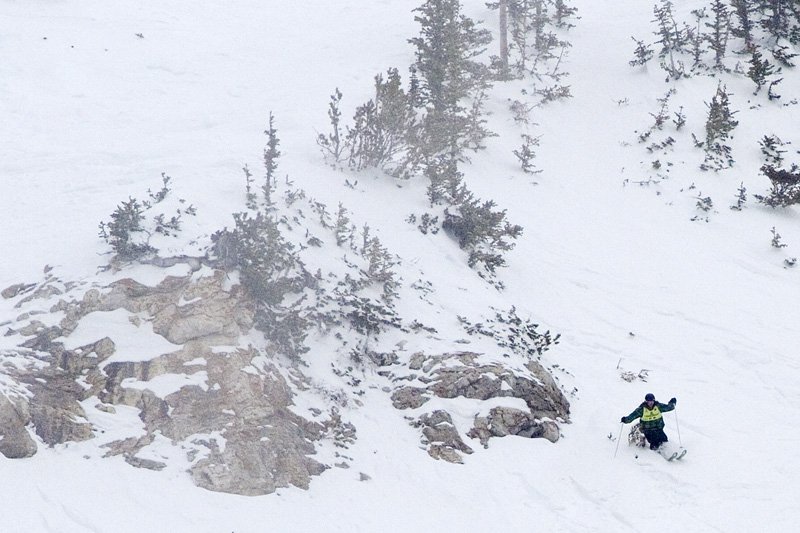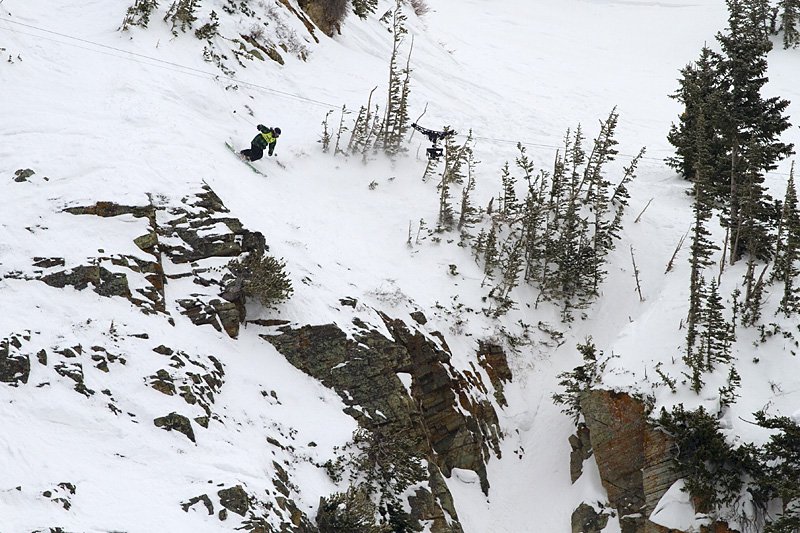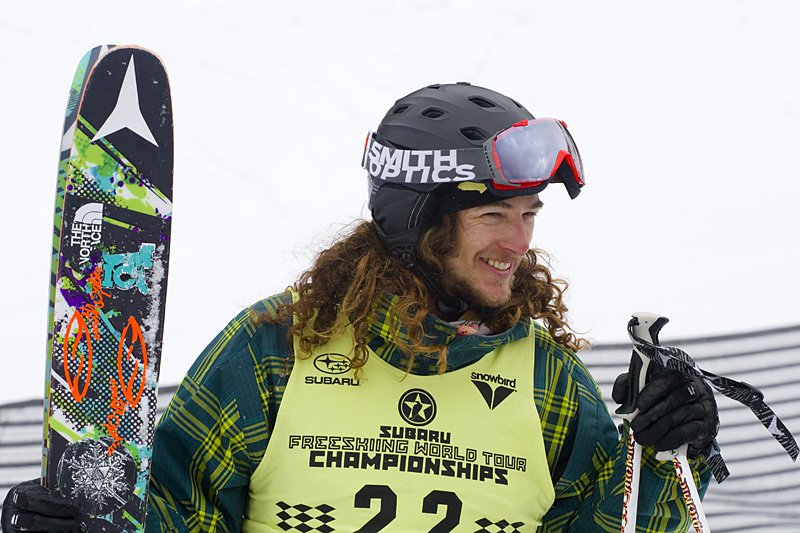 Sage.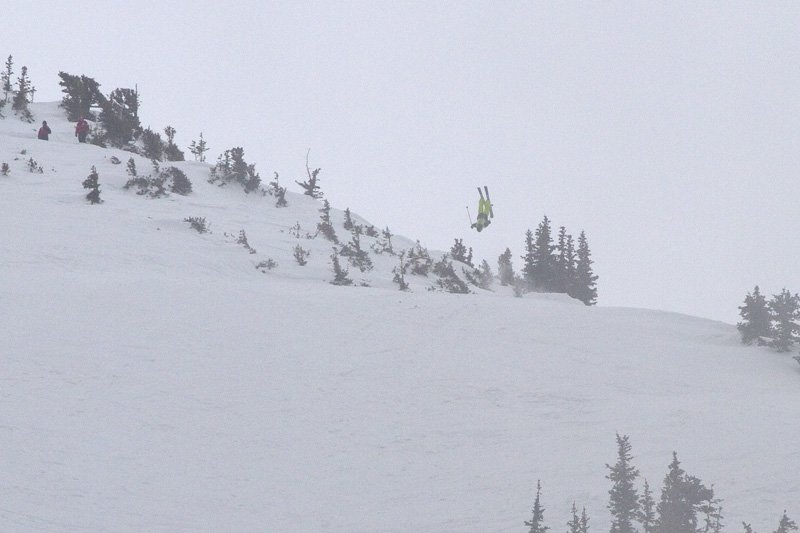 Chopo
Finals Men's Top 3: Snowbird 2011 from Subaru Freeskiing World Tour on Vimeo.