Aloha!
Every once in a while, you meet a person who makes you wonder.
Don Bushey, owner of Wilderness Exchange Unlimited – a cool, independently owned business that buys and sells badass gear for all sorts of outdoor pursuits, including skiing, is one of those people. You?ll see what we mean, below.
Wilderness exchange is the sole Icelantic dealer in the immediate Downtown Denver area, and is right next door to our favorite Sushi restaurant ? Sushi Sasa (yum).
Learn a little bit more about Wilderness Exchange below, and if you?re around the downtown Denver area, take a stroll inside and see what it?s all about?.
Wilderness Exchange Unlimited
Name: Don Bushey, owner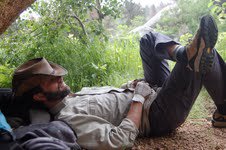 Cool fact about Don: Don likes to play around on tractors. But watch out John Deer, he?s a Kubota man.
Location of shop: Denver, Colorado
How it all started: ?My first year in business, I rented a little 600 square foot storefront a block down with an apartment above. I was broke so I slept upstairs. I knew nothing about doing books and had no business plan. I really just had a garage full of used gear, a bunch of credit cards and went for it. As the business expanded and grew I converted the upstairs apartment into actual retail space; the living room was the pack room and the dining room was the tent room (or the ski room in the winter). This completely violated every local ordinance about zoning, but I never got caught! As this happened, my living space contracted more and more until I was literally living in the back closet with an inflatable bed. Eventually I started making enough money to pay to rent an apartment. I guess that living minimally for so many years (like a dirt bag) formed the culture of the shop. I think this has translated ultimately into our business model. We sell both the latest and greatest new gear, as well as assorting a lot of used items, closeouts, and great deals that you can?t find anywhere else. If you?ve ever lived out of a closet or in your car in order to do what you love, then you REALLY appreciate a deal!?
Favorite thing about working at Wilderness Exchange Unlimited: ?I get to work in an industry where I have so much in common with everyone. There?s so much passion in the outdoor industry. I wouldn?t trade my job for anything.?
Shop theme song: ?Fight the Power? by Public Enemy. ?Sometimes it seems like we?re the little guy in an increasingly corporate world.?
Shop specialty: Backcountry skiing and climbing
Local mountain served: Loveland Ski Area
Favorite run at Loveland: ?Chair 8 on a powder day. You?d have to kill me to get the rest.?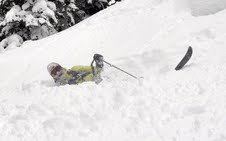 Years carrying Icelantic: 5
Sell Icelantic online?: Yes
Best selling Icelantic model: ?The Nomad, no doubt. I ski on Nomads, and they make me a way better skier than I am. I can go twice as fast. It?s dangerous.?
Why they carry Icelantic: ?Icelantic is a reflection of our company. They are local skiers producing amazing skis that look beautiful. It?s form and function combined.?
Contact Information:
2401 15th Street Suite 100
Denver, Colorado 80202
1.866.964.0708 or 303.964.0708