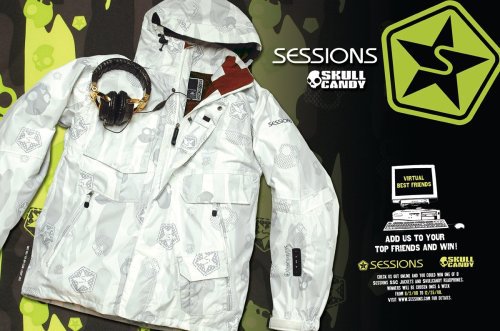 Sessions and Skullcandy "Virtual Best Friends" Contest
Sessions and Skullcandy have teamed up for an online contest "Virtual Best Friends" where 8 winners will be chosen to receive a SSC Co-Op Jacket and a pair of Skullcandy headphones. All you need to do to enter is check out some dope gear and answer a few easy questions. You will then be entered to win 1 of 8 Sessions SSC CO-OP Jackets and a pair of Skullcandy headphones. Winners will be chosen once a week from 11/2/08 to 12/25/08.
This is how it works:
Step 1: Add Sessions to your "top friends" on MySpace and/or Facebook
Step 2: Give us your contact and personal information.
Step 3: Fill out the questionnaire. All answers can be found at http://www.sessions.com
To learn more details about entering into the contest visit http://www.sessions.com homepage and scroll down to the Quicklink.
ABOUT SESSIONS:
Founded in 1983, Sessions is a leading snowboard and action sports company that designs, merchandises, sources, and distributes high performance snowboard apparel, accessories and apparel for the core, youth-driven sports segment. Sessions was the first snowboarding company to incorporate Gore-Tex fabrics and Recco avalanche reflectors into their products. Today, Sessions has placed itself at the cutting edge of the music, snowboard and skateboard culture. Sessions is one of the last remaining independently owned brands.