Words & photos by Tom Winter
There's a habit among western skiers to think that their mountain is the center of the universe. And while Whistler may be the "best place on the planet" and Jackson is where "the true hard cores hang out" there's another option to consider. And that's the fact that as rad as these places are, they really don't stack up to a place called Europe.
Scary Steep brings up Europe because many skiers will travel this winter. Particularly North American skiers who call the right coast their home. So, despite the fact that you may have been dreaming of Alta (nothing wrong with that), Scary Steep would like you (as well as the boys at Alta) to consider heading east, much farther east, this season.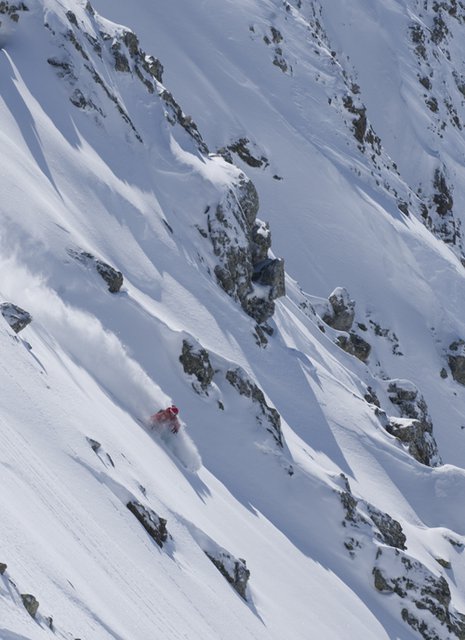 Davos has a variety of ski areas that sit above the valley, with many different aspects, elevations and terrain features, it's easy to find good snow. Here's David Lesh working a ridge that we ended up tracking out all morning. It was in clear view of the lifts, but we were the only ones skiing it.
It's true that going skiing in Europe can be daunting. In addition to the language barrier, there's the cost, which hasn't been helped by the freefalling dollar, its value against the Euro is now paltry. There's also the time-distance continuum to address. It's obviously faster and easier to fly into Salt Lake than Zurich.
But for creative travelers, the overvalued Euro (see "debt, Greece and Portugal"), the distance and time and the new and exotic languages are small challenges compared to the upside of working extra shifts, conning parents into a round trip ticket to Geneva for Christmas or merely slapping down the credit card knowing that you'll have to work harder next summer to go skiing in Europe now.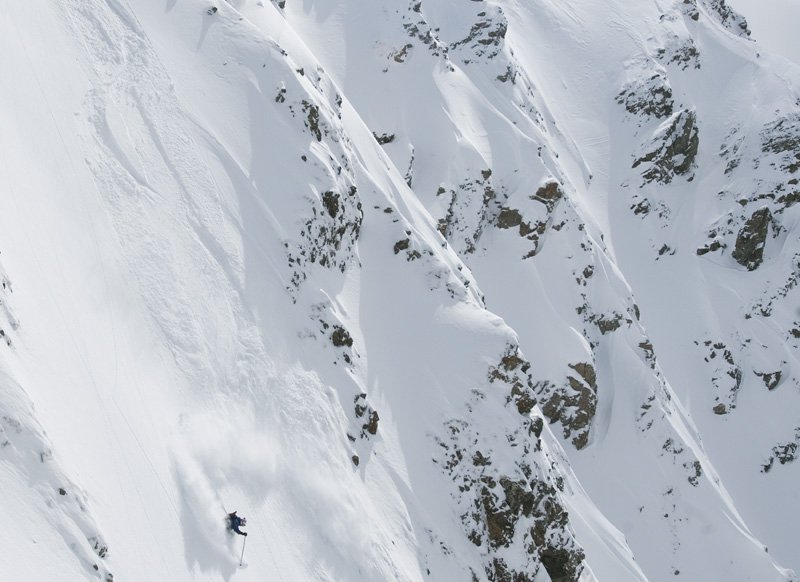 Lenzerheide is in the Swiss canton of Graübunden. It's the most mountainous canton in Switzerland, which is saying a lot, since Switzerland isn't spoiled for mountains. A huge wall of couliors defines the ski area. The resort is small by European standards, but it skis big. Alex Applegate at 3:00 in the afternoon on a powder day is discovering how big.
First of all, if you do happen to reside on the east coast, it's actually pretty cheap to get yourself to Europe (strategies to save even more money are in the "resources" section at the end of this piece). And the cost and difficulty of travel is made even more appealing when you consider that you can land at, for example, the Zurich airport, check your ski gear to your final destination at the train station that is actually inside the airport and then hop on a train to said destination with nothing but your laptop and camera as an encumbrance.
Then there's the cost of skiing. It's generally cheaper to ski in Europe, particularly at the less popular resorts (which are no less rad or massive) than in North America.
It's hard to actually imagine the scale of the terrain at La Grave. This French ski area has one main lift, a pulse gondola that was designed specifically for the resort, of a style of manufacture that exists no place else on the planet. This shot is looking back up at some of the ski area's "mellow" terrain. With no grooming, no rules and no one but yourself to rely on, La Grave is skiing at it's purest. When we rode back up the lift, and looked across the valley, the area where this photo was taken from was completely wiped out from a massive icefall from a glacier to the left of the photo.
Finally there are the accommodations, which usually feed you breakfast and dinner along with giving you a bed.
But the real reason why you should make the trek across the Atlantic this winter comes down to one simple thing: terrain.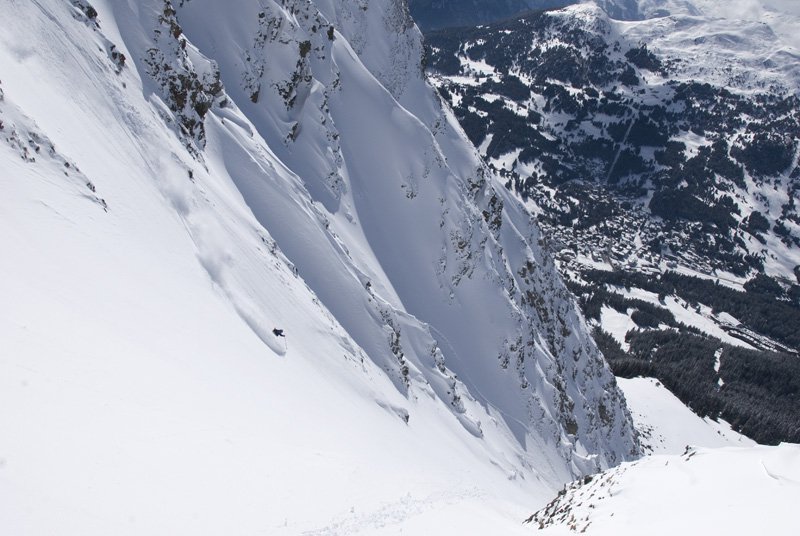 This massive line at Lenzerheide plunges more than 4000 vertical feet to the valley floor. It's truly epic. And remained untracked during our week here, until we decided we couldn't resist the plumb.
You've probably already read about Europe in your favorite ski magazine. You've seen the pictures and you've watched the ski movies. But nothing, NOTHING, can prepare you for the actual experience. In European countries like Switzerland, France and Austria, they've put ski lifts at the end of almost every valley. You can jump on a lift in one valley, drop over to the other side into a different town, catch another lift or a bus or a train to another place, ski more stuff and then, hours later end up at where you first started.
It's this access combined with a "ski where you want to at your own risk" philosophy that makes Europe the best place to go if you want to ski truly wild terrain. Everything is open and everything is accessible. And when you're done with your day, you can sample historic villages, where they've been skiing and getting crazy in the mountains for 500 years or longer.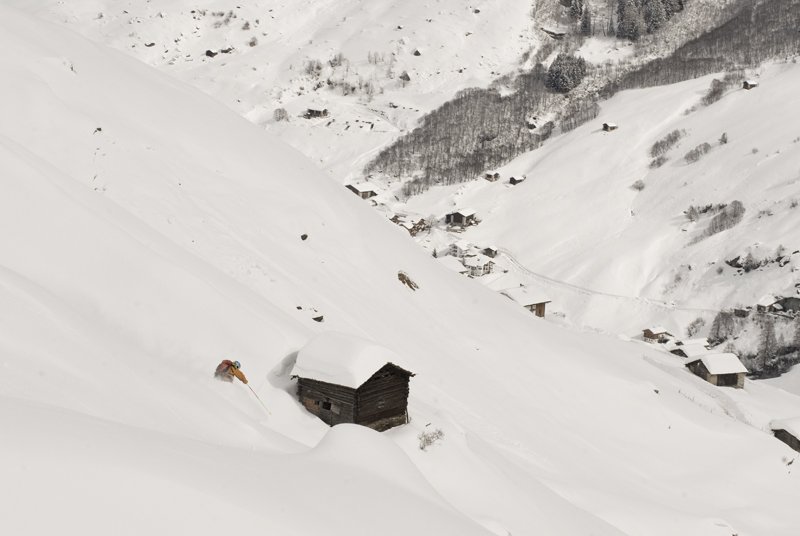 Former Skiing Magazine editor Jake Bogoch drops towards the small town of Vals, Switzerland. When conditions are good in the Alps, you can ski through summer cow pastures, past 500 year old wood huts. That's part of the charm of Europe.
So if you're into powder and huge faces; couloirs and massive cliff drops; history and sexy French waitresses, you need to tweak your travel plans this season. Alta and Jackson will still be here when you get back, but they won't seem nearly as steep.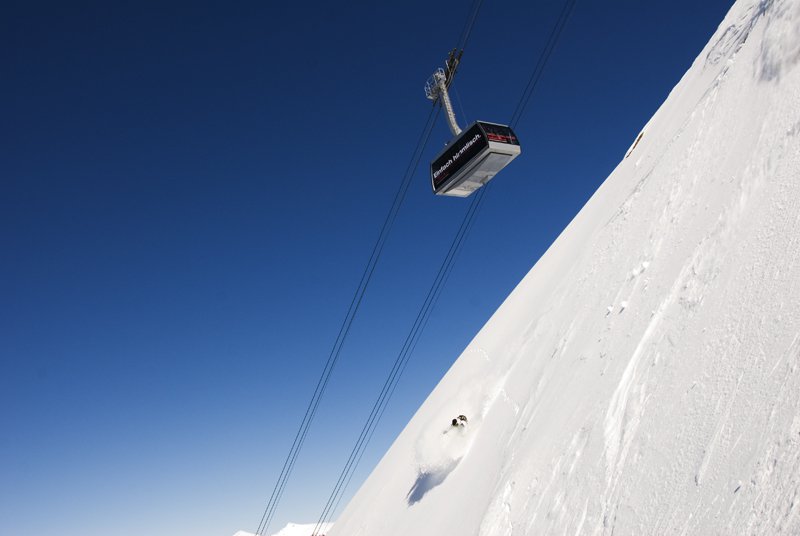 You have to hike to reach this line at St. Moritz, Switzerland, but it's a glory run that sits directly under the tram. The tram actually goes past the coulior to another peak, Of course, Travis Redd waited to drop in to impress the audience. Nothing like showing the guys with the carving skis how it's done.
Resources + Strategies. Europe ain't cheap. But you can make it cheaper. Here's how:
Watch your weight: With airlines charging extra for baggage, take one pair of skis. If you must take two, bring an unmounted pair so you can swap your bindings onto them. Or team up with a buddy to bring one extra pair, divided between you. Be sure to weigh your luggage prior to showing up at the airport. Bags are usually limited to 50 pounds each, check the restrictions and use a bathroom scale so you don't get stuck paying extra.
Become a van dweller: While it's easy and fast to get around via trains and busses, rent a sport wagon with two other friends and bring winter sleeping bags to sleep in the back to defray lodging costs.
Hostel, baby, hostel: Switzerland has some of the nicest youth hostels in the world. In many, four people can get a private room so you can spread out your gear and not live in a dorm.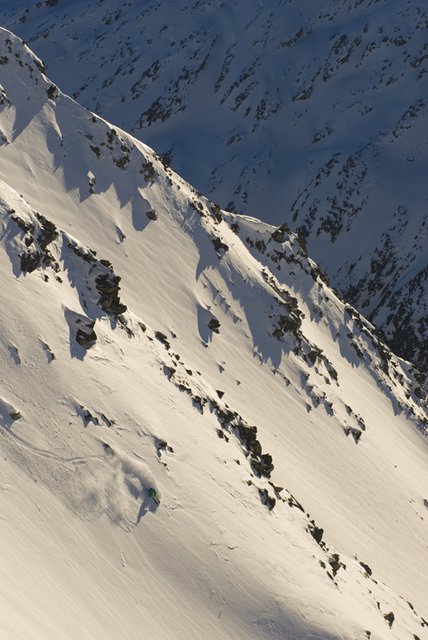 Travis Redd said when he finished this run that it was, "the best of his life". So we did it again the next day. Discentis, Swizerland has tons of terrain like this. Get off a lift, go for a short hike, ski a massive face into a huge valley, to a different town, then catch the local train back to where you started (don't forget beers in the train station while you're waiting!).
Think small(er): Many of Europe's mid-sized resorts are much, much bigger than anything in North America. These will have cheaper accommodations, lift tickets and less people. But the terrain can be just as intense as the larger mountains.
Buy a package: Packages are usually considered a pretty weak solution when it comes to traveling, but you can score seven days at Switzerland's Arosa including accommodations, skiing and breakfast for $960 at http://www.myswitzerland.com.
Pack a lunch: Speaking of free breakfasts, bring a supply of Ziplock sandwich bags and stuff them full of sliced salami, cheese and bread during breakfast for an on-mountain picnic.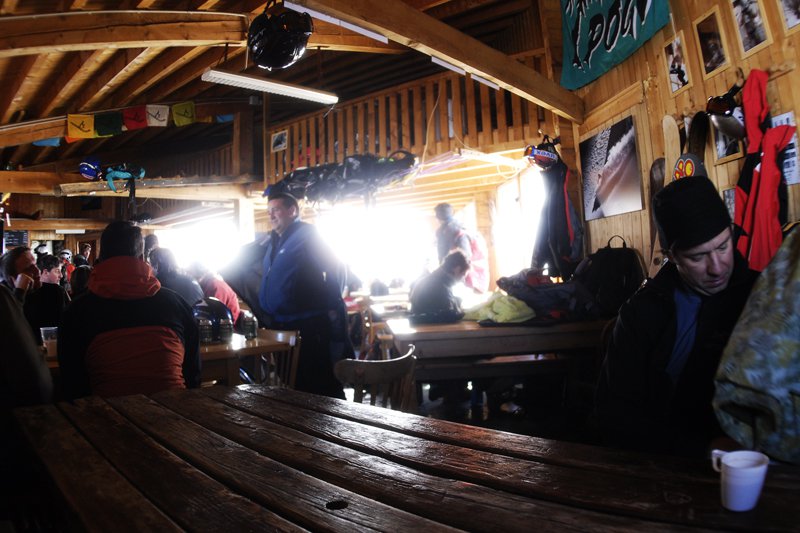 The rustic hut at the top of La Grave. Note the harnesses hanging from the beams. La Grave is a place where you're well advised to ski with a harness, rope, ice axe and belay device. Many lines dead end and the best skiing often is reached via short rappels that take you to 6000 foot descents through hidden lines.
Rent a condo: Get a place with a kitchen, fill it full of friends and cook your own meals.
Hike for a day: May resorts sell single ride lift tickets to the top of the mountain. Once you're there, head off into the backcountry.
Get a Europass: Discounted train and bus passes are available to North American travelers prior to their departure. Buy them before you depart.
Pick a city: Places like Innsbruck are close to the skiing, yet aren't resorts. Stay there for cheap and ski the local ski areas.