Welcome to the 16th edition of the Scandinavian Big Mountain Championships, May 14-16, in Riksgränsen, Sweden. The SBMC is not only a race for glory and prize money, but it is also the grand finale of the European freeride season, accentuated by midnight sun skiing and partying in a relaxed atmosphere above the Arctic Circle.As always the SBMC attracts some of the worlds best big mountain riders. Sverre Liliequist, Kaj Zackrisson and other internationally renowned big mountain athletes have already signed up to compete at the 2007 SBMC.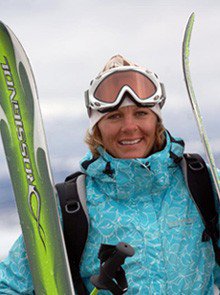 Janette Hargin, 2006 women's alpine winner.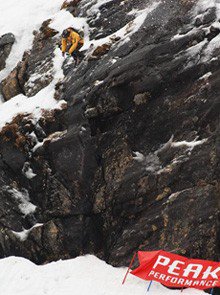 Reine Barkered, 2006 final run. Photos: Matthias Frederiksson
The LocationAs in previous years, the competition will take place on the north face of Nordalsfjäll, a 20 minute hike from the top of the Riksgränsen ski area. The face is a relatively short run with a vertical drop of about 300 meters. It offers diverse terrain and steepness. The riders will be able to choose between quite easy lines and more challenging terrain with big cliffs.DisciplinesThere will be separate classes for men and women in the disciplines alpine ski, snowboard and telemark. To go ahead, each class needs a minimum of 10 registered riders by May 5.RulesAll competitors under the age of 18 need a parent's approval to join the competition. The SBMC follows the rules, regulations and scoring system of the IFSA. Transceiver, helmet and back protector is mandatory for all riders during course check and competition. Monday the 14:th of May will be a day of qualification with one run for all registered riders. Tuesday and Wednesday the 15-16:th will host 1-3 final runs depending on weather and snow conditions.Signing upThe competition has a limited starting field, and recent year's competitions have been full so make sure to register as soon as possible. Registration can be made at http://www.bigmountain.seEntry fee is SEK 795 which includes the SBMC's famous banquet at Riksgränsen Hotel, as well as lift passes for the competition days.Accommodation and lift ticket offerAll competitors are offered a discount at the Riksgränsen Hotel:Share in apartment with self catering possibility.SEK 295/pers/nightShare in small double room with breakfast. SEK 415/pers/nightMake your hotel reservation at: reservation@riksgransen.nu or call +46 980 40080 for further information. There will be a 20% lift ticket discount for competitors two days before the competition.