We are insanely pleased to announce the pre-order of our much anticipated STEEZ tee shirt!  This was an idea we had about three years ago, unfortunately we couldn't find a proper design to release it last year so we sat on it for a season.  We knew this shirt would be super important to everyone and that we had to get it right or not make it at all.  We spent over two months refining this shirt and coming up with the perfect balance of text and size.  We really wanted people to be able to read this shirt and get stoked instantly without having to over think anything, after all; you shouldn't have to work too hard while reading a tee shirt.
We have a MAJOR tweak to the tall tee fit of this shirt and we promise its so good it will be worth the wait.  Unfortunately we are a bit backed up trying to get all these clothes released so the tall tee version will be available for pre order sometime in the next one or two weeks.  We will post the availability of the tall tee here and as always on our FB page.  You can also sign up for our newsletter to find out more about the new clothes and get the information quicker than ANYONE!
 
Now, onto the package details; two versions are available for pre-order and will ship on or before July 5 2011.  As soon as the shirts are in stock the pre order will go down and they will go back to regular price ($21.95 + $6 shipping to 50 state US).
 
The first package includes ten steez stickers and one regular fit steezy t shirt for $24.95 (free shipping with all pre orders)
The second package includes all of the above and our new logo t shirt for $39.95 (free shipping as well)
 
Keep it steezy friends,
SKIRP!
White version front and back (orange version can be seen in the shop)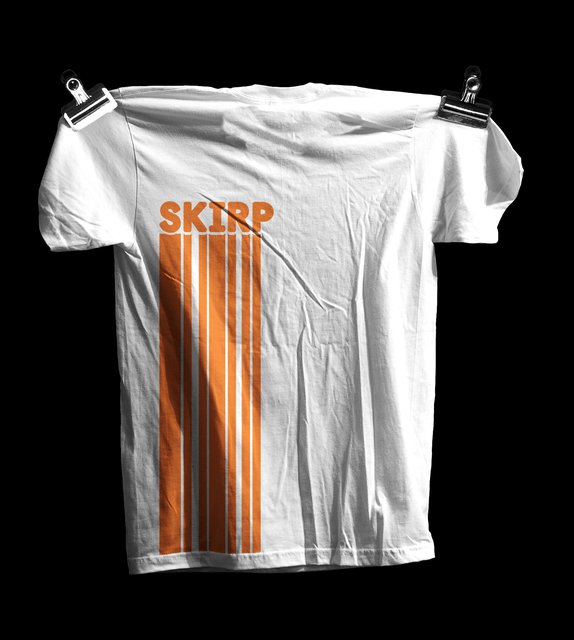 Steez stickers! (printed in full color on UV coated stickers to survive anything like; snow, sun, extended amounts of steezy airtime and even your girlfriend's talk about her "OMG AMAZIN" plans for the weekend on a chairlift)