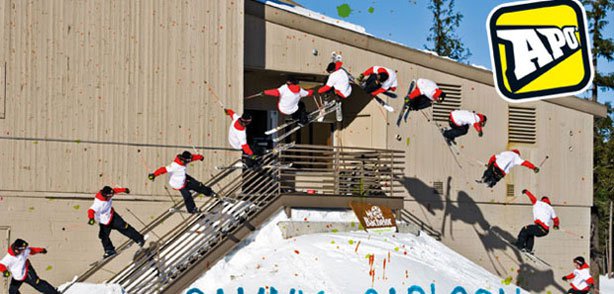 The latest mover and shaker in the ski world is Sammy Carlson who has signed for the Swiss ski manufacturer, APO. His most recent accolades have to be that he's a five-time X Games medalist, including slopestyle gold, big air bronze and a few more! He's also grabbed a few wins on the Dew Tour, FIS World Championships, King of Style, JOSS and Freestyle.ch.
Predominantly a snowboard brand, APO have been making skis since 2008 and Sammy Carlson left Salomon to join them. "I'm really excited to work with them," explained Carlson. "It's an amazing opportunity."
"I am stoked to join the APO team. We will be building skis from the ground up, the right way! The ski designer has over 20 years of experience shaping skis and snowboards, and he created the first slanted sidewall ski, the Scratch. We are working on a pro-model park ski coming out next year and we will also start working on a pro-model pow ski. I am excited to bring APO into the ski world, APO has been a snowboard brand for over 20 years. Keep your eyes out for some fresh videos brought to you by myself and APO. Support the movement!"
MPORA Action Sports
Related posts:Junction 133′s Sammy Carlson edit Here's a Junction 133 Productions edit of Sammy Carlson that...
Sammy Carlson's Segment from TGR's Re:Session One of our favorite segs of the year for sure…...
Dane Tudor & Sammy Carlson Here we have two big names in the ski world....