Interview by Jeff Schmuck
Hey Sammy, how's it going?
It's going good. I was just in Colorado chilling at the Nike Chosen Shoot. I have been back up on the mountain for the last few days, which has been nice. I'm getting closer to getting back on my skis, so it's a good feeling.
How'd the shoot go?
Really well. It was cool watching Willie Borm, Dale Talkington and the rest of the Nike crew ride.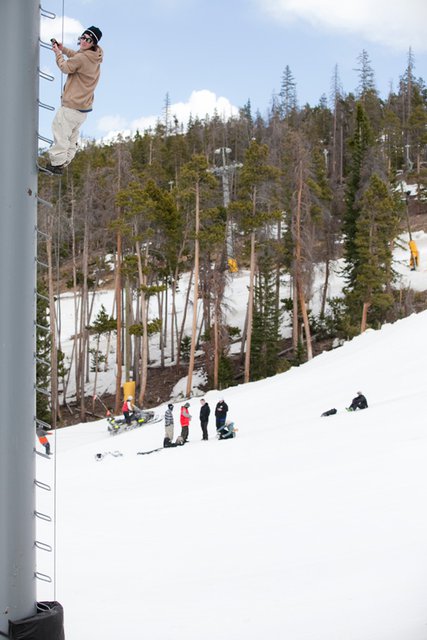 Sammy Carlson at last week's Nike Ski Chosen Shoot. Photo by John Vandervalk
Just how stoked were Dale and Andrew to be there?
Yeah they were definitely pumped to be out there. Unfortunately Dale hurt his ankle, but he got some good riding in the first few days.
So as everybody knows, you unfortunately blew your knee at X Games. How are things going with that, where are you at with your recovery, and when can we expect to see you back on skis?
It's going well considering. This winter was a lot slower paced than what I am used to, but the recovery has been going well. I have been rehabbing over at the Nike campus five days a week working really hard so I can come back stronger. I got really lucky and fortunately did not need surgery. The first few months were slow, but I am really mobile again and able to get out on my snowmobile and I am hoping to be back skiing at 100% by June. I want to say thanks to all my fans, family, friends, Tanner, E-Raps, and my sponsors for all the support throughout my recovery. Special shout-out to Nike for hooking me up with a rad recovery program. I can't wait to be 100%.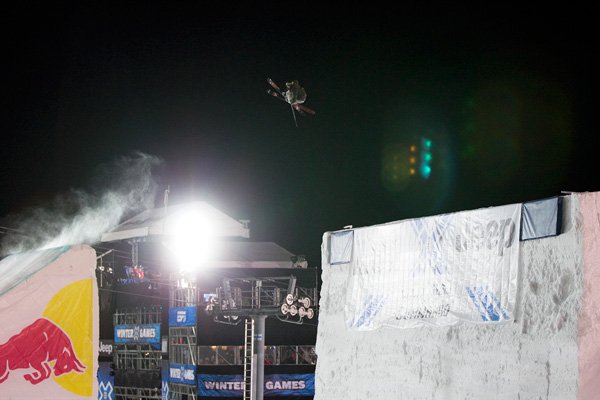 X Games Big Air. Photo by John Vandervalk
You've got a big event coming up this month, the second Sammy Carlson Invitational. Tell everyone all about it.
Yeah, I'm really hyped to be hosting the second Sammy C Invitational presented by APO Skis. Unfortunately I will not be competing, so I'll just be hosting the event. It's going to be at Mount Bachelor, Oregon on May 19th, and we've got a sick crew of riders coming out. A lot of my favorite skiers are going to be there, so it should be a really fun time. It'll be a little different this year, as it's going to be a big air jump into a massive wall ride, and it won't be a standard big air format either. It's going to be a big open jam session and we'll have a bunch of money that we're going to be giving out to riders who throw the sickest tricks throughout the day. It'll be open for spectators too, so if anyone wants to come check it out be at Mount Bachelor on the 19th of May, because it's definitely going to be a good time.
Tell us a little bit more about the features. How big will they be?
We're going to shape a nice jump into a wall ride. The jump will be similar to the jump we built that I threw the switch triple on. I'm excited for all the riders to session the wall ride, because we're trying to create something special with that feature.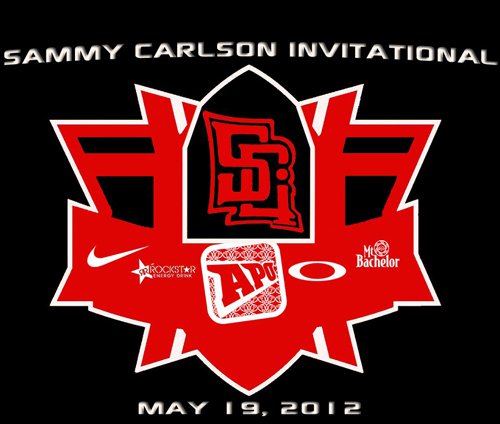 Who's on your invite list?
Right now we've got Henrik Harlaut, Phil Casabon, Bobby Brown, Dane Tudor, Parker White, Willie Borm, Torin-Yater Wallace, Sean Jordan, Alex Schlopy, John Spriggs, Ben Moxham, Chris Logan, Matt Walker, Nick Martini, Vincent and Charles Gagnier, Dale Talkington, Sean Pettit, Alexi Godbout, Tommy Ellingson, Banks Gilberti, Alex Bellemare and Kaya Turski confirmed, and Tanner Hall is going to be there holding it down as well. We'll be announcing more riders soon too, so be sure to check out the Sammy Carlson Invitational event page on Facebook for more info.
You're also running a contest in conjunction with APO where one lucky person can win an all inclusive trip to compete in the event along with a pair of your pro model skis from APO. So for anyone out there who hasn't heard about it yet, give them the scoop.
Yeah APO is putting on the contest, and all you gotta do is upload a video of your best trick to the Vimeo page we created, and if you are the one, you'll be chosen to come out to the event and will get to chill all week and ride on some sick features. The original deadline was tonight, but we're going to extend it until this Friday so everyone has a little more time to get their videos in. So go upload your best trick! (click here to enter)
In addition to all of that, there's going to be a live broadcast of the Sammy Carlson Invitational that we're going to be hosting on Newschoolers, so tell everyone all about that as well.
Yeah it'll be a live webcast, and it's going to be awesome. You'll be able to check out the event from home on your computer, so make sure you tune in to watch it. We're going to have interviews with all the riders who will be there and obviously the event itself, so don't miss it.
Any last things you want to add?
Yeah I want to give a big thanks to APO Skis, Nike, Oakley, Rockstar, Dakine and Mount Bachelor for making this event possible. If you can make it out to Mount Bachelor on May 19th be sure to come check it out!