Words by Jeff Schmuck
Photos by Matt Stauble & Jeff Schmuck
After four fun-filled days that no one in attendance (especially the 12 Salomon Jib Academy Finalists) will ever forget, the sixth annual Salomon Jib Academy Finals has begrudgingly concluded at Mammoth Mountain, California.
Although a minor amount of fatigue was beginning to set in after a heaping helping of bell-to-bell shredding throughout the week, the final two days of the event were just as wild as the first, with more taming of the Unbound Terrain Park and some extra curricular on-hill activities thrown in the mix.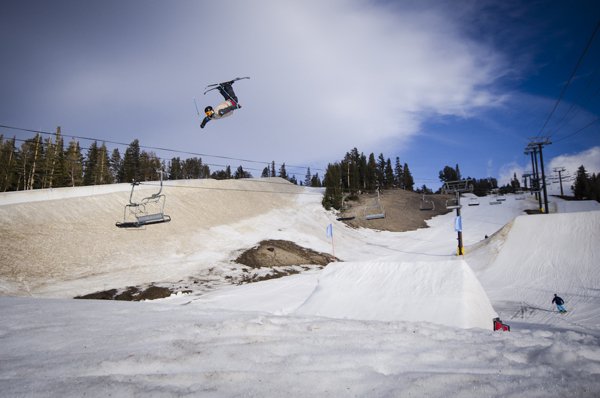 Tom Damiani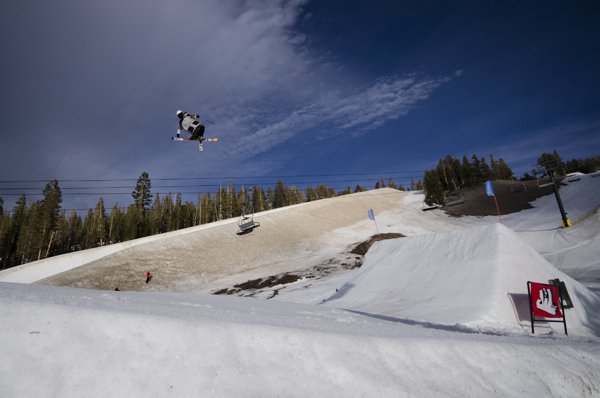 Dylan Sondrup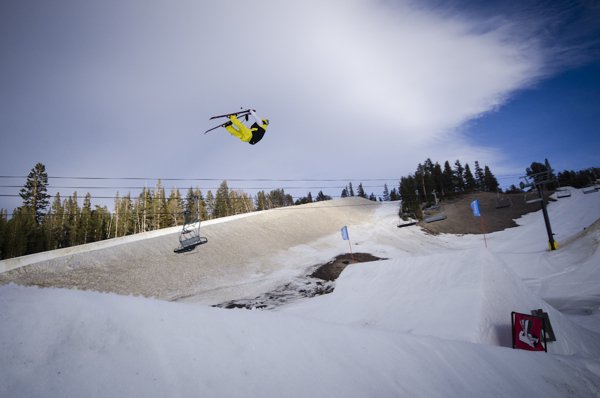 Steffen Hamre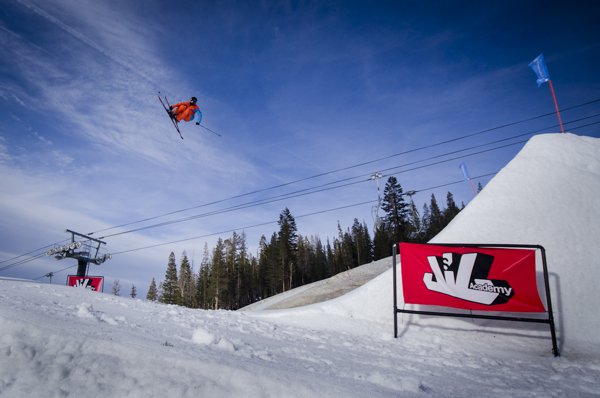 Thomas Krief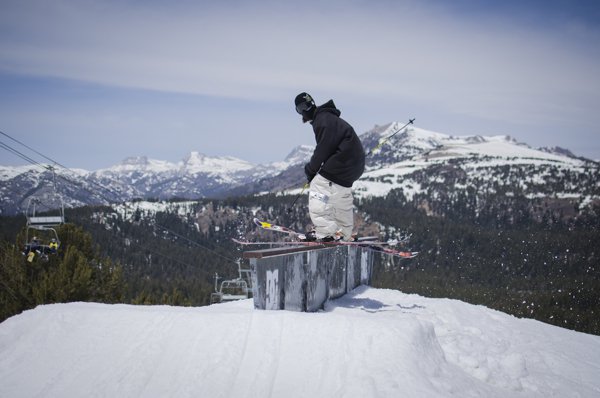 Matt Walker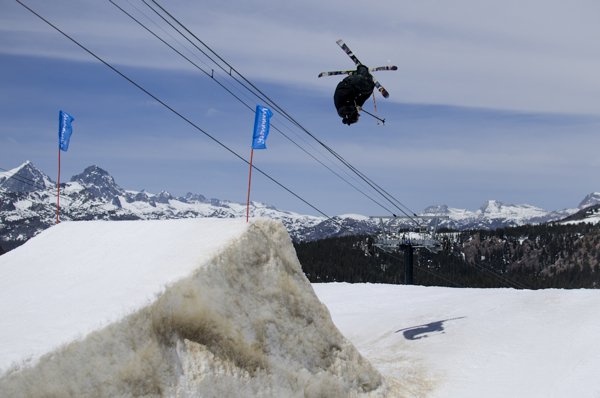 Alexi Godbout
James Woods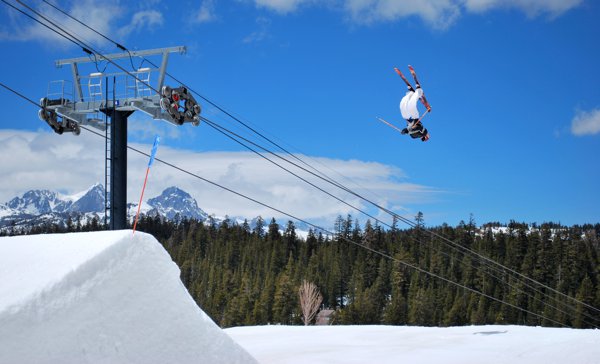 Bobby Brown
The jumps, rails and boxes got a work out from the likes of Alphe Bourdeau, Lucas Brown, Tom Damiani, Simon Gingras, Emma Hogland, Frederick Iliano, Lauri Kivari, Max Moffatt, Johan Niemi, Christian Nummedal, Aleksi Patja and Dylan Sondrup along with the entire Salomon team, while Thomas 'Toto' Krief and AJ Kemmpainen took turns crushing the slushy 22-foot superpipe that sits right next to the park.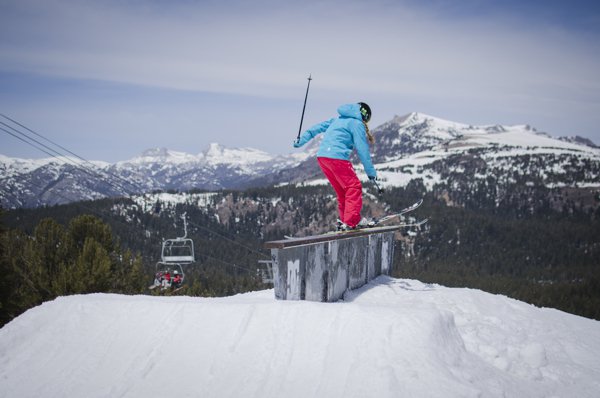 Emma Hogland, the lone female Salomon Jib Academy Finalist.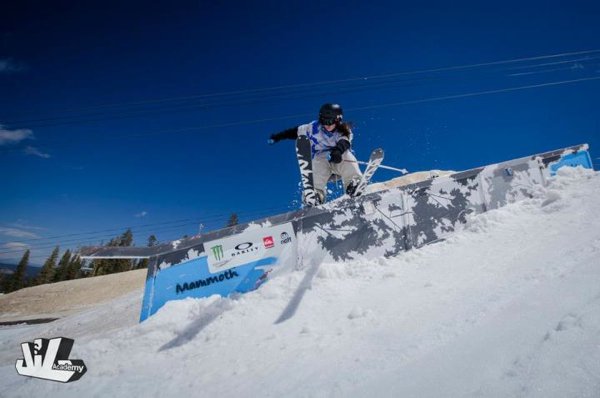 Alphe Bourdeau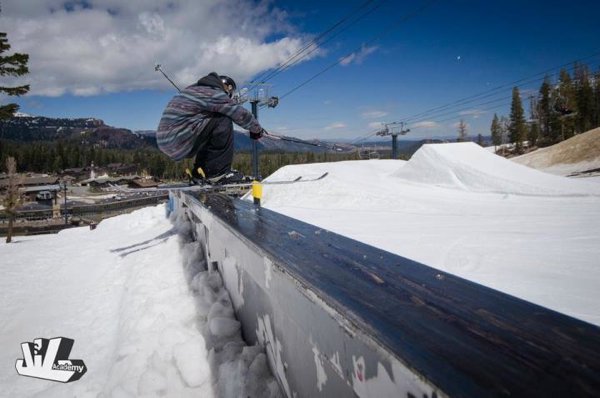 Lucas Brown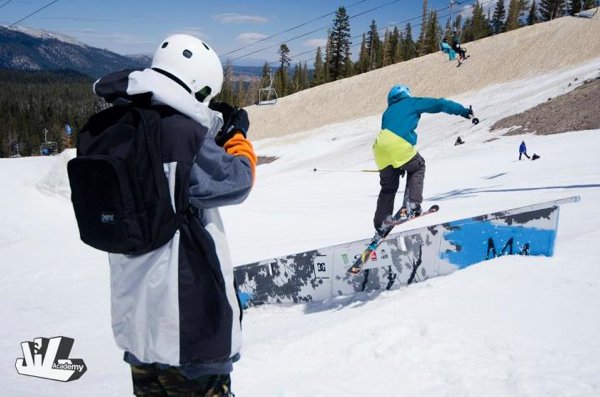 Max Moffatt
AJ Kemmpainen doing what he does best.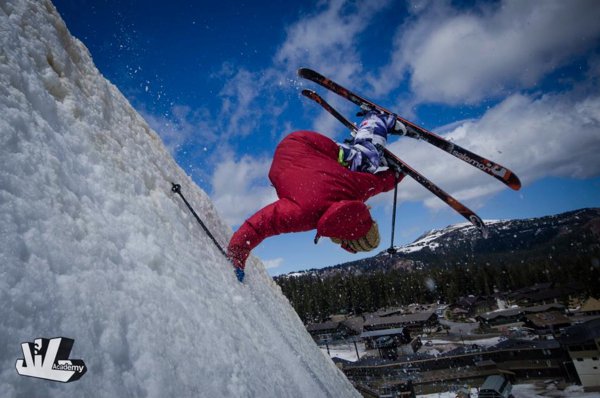 As the final day began to wind down, Mark Abma, Chris Rubens, Cody Townsend, Elyse Saugstad, Salomon team manager Jesse Malman and Switchback Entertainment's Jeff Thomas took a few of the Finalists over to a pond at the top of the park for some good ol' fashioned spring time pond skimming, which was without question one of the most enjoyable (and hilarious) highlights of the week.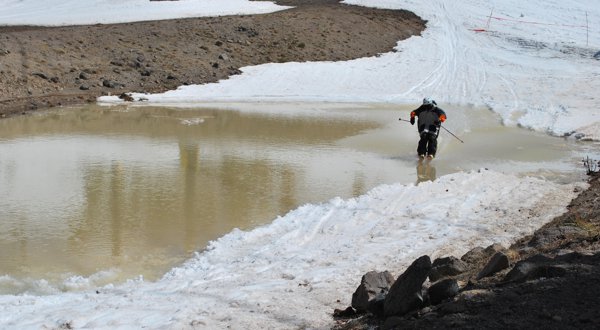 Dylan Sondrup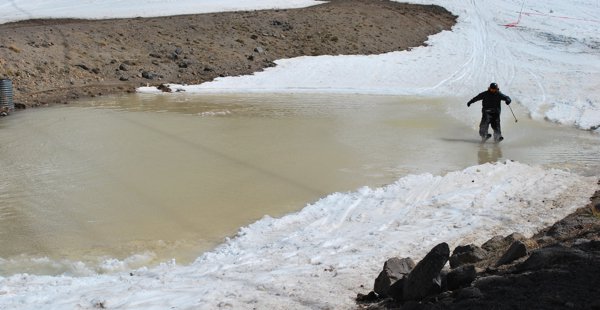 Lucas Brown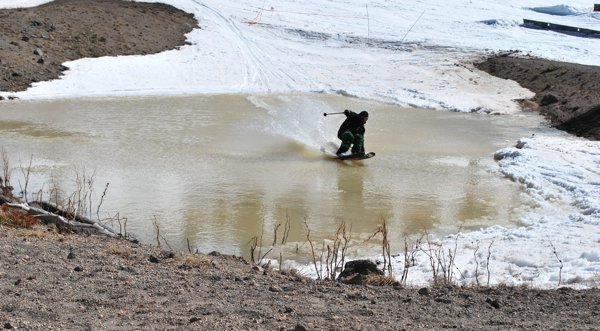 Switchback Entertainment's Jeff Thomas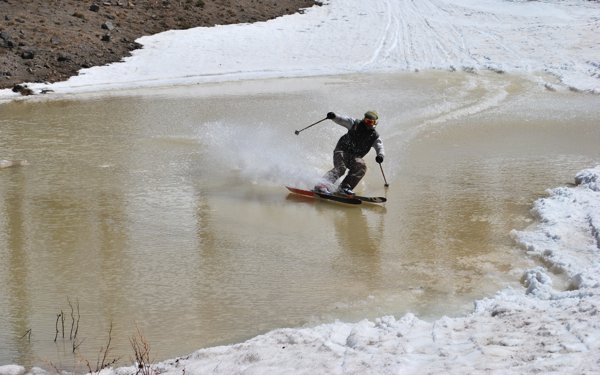 Mark Abma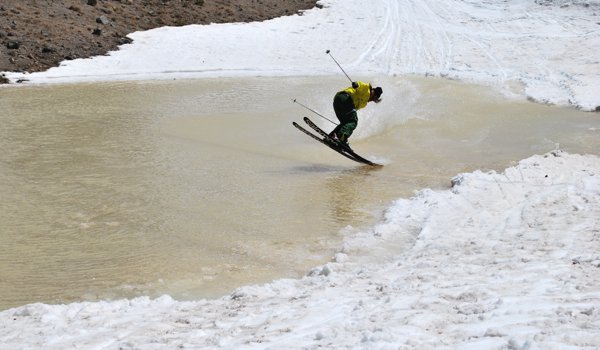 Chris Rubens with a nose butter 180.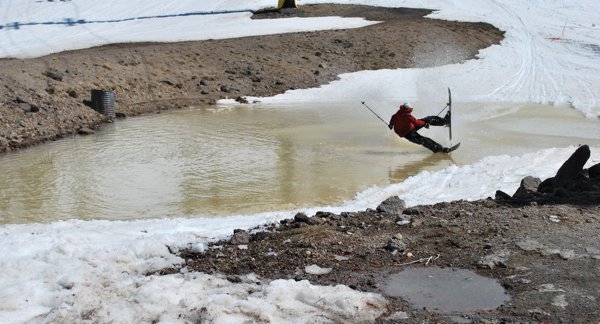 Cody Townsend. Uh-oh.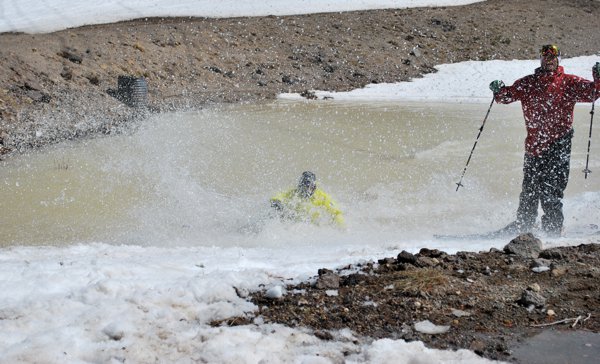 Chris Rubens, after attempting to step it up with a nose butter 360.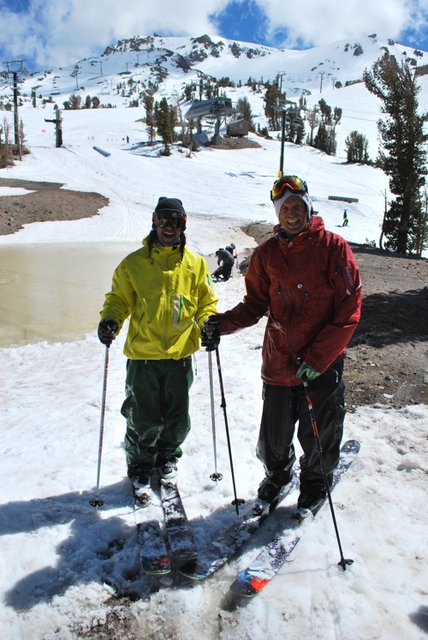 Chris Rubens and Cody Townsend in need of a hot tub.
And just before the time came to head back to the Mammoth Mountain Inn to prepare for the evening's dinner and awards ceremony, the Finalists congregated on the final jump for the annual and obligatory group shot, as Alexi Godbout and AJ Kemmpainen soared overhead.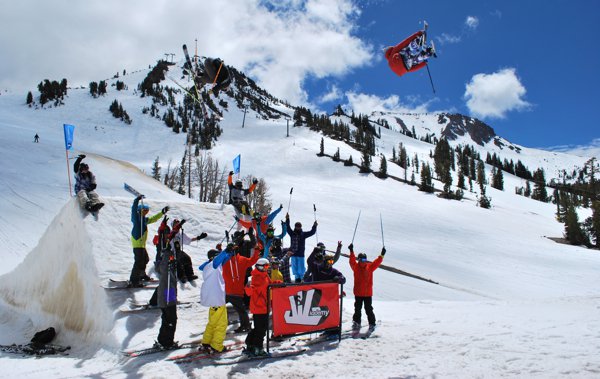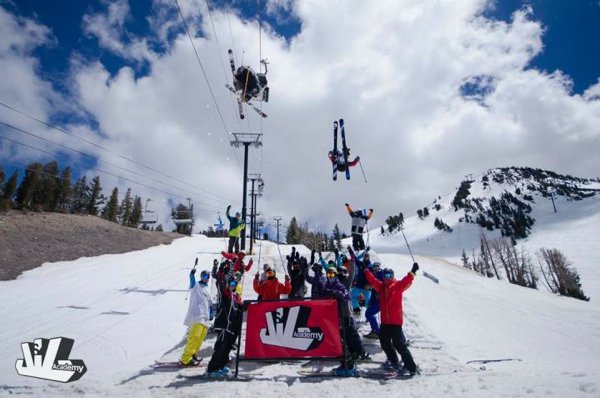 Once everyone was off the hill, a convoy of shuttles whisked everyone down to the Hyde Lounge in the village of Mammoth Lakes, where another delicious meal was scarfed as Jesse Malman and Alexi Godbout thanked everyone for coming and announced the winner of the 2012 edition of Salomon Jib Academy.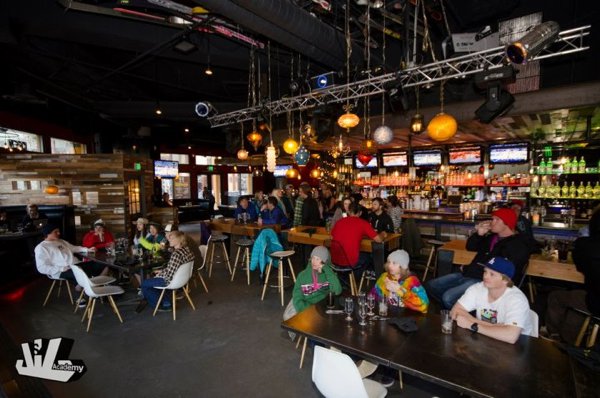 Hyde Lounge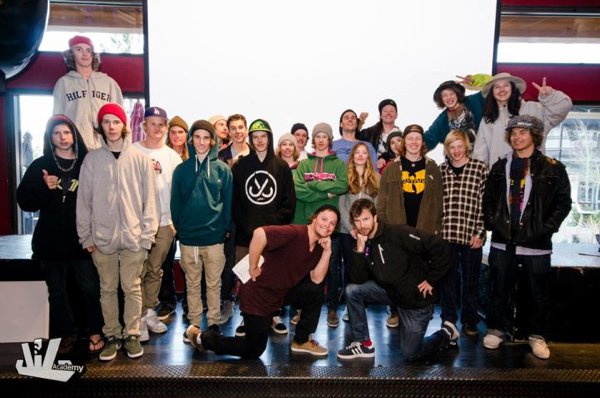 The Salomon Jib Academy Finalists and Salomon team.
The top three, who were determined by the Salomon team over the course of the week, included Frederick Iliano in 3rd, who took home a pair of skis and bindings from Salomon, Christian Nummedal in 2nd, who scored himself a full head-to-toe setup, and in 1st, winning the honor of 2012 Salomon Jib Academy Champion and a free session at Momentum Ski Camps in Whistler, BC this summer, was Aleksi Patja.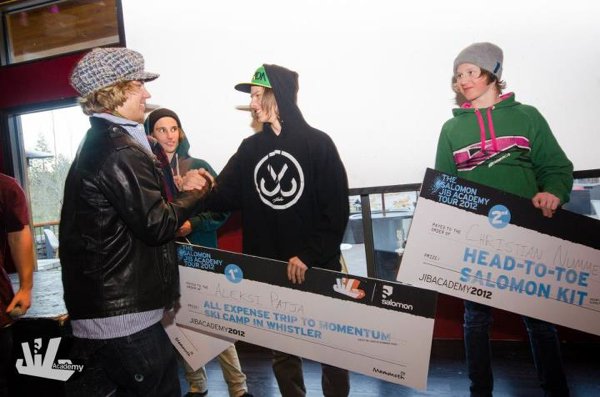 AJ Kemmpainen congratulating Aleksi Patja for becoming the 2012 Salomon Jib Academy Champion!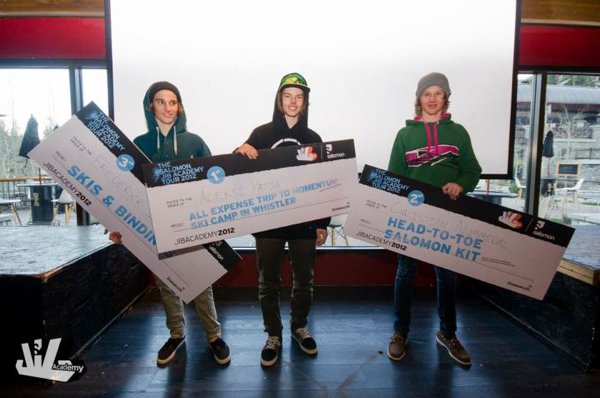 Frederick Iliano (3rd), Aleksi Patja (1st), Christian Nummedal (2nd)
After the awards were given out the celebration began, with the Finalists taking advantage of their last opportunity to mingle with their new found friends before heading home to their respective four corners of the world, while the older crowd cheered many a drinks to late Sarah Burke.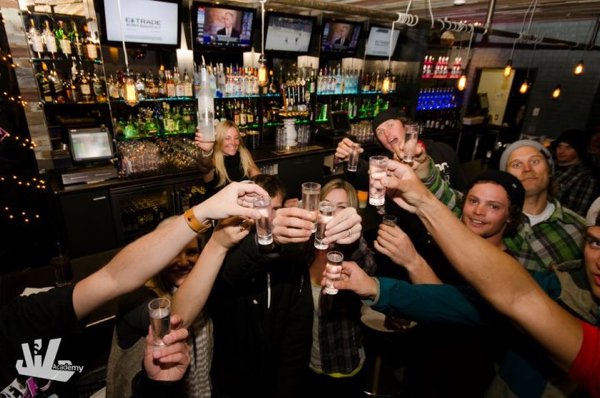 Cheers to Sarah Burke!
Big thanks to everyone at Salomon for an amazing week and another stellar year of Jib Academy, and congratulations to Aleksi Patja and all of the Salomon Jib Academy Finalists. We'll see you next year!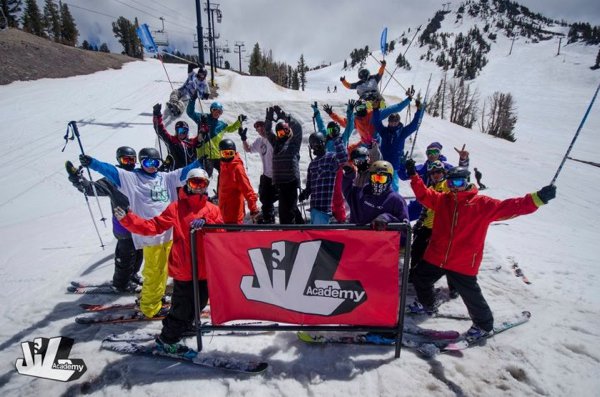 For more highlights from Salomon Jib Academy Finals, be sure to check out the Salomon Jib Academy Facebook page.