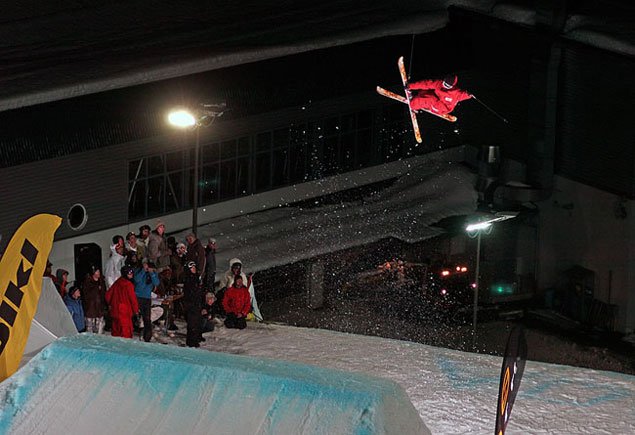 Piere Chedal.SUZUKI New School Pick Nick 2007Weltcup Arena Zauchensee, 16.03.2007The New School Pick Nick became one of the most important highlights of the winter season in Zauchensee over the last years. The world's best twin-tip acrobats will meet for the third time in a row in the worldcup arena in Salzburg's Pongau this march. The event will not only be a firstclass show for the audience, but also a serious competition for the riders. After all, the winner can go home with a brand new Suzuki Jimny!"The worldcup arena in Zauchensee offers us the optimal conditions to deliver a first class Big Air, a really spectacular show, to the audience, as close as one can get to the action! The international big names of Freeskiing can be watched in unbeaten closeness while they do their tricks, which will cause a lot of marvelling and good mood again this time for sure!" says Alex Zika from the organizing agency "Malua Sports Events" from Vienna.Indeed, the New School Pick Nick is one of the most relevant European ski freestyle happenings, compared to other Austrian events it strikes with an impressive number of international topstars, who take part on the event every year. Next to the remarkable value of the prices (the winner will take a brand new Suzuki Jimny home), it's the modus of an "invitational" being the reason for that density of top sportsmen. All participants are invited to the contests, there's no qualification on site, which makes the whole thing even more interesting for the audience. The best 15 skiers from the German-speaking countries battle without any second class qualification heats against 15 of the world's best newschoolers! In the run up to the event, only the winners of the Polish Freeski Open, the independent contest tour "Chill and Destroy" and Obertauerns freestyle event "Run to the Hill" will be taken into the competition. They get so called "Wildcards" and have the chance to compete against some of the world's best riders without any further qualification! That will for example be last year's winner Tim Russel from the USA, Russ Henshaw from Australia and Nico Zacek from Germany, just to name a few. Austria's pride will be defended by Schladming's Florian Wieser and the most successful Austrian freeskier, Martin Misof from Innsbruck, who already caused a lot of applause with a perfect switch 1440 mute at last years New School Pick Nick! But freeskiing is not only a battle, it also stands for a more relaxed lifestyle in skiing. So a good after-contest party is obligational! This time the "Jester-Party powered by Marker" will happen in the nearby town of Altenmarkt with Austria's hip-hop heros "Texta" as a live act. Good mood and the possibillity to meet some of the biggest names the sport created in a relaxed surrounding are guaranteed! Last but not least, free entry to the contest area in the worldcup arena in Zauchensee should be mentioned here. All in all, the Suzuki New School Pick Nick 2007 is worth a visit for sure! All infos are to be found on
http://www.newschoolpicknick.com
shortly!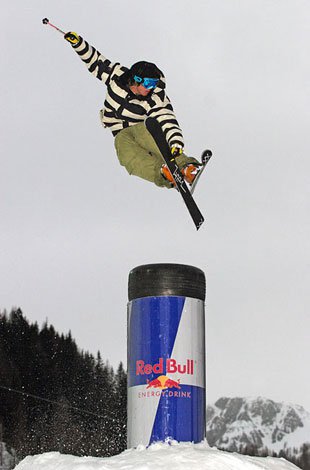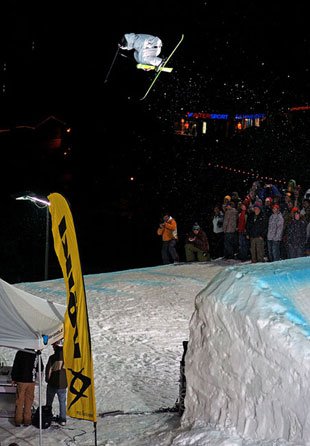 Tim Russel.Martin Misof.
SUZUKI New School Pick Nick 2007
Weltcup Arena Zauchensee, 16.03.2007Das New School Pick Nick gehört in Zauchensee mittlerweile zu den Fixpunkten der Wintersaison. Diesen März treffen sich die weltbesten Twintip-Akrobaten bereits zum dritten Mal zu diesem spektakulären Event in der Weltcup Arena im salzburgerischen Pongau. Dabei wird dem Publikum nicht nur eine erstklassige Show geboten, sondern es geht auch im sportlichen Sinne ernst zur Sache. Immerhin wird der Sieger des New School Pick Nick 2007 seinen Heimweg mit einem brandneuen Suzuki Jimny antreten können! "Die Weltcup Arena Zauchensee vereint die optimalen Voraussetzungen um dem freestylebegeisterten Publikum einen sportlich erstklassigen Big Air-Wettbewerb, eine wirklich sehenswerte Show, hautnah bieten zu können! Internationale Größen des Freeskiing können bei ihren Tricks aus nächster Nähe beobachtet werden, was bestimmt auch heuer wieder für jede Menge Staunen und ausgelassene Stimmung sorgen wird." – so Alex Zika von der veranstaltenden Agentur Malua Sport Events aus Wien.Tatsächlich zählt das New School Pick Nick zu den wichtigsten europäischen Schifreestyle Veranstaltungen, innerhalb Österreichs sticht vor allem die hohe Dichte an internationalen Stars hervor, die Jahr für Jahr an diesem Bewerb teilnehmen. Ausser dem beachtlichen Wert der Preise (der Gewinner wird einen nagelneuen Suzuki Jimny abräumen) ist dafür auch der Modus des "Invitational" verantworlich. Alle Teilnehmer werden im Vorfeld der Veranstaltung eingeladen, Qualifikation gibt es vor Ort keine, was den Event für das Publikum noch interessanter macht. Die besten fünfzehn Freeskier des deutschsprachigen Raums treten ohne zweitklassige Qualifikationsdurchgänge gegen fünfzehn internationale Topstars an. Qualifizieren können sich im Vorfeld lediglich die Gewinner der Polish Freeski Open, der unabhängigen Wettbewerbstour "Chill and Destroy", sowie des Freestylewettbewerbes "Run to the Hill" in Obertauern. Sie bekommen eine so genannte "Wildcard", also die Möglichkeit sich ohne weitere Qualifikation direkt mit des Topstarts des Freeski-Sports zu messen! Mit dabei sein werden unter anderem der Vorjahressieger Tim Russel aus den USA, Russ Henshaw aus Australien und Nico Zacek aus Deutschland. Die österreichische Freestyleehre verteidigen das Schladminger Ausnahmetalent Florian Wieser und der erfolgreichste österreichische New School Schifahrer Martin Misof aus Innsbruck. Er konnte schon beim letztjährigen New School Pick Nick mit einem "switch 1440", also rückwärts angefahrenen 4 Drehungen um die eigene Körperachse, für Aufsehen und Applaus sorgen! Freeskiing steht aber auch für entspannten Lifestyle innerhalb des Schisports, da darf eine ordentliche After-Contest Party nicht fehlen! Und auch hier wurde aufgerüstet, diesmal findet die "Jester-Party powered by Marker" in Altenmarkt statt. Ein Fixtermin wird sie vor allem für die Fans des deutschsprachigen Hip Hop sein. Neben der Möglichkeit einige der besten Freeskier der Welt in ganz entspannter Atmosphäre kennen zu lernen, lockt nämlich auch einen Live Auftritt der österreichischen Hip Hop Ikonen Texta!Das New School Pick Nick 2007 in der Weltcup Arena Zauchensee verspricht also auch für weiter gereiste einen Besuch wert zu sein. Zu guter letzt sei hier auch noch erwähnt, daß der Zutritt zum Wettbewerbsgelände kostenlos ist!Alle Informationen gibt es in Kürze auf http://www.newschoolpicknick.com!