Monday evening I left the shop with Colin and went to the airport to fly to Las Vegas for the last SIA show that would be held there.  Of course, this is DIA, so our flight was delayed for 2 hours.  So we did what we would be doing a lot of over the next 5 days, drink.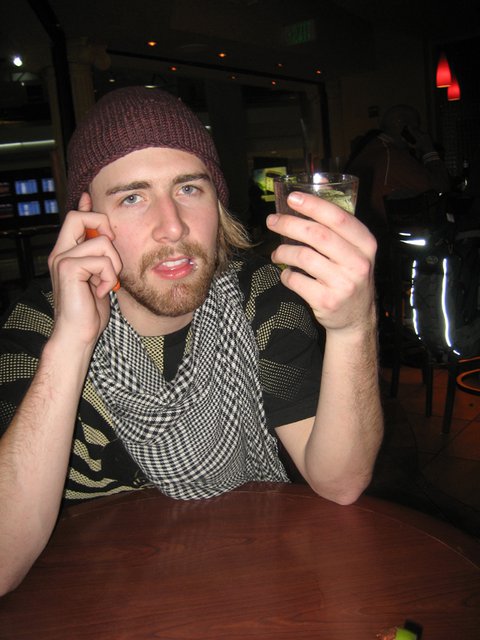 Eventually we arrived with no major problems, and even went to bed at a reasonable time.  The next day we were at the show right when it opened, starting our long day of meetings.  Luckily they had my throne waiting for me.
We met up with Carrie Rossman and went over to the Line booth.
Josh Malczyk hard at work.
The new Full Tilt boots look amazing.
Greg Oakley with some new POW gloves.
Chris Myers showed up and we decided we were hungry.  But before we could leave, Colin had to say hi to an old friend from last years show.
Then we were off to get food... at the greatest fast food restaurant ever.
There we met up with our friends Steph and Kris from Under Armour.
Then we met up with Jason from Moment and went to the Freeskier party.
The party was an excellent time, and we got to see tons of old friends that we usually only see once a year.
Tatsuya from Bravoski
Carrie and Kevin Kruse from Scott
Gabe Martin from Colorado Freeskier.
Kimmie Paquin from Orage.
Super pumped on Voleurz for next year.
And of course Jenn Hirsch.
The next morning we all somehow woke up and made it to our meeting with Holden.
You can't tell, but Colin was really excited the entire meeting.  Great colors and fits from Holden.
Then we made a quick stop at Freeskier Mag's twintip park.
Mike and Dan Broadbent showed up, then we were off to the Moment booth.
Can't wait to get on the Night Train.
After Moment it was off to Electric.  Big thanks to Jimbo Morgan for all his help.  The new styles look great for next year.
After that we found Nevill at the Orage party...
Then it was over to the Moment booth for one of my favorite parts of the whole show.  The unveiling of our very own Cedric the Pirate's pro model.
Tons of skiing celebrities came by to congratulate Ced, and it was awesome to see how stoked he was to meet them and hear their approval.
Look for these at Jibij soon.
We had a lot of the team at the booth, so we made sure to get a Jibij photo while there.
Thanks to Jeff Burkley from Helly Hansen and Scott, we managed to go and party in Gene Simmons hotel suite at the Hard Rock for the launch of his new brand Moneybag.
Me with Gene and Jeff Burkley.  I only got to see the tongue once.
Myers and I with Matt Carroll from Double Diamond Ski Shop in Vail, which gave me my first industry job.
After that we went to Body English in the Hard Rock and met up with the Battersby's, Broadbent's, Carrie Rossman, and crew.
DAY 3
Eventually we made it home, and then it was time for more meetings.  We started off with Level gloves.
Then we met up with K2.  If you've ever met Ryan Schmies, you know how much fun the K2 booth can be.  On top of knowing how to party and grow an impressive beard, Schmies is also the man behind the graphics on the K2 factory skis.  So awesome, especially the new Hellbents.
Look at that gnarly knuckle!
Everyone got hungry so we left for some lunch.  This was the first time we had seen the sun in days, and it was kind of strange.
Note: actually very disgusting.
We then stopped over to check out the new gear from Rossignol.
The new Dragon gear looks great.  Especially the new Nimbus goggle.
The new Atomic stuff is looking great as well.
I even found Cosco lurking around their booth.
Carrie and Jay Badg taking a break from work.  Then it was on to Orage.
Awesome colors and fits from Orage.  The new TJ jacket is huge and comes in great colorways.  After that we went to Scott to meet with Jef Burkley.
Scott products are preferred by the majority of the team, so expect to see a lot of shots with the new gear soon.  After that meeting Jeff took us over to Helly Hansen where we saw their new, very limited, Moods of Norway collection.
Mike B's new suit.
Jenn really liked the colors on the women's version.
After that we went to the Moment booth for their punk rock party, which was sadly crashed by some drunken idiot who decided to start attacking people.  Colin got punched in the face, but was luckily okay.  When security said he could go, it was time for more In-N-Out.  During SIA, you can go to In-N-Out anytime of the day and find someone from the industy there.  Here's Freeskier's Digi Dave and NS's own Mike Rogge.
After that we went to the Double Down Saloon.  If you've been to The Downer in Boulder, it's that times 10.
The Double Down is known for it's signature drinks: "Ass Juice" and the "Bacon Martini".  I had both, and despite how they sound, they were excellent.  I got a free Bacontini because of my tattoo as well.
You can really taste the Bacon!  Nobody else really shared my enthusiasm for pork flavored alcohol.
Mike met this woman who started doing things we can't show you.  She was easily the scariest person we saw on the whole trip.
The next day we had some time to kill before our flight, so we partied with some chocolate.
Then waited way too long in the airport.
Thanks for all the fun Vegas.  While we love visiting; after not sleeping for 5 days, we really hate you.
Hopefully we can find time to visit next year.