"There's Someone in my Head but it's not me" - Roger Waters.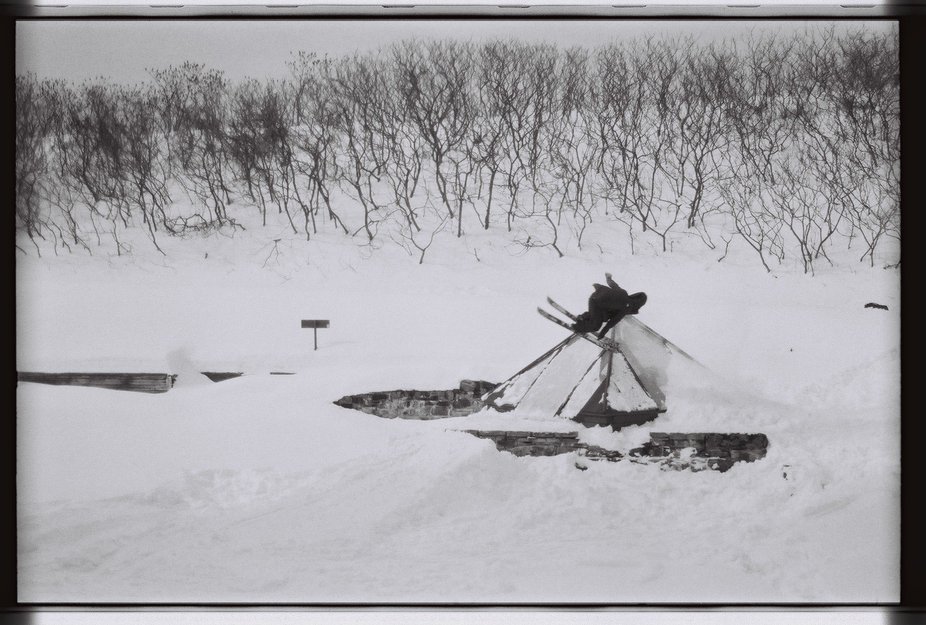 Rudy Lepine sports a bushy beard, big-rimmed glasses, and a soft-spoken personality. You might remember Rudy from the early SIMPLE edits or his recent web series Sensorial Quartet. Recently, the ON3P team member has been silently filming a 2-year street project in and around his home province of Quebec that's interestingly named, Psychoactive.
Rudy sat me down in his current home in Whistler BC next to his Blue Heeler, Lila and a stack of ON3P skis. His story is similar to other Quebecois skiers, skiing at an early age with both parents working as ski instructors, then making the move out to BC at the age of 17 to take on bigger terrain.
For some reason, my fucking Instagram just started blowing up.
"I was working in kitchens my first couple of years here in Whistler and skiing a lot. For some reason, my fucking Instagram just started blowing up."
Following his newfound fame on IG, Rudy was noticed by Ryan Braun the filmer behind SIMPLE, where they started filming lines on the glacier. Luck would have it Rudy ended up meeting Magnus Granier on the T-bar together.
"Magnus looked me in the eye and said, 'so what do you want to do with this skiing shit? You should start making plans because this time will go by fast."
A wake-up call from Magnus was all it took for Rudy to immediately begin to formulate the goals he wanted to achieve, namely, to make a name for himself filming in the streets. Magnus ended up linking Rudy with the guys at ON3P, and from there on out, it was on.
It wasn't until Magnus and The Bunch ended their relationship with ON3P that so many new doors opened for Rudy and the team.
"ON3P has been amazing at redistributing skis and money to the rest of the team." Suddenly, Rudy saw the potential for a budget, and his friends were now also riding their skis. Rudy looked at the now tangible opportunity to fulfill a goal of his, making a street film.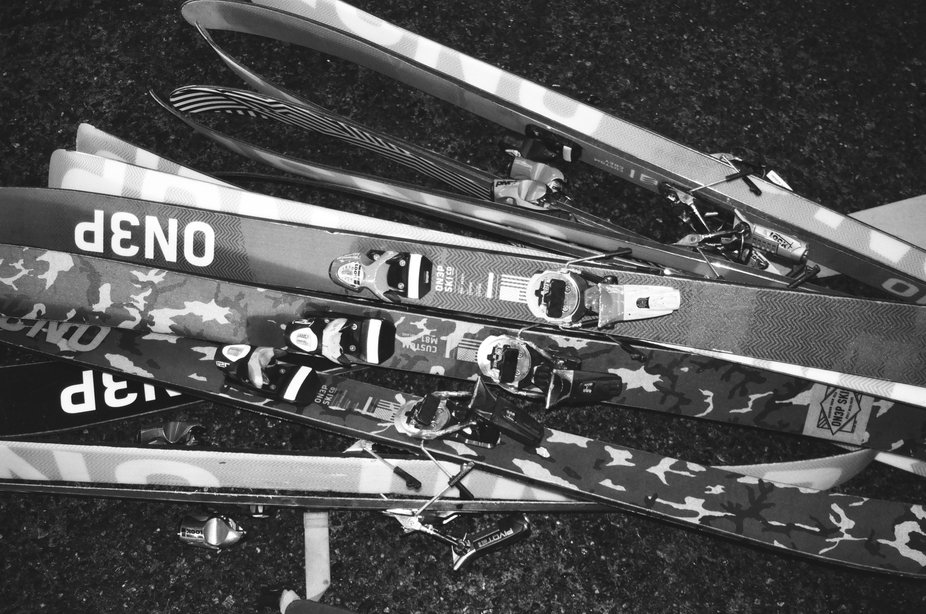 "We all want to get paid what we deserve, and it's a conversation that needs to happen more, but no one knows what anyone else is getting or how to get it." Magnus ended up stepping in again and showed Rudy how to put a project proposal together, how much to ask for, and how to ask it.
"Magnus and Hackel were very mentor-y to me, and I appreciate it so much. This knowledge is hard to come by because no one talks about it."
Thus, began the filming process back in Quebec. The first year was no walk in the park though, "COVID happened, and with only four friends, it was so difficult to be productive, and the curfews placed in Quebec made it even more difficult to hit spots."
The logistical issues meant that Rudy's plans for making a street film were going to take two years. "It was frustrating not being able to be as productive as possible it put us all in a weird headspace."
After the trial and error of the first winter, the second brought in more experience and a hungry mentality to get work done. Not to mention, Oscar Weary coming up from the States to join the crew.
We mostly used clips from the second year, it was better in every way, and our spot selection got way more precise.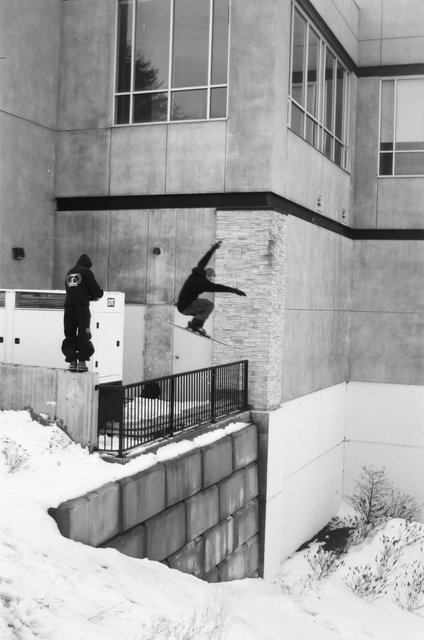 The good wasn't without the bad. With Rudy's skiing getting riskier and the slams getting harder and harder. Rudy's partner started noticing pattern changes in his behaviour.
"I was having frequent anxiety attacks, and doing this thing called "headbanging" when I was completely out of control. This was completely unlike myself, I knew there was something wrong with me."
Rudy took the leap to reach out to a psychologist to see if they would be able to help diagnose his new behavioural patterns. "The first session I was diagnosed with PTSD from head trauma and the way it manifested in myself was through impulsivity and behavioural patterns."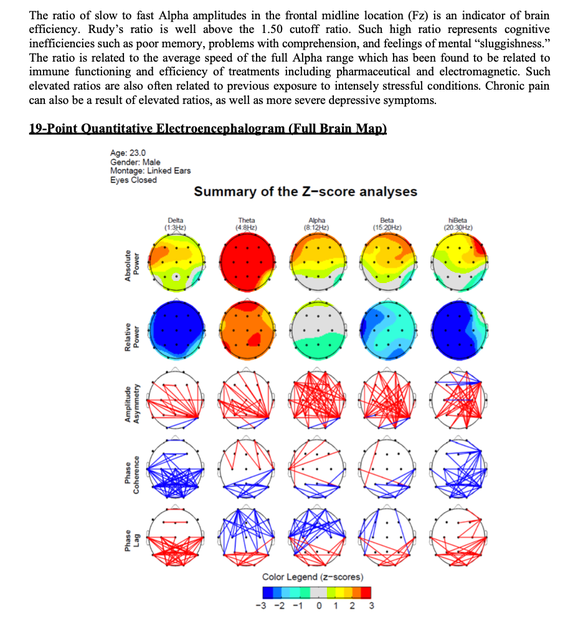 A proper diagnosis can be validating to hear, at least it was for Rudy. After some breathing room, he recentered himself and focused on healing his brain. He went on a therapy program called neuro-feedback where he would put a helmet on to monitor his brain waves and kick-start them to get to a healthier baseline.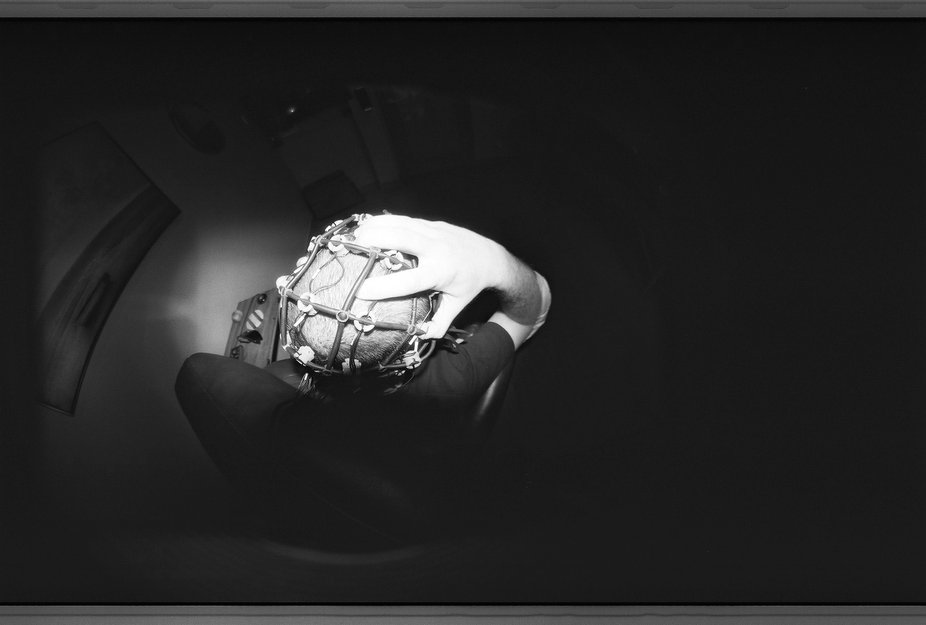 "I didn't want to make a documentary about mental health issues. I agree with what people are saying about the stigma around mental health and brain injuries. But, to me, it would just be adding more noise. As my ski dreams were coming true I was dealing with this debilitating injury, and I wanted to be able to link the two authentically."
Rudy sought to balance the two for his film, "I wanted to make a film strictly focusing on the riding but with subtle nods to how I was feeling and how my emotions were changing."
Rudy wasn't alone in how he was feeling, "after I released the trailer, so many people reached out to me telling me how they were feeling. The lifestyle can be so hard and can easily bring out some serious mental health issues."
I chatted with Rudy before his Whistler premier of the film and he's stoked to report that he's doing so much better and can't wait to show his film with the theme of " life's not always pretty, but it's important to never stop working on yourself."
Rudy would like to thank ON3P skis, Guayakí, Arsenic, Level 1, and Sovryn. Make sure to watch PsychoActive on October 17th.
All photos were taken by Rudy Lepine, Loïc Thivierge, William Pichette, and Oscar Weary.