Rossignol presents 2009 Girls Day Out Ski camp dates
Season dates are set for Girls Day Out ski camp, events are to be held at three ski resorts and one Cat skiing operation around B.C. Girls Day Out is a 2 day off-piste ski camp for females ages 13-50. It provides a comfortable atmosphere to foster ski skills and amplify big mountain knowledge.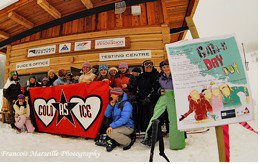 photo by Francois Marseille
Victoria, B.C. (October 23, 2008) – Girls Day Out tour - with support from Rossignol - will be hosted at 3 different ski resorts this winter season, Fernie Alpine Resort, Red Mountain Resort and Kicking Horse Mountain Resort. Girls Day Out will also host an inaugural cat skiing event to be held at Valhalla Powder Cats. Official dates are as followed: January.3-4th Fernie Alpine Resort, January.10-11th Red Mountain Resort, March.21-22nd Kicking Horse Mountain Resort and March 7th Valhalla Powder Cats.
Participants will spend two action packed days, improving skiing skills with professional coaches, testing out new Rossignol skis, eating exquisite lunches and sharing laughs with new friends. Community building and goal setting workshops will be implanted to help all attendees become aware of their personal potential on and off skis.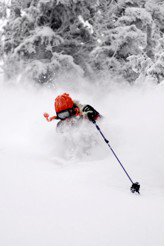 photo by Francois Marseille
"Girls Day out was great! I learned new tips in an open, comfortable and fun environment. I also got to learn from some awesome ladies, thanks so much I needed this!" -Megan Stewart, Girls Day Out attendee, age 27
Registration for events can be done on http://www.girlsdoski.com and is open to intermediate and expert female skiers ages 13-50.Camp price includes: Two day camp, Rossignol demos, Professional Coaching, two lunches, Motivational workshop, On site professional photographer, prizes and the opportunity to meet professional big mountain skiers. Prices excluding lift tickets are as followed: Fernie Alpine resort- $ 170 Red Mountain Resort- $150 Kicking Horse Mountain Resort- $170 and Valhalla Cat-Skiing $340

Girls Do Ski is the presenter of Girls Day Out events, owned and operated by Leah Evans. Leah is a Rossland B.C. native and current competitor on the Canadian big mountain circuit. Having a direct relationship with the media and athletes, Leah was exposed to the minimal media coverage and established programs for female big mountain skiers. Leah's goal is to provide females with encouragement to help them realize there full potential on and off skis.