Ski: Faction Candide 4.0 2016
Length skied: 190
Shape: 150-122-140
Mount: "Candide" - 2 back of centre
Days skied: 20+
Reviewer height/weight: 6'1" / 165lbs
Conditions skied: Powder, Crud, Cliffs, Pillows, Park
See a more detailed rating of the ski in the review section.
Faction skis' Candide 4.0s are the elder statesmen of the Candide lineup. At 122mm underfoot they are well within the realm of big mountain freeride, although lightweight materials and innovative construction allow this heavyweight to perform like smaller, more nimble skis.
The 4.0s are just the right mix of power and agility; they're wide and surfy in powder, and in steep terrain they charge as if they might never get the opportunity again. They are the best skis that I have ever ridden although I don't have much prior experience riding big mountain or powder skis.
It took me roughly 7 days of riding to get comfortable on the 4.0. A friend said to me on the first day, it "looks like they're pulling you around," and that was accurate. It was difficult to pivot, and I felt like every time I set an edge I was getting wrenched in that direction. I found myself butt checking or hip checking a few steep turns. Trying to negotiate a narrow traverse line or making turns in trees tighter than, say, 15 feet apart, was a serious challenge.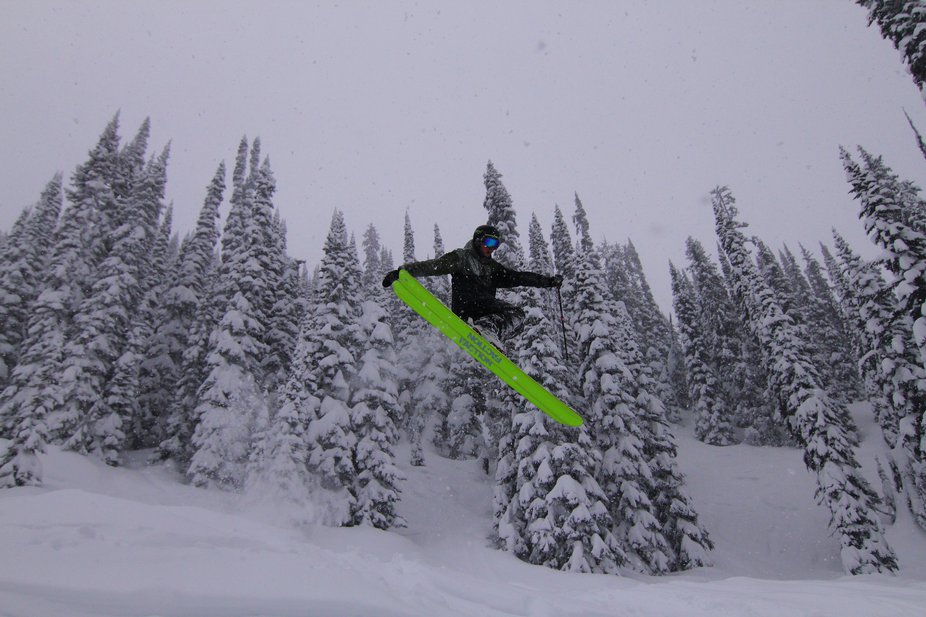 Hover hands
Once I became more comfortable with this bigger ski (and gained a little leg strength) the 4.0s allowed me to approach the mountain in ways I never had before. I stopped worrying about getting bucked around by afternoon chop. The 4.0 ploughs through crud ferociously, and remains stable once you set an edge and commit. On the lower half of Revelstoke Mountain Resort, where conditions can be several degrees different from the alpine, the 4.0 excels on the varying terrain. Its 28m turning radius (at 190cm) is conducive to big turns at high speed, and the lightweight construction allows me to pivot quickly to shed speed.
With the 4.0 I also found the confidence to hit bigger and burlier features. RMR has a wealth of advanced in-bound terrain, and the 4.0 provided the stability to sample it all. I boosted airs from two to 25 feet and felt like I was stomping the landing every time. At 122 underfoot, the 4.0 provides a really solid platform for landing tricks, and they won't abandon you on your mach-speed run out. The rockered profile also makes the 190 feel smaller and more playful, opening the door for pow slashes and butters.
http://www.newschoolers.com/videos/watch/814765/Sam-Candide-4-0-Review-wmv
4.0 in action! video courtesy: Blake-John / Play Tree Productions
The drawbacks that I can identify in the 4.0 are few, but they are still there. For one, I think I would have preferred a 183cm ski to a 190cm. Performing kick turns is a challenge, and I have backed out of lines that require too much billy-goating for fear of not being able to maneuver the ski like I would need. For another, they are best used going straight at high speed, which makes more mundane days at the resort a bit of a test. Tight turns are not this ski's forte.
In all, I think the 4.0 is an exceptional ski. If its job is to ski steep lines, to offer a stable landing pad for airs, pillows and cliffs, and to go fast, then the 4.0 is the right candidate.