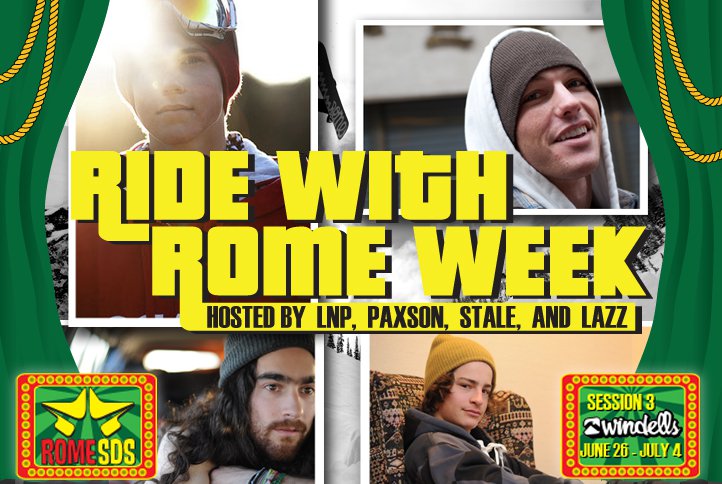 ROME COMMUNIQUE:
ROME SDS?ROME TEAM AT WINDELLS
January 20th, 2010
Summer camp for lots of people evokes memories of paddling canoes, ghost stories, and enthralling activities such as basket weaving, marshmallow roasting and friendship bracelet braiding. For the lucky campers at Windells however, summer camp will mean days of shredding up on Mt. Hood in Windells private park, launching into the brand new on-campus snowboard bag-jump, and skating brand new and unbelievable skate parks. And if you?re headed to Windell?s 3rd session, it will mean hanging out and riding with the Rome Pro Team.
This year, during Session 3, campers will be joined by Rome pros LNP, Johnnie Paxson, Staale Sandbech, and Johnny Lazz. From June 26th till July 4th they?ll be at Windells riding with campers and enjoying the camp lifestyle. Word has it that Lazz should be spending most of his summer there as well.
If you decided skip class a bunch this past year and now have to attend summer school, we?ll understand why you won?t be able to make it to Windell?s. We know it sucks, and some of us have been there ourselves. Regardless, we?ll be sure to keep you up to date with photos and re-caps of the good times going down out there to give you something to look forward to next year. Just keep an eye on http://www.romesnowboards.com.
For more news and Rome SDS happenings keep an eye on http://www.romesnowboards.com, http://www.facebook.com/romesnowboards and http://www.twitter.com/romesds.
Related posts:Team Terror: The Rome Session at Windells
Knockout with the Rome Terror Team
Slasher Night with Rome and friends from Skull Candy and Arbor