We started at 6:30 am in Collingwood, Ontario. The 2003 Chevy Malibu packed to the brim with 3 months worth of living and the Yakima box overflowing.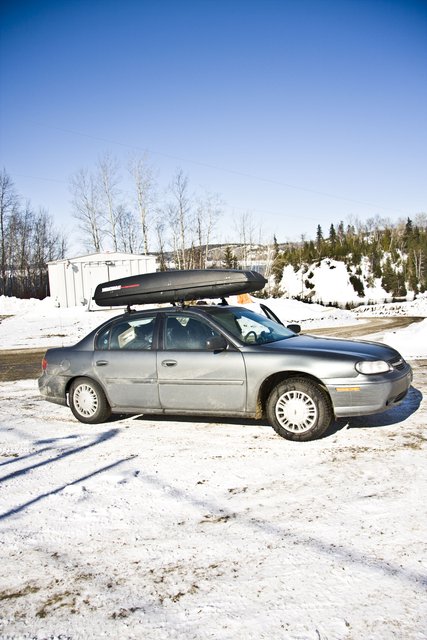 Day 1 was a trip up to Wawa, Ontario, which if you dont know, is smack dab in the middle of no where north of Lake Superior. With the temperature at -30, we were forced to unload an enormous amount of liquids that would surely freeze and then explode. The next morning we took off at 9:30 with our sights set on Thunderbay. The drive up to T-Bay was spectacular. We had more than enough time on day 2 so we stopped at a bunch of places to get some pics.
 When we arrived at the families place where we were staying, we were served a hardy meal of pork chops and other healthy things. Later on, we indulged in alittle Rick Mercer. Funny guy. Day 3 and 4 were hell! All i can say is never go to Saskatchewan or Manitoba unless you are passing through.
For the third night of the trip we stayed in Brandon, Manitoba where we enjoyed our first legal night in a pub. The next morning we took of at 11, hoping to get to Medicine Hat. With the cruise control set at 130 km/h, we were able blow through the prairies and stretch the drive out all the way to Lethbridge.
Once we arrived we avoided eating at a Denny's by microwaving some soup in our room. Close call eh. The next morning we took off at 9 and were able to reach Nelson, where we are currently staying with an incredibely nice family who moved out here a few years back.
Thats it for the first 5 days of the trip. More to follow.