Interview & photos by Jeff Schmuck
Over the past winter Jiberish received a lot of questions regarding the lack of edits that everyone had become accustomed to seeing. We were curious too, so when we hit them up about it, they gave us an answer that got us really excited. Turns out the reason why they only put out one edit this year was because they have been stockpiling footage for their first ever Jiberish movie, "Right Back Where We Started". The HD film will feature the Jiberish Family of athletes and will be available for free online in August.  We recently caught up with Jiberish founder Pete Drago and asked him a few questions about their newest project and to get an update on what he and the boys have been up to.
Pete, this is the first I had heard of this project. How long have you guys had this in the works?  
It is definitely something we have wanted to do for a long time. I really liked the Joystick movie "Hot Lunch" when it came out and we had been talking about doing our own flick at that time but just could not get it done then. We talked about it two seasons ago as well but we went forward with our edits and did the 3 Chapters for EXPN. This past season we made only one edit, "Do Werk", to keep the jackals at bay while we kept shooting throughout the winter for our movie. It was a pretty big undertaking with a lot of moving parts but once we told our athletes about our plan going into this winter they were all on board with making this happen. We did not talk about it publicly much or promote it because we wanted to see what we had first. Properly managing expectations is a pretty important part of running a brand. The thought of the hype machine getting fired-up on NS back in November was not something we wanted to deal with...you know as well as anyone how things can get out of hand on here (laughs). Plus, we like to try to fly under the radar as much as possible while still running a growing business. In today's age these kids like to discover things on their own rather than feeling like they are being marketing to.  
Good point. What was your motivation for making this movie and how did it come to be?  
With this featurette we wanted to take a proactive approach to educate people as to what was happening in our world. Jiberish is sold in retail stores in 16 countries through a mix of both ski/skate/snowboard shops as well urban fashion boutiques. In some of these retail locations the people buying our clothing are not familiar with skiing or what is taking place in the action sports universe. That lack of awareness is something that we wanted to address by using our brand's exposure to fill people in. The hangtags for our Winter 2011 clothing will have information about our movie and will direct people to our site to give them a look into our world. We thought that if we could expose this film to these people then we could help the masses understand more about what has been taking place in skiing right now. Most of these customers will be aware of snowboarding and skating, but few outside of the Newschoolers community have any idea that you can ski in a terrain park or who Tom Wallisch is. Instead of sitting back and waiting for others to find out, we are going to bring it to them directly in a proactive manner. Any extra exposure the sport can get outside of our bubble is a good thing in our eyes and in our athletes' eyes.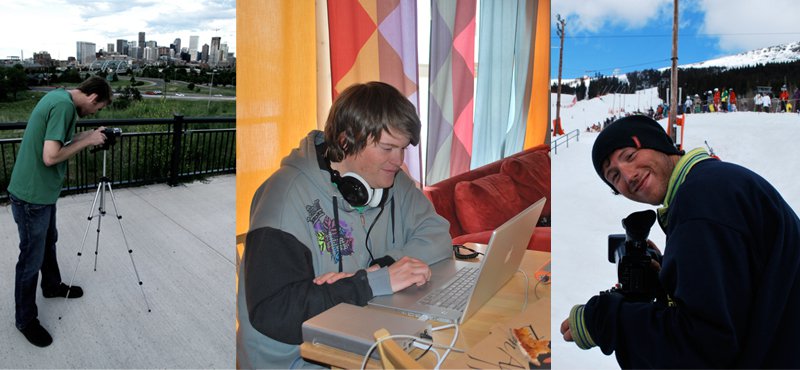 Blake Kimmel, Duncan Lake, AJ Dakoulas
What can we expect from the film?
I'll start by saying that "Right Back Where We Started" is not a big-budget, blockbuster movie with helicopter follow cams of helicopter follow cams (laughs). It is, in essence, an extension of the edits we have created over the years. It is the Jiberish Family of athletes having fun and doing what they do best in the park and on the street. We are so fortunate to have a team with these obscenely stylish athletes and the fact that we are all friends makes our job really fun. Blake Kimmel is the primary cinematographer and he is the creative force behind the whole project. Blake did "The Spotlight Project" back in the day, which we loved, so naturally I am really stoked on what is putting together. Duncan Lake was also very involved this past season and he got some great footage for us. We also had help from a lot of very talented filmers and a big thanks definitely goes out to guys like Pete Alport, Cameron Fair, Kyle Decker, Brandon Husak, Mike Clarke, AJ Dakoulas, and others for contributing to this. The movie is going to be free, and it is our way of trying to give back to the community that has been so incredibly supportive of us over the years. We'll also being doing a live premiere, which will be hosted online right here on Newschoolers on Thursday, August 19th at 7:30pm MST.  Then seven days after the premiere, on August 26th, the film will be available for free to everyone with a computer and an Internet connection.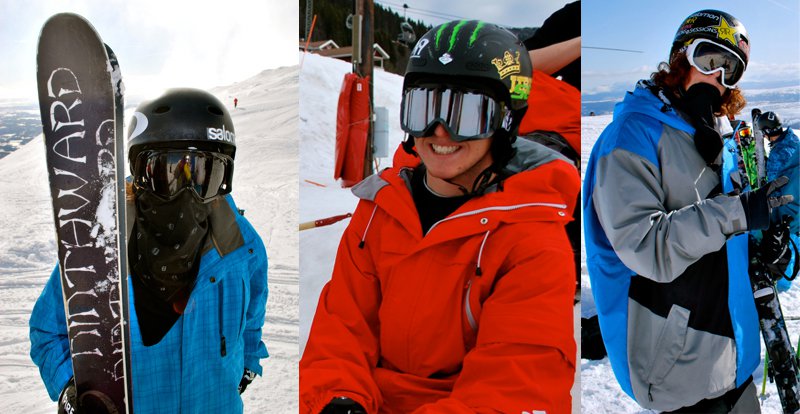 Henrik Harlaut, Tom Wallisch, Matt Walker
Who's in the movie?
We made the movie with our Family so it stars Tom Wallisch, Mike Hornbeck, Adam Delorme, AJ Kemppainen, Justin Norman, Matt Walker, Henrik Harlaut, Corey Vanular, Ian Cosco, Jon Brogan, Keri Herman, Andrew Hathaway, Joe Mango, and three of our newest members of the Family: Seamus Flanagan, Stephen Richards and Elijah Moore.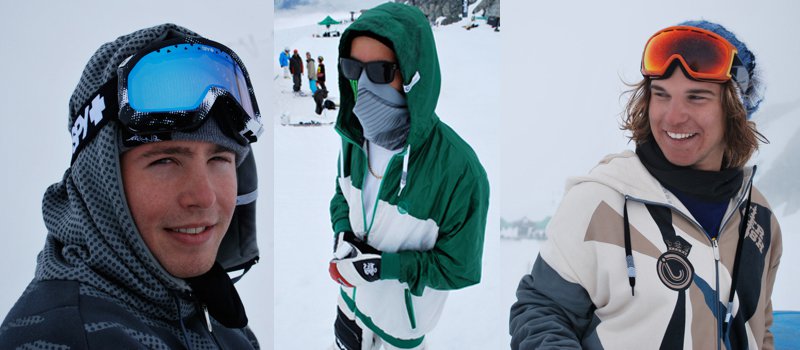 Corey Vanular, Ian Cosco, AJ Kemppainen
Tell us about the new guys and their stories.
Seamus is a little 13-year-old shredder from Minneapolis. In fact, he and his brothers Aiden and Paddy all kill it.  We have known Seamus since he was 11 and we spent some time with him both on and off the hill and so have our athletes over the years. Seamus's footage will open some eyes for sure. The rails look as tall as he is in a lot of the shots so it's crazy to think about what he did. Stephen and Elijah are skateboarders, and we got to know them over the past year through the ski industry actually. Elijah was skating up in Boulder and our guys up there kept talking about him. Eventually we got a chance to get to know him and started hooking him up with some gear. As time passed he naturally moved right into the program and could not be a better fit. Stephen is out of Sacramento and funny enough, someone on NS was hyping him a while back. We loved his promo and we did a little background research on him and everything came back real solid. We reached out to get to know him and kicked him a few pieces from the line. Then we flew him out for the Level 1 premiere last Fall to test the waters and he immediately connected with our athletes and that sealed the deal. Blake spent some time filming them over the past year and both of them were out here last week to shoot some last minute stuff. One of the things that really excites us is that both Elijah and Stephen are very stoked on what has been going on in the skiing world and wanted to be a part of what we do. Additionally, their style is absolutely on point and obviously that is always a big deal for us.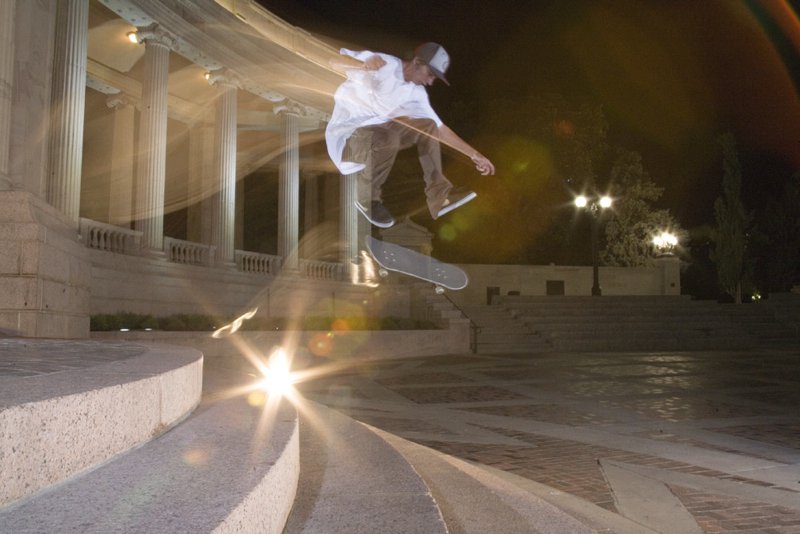 Stephen Richards tre-flips down a big 6. Photo: Jack Boyd
Looking ahead a bit, what's in store for you guys this coming winter?
We have some things in the works. The new collection that comes out this Winter is, by far, our biggest yet and it took a ton of work to pull it off. The catalogue is over 100 pages long and we added a number of new pieces to go with our traditional clothing so there is quite a bit to choose from. Instead of making more of each piece we decided to continue expanding the number of styles. It is not a recipe for lucrative profitability but that is not our focus right now. We just want our customers to know that they have something that is extremely limited and hopefully they appreciate the work that went into it. At our size it is important to build that type of relationship with our clients. For this winter we have new Ignant vests, goose-down puffy vests, crewnecks, hoodies, henleys, new denim, beanies, New Era fitteds, and an expanded Grand Cru Collection with hooded button-downs, sweaters, snap-up jackets, etc. As always everything we make in our line from tees to button-downs is 100% cut-and-sew construction and the cotton is all organic. The details and notions are even more fine-tuned and the range is super wide. There will also be very some special collaborations that we will be announcing down the road and we are real stoked on what is coming down the pipe.

Care to elaborate at all on that last part?
Can't talk about them at this stage. Not trying to be a jerk but we aren't the only ones who make those decisions with these projects and until they are further along we aren't comfortable talking about them. Apologies.   
How's the new Jiberish LoHi store doing in Denver?   
It has been pretty amazing really. The fact that we can meet our customers face to face and have a chance to interact with them has been surreal. The location is great and being on Platte Street in the Lower Highlands was always our goal. We built the interior ourselves and it turned out really well. The fact that we ended up there could not be better for us...it is a great neighborhood in the Downtown area and near so much cool stuff.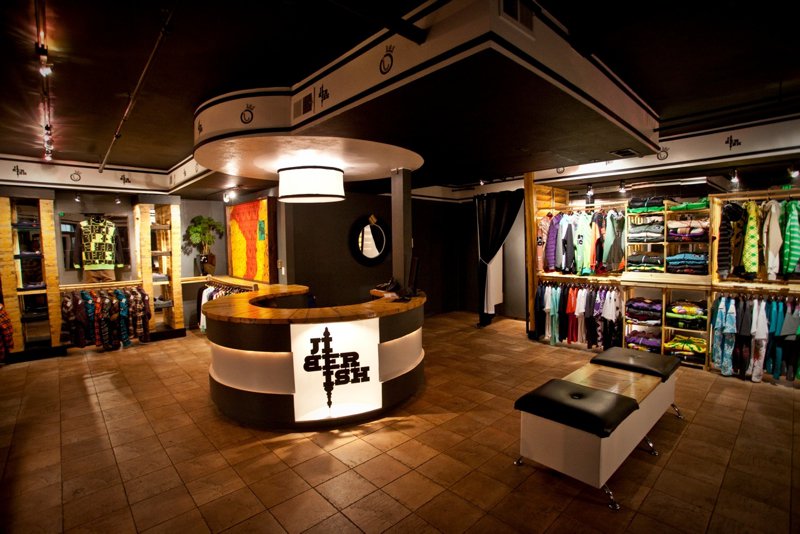 The Jiberish LoHi store in Downtown Denver. Photo: Chip Kalback
Do you have any plans for more Jiberish stores in other cities?
It has been discussed. Nothing is concrete and no leases have been signed at this point but we are considering our options.
Any shout-outs you want to toss out there?
We definitely want to thank everyone who has supported us over the years. It is super humbling to have the backing we have had. Our passion to continue to create and push the creative envelope is fueled, in part, by the tremendous response we have had to the garments we have made. We also need to thank everyone in the Jiberish Family who has helped to make "Right Back Where We Started" happen and the filmers who contributed to it. We hope people enjoy it as much as we enjoyed making it!
"Right Back Where We Started" Trailer 2010 from Jiberish Clothing on Vimeo.