Words & photos by Josh Anderson
The trip started normally enough with late-night, last minute packing, waking up late for the rendezvous and forgetting minor accessories, like my passport. But then the fates sidelined normal for their reliever, trouble. As we rocked down I-80 from Truckee to Reno I noticed a thin white smoke emanating from my tailpipe, followed by a menacing rise in temperature. Long story short, four hours and a tow truck later we left the Auto Doctor in my homie Ben's tightly packed automobile bound for The Canadian Freeskiing Championships in Revelstoke, BC and I ruminated on the thousands of dollars I would get to scratch together for my ailing Subaru at my return. Ben even sacrificed returning to the auto shop for his forgotten iPhone to break our cursed morning and we settled down for the 13 hour drive to our parents' places near Seattle where we'd meet up with our friends Niel, Mat, Mat's dad Mike and Mike's awesome fifth wheel mobile-condo-command center.
The second leg of the drive proved no less exciting with one of our crew being questionably eligible to enter Canada, Twitter warnings by head judge Jim Jack of booze confiscated at the border and a 70mph chase behind Mike and the fifth wheel in a blizzard rolling into Revy. But then after two days of driving excitement we actually managed to pull into the Revelstoke Super 8 in fine form, where four others and I were to delight in sharing a room. The snow fell outside, I staked my claim to some bed real estate, closed my eyes and let the snow pile up over the past.
The weather forecast called for four days of snow and the competition schedule set out a registration and warm up day, qualification round, two days of competition and two weather days, both of which would be used. Revelstoke is a massive mountain with hidden pillow lines, steep trees and big Canadian Rockies alpine all serviced by two lifts and a gondola, which almost never have any sort of line. I say almost because Thursday marked the biggest 24-hour snowfall since the resort's reopening four years ago, and for two days there was a gondola line to match. Our first day, Wednesday, however was easy: grab tickets and registration from the event organizers; do some brief inspection of the qualifier venue; find low-tide stumps in the plentiful tree zones; shred chalky, packed storm snow until the sun dips and our legs give out; call it a day with some beers in the trailer, a soak at the Super 8 and some hearty pasta bowls across the street at Zala's.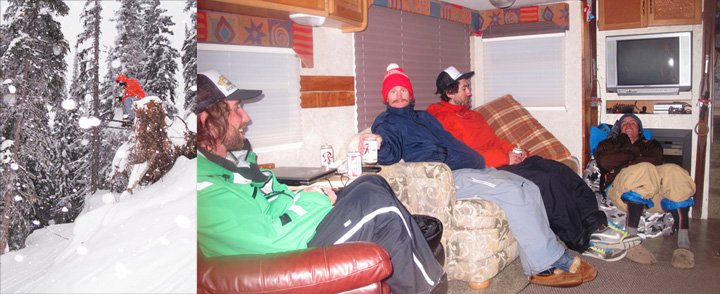 Rainiers in the apres-trailer.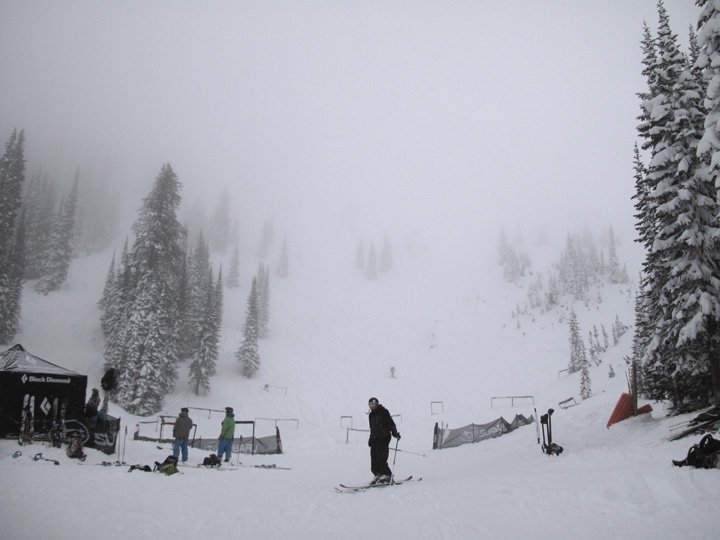 The qualification venue getting some champagne poh-der.
Properly carb-loaded and not too hung over we awoke Thursday to some sweet boot dryer stank in the room and plentiful fluffy white stuff outside. This was to be the qualifier day where most of us would be hustling our way back into the real deal event, but all of the snow and all of the dutiful powder hounds in attendance slowed down the lift opening process while heavy snow and pea soup clouds above slowed down the competition process. In the end, the ladies finished their qualifier with six of 19 moving on to the show, while eight gents got a crack at the venue before the soup settled in. In the meantime the rest of us got down on bouncy, pillowy pow, ripping runs through the trees, pillows, rollers, spines, cliffs, wind lips, and pow groomers that litter Revelstoke. It was awesome. Then we had a little athlete meeting, drank some free Sierra Nevada Pale Ale, aprèsed in the trailer and got ready for the free food and beer party in town at the Regent, followed by a showing of the GNAR Movie. It was, all in all, a day well seized. I know tour shredder Scott McBrayer loved it all because he was quite jovially enthusiastic about the awesomeness of GNAR, and it was totally not due to the free beer. I also saw long time park killer and Windell's coach Tommy Ellingson, and tour newcomer Collin Collins getting nasty on the hill earlier, with lots of powdery 180's, steezy 3's and nollie front flips. But that's enough for the rumor-mill.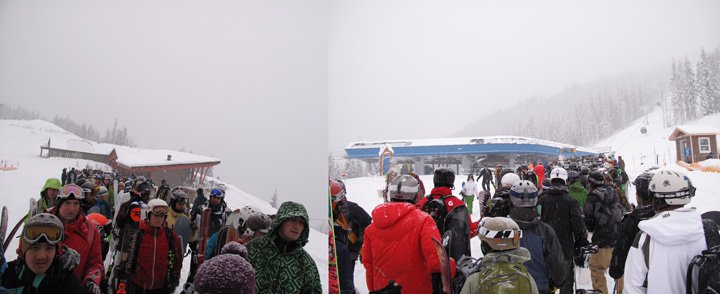 Gondy hordes
Female qualifier, cheezin.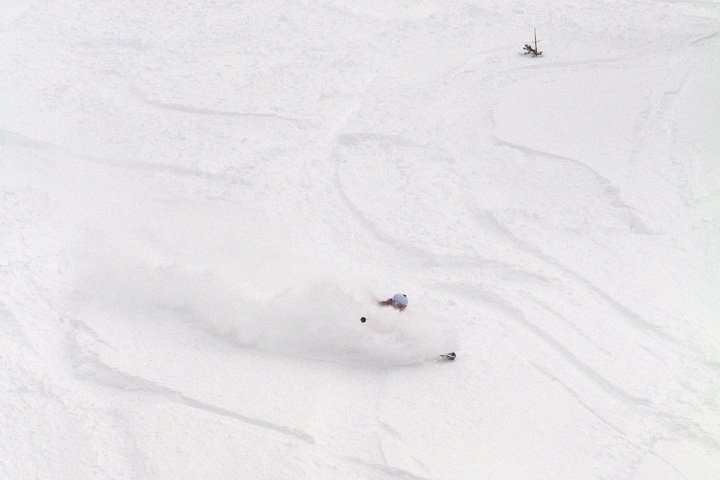 Swede, Jana Lindquist, getting trenchtowned in the contest. Comp days are always this good, I swear.
Our third day in Revy, Friday, brought more fresh snow and another significant gondy lineup. The resort must've been ecstatic. The male competitors weren't too upset either, with several more inches of fresh on the venue and, between thick layers of cloud (judge Jamie Burge referred to it as "milk jug"), a clear layer sitting right at the elevation of the venue. The incredible judging panel of Jim Norm Jack, Dash Longe, Jamie Burge, Andrew Shepard and Chris Rubens had their work cut out for them. FWT Qualifier events are nearly as intense as the competitions themselves, with plenty of hungry riders showing up for a very few spots in the show. Only 20 of 54 riders moved out of day one, including Collin Collins, Rossland's own Colston VB, winner of the day Phil Hudec, little brothers Silas Chickering Ayers and Nick Leboe, Kirkwood ripper Spencer Brinson, a former racer ripper friend of mine Kyle Taylor, and young buck phenom Sam Cohen. Plenty of excellent riders got tossed as well, including Japanese favorite Yu Sasaki, everyone I came up with from Squaw, Tommy Ellingson, and myself. I'll show you why. This is exactly what not to do in a comp run, or any run for that matter. Though, it turned out a lot better than Jason Astle's run, which he completed with style and a severely broken arm having stomped hard enough to crush it on his first air.
How not to perform in a freeskiing event, or while skiing in general.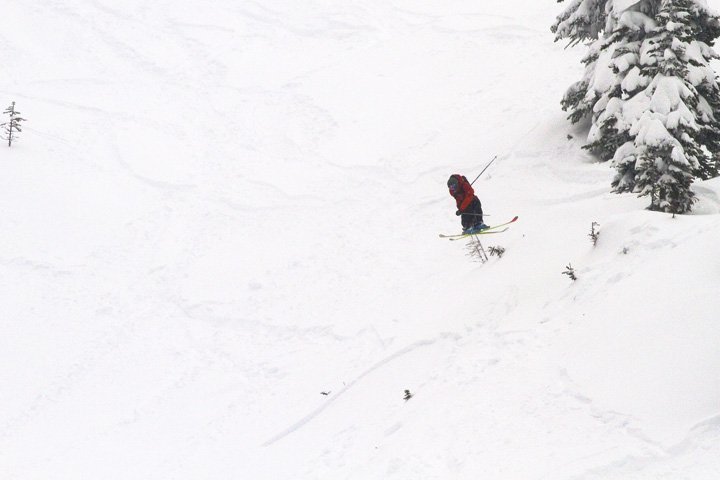 Ben Paciotti likes shifties more than most.
Disregarding those lowlights from the day, some highlights included runs Dash considered exactly the fun kind of riding he wanted to see, and while cruising back to the hill after a little jaunt to town for some stitches in my elbow from that sneaky rock in my run picking up hitchhiking French superstar Julien Lopez for a ride back to the hill. The encounter was funny enough as we'd seen team France fully high sided in their rental car in the parking lot earlier, but that papa Mike Jackson fully scored a GNAR point tallying "pro call out" was absolute gold. I hear there was a pretty rowdy Hot Dog: The Movie party after it all but I was beat and passed out like an old man in our den at the Super 8, nursing my bruises and stitches from my earlier rocky encounter.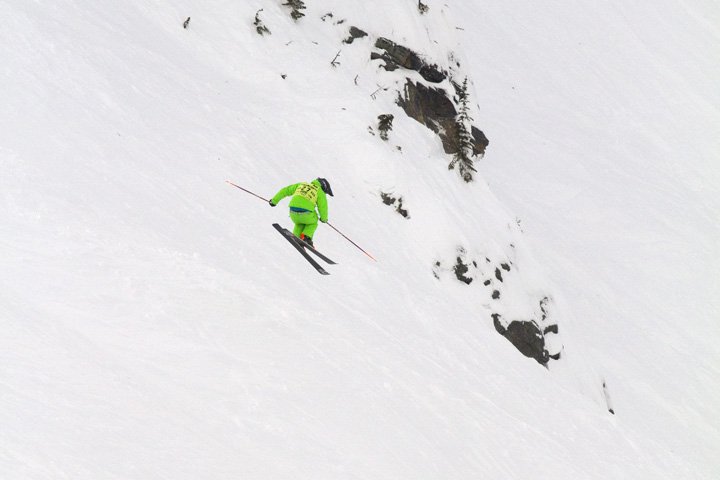 "Hey aren't you Julien Lopez? I can't believe you're a pro skier, I'm so much better than you."
Saturday we awoke to bluebird skies in town, getting our first glimpse at the magnificently impressive peaks around the Columbia River valley. But hovering directly over the Day 1 competition venue in North Bowl was an immovable "milk jug." After an hour or so of waiting and mingling in the hut atop the Stoke chair, the event was called. Athletes and judges dispersed to the new local aquatic center, the bars in town and the glades of Revelstoke for more pow shredding. Weather day number two was burned and the street party planned to coincide with finals was well attended but not as well as it would've been, or so I'm told. I was down for the count again but I heard plenty of people talking later about a grand time getting properly housed.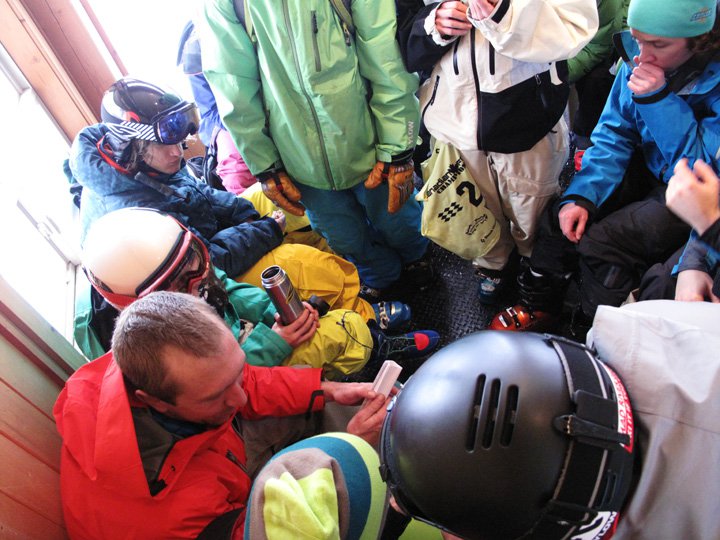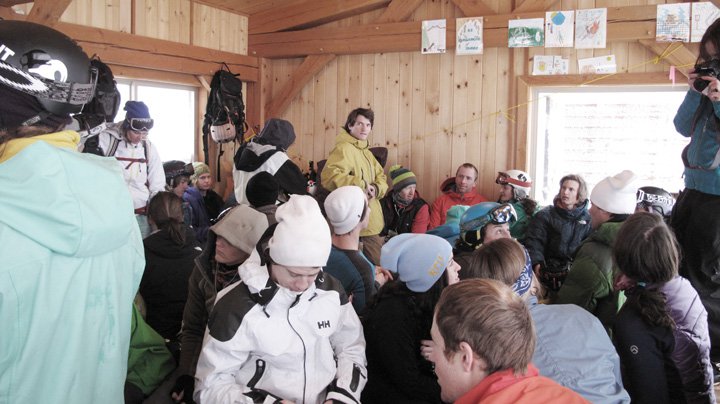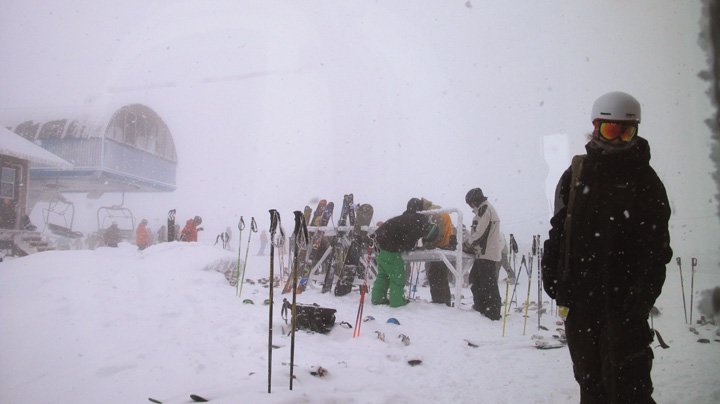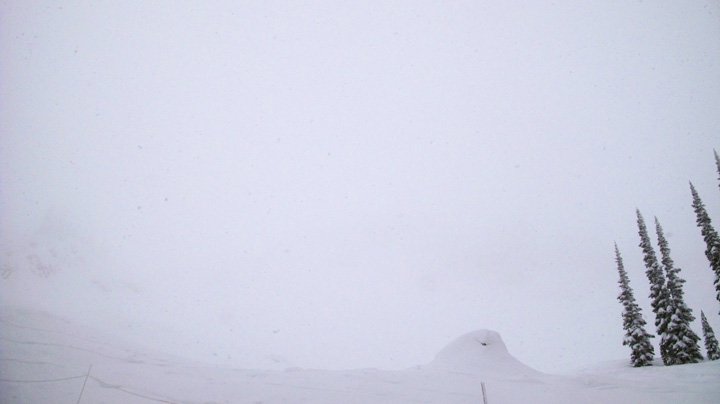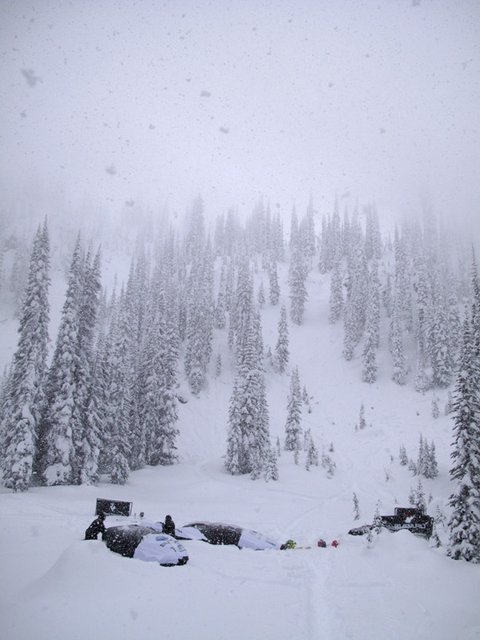 Waiting...
Sunday morning brought clear skies, frigid temps and a rebate for Day 1 of the competition. Things got going around 10:30 and the girls came out firing with Leah Evans of Red Mountain, BC taking the lead with a fast, technical run through the spiny tree lines to skier's left. Tour big gun Jacqui Edgerly, recent racer crossover Tatum Monod, and Squaw skier and little sis of Olympian Julia, Sara Mancuso, all had killer runs with fast, aggressive skiing and solid airs. I think I even heard some fireworks whizzing around for Mancuso's run, maybe. On the guys' side, a lot of pre-run chatter about a particular triple line in the skier's left zone that worked so well for Evans materialized into some phenomenal lines by day winner Drew Tabke and a few others. My buddy Mat Jackson tore one up in the same area, sending a sweet double line further skier's left and getting himself 3rd for the day. Lars Chickering Ayers ripped through a rocky chute in the middle of the venue to take second for the day. The updated judging panel and new rules, replacing the former aggression category with one for style, really had an effect as well, with riders chucking massive back flips, mid-run 3's and Collin Collins corking out a 7, which Dash referred to as "sicker than H1N1." I personally liked Mark Welgos' and Chuck Mumford's airs through the area near Chickering Ayers' line as well. As for myself, I froze my feet and fingers off in the shade below the ridge getting these fine shots for you folks.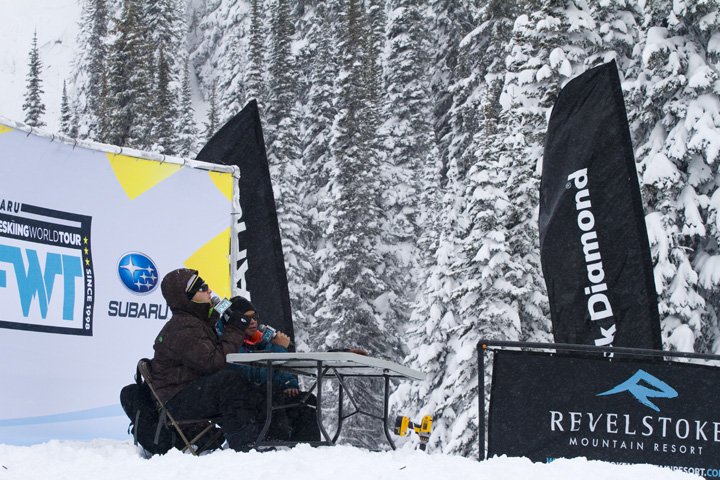 Announcers Extraordinaire Max Kuszaj and Frankie Alisuag.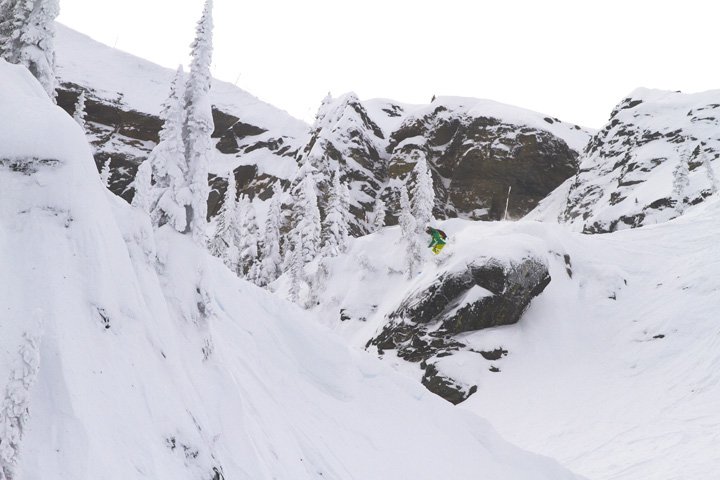 Jacqui Edgerly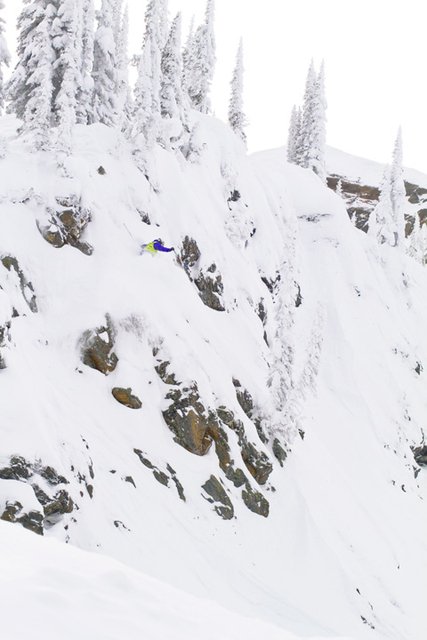 Sara Mancuso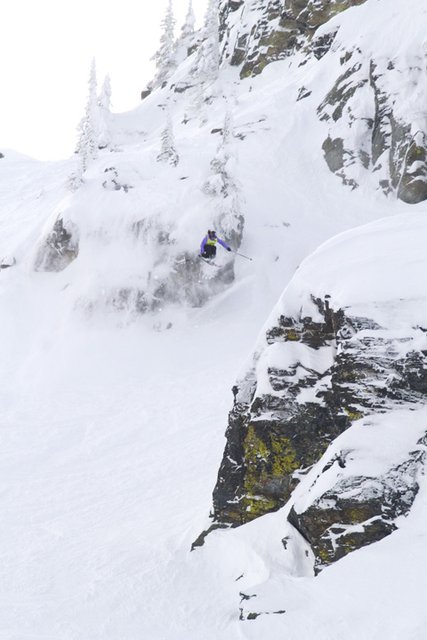 Tatum Monod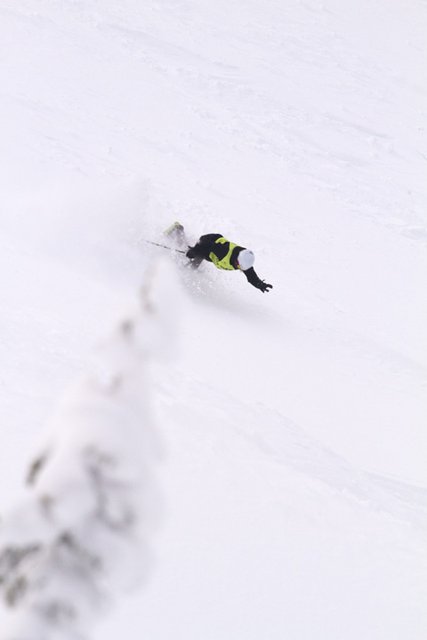 I apologize for laughing, miss.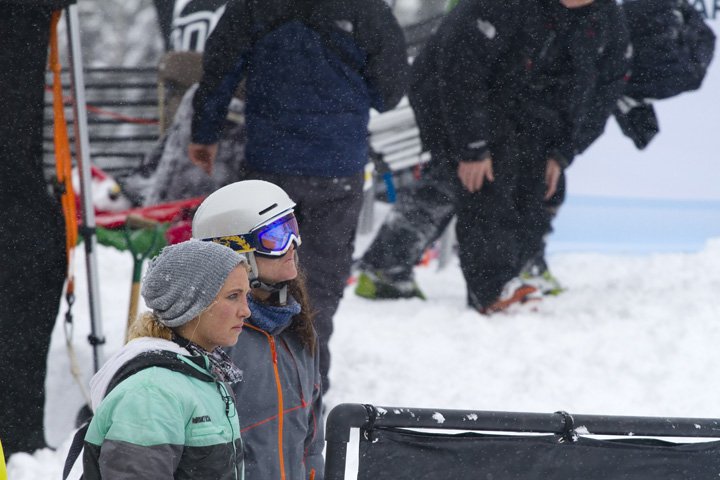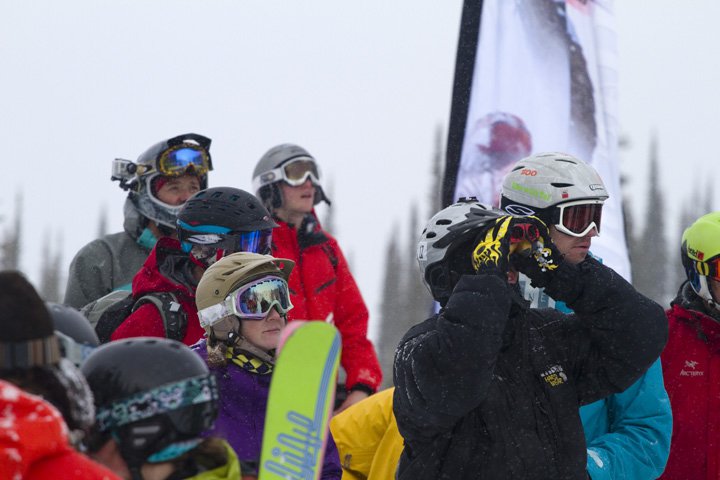 Competitors. Spectators.
Drew Tabke crushing it.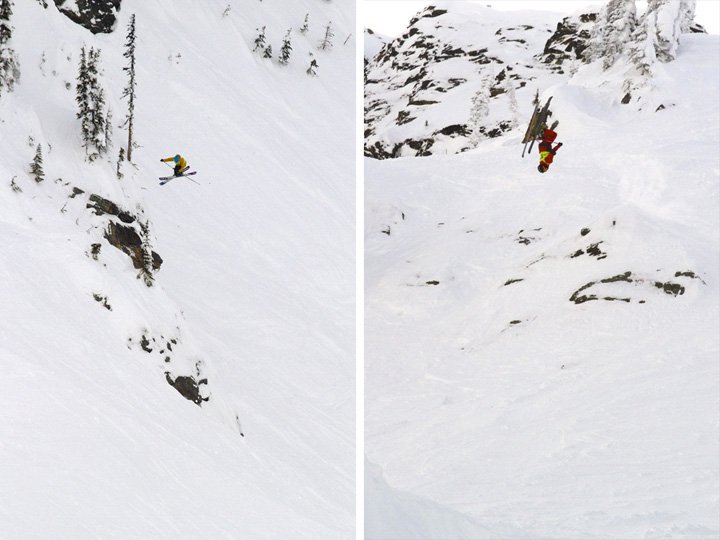 Colston VB and Michael Gardner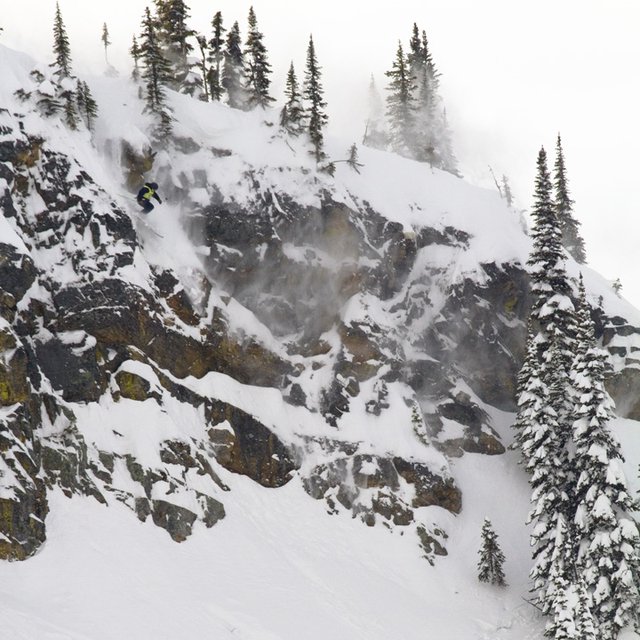 Chuck Mumford aka Buck Manford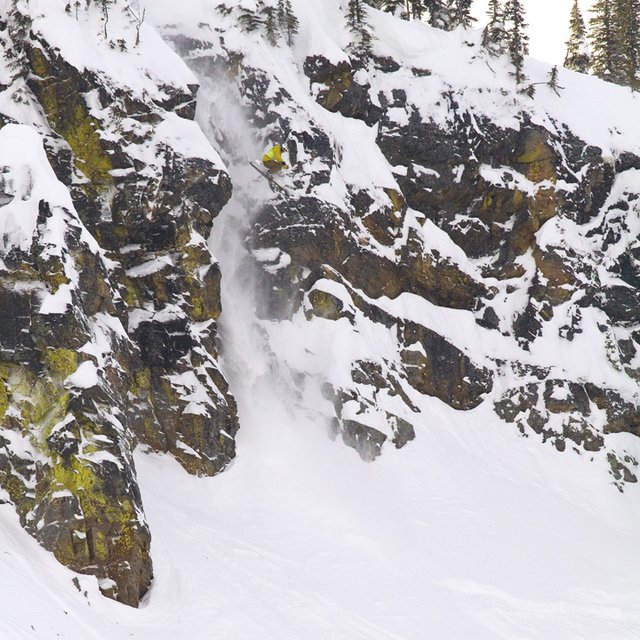 Mark Welgos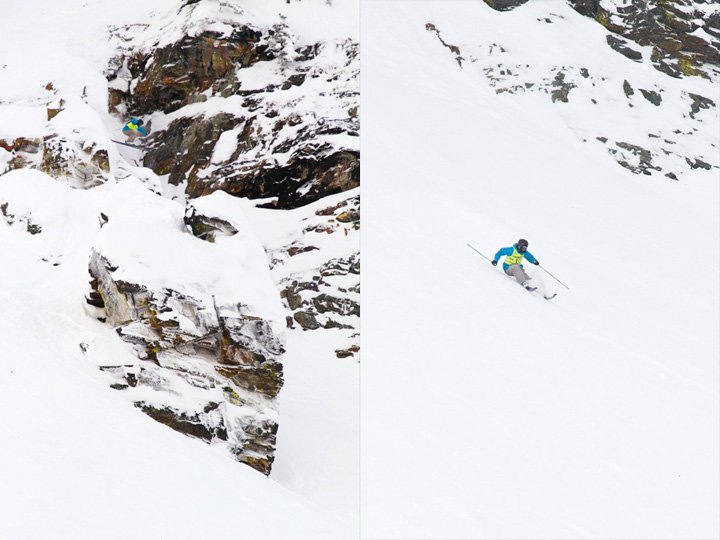 Connery Lundin

Ben Ogilvie, I don't know you, but don't do like me. Don't be that guy.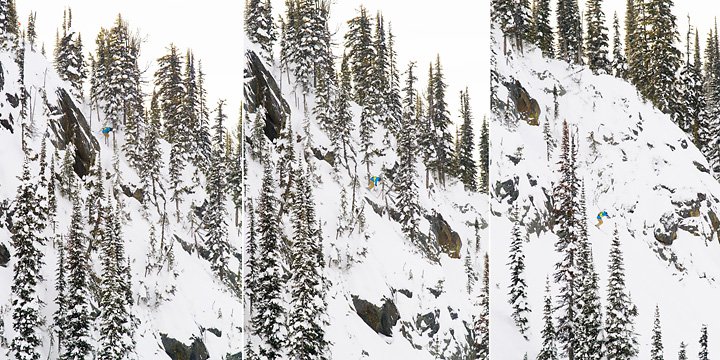 Mat Jackson's double, x 3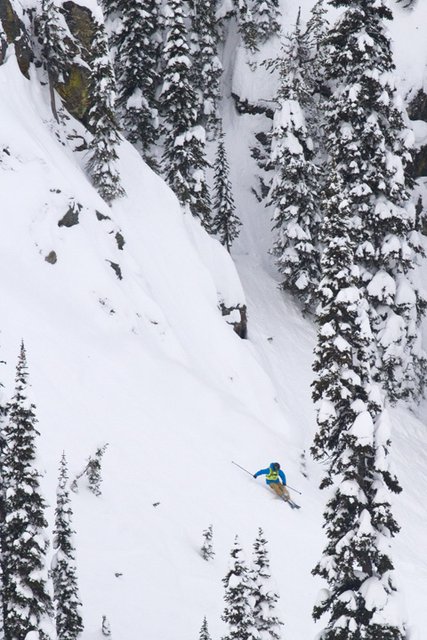 Mat Jackson's double, powering out.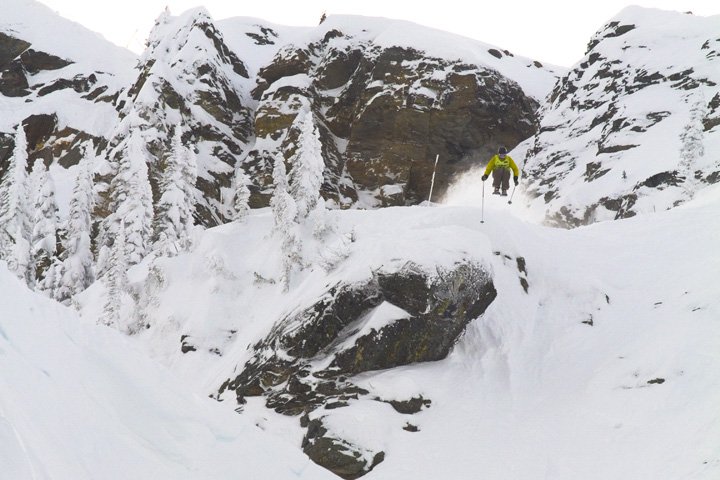 Sean Cochrane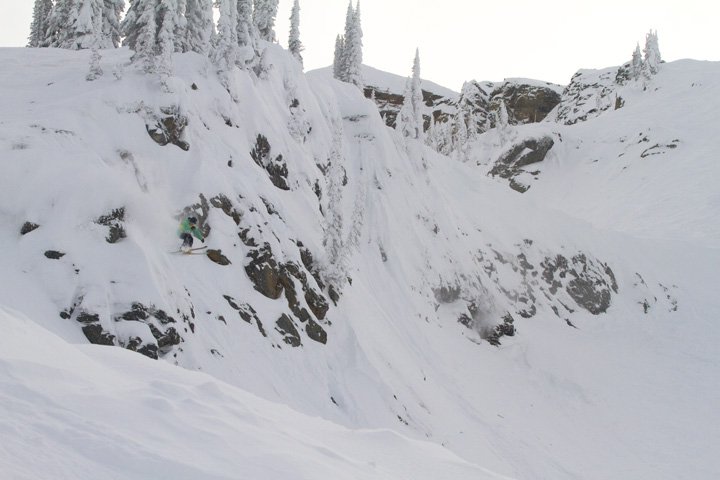 Spencer Brinson
And that was that. With Day 1 done, my little crew piled back into the Ben's Subie for the two-day drive home, driving right through Seattle and right past Crystal Mountain, where it is currently hammering snow. In contrast to going to work tomorrow, that now seems like a very poor choice. Whoever gets some of that storm I salute and envy you. Drink one for me at The Elk and go rip the sh*t out of South East Trees or Left Angle. Thanks for reading my ramblings, I know they were long, but so was the adventure that created them. Cheers. Check out Freeskiing World Tour for more coverage. And check out Unofficial Squaw for more on GNAR.
Final Results
Ladies 
1) Leah Evans - 66.16
2) Tatum Monod - 46.90
3) Nicole Derksenv- 42.10
4) Crystal Wright - 41.70
5) Louise Lintilhac - 37.03
6) Jacqui Edgerly - 33.27   
7) Sara Rose Mancuso - 25.67
Gentlemen
1) Lars Chickering Ayers - 79.37
2) Drew Tabke - 72.33
3) Spencer Brinson - 71.67
4) Connery Lundin - 69.57
5) Aaron Schmidt - 67.50
6) Caleb Brown - 66.20
7) Mat Jackson - 65.63
8) Sam Cohen - 63.30
9) Griffin Post - 62.23
10) North Parker - 60.14
11) Dominick Malaussena - 59.84
12) Matt Potter - 57.17
13) Ryan Hawks - 56.83
14) Sean Cochrane - 51.50
15) Carter McMillan - 51.10
16) Dylan Crossman - 48.23
17) Collin Collins - 46.94
18) Gord Spurgeon - 46.00
19) Matt Luczkow - 44.90
20) Drew Stoecklein - 30.70
 
My final thoughts on leaving Revy: When can I go back?