Liberty Helix 88 2022
Length skiied: 182
Dimensions: 118-88-118
Skier info:
6'/183 cm, 220 lb/99 kg
Bindings used: Tyrolia Attack 14
Conditions skiied: Groomed natural snow, park, powder, spring slush, frozen crust, variable chop
INTRODUCTION
When I first heard of Liberty Skis, around 2005, I remember thinking they were up there with Armada and Line as one of the coolest companies out- an independent brand making only twintips with cool graphics. I became aware of the company when the best skier at my local hill got a Liberty trucker hat. A few years later they gave Phil Larose a pro model, which I thought was a real classy move.
Now, close to 20 years later, the company has a big presence in Canada which is appealing to me, because import duties (hello? NAFTA?) and the weak Canadian Dollar make it cost prohibitive to order anything from outside the country. Liberty also offers competitive pro-deals for ski industry professionals on their full line of product, which runs the gamut from directional, piste oriented skis to tour specific layups of their big mountain skis.
The Helix 88 is a symmetrical park ski sporting a full bamboo core, with carbon fiber stringers keeping it light and snappy. The ski has a full sidewall from tip to tail and a fast base, giving a nice smooth ride. There are aluminum caps on the tip and tail to minimize damage from impacts. Overall the ski looks well constructed with a nice finish in the shop. I've seen a few warranty claims on Liberty skis over the years, mostly due to De-lam. All claims were resolved positively and swiftly with good customer service throughout the process.
Confusingly, there are two suggested mounting points on the 88s. One is dead center, and one about 5 cm back. If you're buying a symmetrical ski, it defeats the purpose of the ski's shape to be back from the center at all. A disadvantage of this shape is that the ski's useful life may be shorter if you ever have to re-mount the bindings for a similar sole length to the original mount, whereas a ski with even a slightly directional sidecut provides some leeway for different mount points.
GRAPHICS
All things considered, I really don't care what my skis look like, but I do appreciate an interesting graphic that suits the ski, with effort put into the design. Objectively, it's easier to sell a ski that looks cool. Although the Liberty graphics really hit rock bottom for my 2020-21 Helixes, it isn't all bad. The contrasting orange logo against the blue background on the Helix 88 pops nicely, and the die cut graphic on the bases is nice and clean. The graphics have improved for the 2022-23 season, with the dimensions and construction remaining largely, if not completely the same.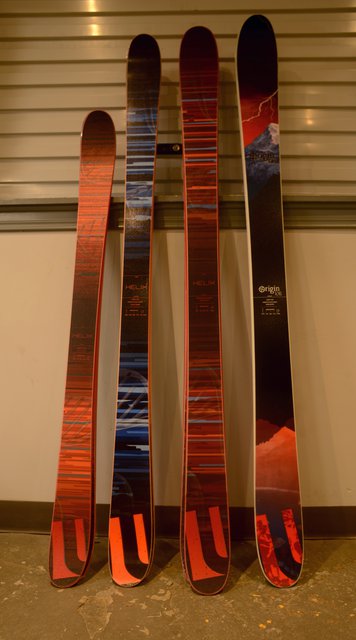 The 2020-21 Helix 88s second from left in this photo.

The current (2022) Helix 88.
SKI PERFORMANCE / CHARACTERISTICS
After a few runs, the Helix 88 started to feel quite comfortable underfoot. I found the low weight and relatively small platform a bit disconcerting at first. I always do some laps on groomers before detuning skis for park so I can enjoy some carving on fresh edges. I put a fresh coat of wax on the skis before taking them out to maximize glide. After a day out on them, I de-tuned the area between the bindings to ~45 degrees. I'm used to skiing with dull edges, and I noticed only a small drop in performance when carving at speed after the detune.
This is a really fun ski for small and medium radius turns on groomed snow. They're quick edge to edge and hold up well at low to medium speed. As you'd expect, it was very easy to carve switch turns at pace. There weren't any moguls to speak of, but I suspect these would do well in bumps, being balanced, quick and easy to pivot. They feel kind of weird running flat. It's much more comfortable to be carving slightly. Skiing at higher speeds these started to feel a bit squirrely. They're not particularly stiff and being in the center of a 182 cm ski, they start to feel very short. I experienced a few terrifying high speed punch-fronts when I hit unexpected soft spots. If you like skiing fast outside the park every day, these aren't a great choice.
When I got into skiing, a powder ski was a fully cambered 90 mm waist ski (Salomon Gun, K2 Seth Vicious, etc). Those skis were just fine in powder. You couldn't butter, slash and surf the way it can be done on rockered, fat skis, but we had a lot of fun on what would be considered a park ski today. The Helix 88 obviously isn't a powder ski, but it will get you through pow with a smile on your face if you have reasonably good technique. In spring snow, you'll have a blast on any ski and these are no exception.
Photo by Erica Faulkner
Park Performance
The Helix 88 is a park ski through and through, and this is where the ski shines. I found the 182 cm length great in the park although it felt very short for all mountain skiing. These are stable and perform flawlessly cruising through the park at any speed appropriate to a terrain park. Making small direction changes and edge adjustments (i.e. setting an edge on a take-off, or carving to hit close together features) feels intuitive. They really are a joy to ski park on, whether you're hitting big jumps, jibbing or buttering and swerving around.
These are the liveliest skis I've ever used. The full camber coupled with the bamboo/carbon core conspire to create exceptional pop regardless of your takeoff angle. To be thorough, I hit some drops with negative takeoff angles, and was able to pop up and out beautifully. This consistent pop makes it easy to ollie/nollie and gives a little extra oomph to whip spins around off small takeoffs and lips, jump over obstacles or get up on to high rails.
One of, if not the most important characteristics for park skis now is the flex and ease of buttering. These are not a super soft ski, but the flex is fairly consistent through the ski's length. I would rate the flex as a 7-8-7. Buttering took some getting used to, as I got tossed up out of the rotation on my first few attempts by the explosive pop of the ski. When I got the hang of these, they were really fun for butters, flexing nicely to stay on the ends of the ski all the way around, or alternatively to pop up out of the butter and finish the rotation at any stage in the trick. The shape and flex of the ski helps to pull through a backseat landing, even on large features, without washing out. I'm impressed how consistently stable the Helix is even landing large airs on flat and bumpy landings. They came in clutch a few times when I went far bigger than expected.
This is a super light ski, and naturally feels balanced in the air with it's symmetrical shape. Swing weight is negligable, enabling quick spins. I've always had trouble spinning fast, but these made it easy to get an extra 180 in. It took no effort to flick the ends of the skis up or down in the air for tweaks, taps and grabs. Hopping around on rails and ollie-ing up onto features from the side is easier than on any other skis I've used.
https://www.newschoolers.com/videos/watch/1042163/helix88video-mov
Durability
This is the most important aspect of any piece of equipment for me. I don't care how well an item performs, if it's not going to hold up for an extended time, I'm not interested in using it. I expect to get 300 days out of a piece of equipment before its usefulness starts to diminish, barring major impacts or carelessness. Things like small pieces of edge tearing out or boot buckles breaking off are to be expected with regular park skiing.
I have been hitting rails on the Helix 88s almost every run for about 30 days, with the occasional rock/wood/ice jib thrown in. I've noticed one edge crack so far, some minor topsheet chipping on the tips and tails and some minor scratches and indentations in the bases. I aggressively de-tuned the edges before hitting rails, waxed the skis every 5-10 days (there's a lot of dust in the snow where I ski, and bases dry out really fast late in the season) and always took the skis inside to dry out at the end of the day. At this point, any issues in the ski's construction that would shorten their useful life would have presented themselves. All that in mind, I'm reasonably impressed with how well the skis have held up so far, and these get a pass for durability.
https://www.newschoolers.com/videos/watch/1042321/helix88butter-mov
Buttering the Helix 88. It was weird learning these without poles for timing.
Ski Comparisons
Out of all the skis I've used, these are closest to the Fischer Addict/Nightstick. The dimensions are very similar and they feel alike for carving and general skiing outside the park. The Helix 88 is a little softer and much more playful, as well as being more durable, but does not feel as stable at very high speeds.
If I had to choose one ski to ride all over the mountain when there's little or no fresh snow, it would be the Faction Prodigy 1.0. I love how versatile the Prodigy is, while offering excellent performance in the park. They come in a 187, which for myself works perfectly as a park/all mountain rig. The prodigy is intuitive to ski on, floats well in powder for its narrow width, is stable at high speed, carves well even with ruined edges and is smooth to butter. Compared to the Prodigy, the Helix 88 only has an edge in the park and for short radius turns, being a lighter, more playful ski with lots of pop whereas the Prodigy is more damp.
Compared to the Head Caddy/Oblivion 84, the Helix 88 is far more durable and offers a more stable, smooth ride while having a similar amount of pop with a slightly stiffer flex.
Conclusion
If you want to spend a lot of time skiing fast outside the park, there are lots of skis that will do that better than the Helix 88. There are so many great options for all- mountain park skis; the 88's big brother, the Helix 98, Faction Prodigy 1.0 and 2.0, ON3P Jeffrey, etc.
If you always swerve and butter your way down the mountain, the Armada B-dog, ON3P Mango, 1000 Park, Line Blend or any Vishnu ski are likely better options.
The Liberty Helix 88 is a great buy as a park exclusive ski for someone focussed on progressing on jumps and rails at any level, right up to high level slopestyle skiing. I suspect these would be a good pipe ski too, with their pop, fast base, even flex profile and symmetrical stance.
Overall, Liberty has made a good quality, high-performance park ski in the Helix 88. For a serious park skier who likes a more 'traditional' camber, flex and sidecut, these are a no-brainer and they've become my go-to ski for any park heavy day.