Words by Freeskiing World Tour
Photos by Freeride World Tour & Josh Anderson
Finals of the Swatch Freeskiing and Freeride World Tour 2012 on Revelstoke's Mackenzie Peak were a spectacular display of big mountain freeskiing. After a two-day weather delay, competitors and fans woke up to perfect bluebird skies for the culmination of this global competition.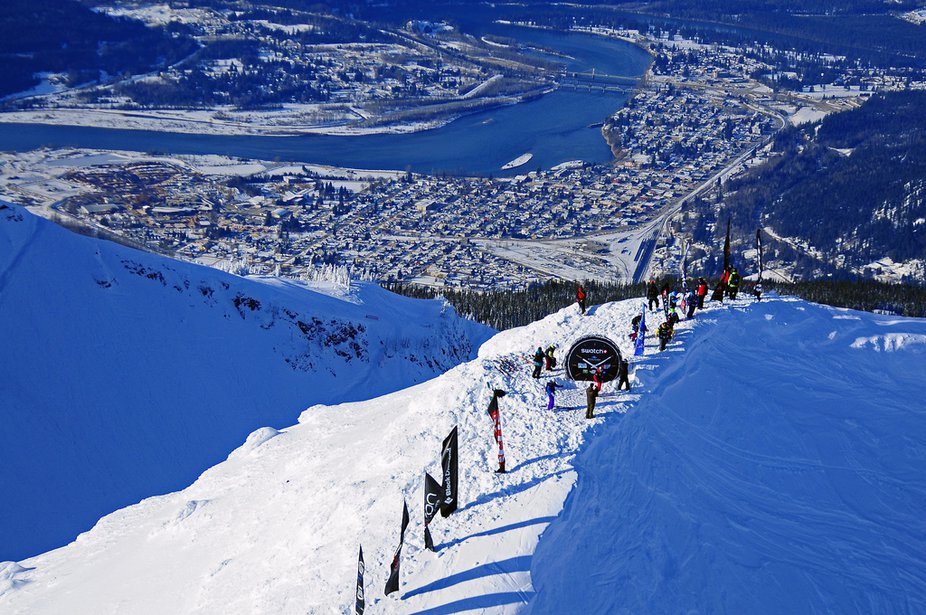 Revelstoke, BC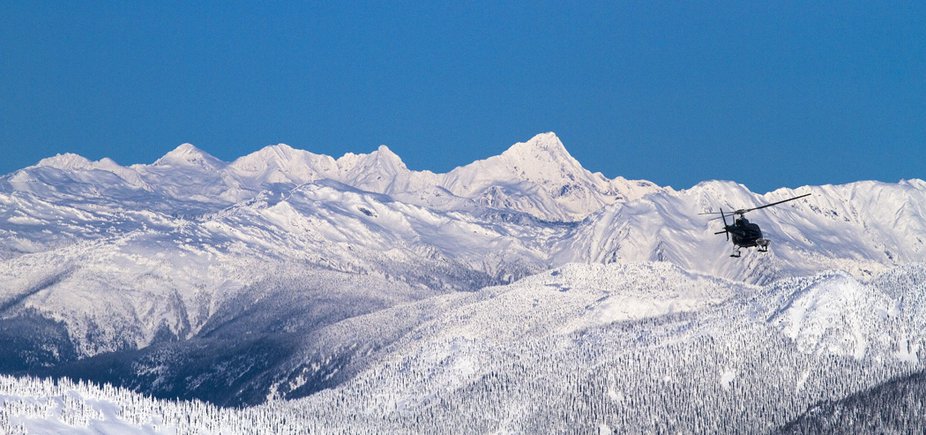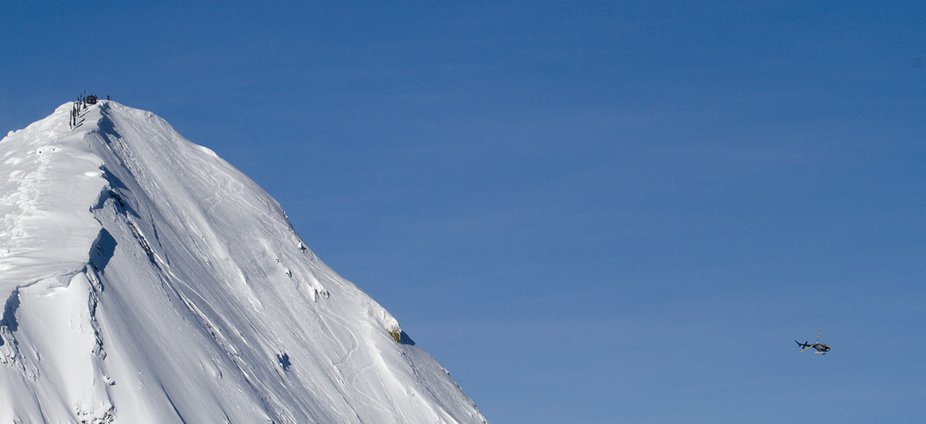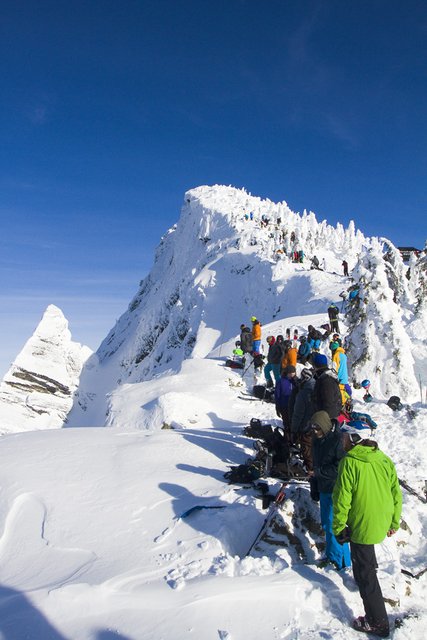 Topping the field of 25 male competitors is 21-year-old Kye Petersen of Whistler/Blackcomb. With a cumulative scoring format used, Kye used his winning score from Day 1 to head into the finals with the lead. Stomping his landings with his trademark compact style, Kye made this difficult venue look effortless earning the top score of 83.03.  Petersen remarked, "I just wanted to get to the bottom and stay on my feet.  This is the best a competition can be, with the best skiers from North America and Europe, I'm excited to come out on top."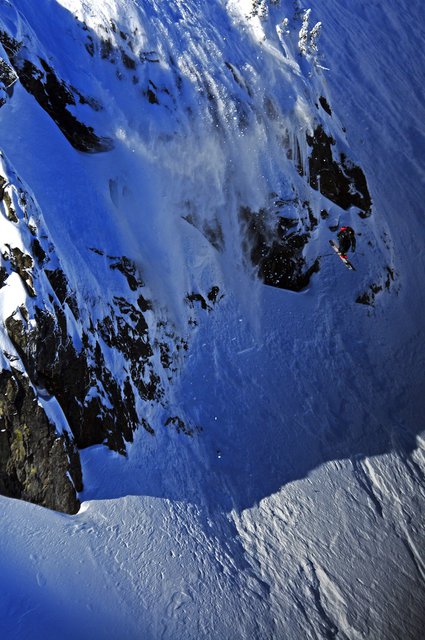 Kye Petersen
In second with a score of 79.00 is Oakley White-Allen of Snowbird, Utah who impressed the judges with his confident and fluid skiing. With a giant smile on his face White-Allen stated "I followed my same approach from day one and that was to ski a line that is fun to ski, I think that comes out in your body language so that's what I did today."  Rounding out the top three is Drew Tabke, scoring 78.83 thanks to his consistent landings and technical line choice.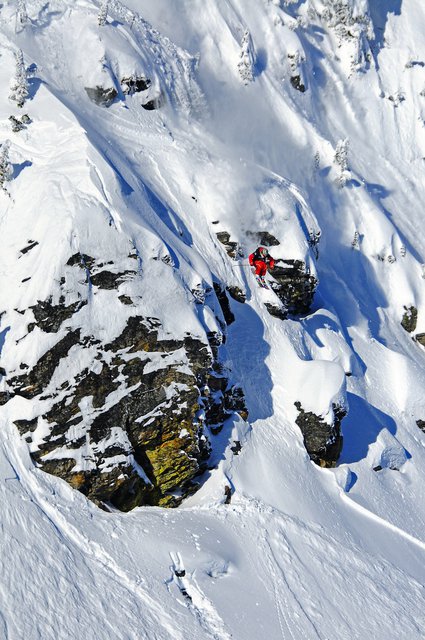 Oakley White-Allen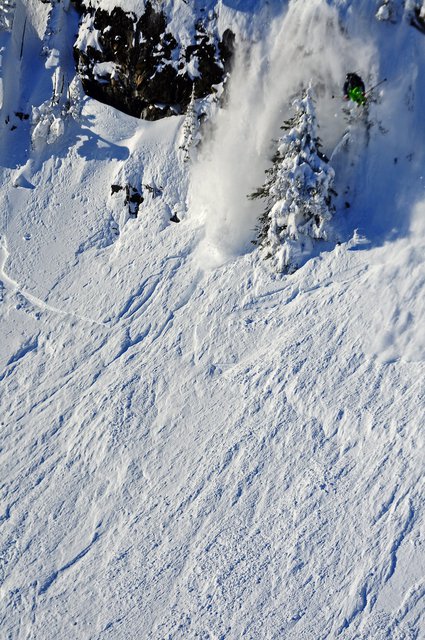 Drew Tabke
 
Continuing her winning streak is Snowbird's Angel Collinson, Subaru FWT Champion of 2011, with a winning cumulative score of 72.40. "My day was already made when I woke up to bluebird skies this morning.  I was really excited to ski that awesome face with tons of options and I felt I had a strong run today," said Collinson.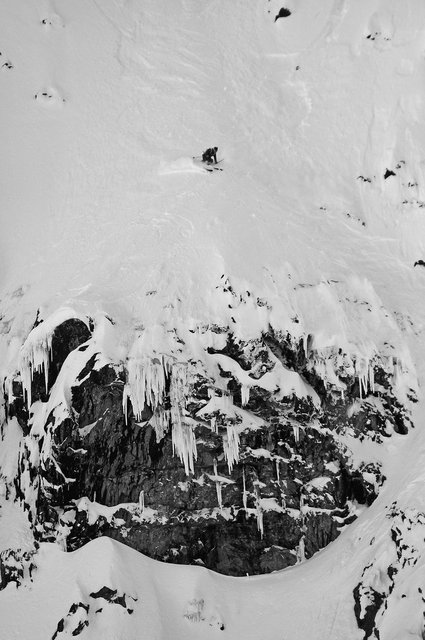 Angel Collinson
In close second out of Jackson Hole is Crystal Wright. Hitting one of the biggest drops of the day for the ladies, Wright skied fluid and strong scoring a 71.73. In third with a score of 69.67 is tour veteran Jess McMillan who ripped the face of Mackenzie Peak with her fast, dynamic turns.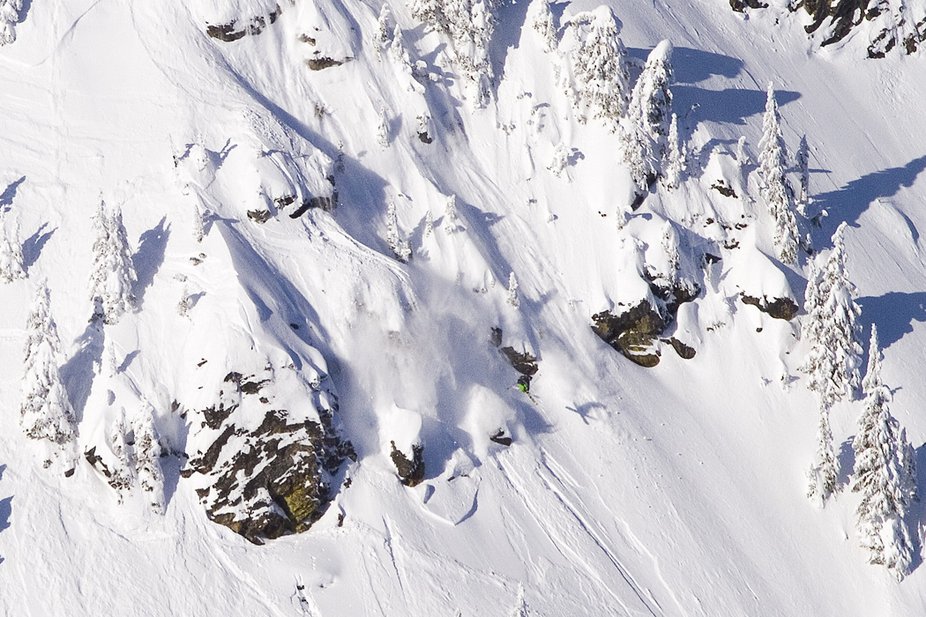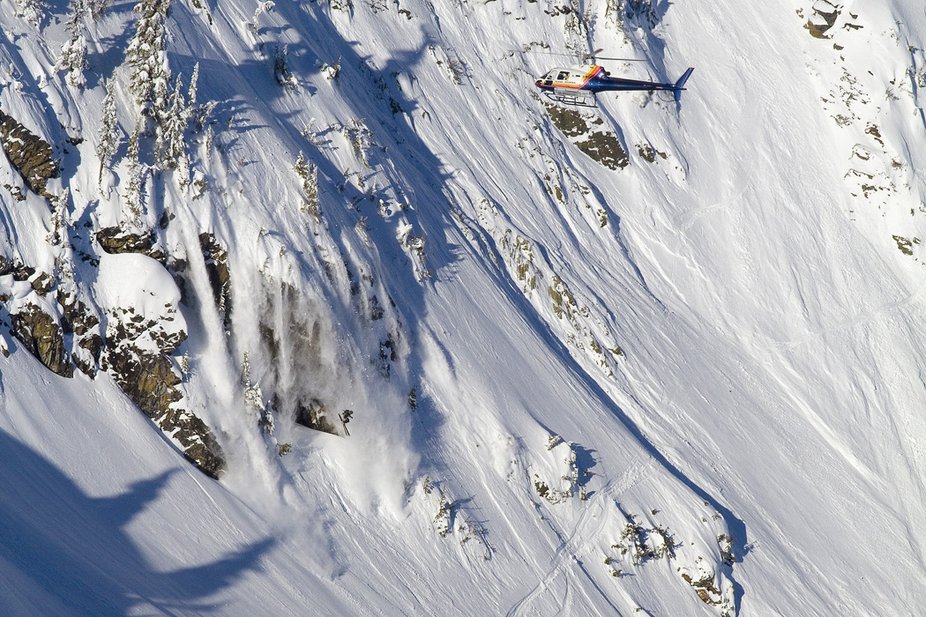 "Mac Daddy", a new competition venue for the Finals, is a leg-burning 2,500 vertical feet, loaded with features and steep lines.  With patrollers from Revelstoke Mountain Resort performing avalanche control on the venue for the past few days, snow conditions were a bit variable for the competitors. "It's always been a dream of mine to have a day like this work out.  All of the pieces of the puzzle fit today and we were able to showcase the world's elite skiers on what truly is the Mac Daddy of all Freeskiing venues," remarked MSI Event Director Bryan Barlow.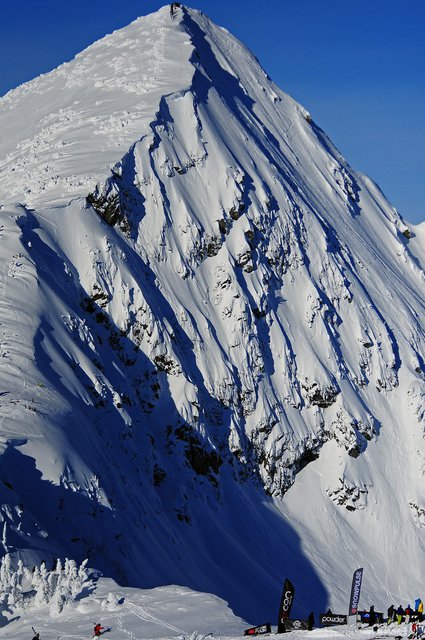 The venue for finals, 'Mac Daddy'.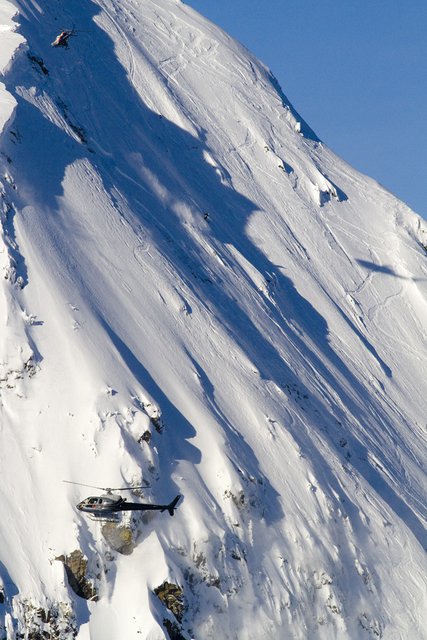 Presented to the winners are Howitzer Shell trophies, courtesy of Swatch. These awards represent shells used in avalanche control work-necessary to ski a venue like today's "Mac Daddy". This wraps up the 2012 stop co-organized between the Subaru Freeskiing World Tour and the Swatch Freeride World tour. President and CEO of MSI, Adam Comey, had this to say about the event and it's Finals Day.  "Everything came together today.  We had a spectacular venue, amazing support from Revelstoke Mountain Resort, the partnership with the Swatch Freeride World tour and the Subaru Freeskiing World Tour came together in a celebration of big mountain skiing and showed the world why this is such an amazing sport."
Results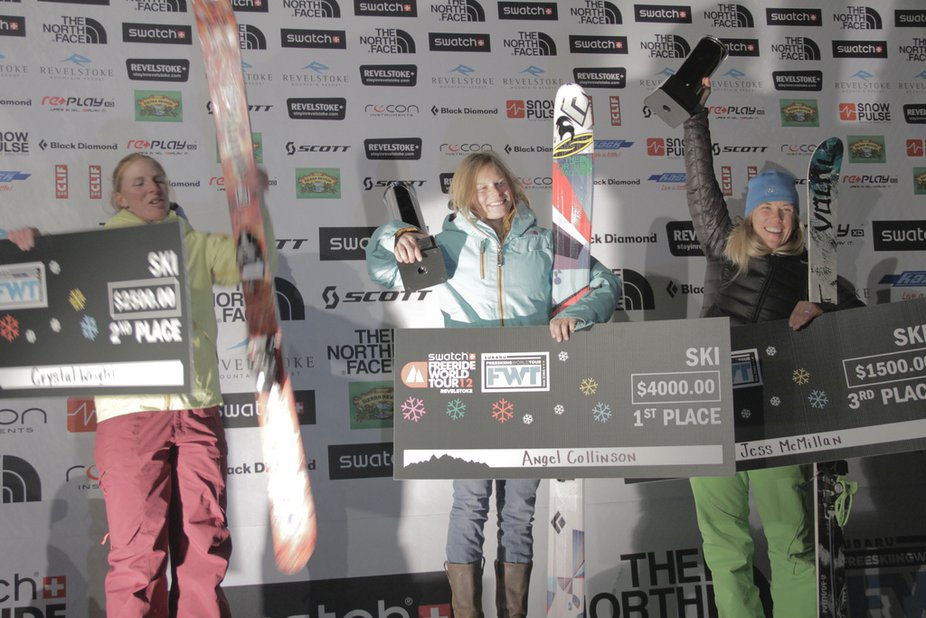 Ladies
1) Angel Collinson - 72.40
2) Crystal Wright - 71.73
3) Jess McMillan - 69.67
4) Louise Lintilhac - 65.20
5) Pia Widmesser - 60.37
6) Alexis Dupont - 57.83
7) Nicole Derksen - 55.30
8) Tatum Monod - 53.87
9) Ashley Maxfield - 50.90
10) Sarah Martinais - 50.80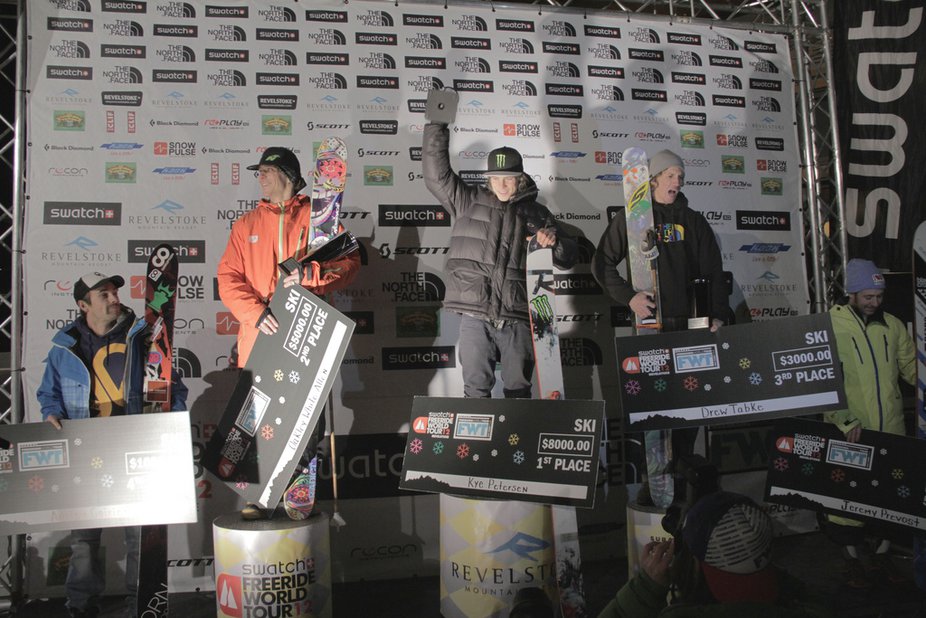 Gentlemen
1) Kye Petersen - 83.03
2) Oakley White Allen - 79.00
3) Drew Tabke - 78.83
4) Adrien Coirier - 75.80
5) Jeremy Prevost - 75.13
6) Nicolas Salencon - 73.13
7) Carter McMillan - 72.97
8) Richard Small - 72.93
9) Sebastian Hannemann - 72.50
10) Cliff Bennett - 71.97
11) Josh Daiek - 70.90
12) Sean Cochrane - 70.07
13) Julien Lopez - 69.17
14) Sean Collin - 66.27
15) Rylan Kappler - 64.30
16) Mat Jackson - 61.23
17) Benjamin Ogilvie - 60.10
18) CJ Wright - 57.93
19) Samuel Anthamatten - 57.67
20) Aurelien Ducroz - 57.17
21) Christian Boucher - 56.20
22) Jake Sakson - 53.97
23) Bjorn Heregger - 51.40
24) Dylan Crossman - 51.00
25) Kevin Guri - 49.07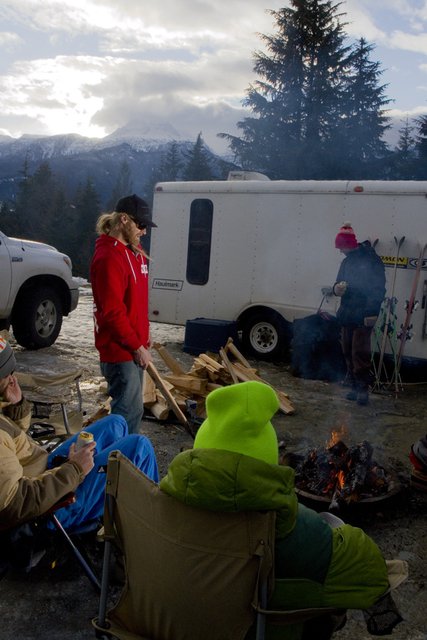 2012 Swatch Freeride and Freeskiing World Tour Revelstoke is presented by: Swatch, Revelstoke Mountain Resort, Revelstoke Accommodation Association, The North Face, Sierra Nevada, Black Diamond, Clif Bar, Powder Magazine, Recon Instruments, Comcast Sportsnet, Backcountry.com, Ski Channel and Replay XD, Scott, Snow Pulse and Kask.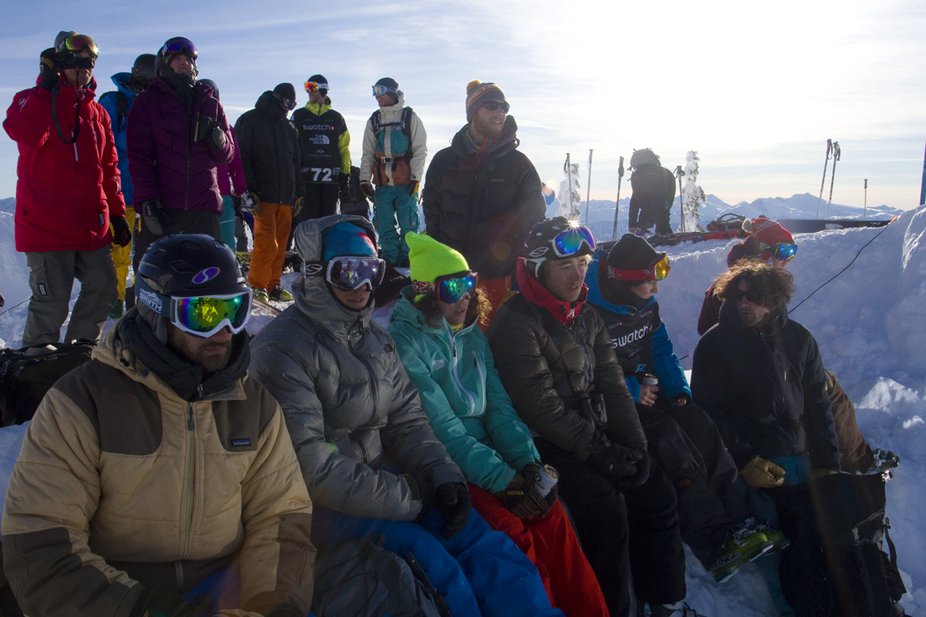 For more information about the tours visit http://www.freeskiingworldtour.com and http://www.freerideworldtour.com.
Here's a video recap of the entire event. Enjoy!