The Altadore Ski fence, truly an iconic landmark of Calgary, while the fence is less mainstream, in my view it is up there with all the useless public art the municipal government has built, the Calgary tower and the Ski Jumps of Canada Olympic park. Although I don't have numbers on how long it was up or know who to ask about such info, I do not remember a time where I didn't walk past this impressive collection of vintage skis daily.
The fence was taken down multiple months ago, again I cannot remember exactly but I recall it being around early winter of 2019, it was a truly sad moment for me and other residents of the area. Apart from it being a colourful and longstanding landmark, the story of the man behind the fence is interesting to me.
The guy's name who owned the house and built the fence was named Dirk Van der Vorst, he was a ski instructor and some of the skis were have said to have been given to him by previous students. I have no memory of meeting him but the chances are that I saw him at some point, so I have no idea what he was like. In some of the interviews his family members he was said to have collected many random objects such as coveted glass Japanese fishing floats and other random items in his travels, he was also described as the "crazy uncle" and "committed to and involved with his community". Honestly I wish I had met this guy, he sounds like a very interesting guy to say the least. After he started the project people started to drop off their old ski gear and it gained momentum. After five years of collecting skis the fence was completed and he even made a ski bench that was on his front lawn before it was stolen in 2013.
Dirk Van der Vorst passed away in spring of 2017. Although I did not know him personally I'm positive his family and friends were heart-broken for he sounded like such a unique and wonderful guy. The fate of Dirk's ski fence and bungalow was up the air for a while, in much of inner south Calgary land value is very high because of how accessible it is to downtown so no matter how small or old the house is it can be sold for a small fortune and knocked down to build bigger houses or condos. So the chances of ski fence being destroyed was a real possibility. It was all locked in when I saw a redevelopment sign on the lawn. the day I saw a hole in the ground with no fence or subtle green house on the corner lot was quite sad but it was evident it was going to happen.
Just because Dirk's fence was gone didn't mean his legacy was gone too, a dozen or so of the skis were repurposed into a bench that currently sits outside the nearby community hall and his stories live on as-well. Rest in peace Dirk Van der Vorst and his beloved ski fence.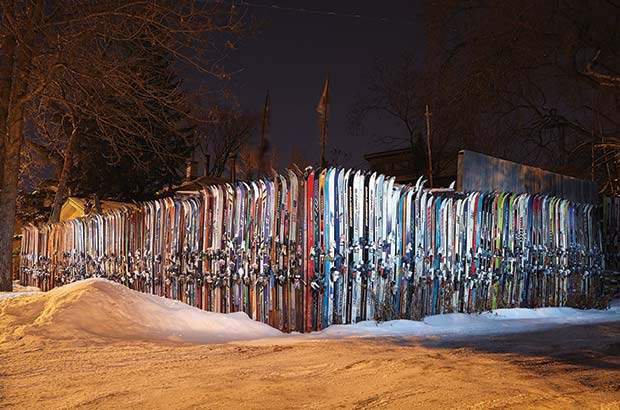 Photo Credit: BRENT MYKYTYSHYN / SWERVE
You can find it on google earth here https://earth.google.com/web/@51.01602128,-114.10093415,1089.24487305a,0d,60y,222.15633486h,83.9487322t,0r/data=CkwaShJECiUweDUzNzE3MDM0YTdjNjU0OGQ6MHhiYjkyNTYxYjA0NDAzZGZkGX475MFxgklAIdML4xNXhlzAKgkxNWEgU3QgU1cYASABIhoKFk1jUlAzTTNka3M3NllzdGRFSGhQaUEQAg