RED BULL SUPER HIT TO HOST FREESKIING'S BIGGEST LOCAL MOVES
Skiers Will Go All-Or-Nothing at One-Hit Contest, Winners Earns Invite to PRO/AM Dumont Cup.
WHAT: Red Bull Super Hit is a freeski contest unlike any other, pushing the limits of what is possible in the world of skiing.
In a typical slopestyle or halfpipe event, competitors play it safe in order to assemble a top-to-bottom run, holding back on their biggest moves in favor of consistency. At Red Bull Super Hit, skiers will throw everything they have into one hit, blasting their highest air or their most technical trick when they're at their freshest and strongest. Each resort hosting a stop of the Red Bull Super
Hit series will construct a unique, creative feature just for the contest, providing the most progressive feature for area skiers, whether
it is a jump, halfpipe, or quarterpipe.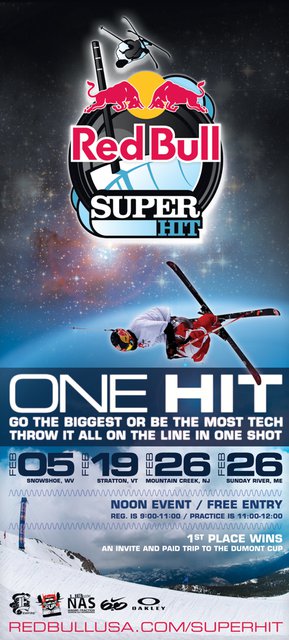 The top skier at each stop of Red Bull Super Hit will score a trip to the Dumont Cup in March. The Dumont Cup is a Pro/Am competition hosted by Red Bull athlete and world-renowned freeskier, Simon Dumont, and is being held at Sunday River in Maine's Mahoosuc Mountains. In addition to paid travel and lodging, the winner will receive an invite to the contest, ensuring their spot to compete.
WHO: This event is open to all ages with free registration.
WHERE & WHEN:
Saturday, Feb 5 at Snowshoe, WV
Saturday, Feb 19 at Stratton, VT
Saturday, Feb 26 at Mtn Creek, NJ
Saturday, Feb 26 at Sunday River, ME
 
9 a.m. – 11 a.m. On-Site Registration
11 a.m. – 12 p.m. Practice
12 p.m. -- Jam format competition
CONTACT: Mary Walsh, marytwalsh@gmail.com
MORE INFO: For more info, please visit http://www.redbull.com/superhit
For photos, please visit http://www.redbull-photofiles.com