Words by David Lesh
Photos by Alex Applegate, David Lesh & Alba Pardo
After a two-year hiatus, the wonderful maniacs at Red Bull decided to bring Playstreets back for 2011 in full force. Alex Zika, head event director for Red Bull in their home country of Austria was kind enough to invite me back, so I bought a few plane tickets that would bring us to Europe for the entire month of February. Might as well make the trip worth it, right?
Joining me were friends and fellow First Droppers Alex Applegate and Paul McSweeney. Our first week in the EU was spent in Munich for ISPO. After the show ended our plan involved skiing tall mountains and deep powder but with the Alps not seeing any snow for over a month, we switched plans and decided to make the thirty-some hour journey to Africa, stopping on the way in Spain to see the sights.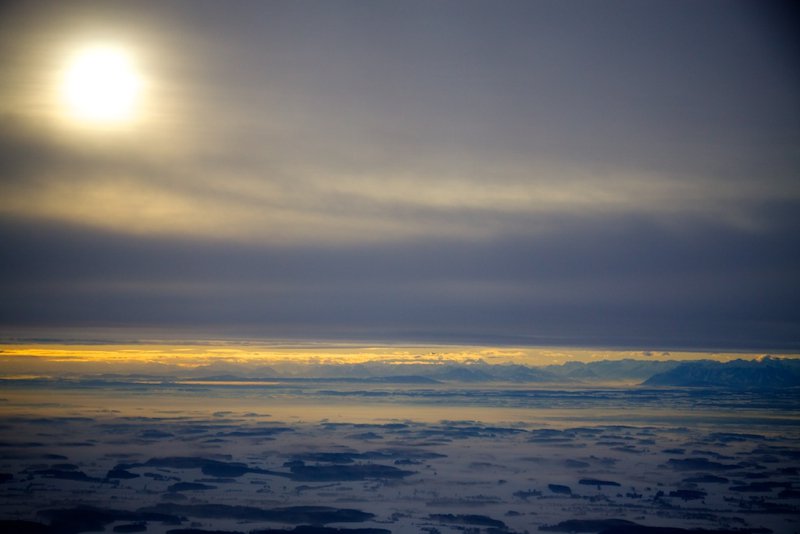 Our flight descents through cloud layers on approach to Munich, Germany.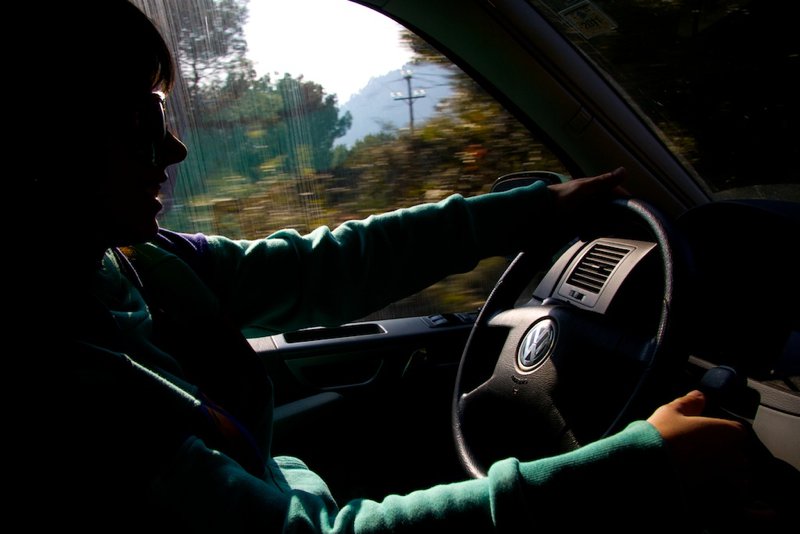 With ISPO over, we piled into friend and Spanish photographer Alba Pardo's VW camper van and began our drive towards Spain. We drove through five countries on this particular day.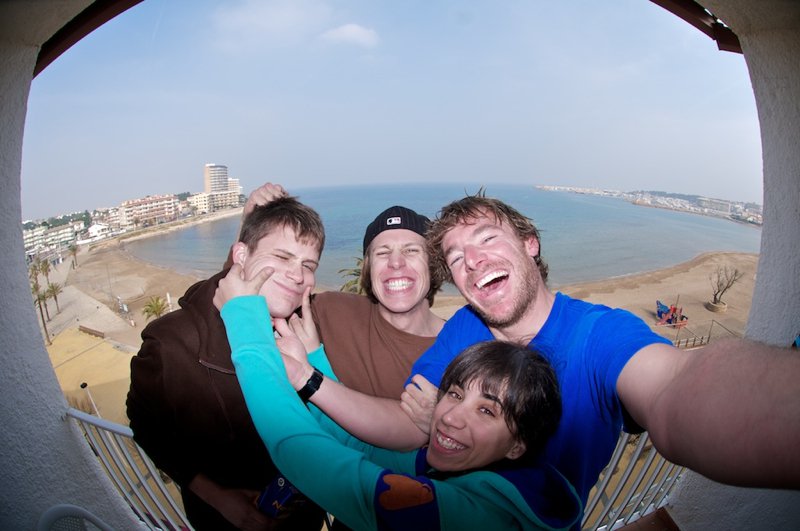 After a full day and night of driving (and running out of gas at 2am in the middle of nowhere in France), we spent the night at Alba's family's beachside apartment in L' Escala and soaked in a little Vitamin D the next day.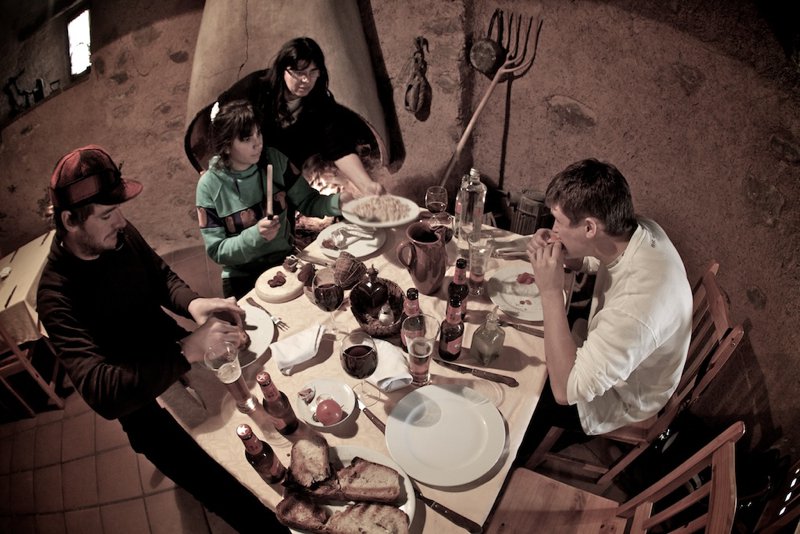 Piling back in the van that more resembles something out of the movie Transformers than an automobile, we drove another few hours to the tiny, ancient town of Sant Llorenc Savall where Alba's parents live and run a castle-like restaurant in a building that just had it's 1000th year anniversary.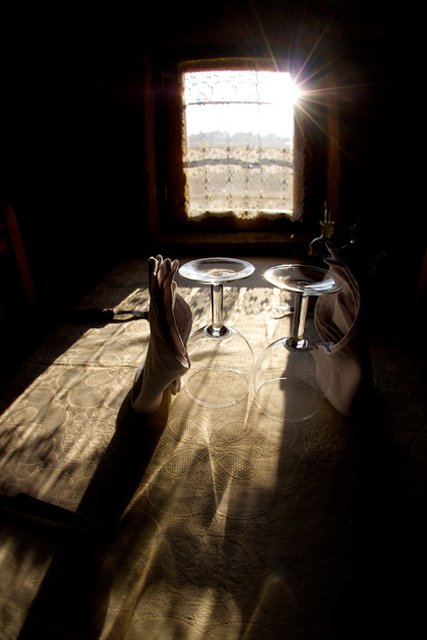 When was the last time you had lunch in a 1000 year old building in the US?
After some sight seeing and bizarre partying in Barcelona that involved two naked girls mud wrestling a flamboyant gay guy in a blow-up pool behind a disco club, we decided it was time to check out Africa.
Leaving Alba behind to do some work, Alex, Paul and I rented a tiny car and began the day'sdrive towards the Southern tip of Spain. Seeing an old castle in the distance, we decided to venture off into Segundo to explore it.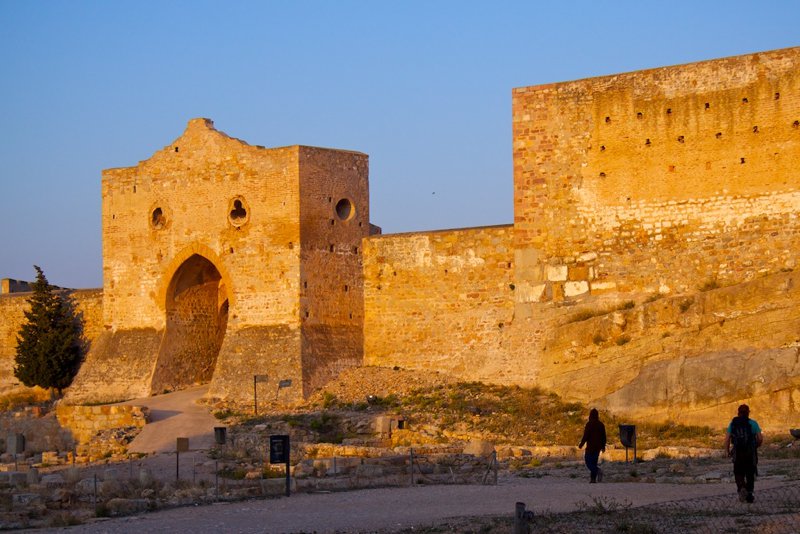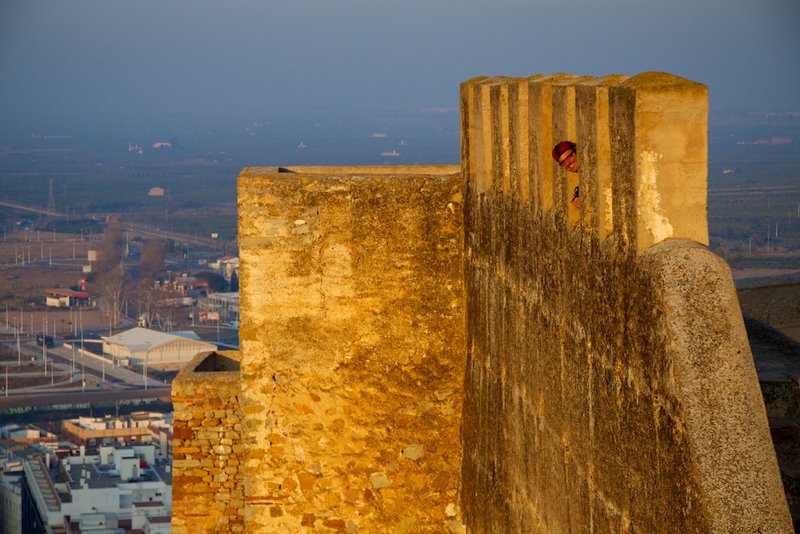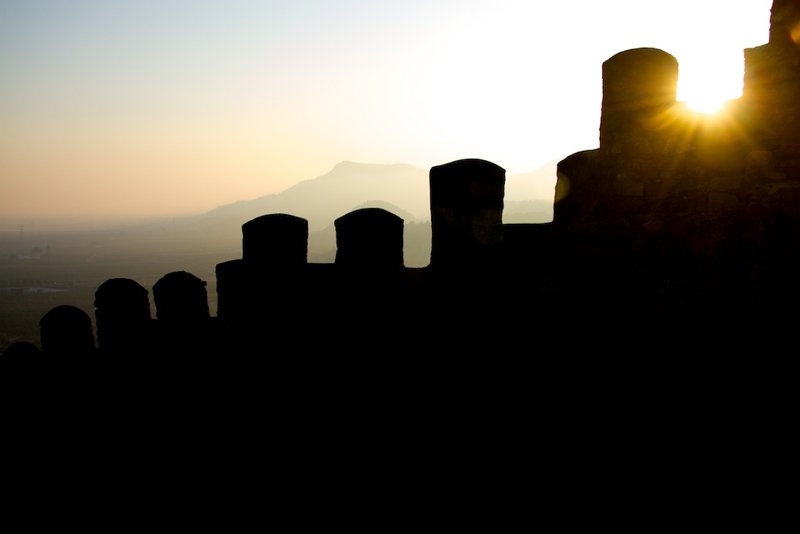 Making our way down the beautiful coast of Spain that night, we realized we still had many hours of driving left so we pulled a few shifts and drove through the night, reaching Algeciras and the straight of Gibraltar in the morning.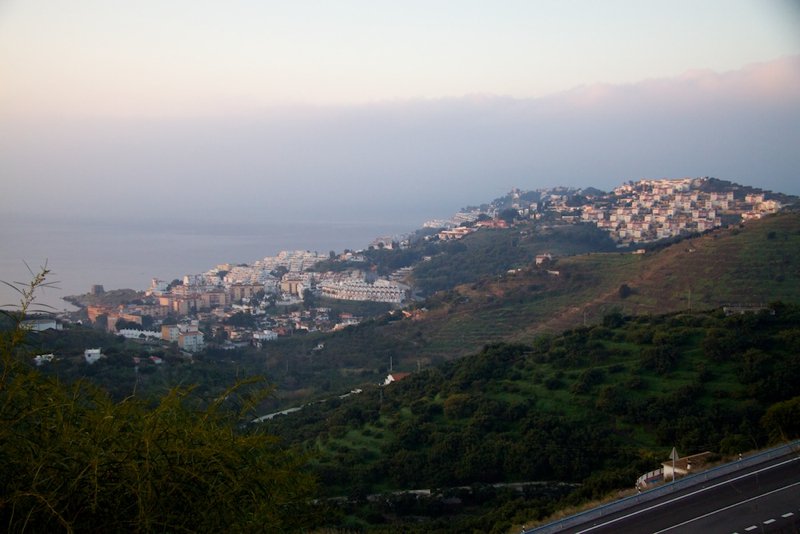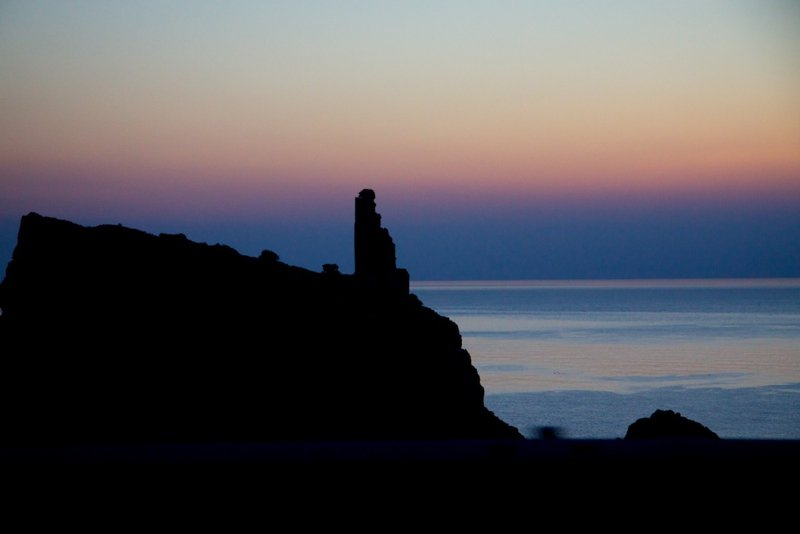 The sun rises over the Southern coast of Spain and it's many retirement communities.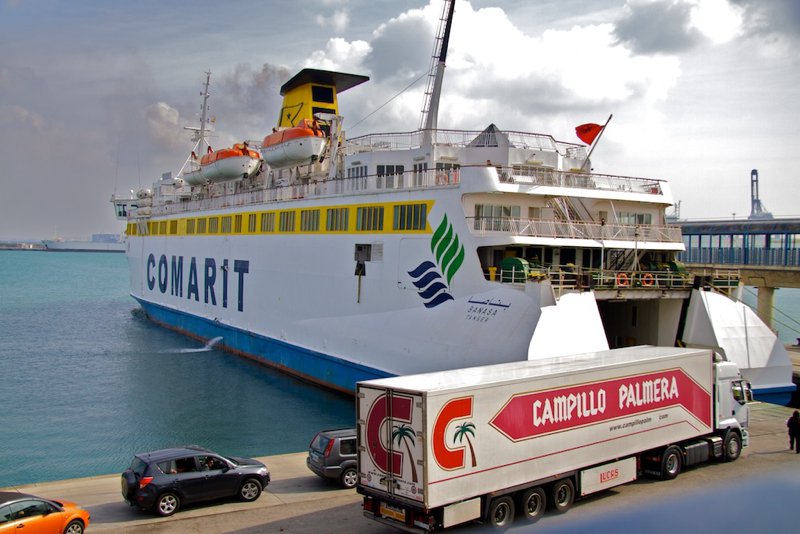 We left our rental car behind, cleared customs, and boarded a huge ferry that would take us across to the promise land, Africa.

A few hours later, we found ourselves on Moroccan soil and hailed a cab for the 45km car ride to the city of Tangier.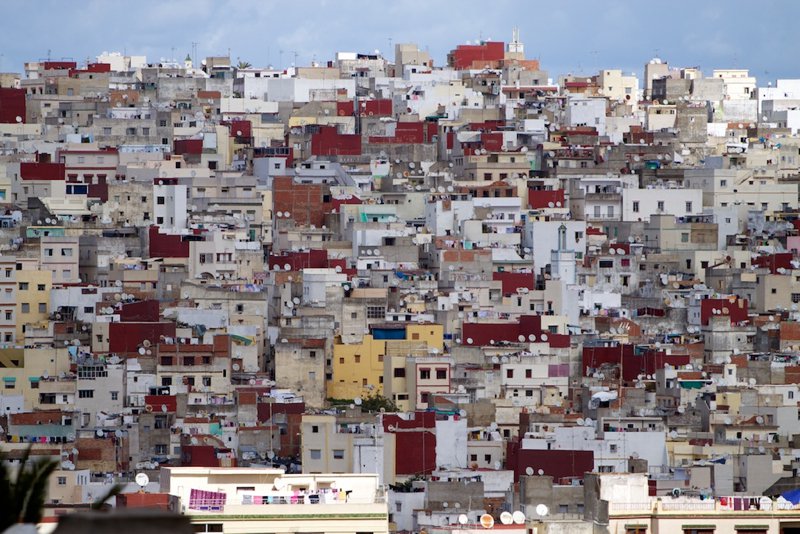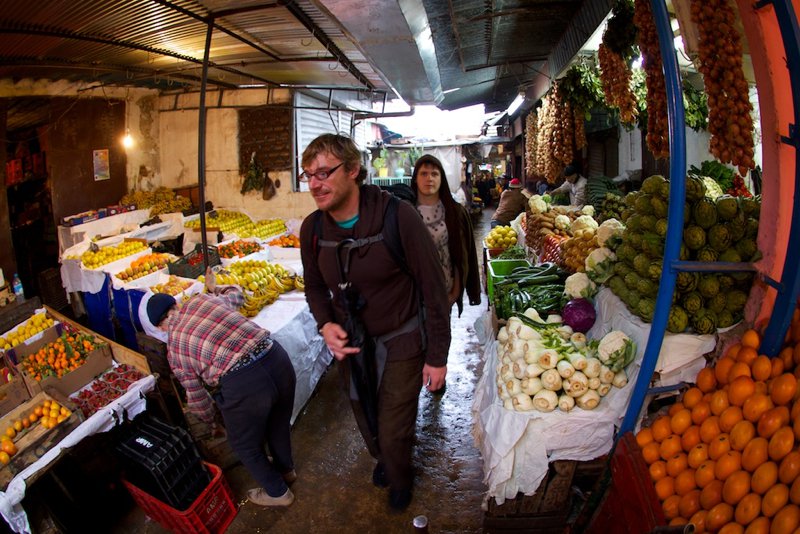 Wasting no time, we set out through the narrow alleyways of Tangier and began exploring various markets.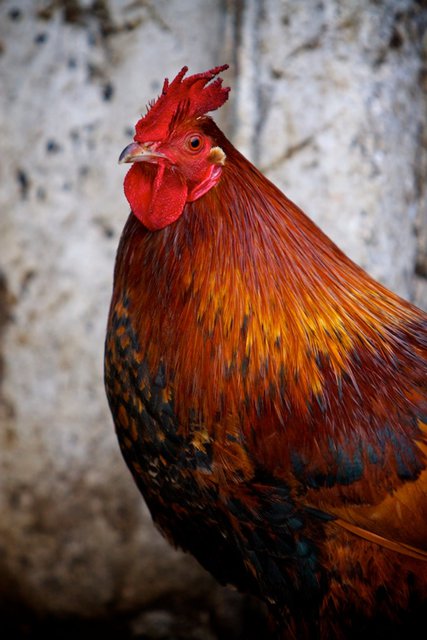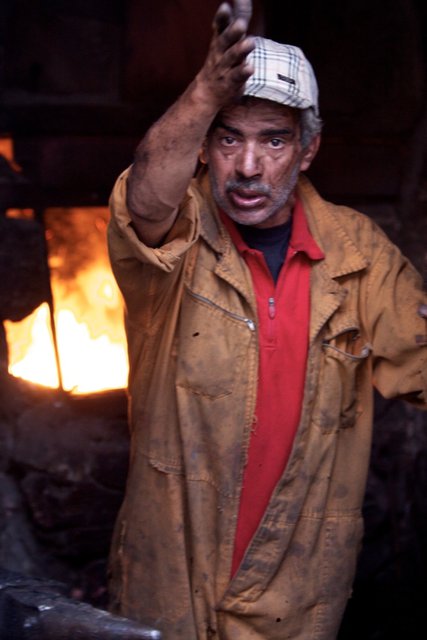 We may have been the only American tourists in Tangier (we were posing as Canadians of course) and were quickly scoped as easy targets by various scammers and bums. The first one who approached us wouldn't leave us alone and kept escorting us into sketchier and sketchier situations. Although we asked nicely many times to be left alone, these requests were ignored. It was at this time I introduced Paul and Alex to one of my patented techniques, "the beggar bump". This involves walking next to the bum, waiting for a wall (or other hard object) to appear on their side, and then laying a firm shoulder into them just before it, causing them to run smack into the wall. The first time I introduced Alex and Paul to "the beggar bump" in Tangier, it led to some harsh words, a few idle threats, and finally ended with the beggar storming off. Works like a charm.
The following morning, we set out on another adventure, this time in search of a cave we had been told to see. We negotiated another cab ride, and after a lengthy tour from our cab driver through the rich hills outside of town, he decided to pick up a hooker on the side of the road to join us, for obvious reasons. What a thoughtful cabby.
As we drove along the coast, we spotted some camels that looked pretty friendly so we stopped for a quick camel safari.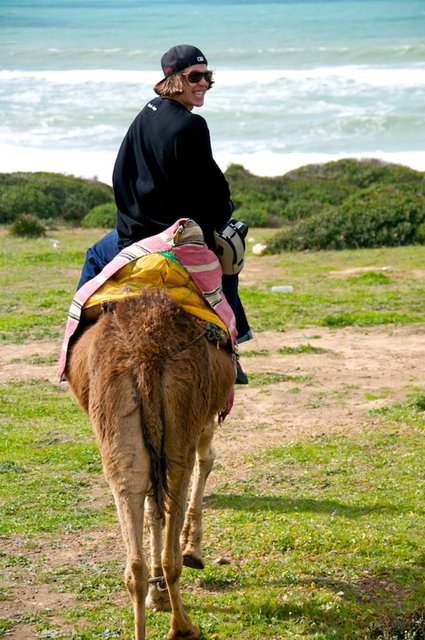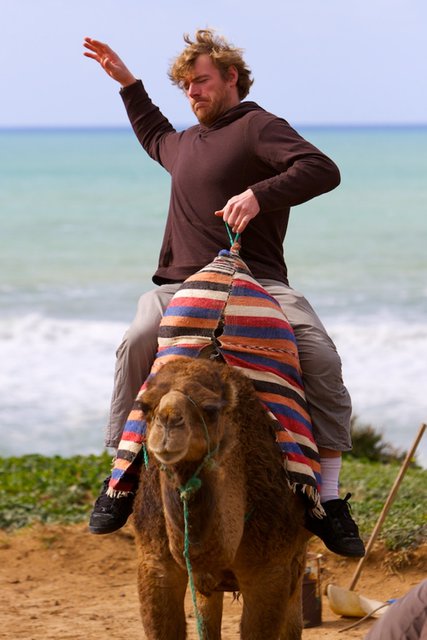 Alex, making camel riding look a whole lot more exciting than it is. Nice work buddy.
Finally arriving at the cave (les grottes d' Hercules) in the town of Cap Spartel, we paid the entry fee of five Durham (50 cents USD) and made our way down into the cave that opens up to the ocean below. Cool? Yes. Hilarious and touristy? Of course.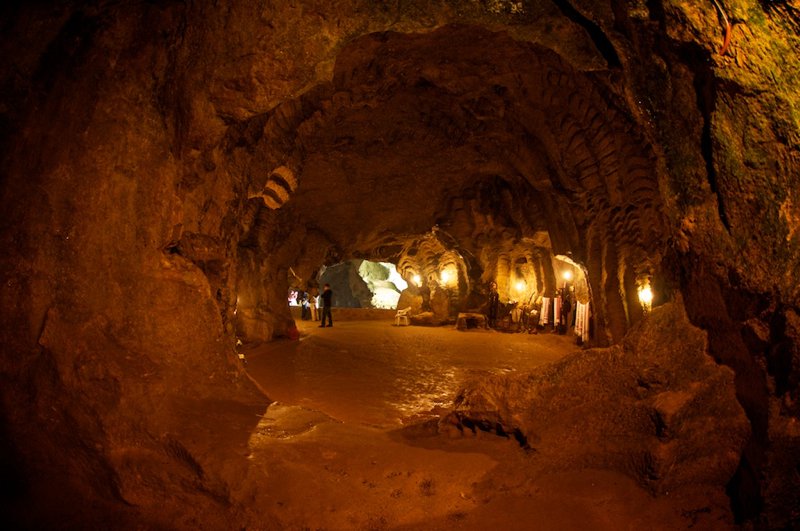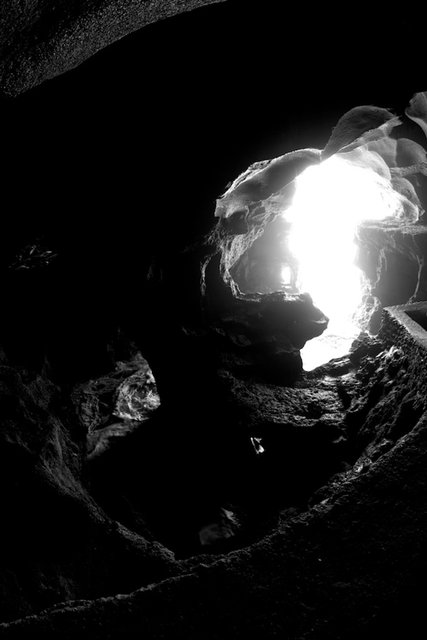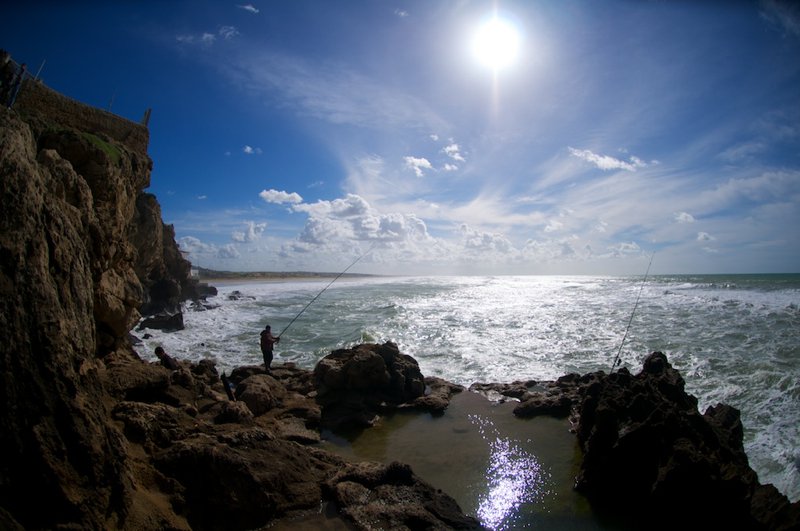 We all piled back in the Mercedes cab from the last seventies, dropped our friendly hooker friend off, and headed back to Tangier for more exploration.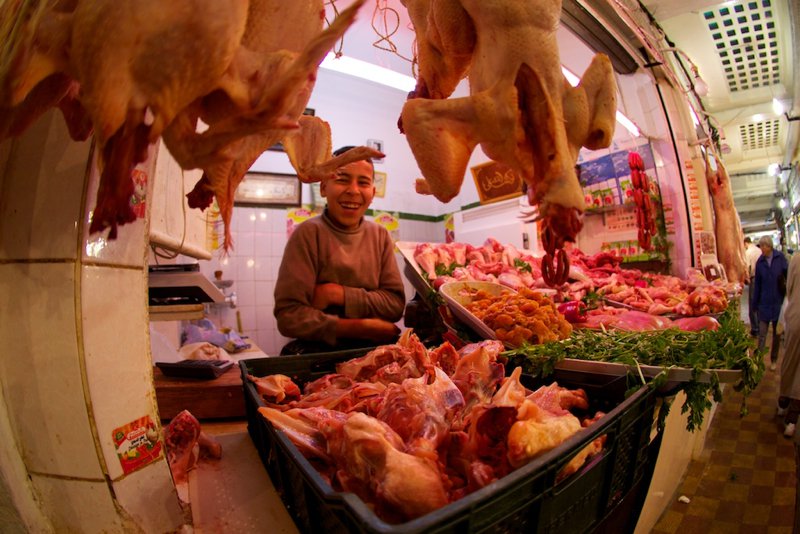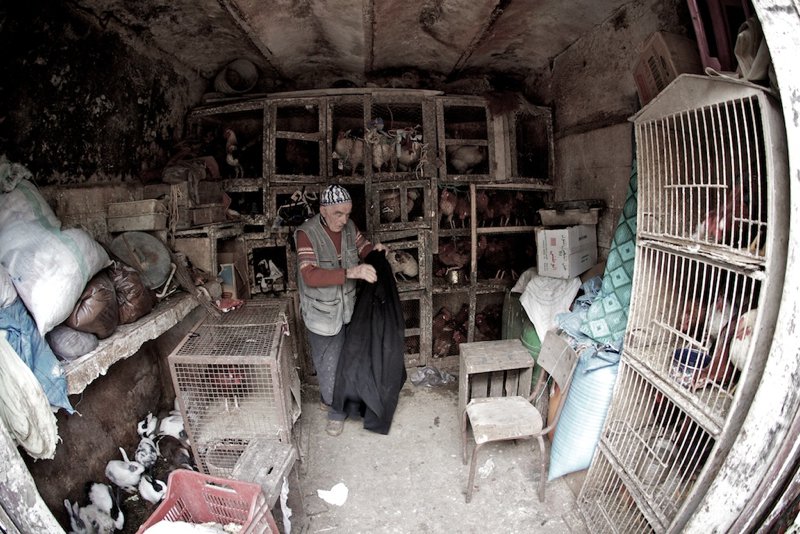 The meat markets in third world countries are always filled with interesting sights, sounds, and smells.
Our time in Tangier was coming to an end and we headed back to the hotel for what we hoped would be a good night's sleep before making the very long drive back to Barcelona the next morning. It was during this last night in Tangier that we somehow found ourselves in a standoff with the hotel owner who was very adamant that we were only allowed two people to a room. Being too late to find another hotel, we scrambled up to our room, locked the door, and holed up for the evening. After what seemed like an eternity of the manager calling our room, banging on the door, threatening to call the police, and even trying to pick the lock, he finally gave up, leaving us the victors of the standoff. Unfortunately by this time, we only had a few hours left to sleep. The next morning was an interesting one as the three of us piled out of the room and made our way past the still very angry hotel manager at the desk.
After another 24 hours of cabs, ferries, and driving, we met back up with Alba in Barcelona, dropped off the rental car, and headed towards Austria.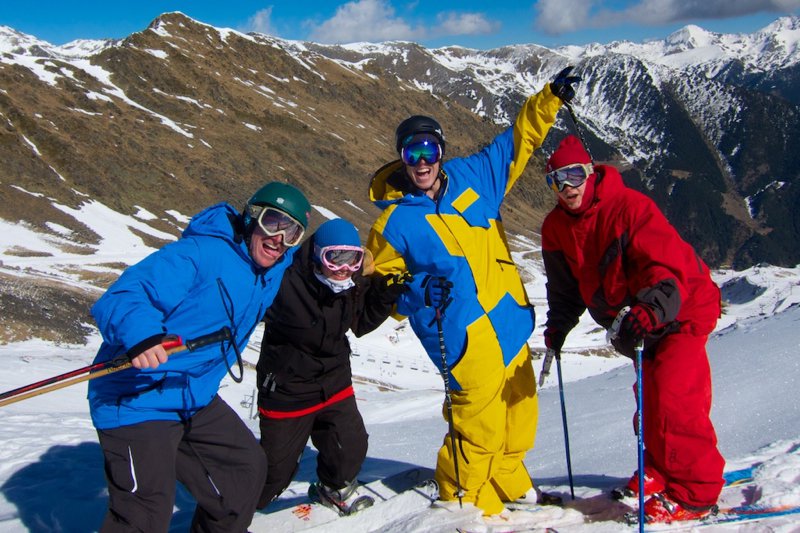 I was scheduled to compete in Playstreets in a few days and had only skied a handful of days (none of them being park) in the previous month or two so we decided to stop in the tiny country of Andorra in the Pyrenees for a day of training.
The good people at Vallnord have a really fun park, and although it was closed for a competition the next day, they were nice enough to groom it out and open it for us.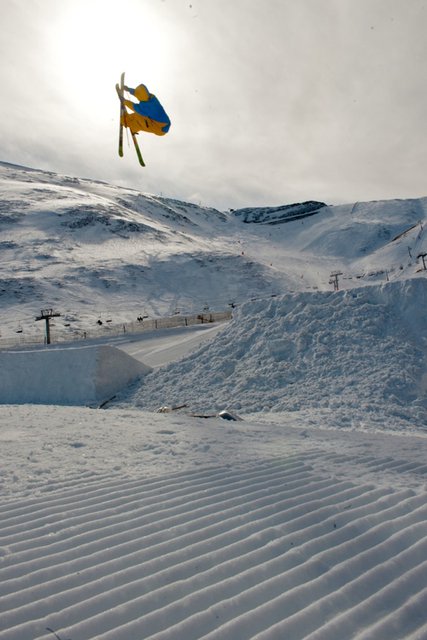 Your author, remembering how to ski...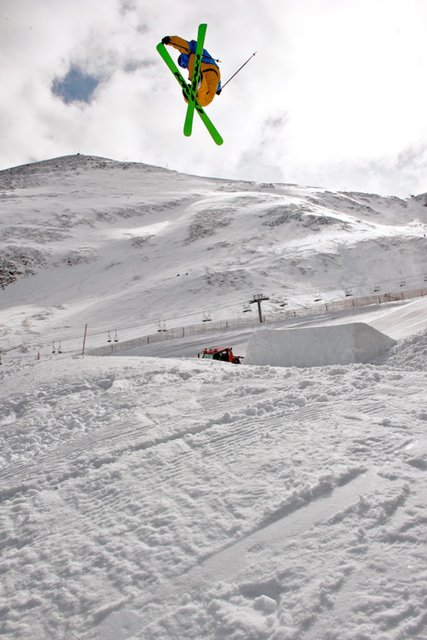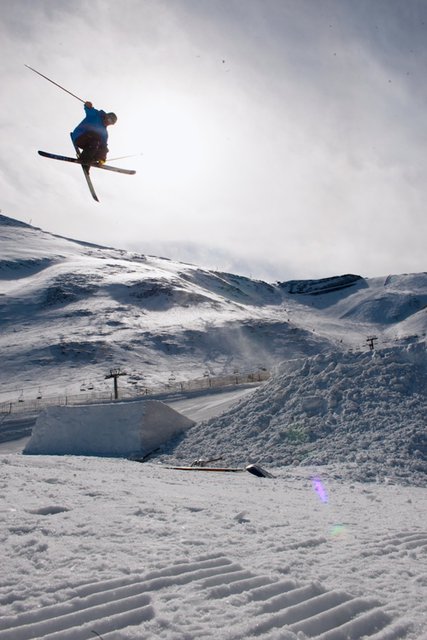 Applegate gets airborne on some rockered pow skis.
After another 15 hours of driving, we arrived in the tiny hot spring town of Bad Gastein, Austria. We grabbed our bibs and made our way to the top of the course. Although similar to the course from two years ago, Red Bull made a few improvements that helped with speed and flow through what might be the most stunt-like slopestyle course in the history of skiing.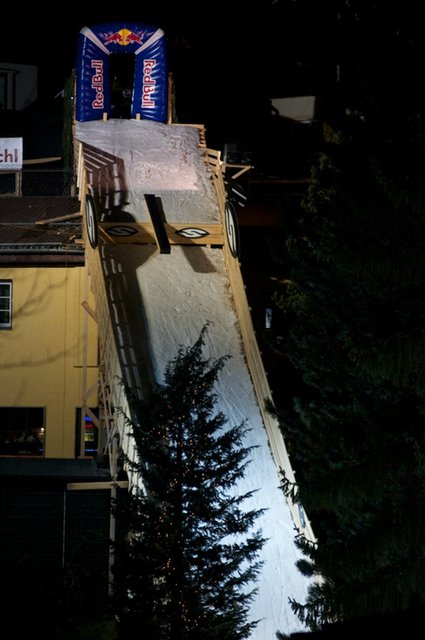 The course begins on top of a platform built on the roof of a shop, the first feature being an urban style drop down box that feeds you down a steep ramp over the crowd and through some trees to get speed for the next feature, a corner hip.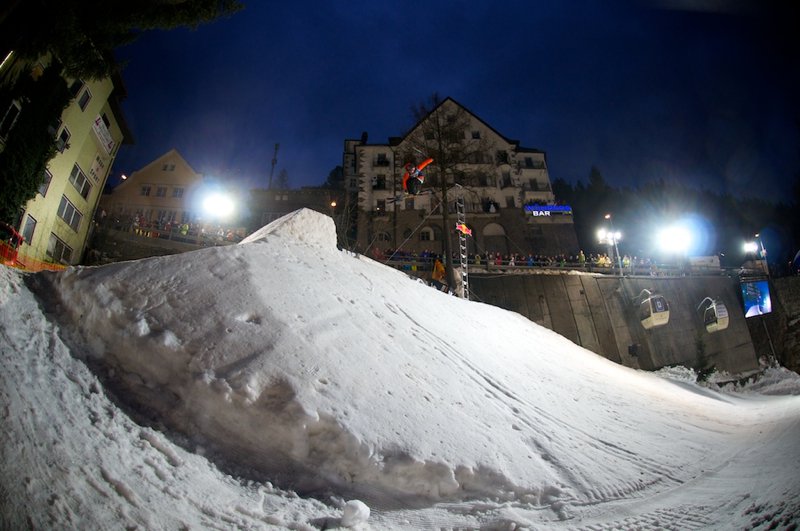 Italian Markus Eder warms up on the second feature, a corner. You have to land this hip perfectly to have speed for the next feature, a narrow gap jump.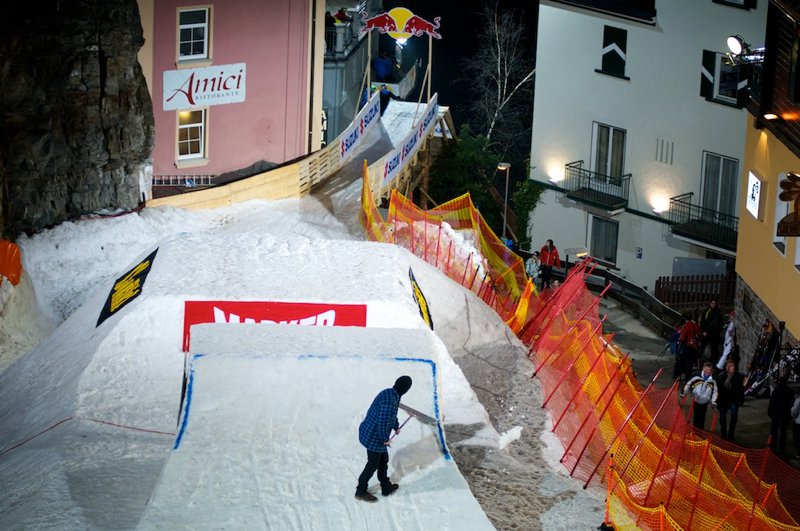 The gap jump, being groomed for the comp. As soon as you land, throw the brakes on hard (and fast) before the next set of features – a narrow bridge to step down road gap.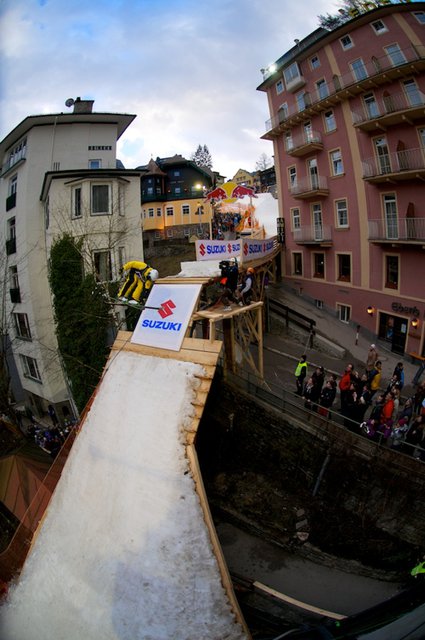 Austrian Fabio Studer demonstrating the step down. Carve either direction or misjudge your speed and be rewarded with sweet death. Really.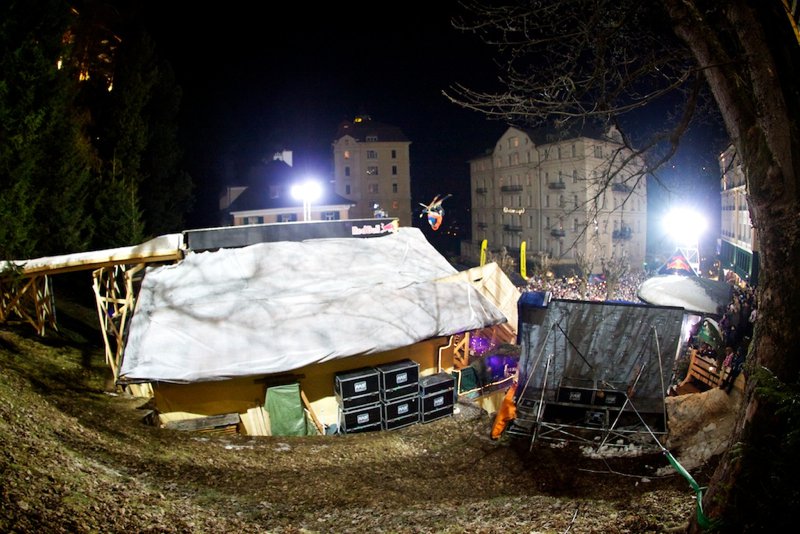 After the step down, be ready to slam on the brakes again hard because there is a quick drop you have to carve hard left for, then back right onto the last box that is situated on top of a house with step down landing.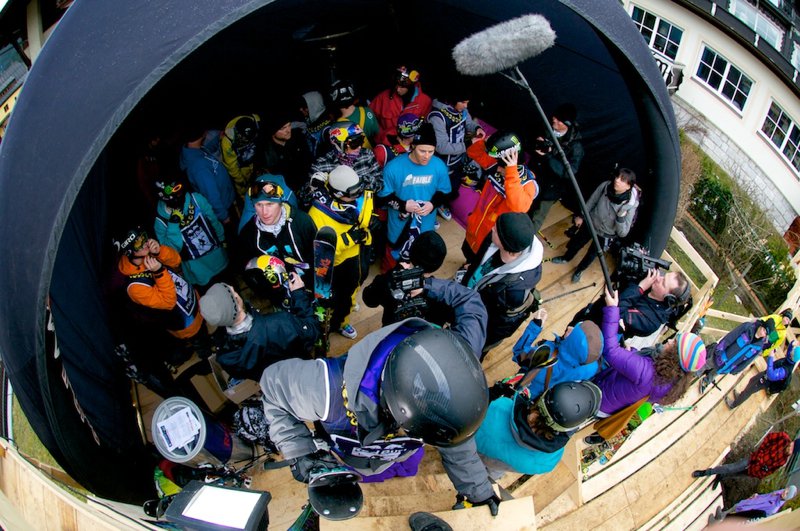 All the riders hopped on four-wheelers and we zoomed our way to the top of the course for the riders meeting and practice...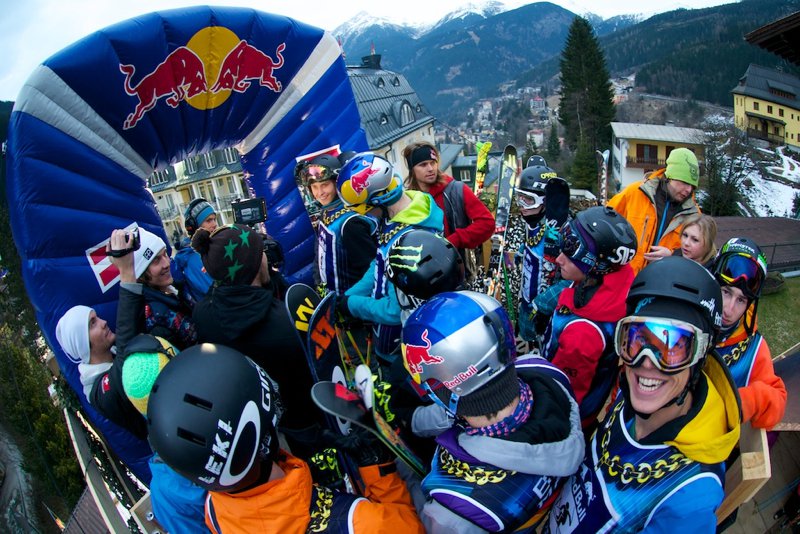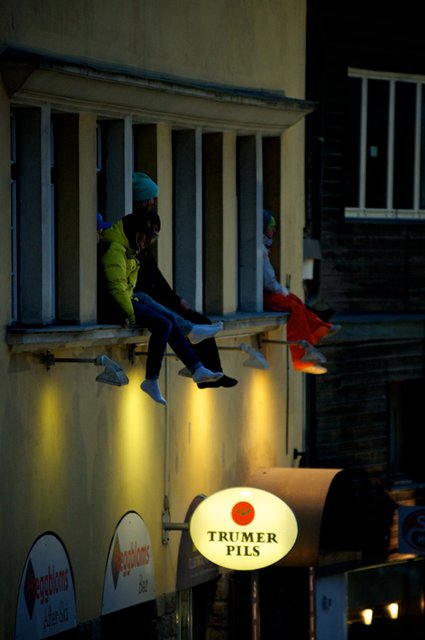 Cables were strung, generators started, lights lit, and people began getting creative with good vantage points to see the comp from...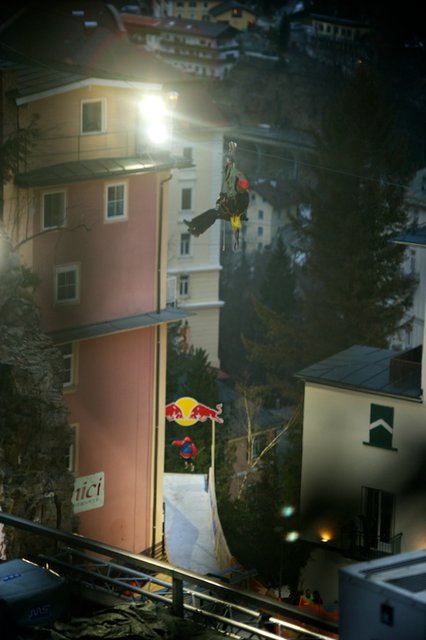 The drop-in this year gave us another few much-needed vertical meters for speed into the hip. Klaus Finne gets ready to drop.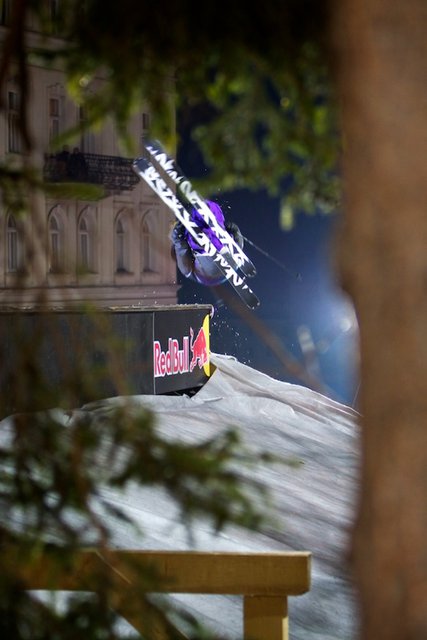 Aleksander Aurdal throws a misty five off the last box.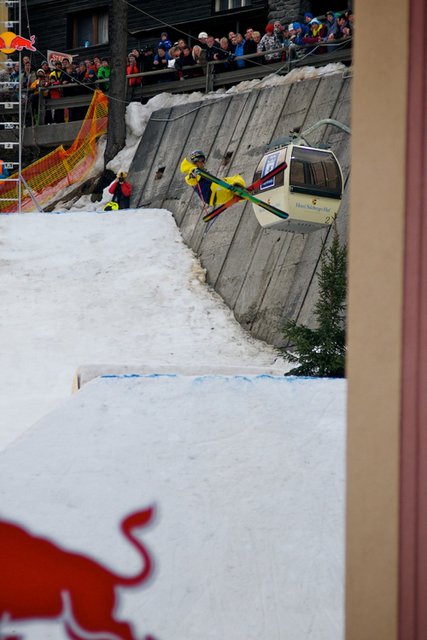 Klaus Finne, on the gap jump.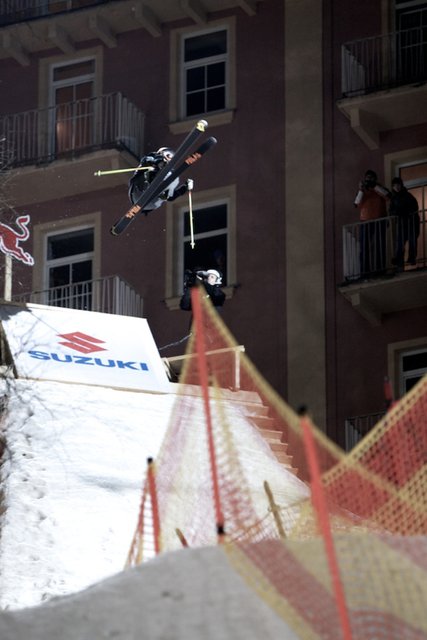 Former Playstreets champion Oscar Scherlin drops the step down.
It was warm and the snow was melting fast so everyone was only allowed two practice runs (some got three). I took one speed check run, and then threw all my tricks on my second and last practice run. Gnarly.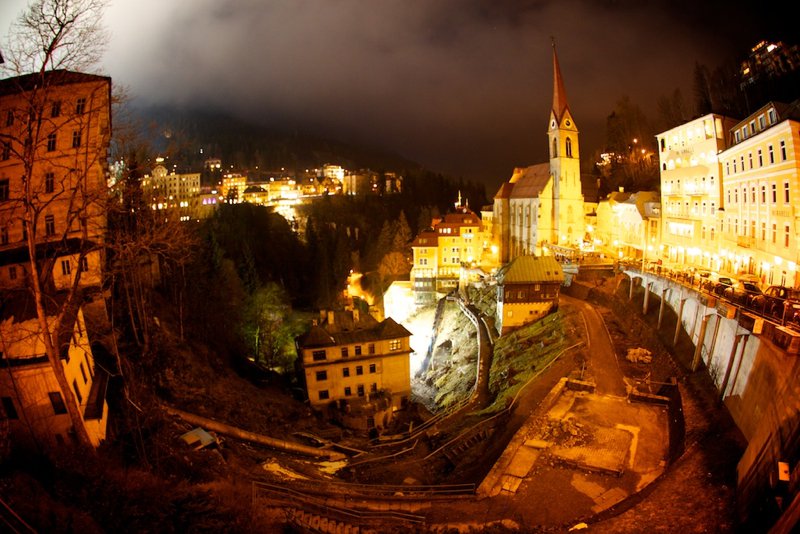 Then, we all headed back to the hotel. After a long night of partying that night, I met a local from Bad Gastein who was intent on giving me a tour of the mountainous town at 4am. What I didn't realize is that the tour involved trespassing and exploring old buildings in the abandoned part of town, located deep down in the depths of Bad Gastein.
Being far from our hotel and realizing I needed to wake up in three hours to compete in Playstreets, I slept in an abandoned building. Nice.
A few hours later, we all stumbled to the top of the course for two more practice runs before the comp started.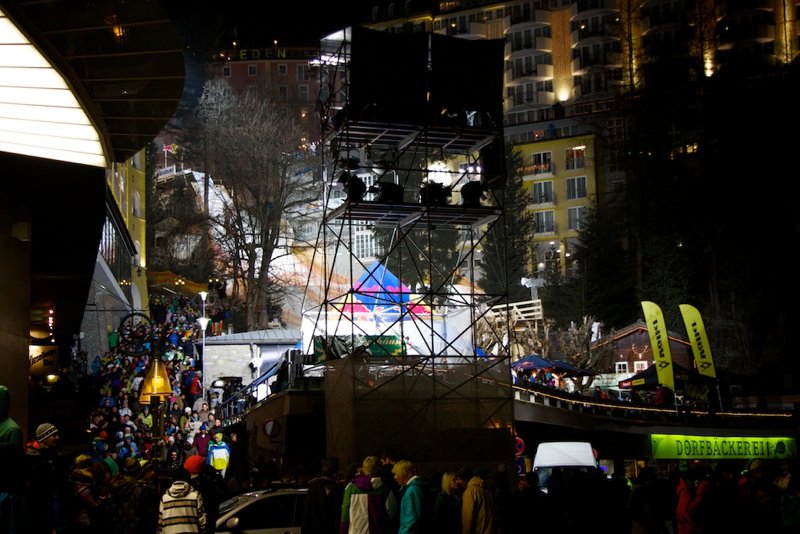 A massive crowd of 15,000 began filing in all around the course, as the event was about to start.
The 18 invited athletes were:
Bene Mayr
Russ Henshaw
Elias Ambuhl
Paddy Graham
Bobby Brown
Fabio Studer
Patrick Hollaus
Markus Eder
Nicolas Vuignier
Aleksander Aurdal
Luggi Brucic
Klaus Finne
Jossi Wells
David Lesh
Thomas Dolplads
Oscar Scherlin
Tobi Tritscher
Antti Ollila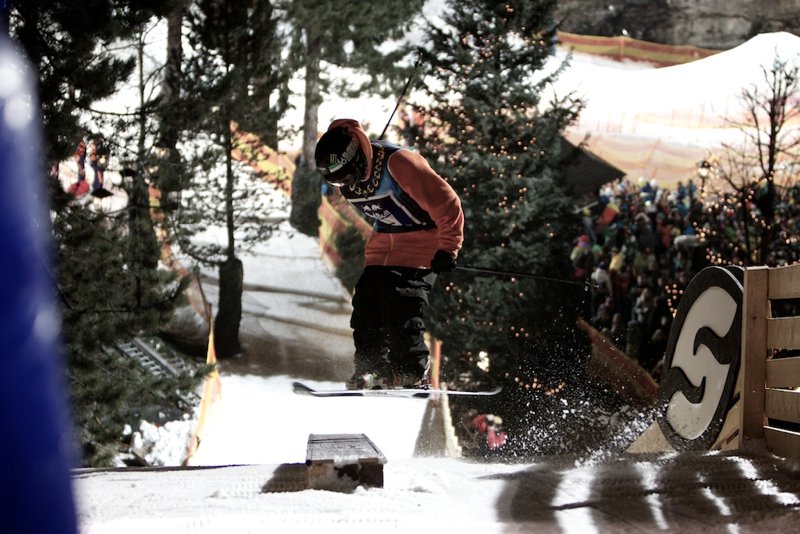 Everyone got to take the best score of two qualifying runs. Luggi Brucic drops into the first box.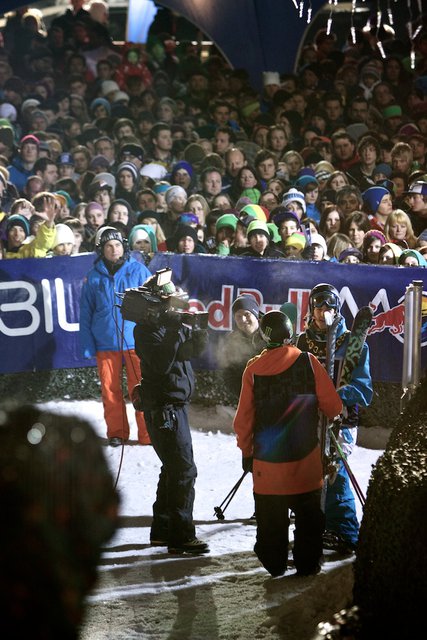 Luggi Brucic and Nicolas Vuignier entertain the cameras at the finish.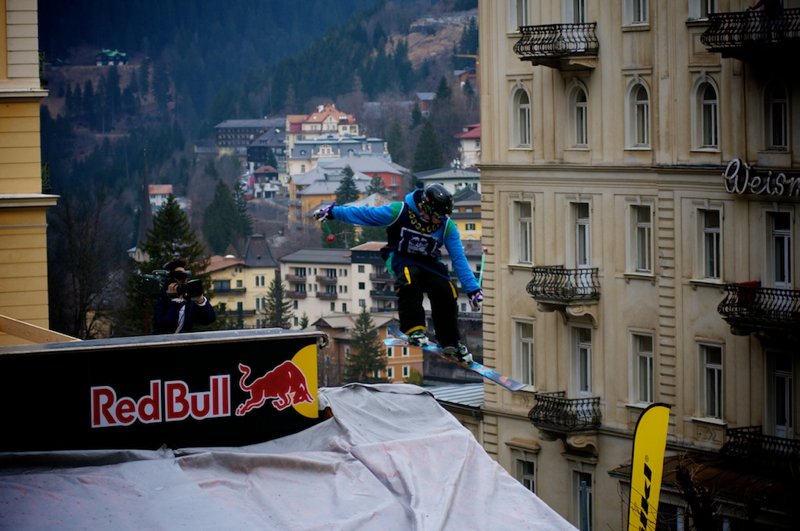 Thomas Dolplads gets some hang time on the last box.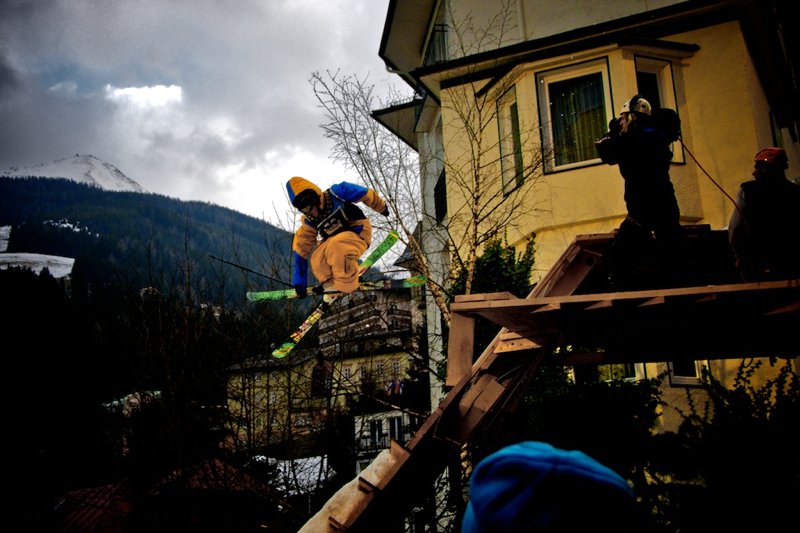 Yours truly, managing to not die on the step down road gap.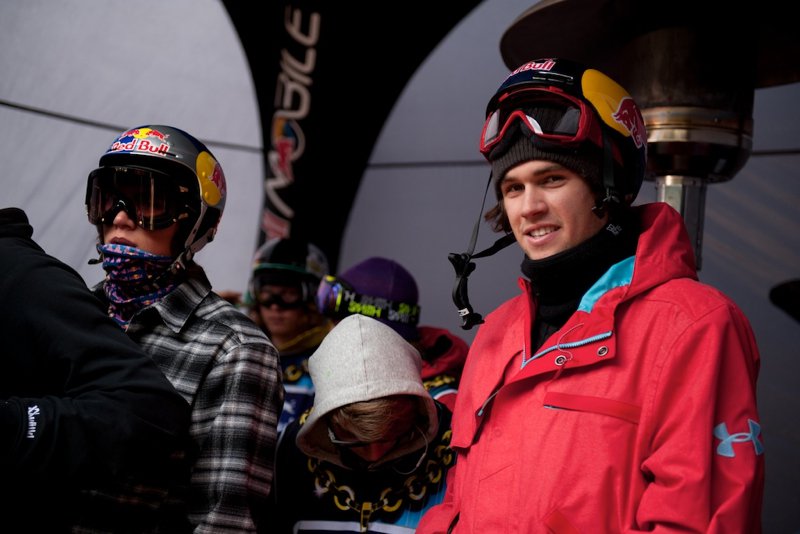 The rider's tent at the top of the course was filled with comfy beanbags, a heater, and of course copious amounts of Red Bull. Bobby Brown, more than a little jet lagged.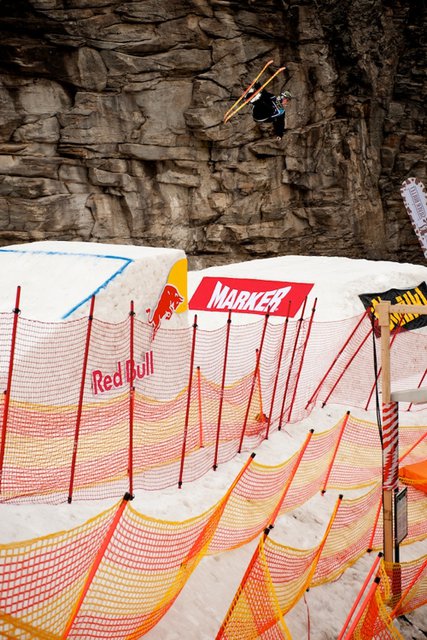 Jossi Wells rodeo five's his way into the finals.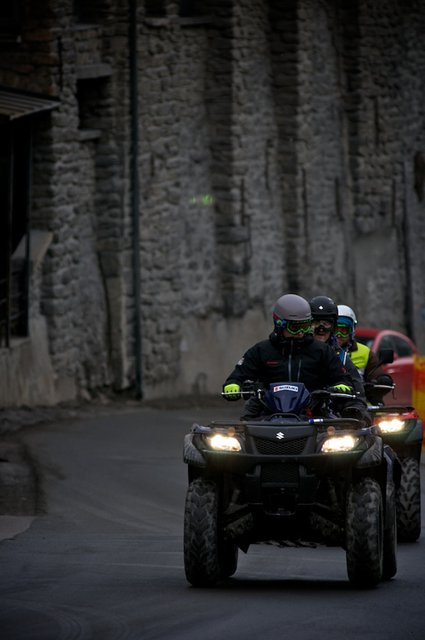 Blasting through traffic on four-wheelers at 50kmh keeps the adrenaline pumping between runs...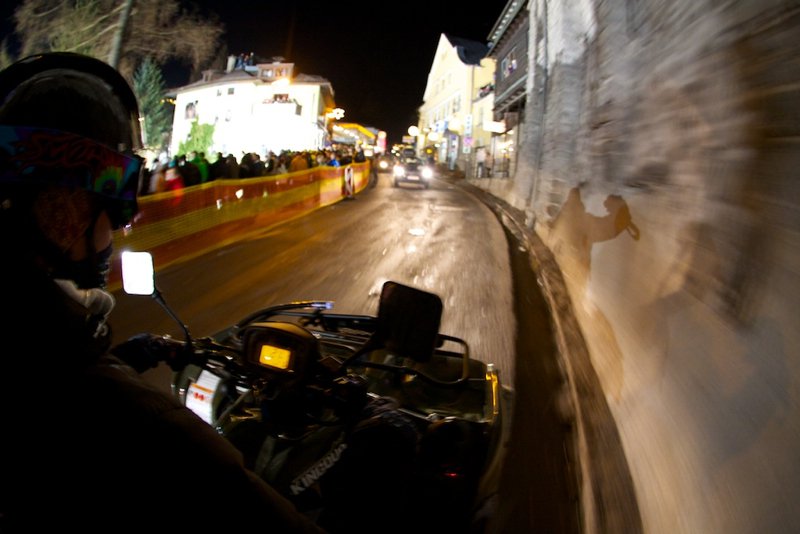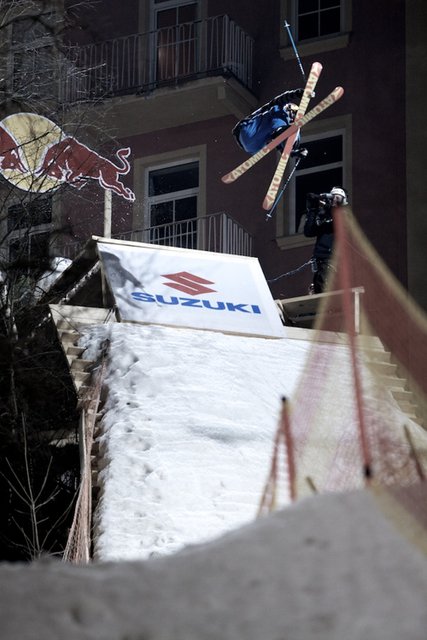 Elias Ambuhl put together some good runs and snuck into the finals in last position.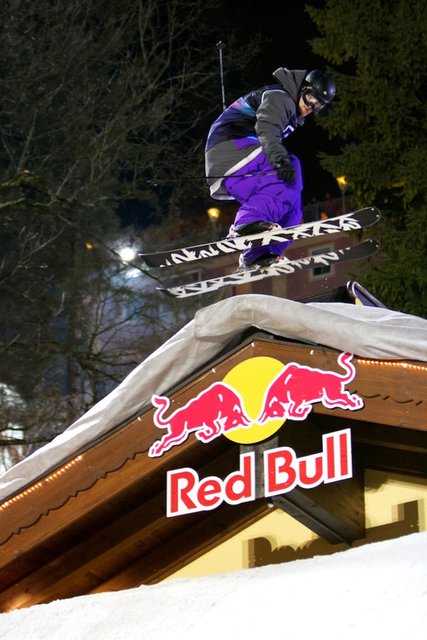 Aleksander Aurdal after a successful run.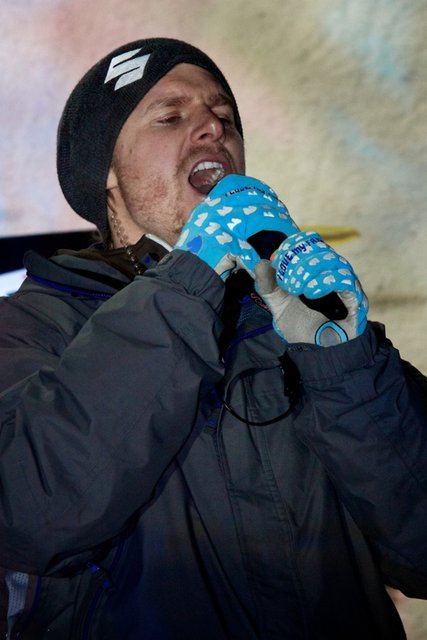 European superstar Nico Zacek did a great job of keeping the crowd energetic and involved throughout the weekend.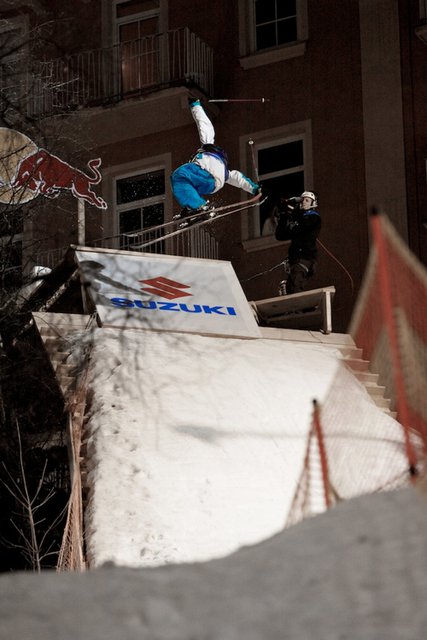 Nicolas Vuignier on the road gap.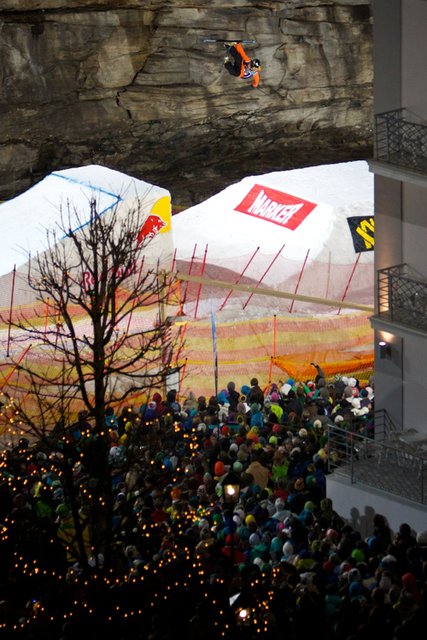 Austrian Luggi Brucic boosts the gap jump.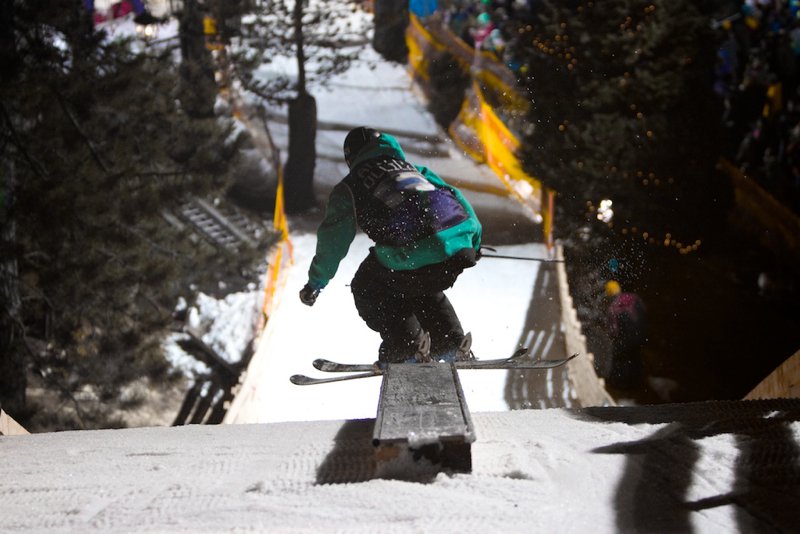 Finnish Antti Ollila was a quiet and unsuspecting force to be reckoned with throughout the comp…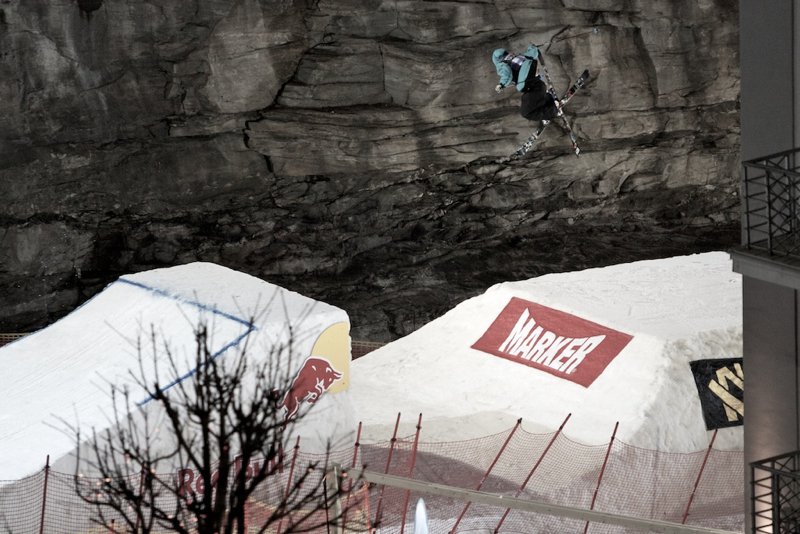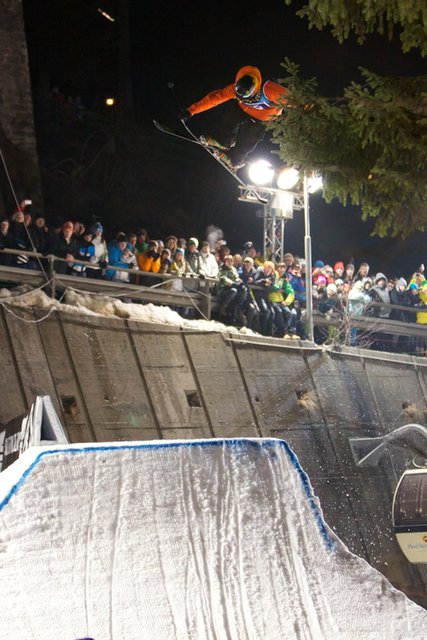 The always smiling and friendly Luggi Brucic grabs tip on the corner and makes finals.
All the riders had taken their two runs, and the eight finalists were announced...
Aleksander Aurdal
Antti Ollila
Oscar Scherlin
Jossi Wells
Nicolas Vuignier
Luggi Brucic
Elias Ambuhl
Markus Eder
Each finalist was then paired with another rider based on their qualifying score in a head-to-head tournament-style elimination to determine the final four. This began with Antti Ollila taking out Luggi Brucic and Elias Ambuhl beating Jossi Wells. In the final round to determine the winner, Elias Ambuhl became the only competitor to throw a double cork ten on the jump and grabbed first place over Antti Ollila.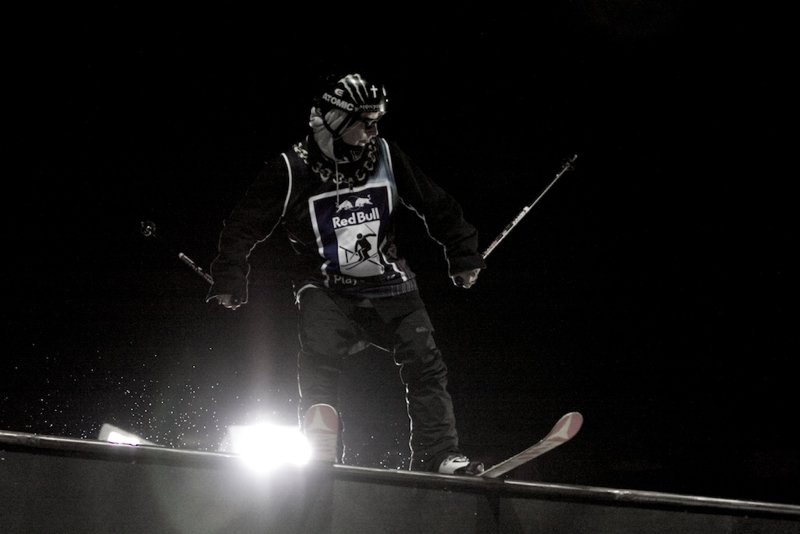 Jossi Wells was one of a few armed with tight clothing for maximum speed through the course. Jossi skied well, and easily grabbed third place.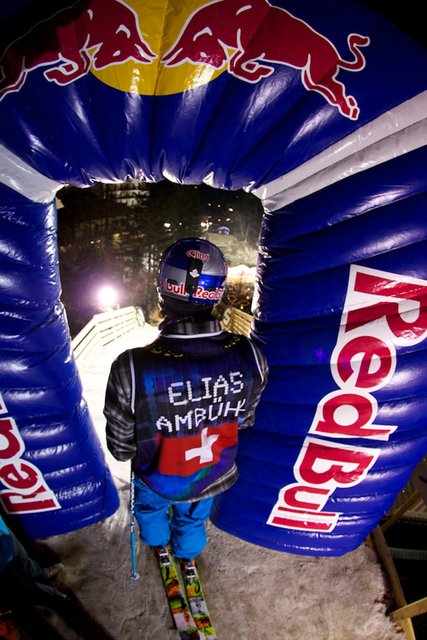 Elias looks down over 15,000 spectators from around the world and contemplates his winning run.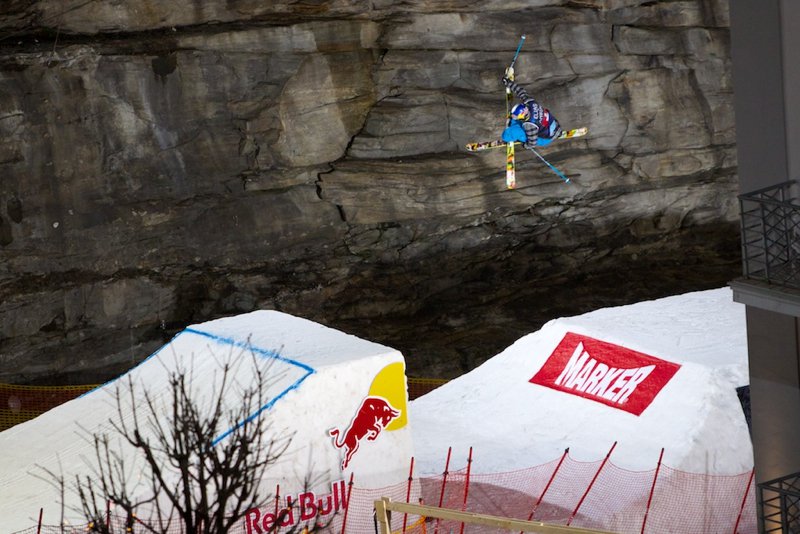 Midway through a stomped and fully grabbed double cork ten. Nice work Elias, none of us thought is was possible on that tiny jump!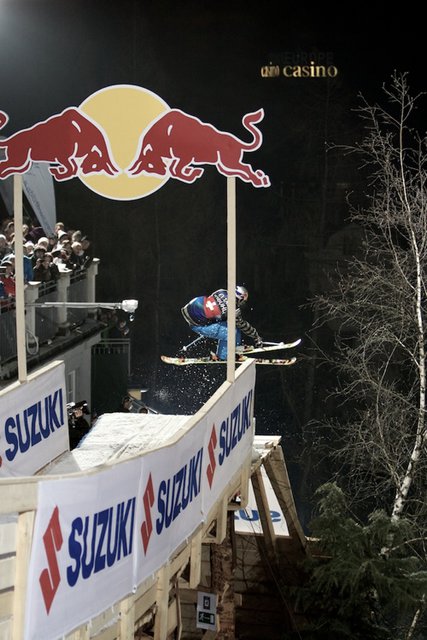 Elias making his way through the rest of the course and onto victory.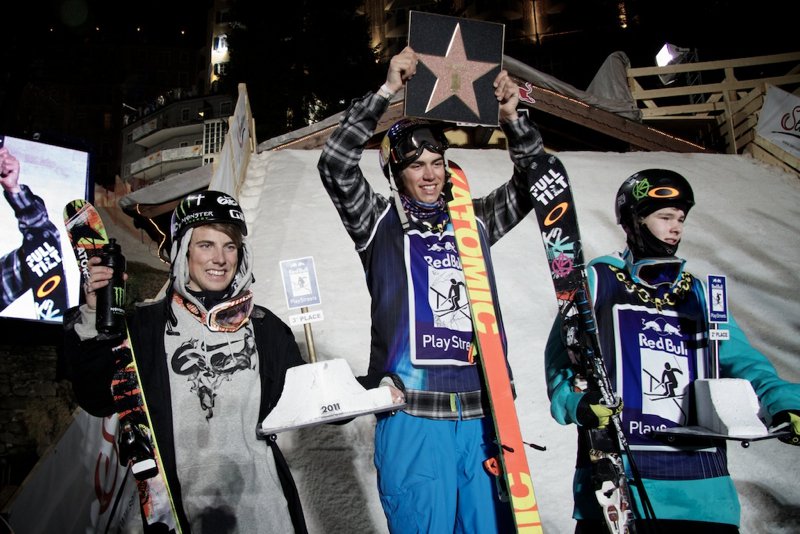 The winners mount the podium just before dousing the media's cameras with champagne. The final four were...
1st place - Elias Ambuhl (took home a Suzuki dirt bike)
2nd place - Antti Ollila (won $3000 EUR cash)
3rd place - Jossi Wells (won $2000 EUR cash)
4th place - Luggi Brucic (won $500 EUR cash)
Everyone then headed back to the hotel for a quick shower, and then it was off to the Silver Bullet for a VIP riders afterparty that provided more free liquor than we knew what to do with.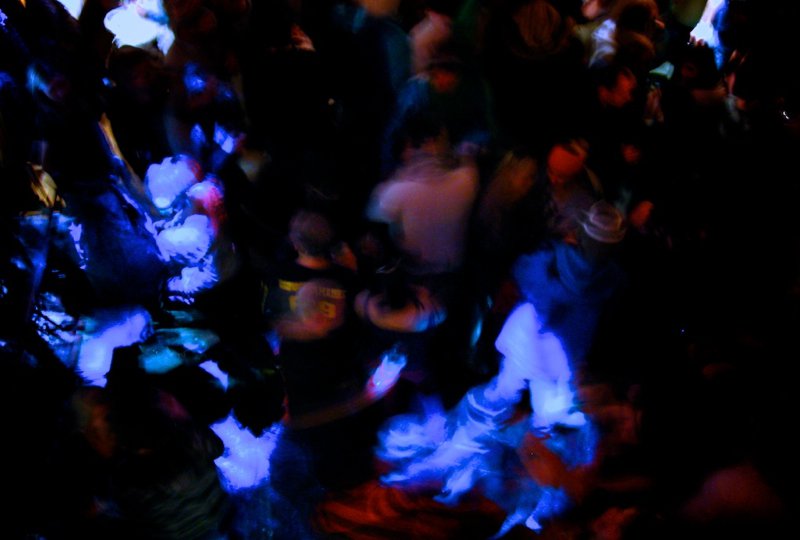 Most people's evenings quickly began looking something like this, and the party didn't stop till' the break of dawn. With hotel rooms trashed the next morning, we all piled into various vehicles and headed in all directions, with Playstreets just being one stop in a never-ending en route skiing adventure.
For more info on Playstreets, check out http://www.redbull.at/playstreets