Words by Chris McMahon
Photos by Chris McMahon & Felix Rioux/Red Bull Content Pool
Video by Mike Dandurand
Something special seems to happen in the minds of skiers in the spring. Maybe it's the energy of the warm sun we haven't felt all season, or the soft corn snow, or just maybe it has something to do with the abundance of beer being served on music-filled patios. Whatever it is, everyone's moods are lifted, and the overall fun vibe seems to be contagious.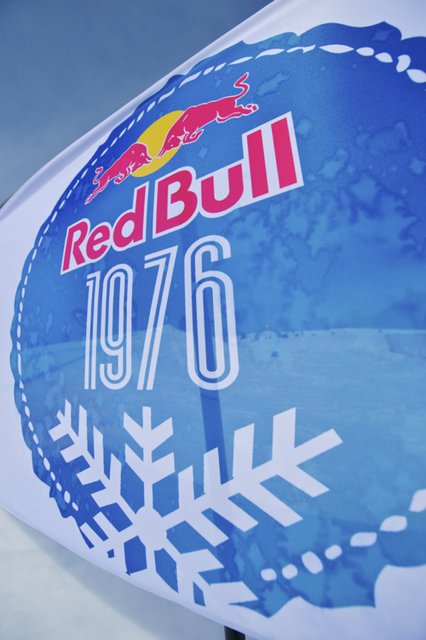 This season the Red Bull 1976 event took the honors of the final slot in Mont Tremblant's four-week long Telus Sïkwâm, and turned out to be an event that would rival any gaper day. This was the first Canadian location for the multi-discipline retro event, which included a Snowblade Cross and Old School Air competition.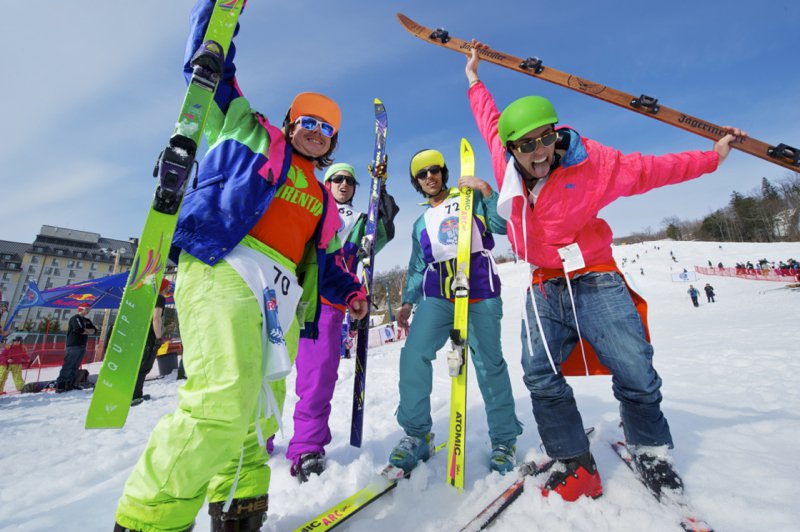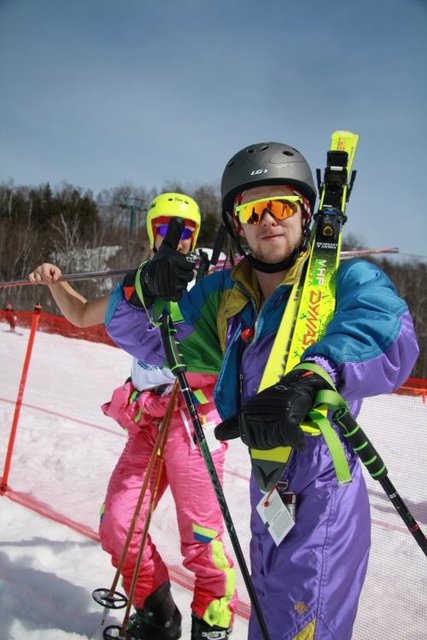 Slightly more 80's than 70's, but fun nonetheless.
A total of 19 teams of four donned their mustaches, bell-bottoms, polyester and neon to compete in the two events. A last minute forum call out for the entry of a Team Newschoolers brought together four NS members who had never skied together, and formed a group hell bent on showing that you don't have to be old to be old school.
Team Newschoolers: twoplanka, A.Eberhard, ilovewhitestuff and austinbikeski.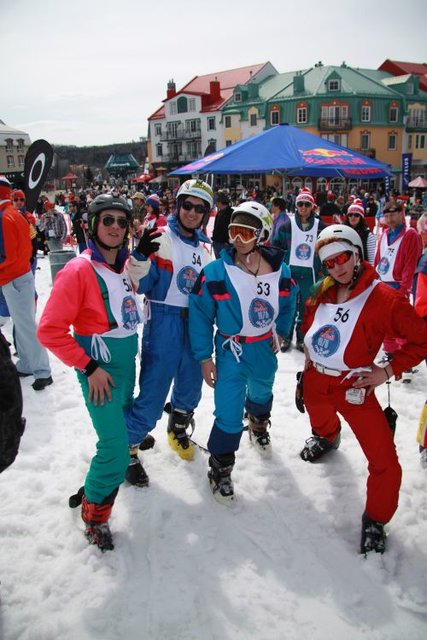 A few more Newschoolers members ready to go old school: Mitch, saxon, live-toski and dillon.
Competing alongside Team Newschoolers was a team comprised of members whom without we'd likely still be throwing daffies and spreads. Team Jim Beam brought JP Auclair, Philou Poirier, Vincent Dorion and Mathieu Paquette back to their old stomping grounds to show people how it's done.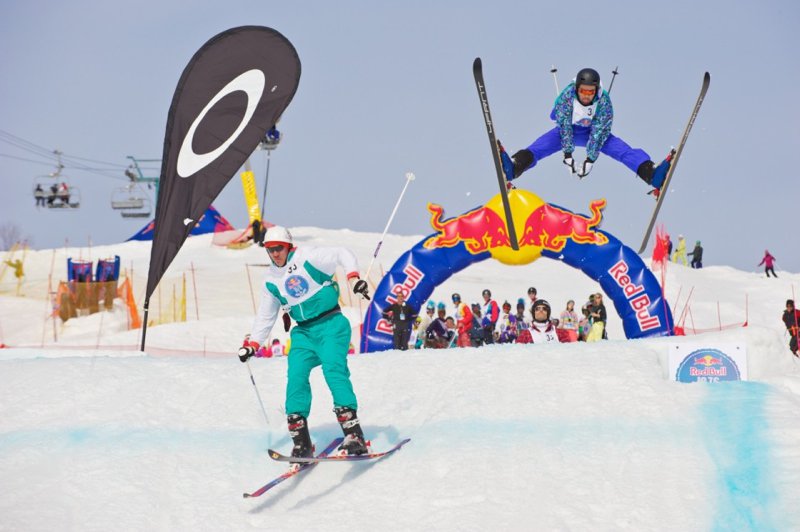 Team Jim Beam: Philou Poirier, Vincent Dorian, JP Auclair and Mathieu Paquette.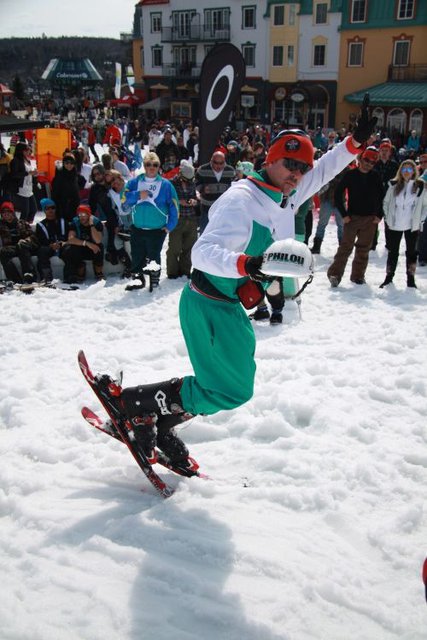 Philou with the snowblade toe stand.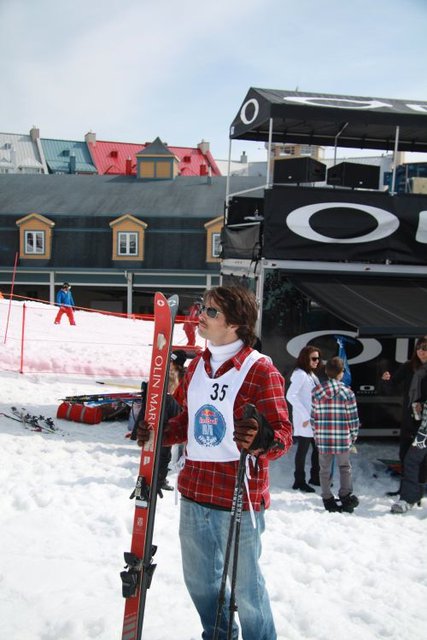 JP eyes up the course with the original twin-tips, the Olin Mark IV's.
As the sun beat down on the course turning it into perfect spring corn, racers were equipped with the finest in snowblade racing skis and rode up the chair to take their positions. The qualification runs saw sets of four racers scream down the course amidst banked turns and rollers and over the final kicker to the cheering crowd below.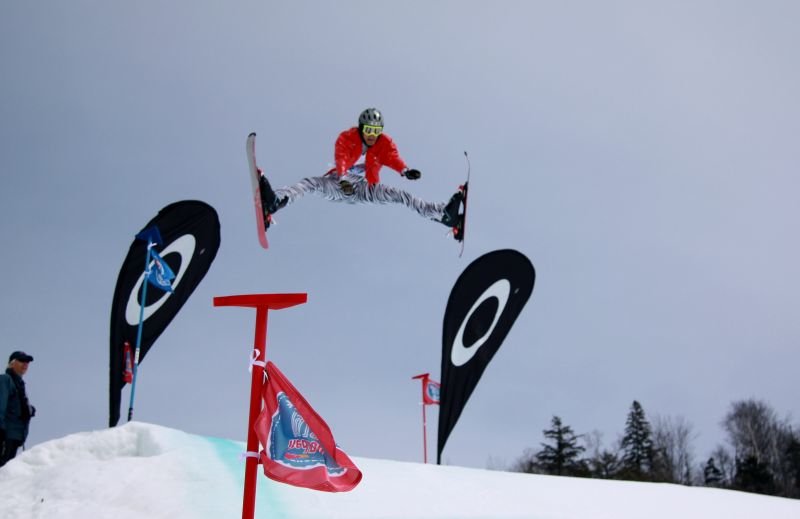 Proper cross-style racing saw the competitors pushing, skating and crashing all over the place, which quickly weeded the field down to the final 16, and then eight, until only the final four were left standing under the Red Bull archway. After an exciting final race, the legendary Philou Poirier scored himself first place, with Sébastien Ross-Aubre in second and JP Auclair rounding out the top three.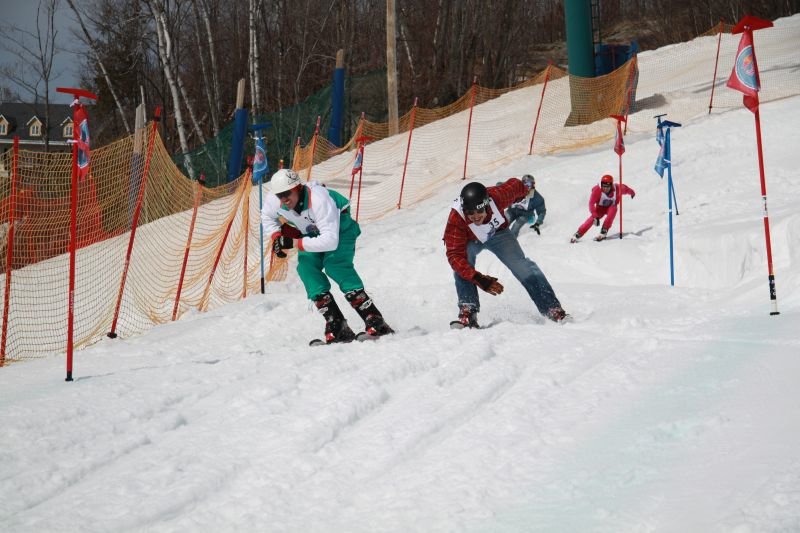 You don't often see racers laughing their way through the course...and you don't often see Philou Poirier and JP Auclair racing.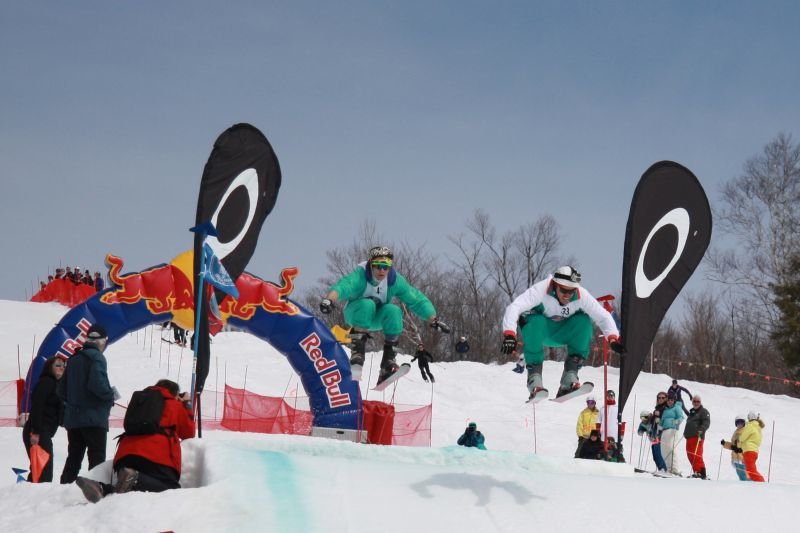 A photo finish puts Philou on top.
The snowblades were quickly swapped for the biggest collection of skinny long skis Mont Tremblant has seen in decades, and competitors once again returned to the top of the course to kick off the Old School Air. Each of the four-man teams were given two runs to impress the judges, with most of the them opting to drop in all at once to show off some form of synchronized carcass hucking.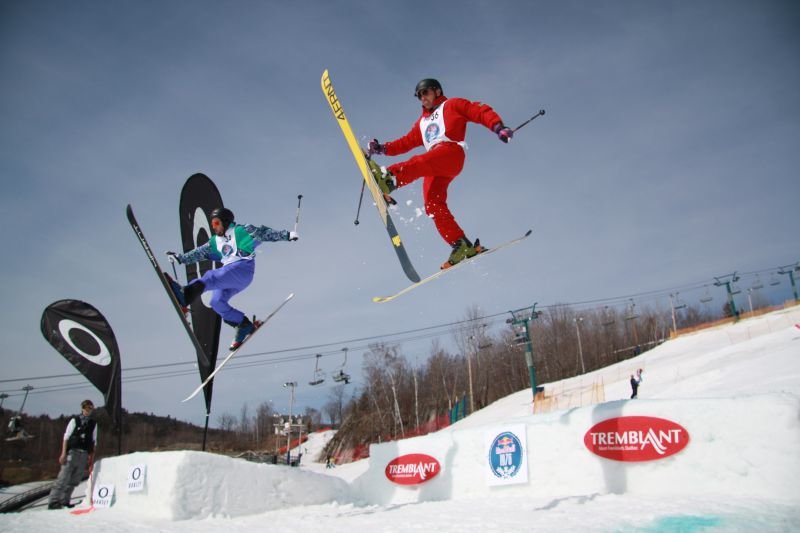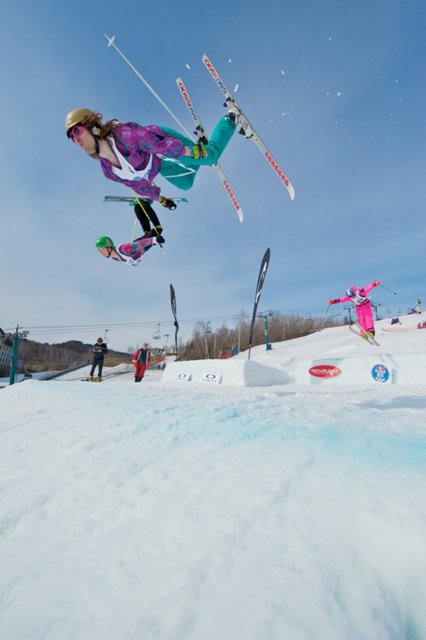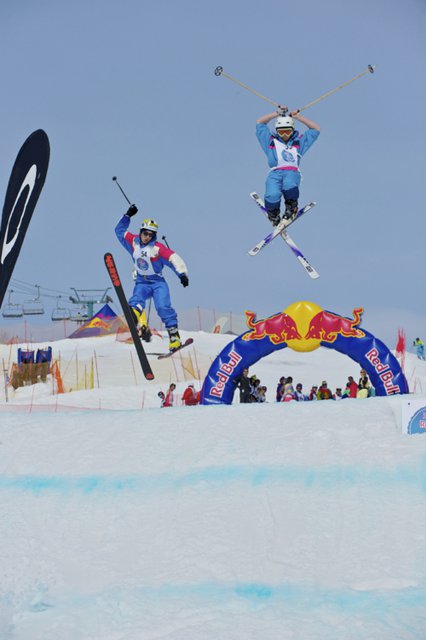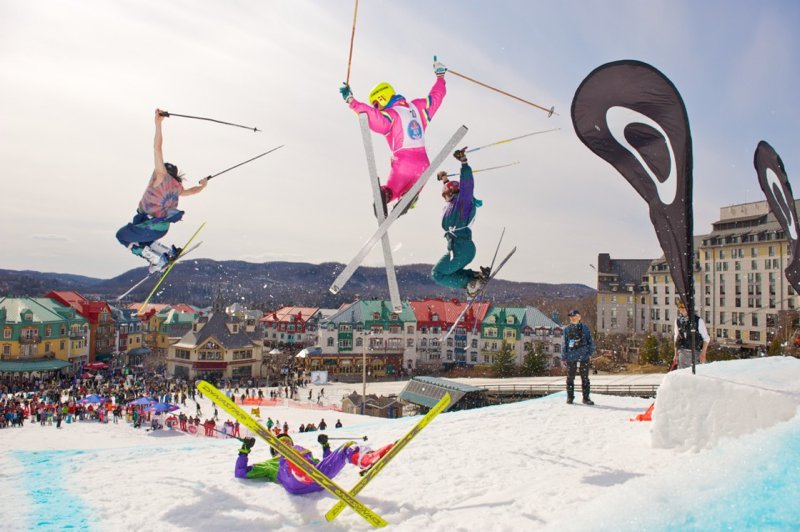 All of the teams pulled out all the stops, and since the name of the game was Old School, an impressive selection of spreads, daffies, twisters, penciled spins and flips were the norm. Team Newschoolers threw down an impressive first run full of tricks older than themselves on equally vintage equipment and managed to find themselves in the top three. With one of the judges proclaiming, "This competition is tighter than my pants!" all 19 teams returned to the jump for a second attempt.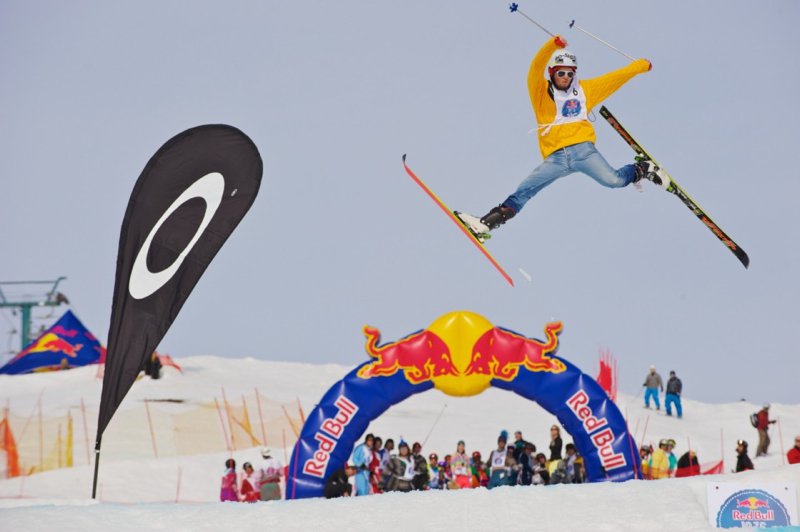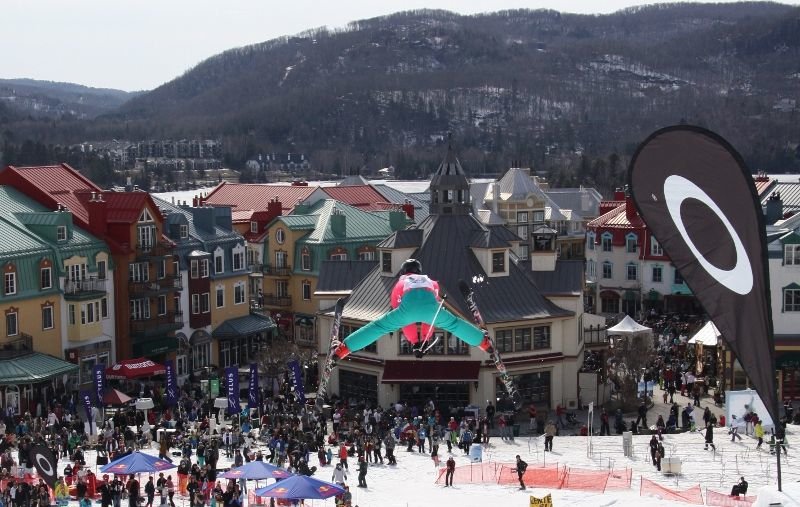 As teams continued to step up their game, so did the cheering crowd, who gathered to watch the collection of neon flying through the air. Following more flips, spreads, mule kicks and failed landings thanks to ancient bindings, we had our top five teams who would advance to the final, which included Team Newschoolers, who were once again in the top rankings and got the opportunity to throw down one more jump.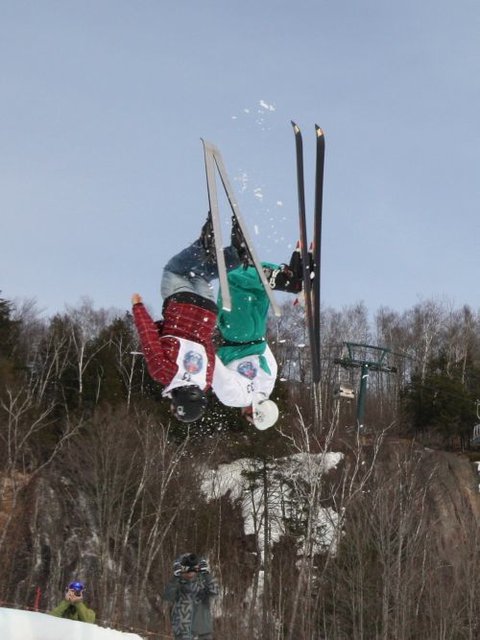 Friendship Air
In the end, friendship flips, showboating and bright costumes earned enough points to put Team OFR on the top of the podium, with Team Jim Beam in a close second and the Psychedelic Ski Bums in third.
2nd place goes to Team Jim Beam.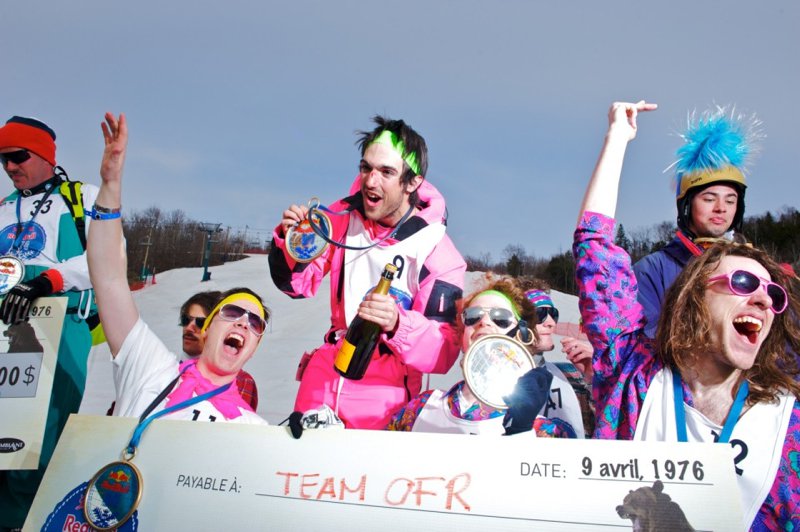 Team OFR takes the coveted 1st place victory.
Results
Snowblade Cross
1) Philou Poirier
2) Sébastien Ross-Aubre
3) JP Auclair
Old School Air
1) Team OFR (Gabriel Morissette, Christophe Lacombe, Julien Brosseau and Antoine Marcheterre)
2) Team Jim Beam (Philou Poirier, Vincent Dorion, JP Auclair and Mathieu Paquette)
3) Psychadelic Ski Bums (Patrick Nemie, Seb Hayto, Tobias Froehlich and Collin Gaffney)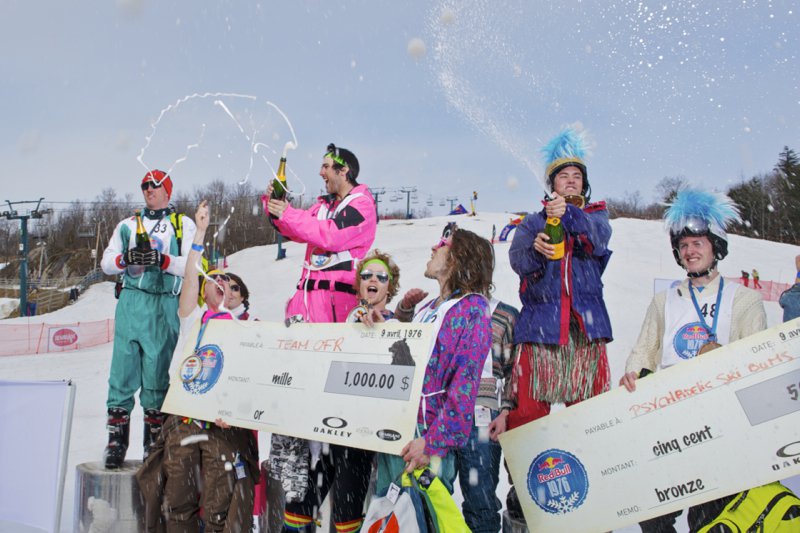 Big thanks to Red Bull, Oakley and Mont Tremblant for reminding people that skiing doesn't have to be serious and sometimes just doing something totally ridiculous is the best way to have fun!